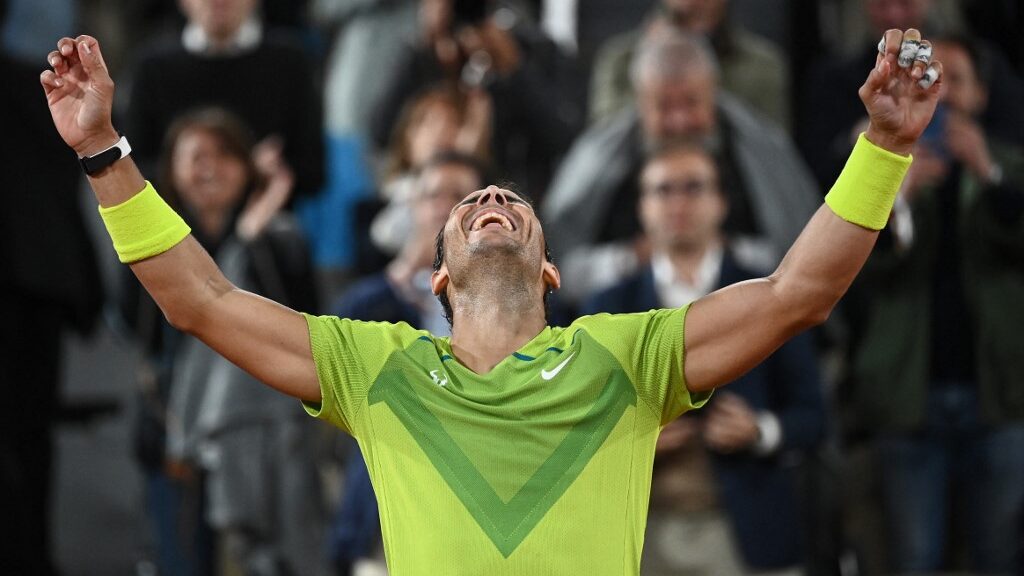 Holy cow, do we have a lot to cover! It starts with the NBA Finals, Stanley Cup Conference Finals, baseball, tennis, golf, the men's college baseball tournament, the women's softball tournament, and even more. Better grab some water and chips, it will be a while!
About Last Night…
Game 1 of the West Finals in the Stanley Cup looked like the NHL All-Star games of a few years back when the defensemen were standing around and it was open season on firing the pucks at the goalies. Everyone expected a high-scoring series, but doubling the sportsbooks total of 7, Wow!
Rafael Nadal remains the King of the French Open after defeating No. 1 Novak Djokovic in four sets. Nadal is a 13-time champion on the clay and he will face No. 3 Alexander Zverev in one of the semi-finals. Nadal is the 5-seed this year and the "King of Clay" is a jaw-dropping 109-3 at Roland Garros.
Are you going to bet against him?
The Boston Red Sox were feeling bad enough about losing a five-game series at home to Baltimore. After last night, Red Sox backers and those betting on them feel even worse. Boston lost 2-1 to Cincinnati last night, making two errors that ended up scoring both Reds' runs.
Trailing 2-0 in the bottom of the 9th, Boston had runners on second and third with nobody out against the No. 28 bullpen in baseball and only tallied one run to fall again.
Trendy Talk
MLB 
Oakland is 2-17 vs. a starting pitcher who gives up 5.5 or fewer hits a start this season.
N.Y. Yankees are 30-9 the total is 7 to 8.5 this campaign.
Toronto is 10-2 UNDER at home when the total is 8 to 8.5. Will the trend continue?
Tampa Bay is 10-0 OVER away after a game with a combined score of four runs or less.
Aaron Nola and the Phillies are 0-7 when playing against a team with a winning record this season.
NBA 
Golden State is 9-1 ATS in home games revenging a loss of 10 points or more this season. (Thursday)
Golden State is 15-6 UNDER in home games versus teams making 46% more of their shots this season. (Thursday)
NHL 
N.Y. Rangers are 10-1 in home games after playing two straight games where seven or more total goals were scored.
Tampa Bay is 9-2 UNDER in road games after four or more consecutive Unders.
Edmonton is 9-2 in road games off a road loss by two goals or more. (Thursday)
Edmonton is 12-4 OVER revenging a loss. (Thursday)
WNBA
New York is 5-15 ATS after allowing 90 points or more the last three seasons. Read what our experts think.
Atlanta is 9-1 ATS at home off a win by 10 points or more as an underdog.
Must-Watch TV
MLB 
We continue our reporting on the Angels/Yankees and the WhiteSox/Blue Jays series for today and Thursday. And don't miss our free pick on the start of what should be a super series between the Mets and Dodgers beginning Thursday.
NBA
Make sure you visit our NBA page as we have the whole gamut covered for Game 1 and the series for the NBA Finals!
NHL 
The East Finals commence this evening between Tampa Bay and the New York Rangers. Come back Thursday as we report on Game 2 between the Oilers and Avalanche.
Tennis
It's the final week of the French Open and we'll have free picks and analysis for you!
Note: Review all our popular prop plays in all the sports.
The Buzz 
Back in February, golfer, Dustin Johnson said he was "fully committed" to the PGA Tour after Phil Mickelson's fumbling of the inaugural LIV Golf Invitational Series.
Now, Johnson is the most prominent name of the first tourney which will take place in London next week, and reportedly had committed to the RBC Canadian Open but recently withdrew.
With a 25M no-cut purse and only having to play 54 holes, Johnson's agent David Winkle said of his guy "He's never had any issue with PGA Tour and is grateful for all it's given him but in the end felt this was too compelling to pass up." We and every golf professional will see how commissioner Jay Monahan reacts. Is Johnson done on the Tour? Stay tuned.
The Tommy Pham/Joc Pederson story won't die, as Pham brought up that Mike Trout was the Commish of this 10 grand buy-in fantasy football league. This is not what the private Trout wants to talk about and Pham said, "Trout's the worst commissioner in fantasy sports."
For the NBA Finals, what basketball bettors have to determine is can the two best defenses this season slow or control the other offense? Golden State's offense is predicated on ball movement and cutting with limited dribbling, which is beautiful to watch.
That means Boston has to get in the passing lanes and as we have seen, the Warriors will make lazy passes. And the Celtics were No. 2 in three-point percentage defense. Watch for this. Boston's Jayson Tatum and Jaylen Brown combined to average over 50 points per game this season, and both are more than capable of being the best player in the game on any given night.
At the same time, Tatum can be a lousy passer and Brown is not a top-level ball-handler who can be pressured into mistakes when dribbling. Coach Steve Kerr can use various defenders on the dynamic duo to see how they react.
Out The Door 
If I'm the Lightning or the Rangers, I realize if I win the East Finals I have a heck of a chance to win the Stanley Cup after watching Game 1 between Edmonton and Colorado with those defenses.
Today is the sixth edition of "The Match" that will see veteran signal-callers Tom Brady and Aaron Rodgers face off against young stars Patrick Mahomes and Josh Allen in Las Vegas. Set to tee off at 6:30 p.m. ET, the 12-hole event at Wynn Golf Club will see all players equipped with open mics and the ability to communicate with competitors and commentators.
In this match of "old bulls" and "young calves" as Allen put it, the bulls are -200 to win and calves are +165 at Bovada.
The college baseball tournament is ready to start this weekend and here are the top favorites.
Tennessee +250
Oregon State +900
Stanford +1200
Texas +1500
LSU +1800
Virginia Tech +1800
Miami FL +2000
In college baseball circles, many believe the Volunteers are the best team in years, having all the answers.
On the women's side for their softball World Series, here are their favorites.       
Oklahoma -160
Florida State +600
UCLA +700
Alabama +900
Arkansas +1000
Virginia Tech +1000
As you can read, the Sooners are overwhelming chalk and when you have a 49-2 record and have destroyed the opposition all year, you deserve that kind of respect.
Let's get some winners, see you back here Friday.