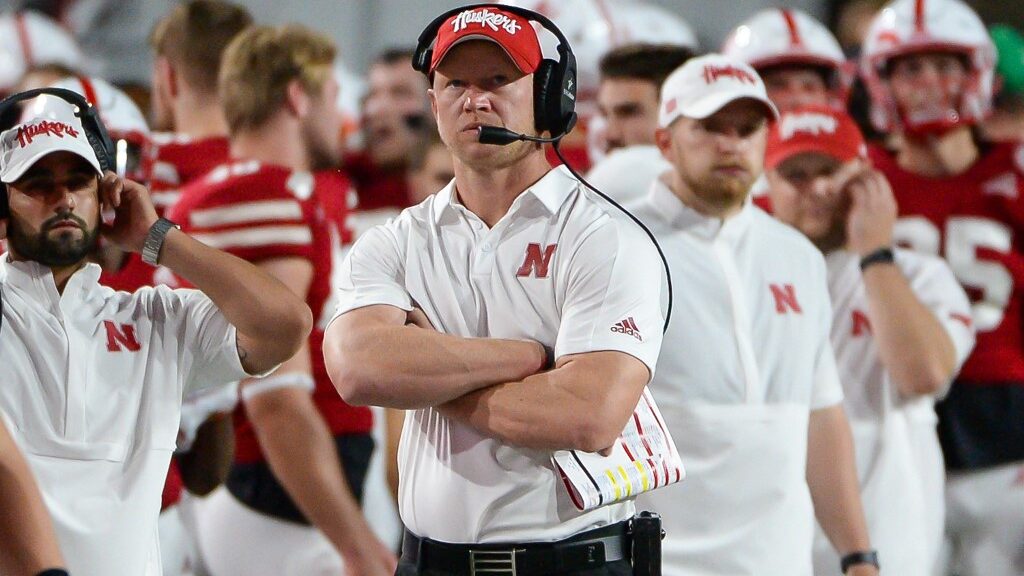 It's never a good thing when the entire world knows you made a mistake and that is what happened to Nebraska's Scott Frost in his team blowing a lead as a favorite to Northwestern. We take a look back at that and other Week 0 football action.
The Washington Nationals are having a terrible season and they made history on Sunday. This plus two more NFC football previews and Rory McIlroy wins the FedEx Cup for the third time.
---
About Last Weekend…
---
NCAAF
We are certain Nebraska coach Scott Frost got a frosty response back in Lincoln after losing 31-28 as 13.5-point favorites to Northwestern. Frost for reasons unknown went for a third-quarter onside kick with a 28-17 lead and did not recover it. The Wildcats scored and took over the game from that point to engineer the upset.
Frost initially threw his offensive staff under the bus for the loss but admitted Sunday the onside kick decision was not one he should have made. Nebraska is now 5-21 in one-score games under Frost and is the first major-conference team in the AP Poll era, which goes back to 1936, to lose seven straight games by single digits, according to ESPN Stats & Information.
New Mexico State opened as a 14 or 14.5-point home underdog and closed at +7 Saturday night. Sharp money was all over the Aggies early, then the feeding frenzy seemed to get out of control. New Mexico State actually out-gained Nevada, who lost 45 players from last year's club, but made their bed with FIVE turnovers and failed to cover in a 23-12 loss to the Wolfpack.
MLB
Pat Corbin Wins! Washington (+105 odds) avoided a sweep by Cincinnati winning 3-2 Sunday. The Nationals lefthander won his first game in 10 starts to 'lift' his record to 5-17 and lowered his ERA to a very bloated 6.56. That was also the first victory by a Nats starting pitcher since July 6, a span of 43 games, which broke the previous big league record of 35 games set by the 1949 Washington Senators.
NFL
Remember after NFL Preseason Week 1 all the talk about the OVER at 14-3? Sportsbooks made adjustments and the last two weeks finished 17-14-1 OVER. The oddsmakers always find a way.
WNBA
The semifinals got off to a rousing start with TWO outright upsets Sunday by Connecticut and Seattle. The Game 2's are Wednesday, do you parlay both favorites on the money line?
---
Trendy Talk
---
MLB
Miami is 4-19 vs. teams outscoring opp by 0.5 or more runs a game in the second half of the season.
Milwaukee is 18-5 OVER with double revenge this season.
Frankie Montas of the Yankees is 6-16 (-14.1 Units) with a team slugging percentage of .400 or worse on the season (AL) the last two years. (Team record)
Seattle is 10-2 when playing with a day off this season. (Tuesday)
Atlanta is 13-1 after two or more consecutive losses. (Tuesday)
NCAAF
West Virginia is 7-3 SU and ATS at Pittsburgh. (Thursday)
Purdue is 19-8 ATS as an underdog under Coach Brohm. (Thursday)
Illinois is 8-1 UNDER after playing a game at home. (Friday)
Notre Dame is 19-4 UNDER as an underdog of 10.5 to 21 points. (Saturday)
---
BMR's Betting Pulse
---
MLB
Make sure to review our top picks for ML, RL and totals for Monday and Tuesday.
NCAAF
College football is all the way back with Week 1 action. We have game picks starting Thursday with West Virginia at Pittsburgh, plus the biggest of games that include:
Notre Dame vs. Ohio State
Utah vs. Florida
Cincinnati at Arkansas
---
The Buzz
---
Golf – Roary Roars to Victory
Down six shots to start the final round, Rory McIlroy shot a final round 66, while leader Scottie Scheffler lost his way with a 73, to give the Irishman his third FedEx Cup championship.
NFL – Get Well Soon Brian!
Washington running back Brian Robinson was shot yesterday in D.C. in an apparent attempted robbery or carjacking against him, sustaining non-life threatening injuries.
College Football – Lonely Wolfpack?
What did Nevada's win mean against New Mexico State? Less than you might have imagined. The Wolfpack opened at -11 over North Texas for this Saturday and last Monday that was down to -7.5. Monday morning it was a pick 'em!
---
Football Focus
---
As we get closer to the start of football, we will have a report on every college football conference and each NFL division before their season starts. On Friday we have: the NFC West.
Odds to Win the NFC North and Season Win Total 2022
Green Bay Packers (-175): Over 10.5 (-160) / Under (+130)
Minnesota Vikings (+235): Over 9.5 (-115) / Under (-115)
Detroit Lions (+800): Over 6.5 (-155) / Under (+125)
Chicago Bears (+1600): Over 6 (+150) / Under (-130)
*All odds via BetOnline (visit our BetOnline Review)
Football Pulse
The general consensus is the Green Bay offense won't be as strong for the first part of the season, maybe longer. The Packers might have Aaron Rodgers but the passing game won't be as lethal without Davante Adams. However, the Pack's defense could carry them with all those No. 1 draft picks they've acquired.
Offensively, Minnesota might be better than Green Bay, with Dalvin Cook, Justin Jefferson, a healthy Adam Thielen and Kirk Cousins. What could prevent the Vikings from overtaking the Pack is a defense that was ranked 30th last year. New head Kevin O'Connell is known more for offense, we'll have to see how he does.
Though Detroit is still projected to lose double digits again this season, there is a real sense of optimism surrounding the Lions. The offensive line should be a strength after suffering a vast amount of injuries. The team has bought into coach Dan Campbell's work ethic and he's a skilled play-caller who figured out how to work with Jared Goff. An eight-win season would signal real growth.
If you are a second-year quarterback like Justin Fields, you don't like the term – roster reconstruction – but that is what is happening in Chicago. The question is how long will it take and how much can he grow without more help. Long year in Chi-Town.
NFC North Champion Pick: Packers (-175) at BetOnline
NFC North Fun Pick: Exact Division Finish – Minnesota 2nd (+140) at BetOnline
---
Football Focus Pt. II
---
Odds to Win the NFC South and Season Win Total 2022
Tampa Bay Buccaneers (-275): Over 11.5 (+130) / Under (-160)
New Orleans Saints (+285): Over 8.5 (-145) / Under (+110)
Carolina Panthers (+1100): Over 6.5 (-125) / Under (-105)
Atlanta Falcons (+3000): Over 4.5 (-125) / Under (-105)
*All odds via BetOnline
Football Pulse
For a player who has spent his career trying to cultivate his image and stay out of the unnecessary limelight, Tom Brady has been in the news a lot since first saying he was going to retire earlier this year. This is not the same Tampa Bay that won the Super Bowl for any number of different reasons, yet they still should be the class of the NFC South division.
It truly is a different era of football in New Orleans with no Drew Brees and no Sean Payton. New head coach Dennis Allen and quarterback Jameis Winston have to show they are ready to fill some awfully big shoes. Winston played much wiser a year ago until getting hurt. This year it's on Winston without Payton on the sidelines. The Saints have the talent to win at least 10 games, will they?
Baker Mayfield as expected is the Carolina Panthers quarterback, but what will that mean? Christian McCaffrey is not guaranteed a full season after missing time two of the past three years. The Carolina offense was 30th a year ago and coach Matt Ruhle is on the hot seat. The Panthers could be improved or a trainwreck.
It's too bad Atlanta didn't win the Super Bowl 4 ½ years ago because it's going to be some time before they are considered a threat again. They could end up with the worst record in the NFL in 2022.
NFC South Champion Pick: Buccaneers (-275) at BetOnline
NFC South Fun Pick: Exact Division Finish – Buccaneers 1st and Saints 2nd (+125) at BetOnline
---
Out the Door
---
College Football – Injury Bug
Week 0 favorites were 6-1 SU and 5-2 ATS, with the UNDER 4-3. FBS teams were 1-3 ATS vs FCS opponents.
NFL – Literally, Out the Door
We reported on Buffalo punter Matt Araiza being in trouble with the law and with new information, he was released on Sunday.
---
Who Is Right?
---
The L.A. Dodgers are wrapping up their series with Miami tonight and Tony Gonsolin (16-1, 2.10 ERA) vs. Pablo Lopez (8-8, 3.66) will be on the mound. The total has stayed at 7 since release and tickets written have stayed in the mid-50s percentile on the Over. However, that's not where the money is with a little past 80% on the Under. Who are you trusting?
Let's get some winners! See you back here Wednesday.