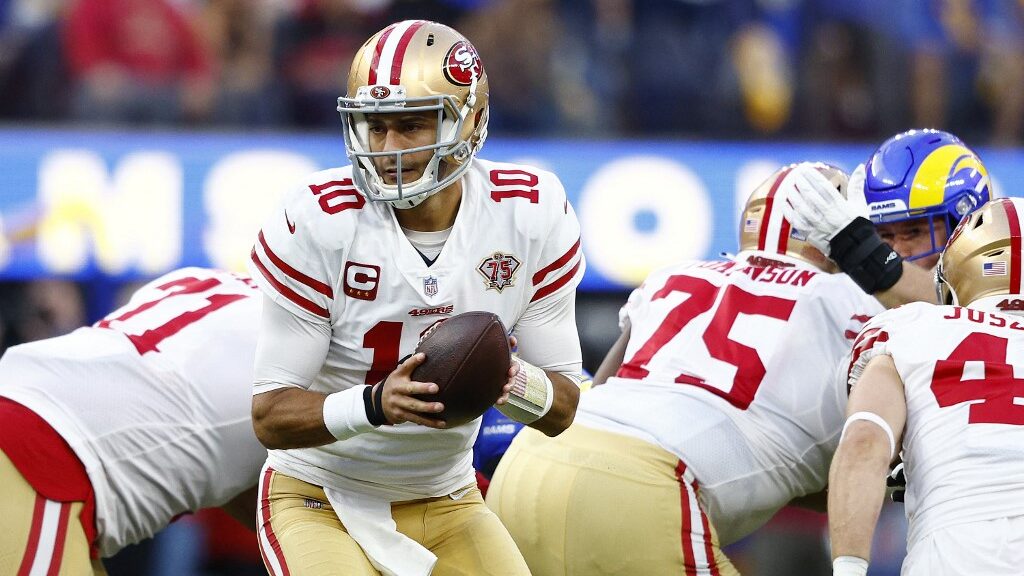 It was a lost weekend for the Yankees and Padres on the road, while the Rays did something for the first time since at least 1900.
We also have news in the NFL about quarterbacks and continue our look at college football, reviewing the betting odds in the Big 12, and our best betting picks.
---
About Last Weekend…
---
MLB
The New York Yankees were swept over the weekend by St. Louis on the shores of the Mississippi River. That was the first time in 15 years the Yanks have been swept by a National League club and they were homer-less in the series.
Tampa Bay (-174 ML) and Detroit were locked in a scoreless pitcher's battle going into the ninth inning yesterday.
With two runners on and two outs for the Rays, Detroit pitchers walked three consecutive Tampa Bay hitters to allow two runs which were followed by three straight hits that put the Tigers down 7-0. That was the final score of a historic outcome.
Wasn't it just last week San Diego was celebrating their all-in trades for Juan Soto, Josh Bell, and Josh Hader?
The Padres might have gotten three unique pieces, but they were not in the same league as the Dodgers in being swept and outscored 20-4. San Diego is 2-8 this season vs. the Dodgers and has nine games remaining against them.
---
Trendy Talk
---
MLB
Baltimore is 24-11 (+19.8 Units) after three or more consecutive home games this season.
San Franciso is 4-17 as a road underdog of +100 or higher.
Houston is 11-2 vs. a starting pitcher whose winning percentage is better than 80% in the last two seasons. (Tuesday)
St. Louis is 14-3 UNDER after a game with a combined score of 17 runs or more.
Charlie Morton and Atlanta are 9-1 over in night games. (Tuesday)
WNBA
Dallas is 8-2 ATS after three straight games allowing a shooting percentage of 42% or higher.
Chicago is 2-10 ATS in home games after failing to cover two of their last three against the spread. (Tuesday)
Atlanta is 2-10 ATS versus teams outscoring their opponents by 3+ points a game this season. (Tuesday)
---
BMR's Betting Pulse
---
MLB
The slumping New York Yankees head to Seattle Monday night to break their losing streak.
On Tuesday, Minnesota hopes not to be seeing double against the smoking hot L.A. Dodgers.
Note: Review all our popular prop plays in all the sports.
---
The Buzz
---
NFL: Garoppolo Hot, Lance Not
Jimmy Garoppolo has been razor sharp in the 49ers camp which is exactly what San Francisco wants, hoping to trade him for almost anything.
What the Niners are not excited about is fellow quarterback Trey Lance is hitting about "50%" of his passes according to reports.
The San Fran win total is 10, feeling a little nervous if you bet the over?
NFL: "Practice, who needs practice?"
We took liberty with the famous Allen Iverson quote, but L.A. Chargers head coach Brandon Staley was quoted as saying Justin Herbert will again not take the field in the NFL preseason.
To this point, Herbert has not taken a snap in the preseason, and imagine if he played 15 years and never once ran a play in August.
Sports Retirement
Sue Bird of Seattle played her last regular season home game over the weekend and few worked harder to stay at the top of her profession. A true loss for the WNBA.
Nick Faldo did his last broadcast for CBS after 16 years and it became a very emotional moment for Sir Nick.
---
Football Focus
---
As we get closer to the start of football, we will have a report on every college football conference and each NFL division before their season starts. On Wednesday we have: ACC
Odds to Win Big 12 Conference 2022
Oklahoma +225
Texas +250
Oklahoma State +600
Baylor +600
Kansas State +800
TCU +1000
West Virginia +1800
Iowa State +2000
Texas Tech +5000
Kansas +25000
*All odds via BetOnline (visit our BetOnline Review)
Football Pulse
Change is coming to the Big 12, but that has always been the case with this league since its days formally as the Big 8/Southwest Conference. Let's enjoy it for one year with 10 teams.
There are varying opinions about who could win the Big 12, Oklahoma, Oklahoma State, and defending champion Baylor are all picked by different groups.
The sportsbooks are sticking with the Sooners until proven otherwise. Oklahoma will look different on offense and defense under new coach Brent Venables. Look for more of a run game and attacking defensive front seven for the Sooners. By the Red River Rivalry, we'll know a lot about this squad.
As has been the case about Texas for years, you don't know what to expect, except mostly disappointment. The Longhorns are picked anywhere from 2nd to 4th. Texas is coming off its first losing season in five years and only is a threat to win the Big 12 with drastically improved quarterback play and a defense that allows 22 PPG, not 31.2 PPG like last year.
PLAY NOW: $25,000 Free-To-Play NFL Contest: BMR's 2022 Pick'Em Pool Opens for Registration
Oklahoma State is highly regarded and should have a consistent offense again with Spencer Sanders back at quarterback. But can Derek Mason adequately replace Jim Knowles as defensive coordinator, having just four starters back from a Top 5 defense?
Baylor was a shocking Big 12 champion in head coach Dave Aranda's third season. Aranda has the staff that fits what he wants to do and there is a calmness he conveys that works in Waco. The recruiting is centered around winning the line of scrimmage and having playmakers and it's working.
Kansas State is mentioned as a team that could climb into the top three if they can play their way, which is running the pigskin and limiting points. The question mark is Nebraska transfer Adrian Martinez the right guy under center based on his history?
Pac-12 Champion Pick: Oklahoma (+600) at BetOnline
Pac-12 Darkhorse Pick: Baylor (+600) at BetOnline
---
Out The Door
---
College Football
Longtime Oklahoma football assistant coach Cale Gundy abruptly resigned last night. Gundy explains what happened.
"I noticed a player was distracted and picked up his iPad and read aloud the words that were written on his screen. The words displayed had nothing to do with football," Gundy wrote in a statement.
"One particular word that I should never — under any circumstance — have uttered was displayed on that screen. At the moment, I did not even realize what I was reading and, as soon as I did, I was horrified."
Gundy has been a fixture in the program since 1999 and this is a sad loss for the Sooners' program as every report says this guy is as solid as they come.
Too bad and new head coach Brent Venables has to find a new wide receivers coach.
NFL
Week 1 of the preseason begins Thursday and already we have seen several significant line moves.
Do your homework and find out what caused the movement before placing any bets. As always, information matters.
---
Who is Right?
---
With a thin Monday baseball board, the pickings are slim. Nonetheless, we find bets placed prefer home teams Baltimore and Oakland at about a 60% rate.
The money is a different story with Toronto at 60% in the land crab cakes and the Angels at the same rate in Oak-Town. Who do you agree with?
Let's get some winners! See you back here Wednesday.