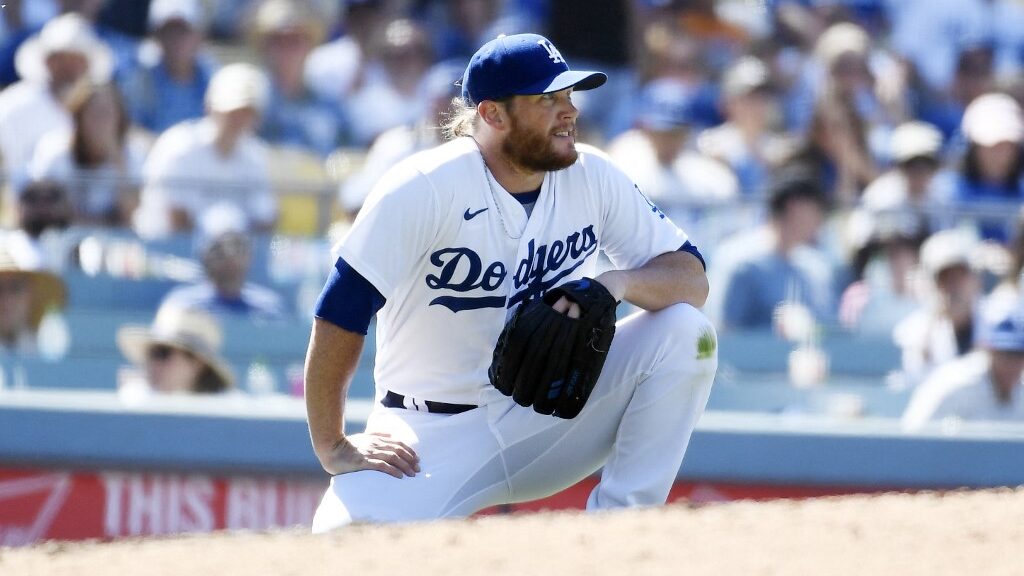 L.A. Dodgers fans are seething with anger and we have that story and others in the big leagues from last night.
We also have college football news about Baylor and UCLA, along with sharing this weekend's top trends and free picks.
---
About Last Night…
---
MLB
It was pass the Tums (again) for Dodgers fans having their team on the Run Line (-140) when Craig Kimbrel came in to a supposedly guaranteed save-chance with a 5-2 lead for Los Angeles against the Cubs.
After two hits, one walk, and a wild pitch to make the score 5-3, Chicago had runners on first and third with two outs and had to summon Alex Vesia to get the final out for his first save of the season. Kimbrel's ERA is now 4.82 and L.A. needs a closer desperately.
The New York Yankees (-155 ML) hung on to beat rival Boston 6-5 at Fenway Park. That was the Yanks' 60th win in only 83 games, which is the second-fastest in team history to reach that mark. In 1998, manager Joe Torre's squad started 60-20 and won the World Series.
Though Atlanta (-240) fell in extra inning to St. Louis, the Braves starting pitcher Spencer Strider did his part, fanning 12, walking two, and permitting two hits and no runs. That was a historical effort by Strider.
Finally, Houston trailed in all four games this week against Kansas City and came back to win three of them. Though a good effort by the Royals, they beat themselves, with starting pitchers and relievers leading baseball in walks in those two categories. Little wonder why Kansas City is 30-51 (-15 units).
---
Trendy Talk
---
MLB
Washington is 7-30 against division opponents this season.
L.A. Angels are 5-22 as an underdog of +100 or higher.
Chicago Cubs are 10-0 under in road games vs. an NL starting pitcher whose WHIP is 1.25 or lower.
Toronto is 19-5 over vs. an AL starting pitcher whose WHIP is 1.20 or lower.
Chris Bassitt of the Mets is 18-2 when playing against a team with a losing record.
Martin Perez of Texas is 10-1 when the total is 8 to 8.5 this season. (Saturday)
CFL
Saskatchewan is 13-4 under after allowing 95 or fewer rushing yards in four straight games.
British Columbia is 7-0 over versus offensive teams, scoring 23 or less points a game. (Saturday)
---
BMR's Betting Pulse
---
MLB
San Diego won the series opener over San Francisco Thursday and we have detailed write-ups and free picks for Friday's and Saturday's battles. The Dodgers beat the Cubs in their series opener and we have all the info you need for Game 2 and Game 4 Sunday.
Speaking of Sunday, we have Sunday night baseball on ESPN with the Yankees at the Red Sox.
TENNIS
We are down to the final drama of Wimbledon for this weekend and see what our experts think about the big matches.
CFL
Two skirmishes remain in Week 5 after Calgary clobbered Edmonton on Thursday. Saturday night has two unbeaten squads with Winnipeg at British Columbia.
Autosports
Review all the information on the Austrian Grand Prix in Formula 1, along with the Quaker State 400 in NASCAR.
---
The Buzz
---
College Football: Baylor to Do What?
Coming off a Big 12 championship and a remarkable year at 12-2, it was announced yesterday Baylor is the pick to win the Big 12 by the media. That was the first time in seven years Oklahoma was not the preseason pick.
But hold on, if you review sportsbooks that have betting odds on who wins the Big 12 title, Oklahoma is 1st, Texas is 2nd and Baylor is either 3rd or 4th. At BetOnline (visit our BetOnline Review), the Bears' season win total is O/U 7.5, with the Sooners at O/U 9. Curious to say the least.
MLB: Baseball Created It's Latest Problem
Pitchers today throw amazingly hard, with most pitching staffs having half or close to that number at 95 to 100 MPH. Part of the reason we have been told that starting pitchers can't pitch deeper into games is the toll on their arms.
We found a website that has all the players from various teams and after we got to 150 pitchers on the Injury List, we stopped, because this article would have come out WAY later if we kept counting. Why are so many hurlers getting hurt? They are told to give "max effort" (throw as hard as you can) on all pitches that are not off-speed.
The solution is simple, don't demand max velocity on every pitch and teach pitchers to use their legs more, not their arms and shoulders.
---
Football Focus
---
UCLA Bruins to Win National Championship: +20000 – T-29th overall choice at BetOnline
Bruins: Over 8.5 (-125) / Under 8.5 (-105) Win Total
Football Pulse
At least UCLA gave an honest reason why they wanted to join the Big Ten: money. The athletic program is reported to be close to 100 million in the red and needs the cash. Of course, that also talks about the program's leader as incompetent, but that's for another space.
Most preseason magazines have coach Chip Kelly's fifth edition as 3rd in the Pac-12 South, as they finished above .500 (8-4) for the first time since 2015. Kelly used to be an innovative coach when he first took the job at Oregon. Having watched UCLA in his tenure, does anything stand out other than he's gotten more talent to wear the Bruins' colors?
Quarterback Dorian Thompson-Robinson is a talent and each year UCLA improves incrementally. But was he brought in to make UCLA better or win Pac-12 titles?
---
Out The Door
---
MLB: Break up the Orioles!
With last night's victory, the Orioles have won five in a row. Baltimore now has a 40-44 record and, are you ready for this, they are the fourth-best bet in MLB at +13.6 units, behind stalwarts like the:
Why are the O's such a good bet? The Birds are 27-28 as underdogs of +100 to +199, which is good for +14.3 units!
The Baseball Classic is back after six years on the shelf, returning in 2023. It will be played next March 8-21 in Taiwan, Japan, Arizona, and Florida. Go to a game if you get a chance, it is a true fan experience.
Noteworthy – The Las Vegas Raiders hired Sandra Douglass Morgan as team president, making her the first black woman to serve in that role in the NFL. Morgan previously was the Nevada Gaming Control Board chairwoman.
---
Who is Right?
---
The lone interleague series this weekend is Tampa Bay at Cincinnati. The first contest of the series opened with the Rays as a -135 road favorite at most sportsbooks (1 or 2 were at -125) and that has jumped all the way to -175 or -180 with backing 90 or more percent on bets placed and money.
With a really solid pitching matchup between Shane McClanahan (9-3, 1.74 ERA) vs. Luis Castillo (3-4, 3.09) the total slid from 8 to 7.5. Yet, bets placed find betting tickets in the mid-50's on the OVER, with nearly 90% of the money on UNDER. That's sharp money for certain on the lower total!
Let's get some winners and have a great weekend and see you back here Monday.