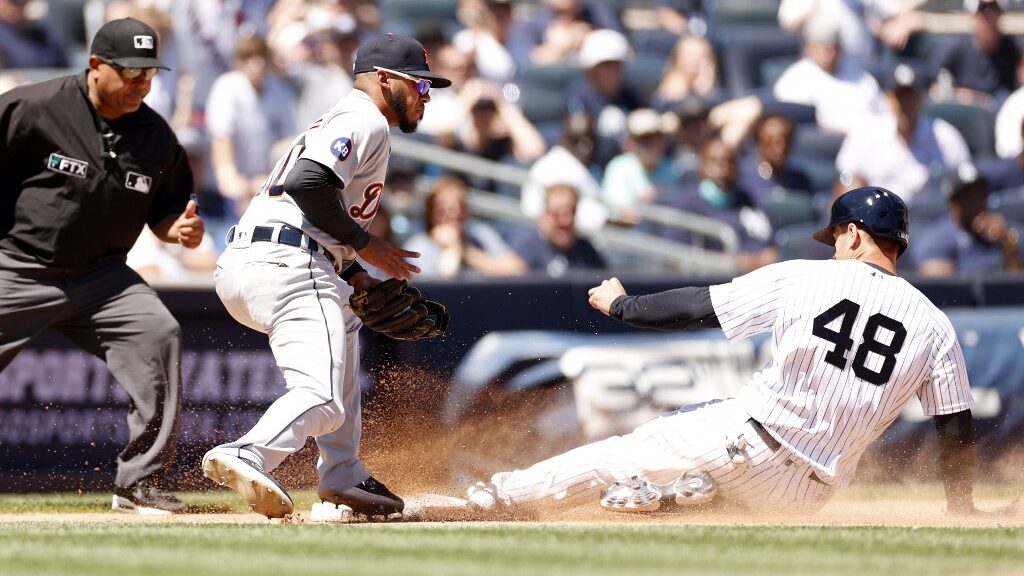 We start the week looking ahead to the postseason in the NHL and NBA. We also discuss the Angels' inability to win and the Yankees' ability not to lose. This plus NBA Game 3 thoughts and our first look at the upcoming Canadian football season.
About Last Weekend…
In the NBA Finals, home teams that lost Game 1 were 14-2 SU and Golden State (-4.5) was expected to respond. The Warriors missed five shots with two feet of the basket and five free throws in the first half yet led by two points over Boston.
In the third quarter, for a second straight contest, Golden State went off with a 35-14 sprint and there would be no answer from Boston. The Celtics were 15 for 43 (34.8%) inside the arc, which led to an easy Under.
With Tampa Bay (-175 ML) down 2-0 after making an array of uncharacteristic mistakes that lead to a pair of New York scores, the Lightning got a power-play goal which settled them down. Tampa Bay later tied it and won it with under a minute left with a goal by Ondrej Palat. This sets up a pivotal Game 4 in Tampa.
Saturday night, Edmonton was doing almost everything right but lost to fall to 0-3 hole. The amount of speed on the ice is incredible with the Oilers and Colorado, but the Avalanche are more stout on defense and between the pipes and go for the series sweep on Monday. The Avs are averaging 4.5 goals per game since the playoffs began.
World No. 1 Iga Świątek won the French Open for the second time in three years and is becoming known for her clay court excellence. "The King of Clay" remains Rafael Nadal, who won his 14th French Open title and his 22nd Grand Slam.
Trendy Talk
MLB 
Arizona is 4-27 in June games the last two seasons.
L.A. Angels have lost 11 straight, yet are 10-1 in home games after six or more consecutive losses.
Robbie Ray of Seattle is 7-17 (-19.4 Units) against an AL team with a slugging percentage of .410 or lower the last two seasons. (Teams Record). Take a look at our betting preview.
NBA 
 Boston is 7-0 ATS after scoring 90 points or less this season. (Wednesday)
NHL
Edmonton is 3-15 in the 4th game of a playoff series. We've got some great player prop plays.
Colorado is 7-1 OVER in road games off a road win scoring 4 or more goals this season.
Tampa Bay is 16-1 in home games after having lost two of their last three games. (Tuesday)
N.Y. Rangers are 20-8 UNDER in a road game when the total is 5.5. (Tuesday)
Must-Watch TV
MLB 
Will the Angels ever win again? See what our experts think about Game 1 vs. Boston in Anaheim tonight. We have previews for Monday and Tuesday for the compelling series between the Mets and Padres and look at the slumping Dodgers on the road in Chicago to face the beat-up White Sox.
NBA
With no Game 3 until Wednesday, on Monday, review our NBA Draft article about what Oklahoma City should do with the top pick. On Tuesday, we have the first of several Game 3 previews and selections coming.  
NHL 
Does Colorado advance to the Cup Finals or can Edmonton avoid a sweep? The Rangers let Tampa Bay back in the series when having a 2-0 lead in Game 3. What is next for both squads? 
Note: Review all our popular prop plays in all the sports.
The Buzz 
With the Angels having lost 11 in a row, the entire pitching staff in shambles, and Mike Trout in the worst slump of his career, we are not the only ones wondering if Joe Maddon should be jettisoned. However, with the state of the pitching, is a new skipper going to matter?
It doesn't seem likely but it helped Philadelphia who swept the Halos with a new manager over the weekend.
Though rumored since the end of the regular season, Quin Snyder resigned with Utah as their head coach over the weekend. Is the first of several moves for the Jazz, who are not going to be a factor in the Western Conference with their current roster. Will Donovan Mitchell be traded? Stay tuned.
The United States men's soccer team is officially in the World Cup, but questions remain about the striker position and their ability to score. We'll have their odds once they are available.
The New York Yankees are dominating baseball with their 39-15 record. The always overpriced Yanks are +15 units for bettors, which is the top in the sport today. The Bronx Bombers' offense is very good at 4.8 RPG, but not elite. What is elite in their pitching. Look at these numbers in terms of rankings:
1st in MLB – Runs Allowed, Hits Allowed, Homers Allowed, Walks Prevented, On-Base Ptc. Allowed, ERA, Starting Pitcher Innings and WHIP.
Little wonder they have the record they do and can beat teams in one-run contests (11-4) or blowouts, 14-2 in games determined by four or more runs.
Out The Door 
The Canadian Football league season starts Thursday, with Winnipeg favored to execute a three-point. Here are the futures from Bovada.
Winnipeg (+250)
Hamilton (+500)
Saskatchewan (+550)
Toronto (+550)
Calgary (+600)
Montreal (+900)
Ottawa (+1,200)
British Columbia (+1,400)
Edmonton (+1,600)
We of course will supply the game-by-game betting tips and send you where to find free picks.
We know ESPN got the NHL rights, but all the days between the NBA Finals matchups are a little much. Hockey players are playing every other day, why can't NBA players? (Asking for a friend)
We are not saying Ime Udoka is not a good coach, but Steve Kerr's adjustments at halftime have Golden State holding a 73-38 in the third quarter thus far. With Kerr using Steph Curry in the pick and roll frequently in Game 2 in the second half with fantastic success, what will Udoka's counter move?
With a short Monday card, the most interesting betting news has just under 60% of bets on Colorado to end the NHL West Finals, yet Edmonton is in the mid-60s for cash laid out.
Let's get some winners, see you back here Wednesday.