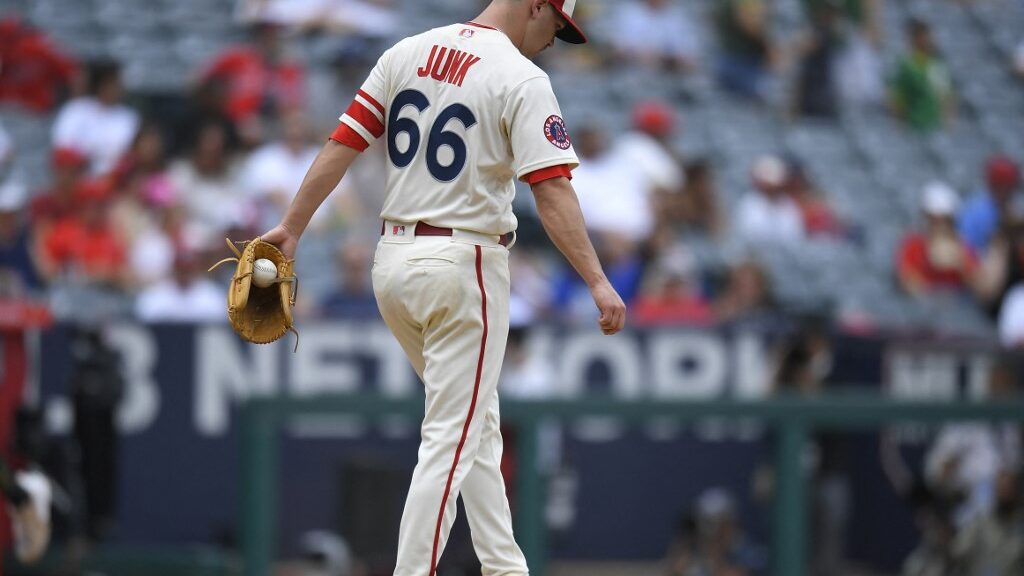 Maybe the Angels should go back to being called the Anaheim Angels, at least they used to win with that name. Read their latest failure and a variety of baseball betting news. MLB has several great series this weekend and we are offering free picks.
Speaking of freebies, we break down the Pac-12 Conference for football and have a couple of thoughts on wagering. This plus Brittany Griener and Deshaun Watson news along with the Premier League starting up.
---
About Last Night…
---
MLB
It has hardly been a heavenly season for the Los Angeles Angels. The Halos lost a home series to the worst team in the American League, Oakland, and in spectacular fashion. The Crew from Anaheim (-117 odds) fell 8-7 yesterday to become the 6th team in MLB history to hit seven home runs and lose and they became the first team ever to hit seven solo homers and score no other runs according to STATS.
The Brewers had owned Pittsburgh for years both home and away but were swept by the Pirates in the Steel City this week. The baffling trade of Josh Hader is haunting Milwaukee immediately as the Bucs won the last two games as +180 and +225 underdogs in their last at-bat.
The Brew Crew's shocking sweep by Pitt and St. Louis winning a doubleheader Thursday against the Chicago Cubs pushed the Cardinals into a first-place tie with Milwaukee.
The New York Mets as -114 home favorites took Atlanta starter Kyle Wright deep four times in their opening tilt of a five-game series to extend their lead to five games in the NL East.
Houston's Justin Verlander has a 1.73 ERA at 39 coming off Tommy John. WOW!!
---
Trendy Talk
---
MLB
Atlanta is 11-0 after two or more consecutive losses this season.
Milwaukee is 2-9 (-15.7 Units) an NL team with a batting average of .250 or worse in the second half of the season.
Boston is 15-4 Under revenging a loss as a road favorite.
Baltimore is 13-2 Under vs. NL teams allowing 4.5 or more runs a game.
German Marquez and Colorado are 11-1 vs. an NL team with a batting average of .255 or worse in the second half of the season the last two years.
WNBA
Atlanta is 0-6 ATS after a home game where both teams score 75 or more points.
Washington is 12-3 Under vs. division opponents this season.
CFL
Calgary is 15-5 ATS in road games off an upset loss to a division rival as a home favorite.
Hamilton is 9-2 Under in road games the last two seasons. (Saturday)
Edmonton is 6-0 Over after a home loss against a division rival. (Saturday)
---
BMR's Betting Pulse
---
MLB
The Padres and Dodgers series just got more interesting and we are covering all three fascinating contests this weekend and offer up free picks. On Friday we will also have the Yankees at Cardinals Game 1 and Sunday, the series finale with the Braves at the Mets.
UFC
Check out the UFC best bets for Santos vs. Hill this weekend.
CFL
It's Week 9 of the CFL and three games remain on the docket for Friday and Saturday, learn who should cover.
---
The Buzz
---
NFL: Football is Back
The Las Vegas Raiders knocked around Jacksonville 27-11 as 2.5-point favorites. While some will say "Da Raiders" (Chris Berman reference) were impressive, they were playing Jacksonville. We told you the total of 30.5 seemed impossibly low and it was.
I'd say the biggest takeaway from the game is that Josh Jacobs started the game at running back and played the first two series for Las Vegas. It's not lost on anybody he's averaged  only 4.0 yards a carry the last two seasons. Maybe he's not a lock as the No. 1 back.
WNBA: #FreeBrittneyGriner
Not unexpectedly, Brittney Griner was found guilty of drug smuggling and possession charges in Russian court yesterday and was sentenced to nine years in prison. Let's hope and pray this is resolved sooner than later.
Soccer:  The Premier League Kicks off Season
The action starts today and Manchester City is again the favorite at -125 according to Bovada (visit our Bovada Review). Liverpool is a relatively close second at +225, with Tottenham and Chelsea next but at much higher odds of +1200 and +1600 respectively.
For those seeking a different vibe, Everton's Frank Lampard is the early front-runner to be the first coach axed.
College Hoops: "The Conference of Champions"
Word broke yesterday that ESPN will be doing a 30-for-30 documentary about Bill Walton. Love him or hate him, you know this will be interesting to watch.
---
Football Focus
---
As we get closer to the start of football, we will have a report on every college football conference and each NFL division before their season starts. On Monday we have: the Big 12
Odds to Win Pac-12 Conference 2022
USC +190
Utah +230
Oregon +250
UCLA +1200
Washington +1400
Oregon State +3300
Washington State +3300
Arizona State +5000
California +5000
Stanford +5000
Colorado +15000
Arizona +25000
*All odds via BetOnline (visit our BetOnline Review)
Football Pulse
It has been a tumultuous summer for the Pac-12 with the announced departure of USC and UCLA, leaving the possible existence of the conference in peril. Nonetheless, all 12 teams will be playing football this season and that's the focus.
If you have seen the preseason magazines, it's Utah that is favored to win the Pac-12 South, not USC. The Utes are the defending champions and credit coach Kyle Whittingham for upgrading the recruiting in the last couple of years. This remains a quality club that can repeat.
USC is bringing in first-rate recruits and new coach Lincoln Riley got QB Caleb Williams to join him from Oklahoma. Nonetheless, this roster has holes in the upperclassmen that can be exploited.
Quarterback Dorian Thompson-Robinson should be in charge of a potent UCLA offense under coach Chip Kelly. Yet, with only three starters back on defense, it's hard to imagine the Bruins passing Utah and USC.
Oregon hired Dan Lanning from Georgia to be their new head coach. He was the DC at Georgia recently, so you know the Ducks' defense will improve. The Oregon offense had its fewest big plays in a decade in 2021 and with Auburn transfer Bo Nix at QB, Lanning promises more shots down the field.
Though Washington has lower odds than Oregon State, the Huskies are on their third coach in three years and look like a wreck. Maybe new HC Kalen DeBoer can work some magic. As far as  second place in the South Division, we prefer Oregon State with what HC Jonathon Smith has done to make the Beavers more eager to play.
Pac-12 Champion Pick: Oregon (+250) at BetOnline
Pac-12 Darkhorse Pick: UCLA (+1200) at BetOnline
---
Out The Door
---
CFL – Winnipeg is a Wonder
Winnipeg continues to handle every situation and is 9-0 and 7-2 ATS. The Blue Bombers were tied 14-all after three quarters at Montreal as 5.5-point favorites Thursday. Winnipeg overcame four turnovers and scored three touchdowns in 6:08 of the final quarter to run and hide 35-20.
The Blue Bombers are the only team to not have a bye yet (some have had two) and when looking around to find thoughts on their games the last few weeks, most picks suggest they had to be tired. Then the two-time defending champs win and cover again. Quite remarkable.
NFL: The League Challenges Watson's Suspension
The NFL expressed their disappointment in Deshaun Watson being suspended for six games. Ideally, it seems their preference is the whole season or at least more than half the season along with a meaningful fine. Stay tuned
Question: Should Cleveland get Jimmy Garoppollo into camp now and give the 49ers a 7th-round pick in 2024?
---
Who Is Right?
---
Tonight's Houston at Cleveland encounter has seen a lot of moving parts. The Astros opened as -191 road favorites and shot up to the -215 area when Kirk McCarty was the expected starter for the Guardians, with the total at 8.5.
Cleveland switched to hard-throwing Hunter Gaddis, called up from the minors, where he averaged 1.25 strikeouts an inning yet still had an ERA over 4.00. Houston has since sunk back to -200.
It is interesting to note almost 60 percent of bets placed are on the Over while better than 70% of the cash is backing the Under. What do you think?
The Astros are still a big favorite with 85-90% support for money and bets registered.
Let's get some winners! Have a terrific weekend and we'll be back on Monday.