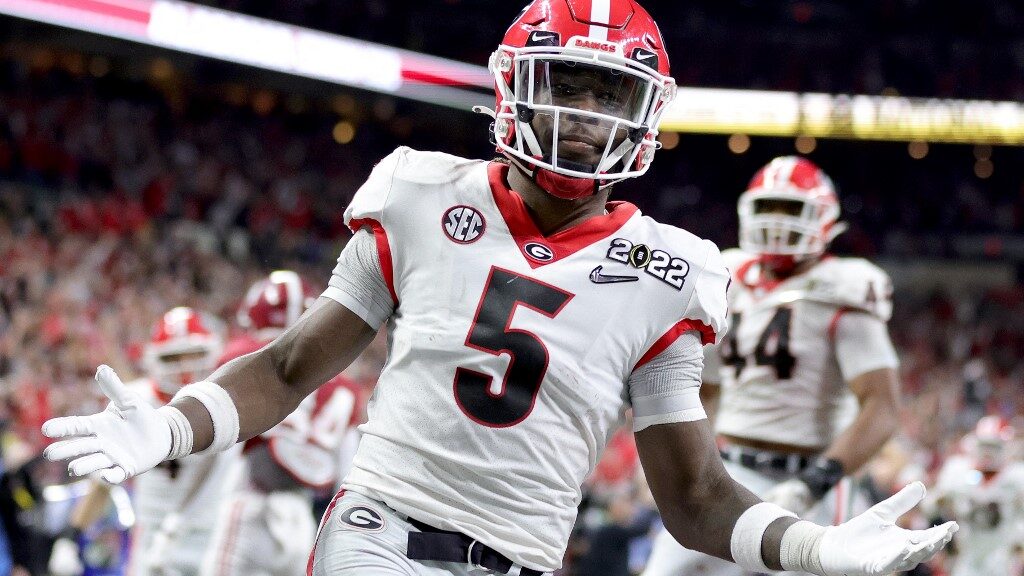 After months of waiting, college football is almost here! We are officially less than a month away from tailgates and headgear picks.
We'll have a few games in August, but the season begins for everyone in the first weekend of September with Week 1. Before we get deep into conference games, we will have some major non-conference matchups to test the top teams in college football.
These are the five best games for Week 1 of the 2022 college football season:
Read on for our analysis of each game, as we work our way to number 1. We'll start with a team outside the Power 5 looking to make an early statement. *All odds via BetOnline (visit our BetOnline Review).
---
(#5) Cincinnati Bearcats vs. Arkansas Razorbacks
Saturday, September 03, 2022 – 03:30 PM EDT at Razorback Stadium
Cincinnati made it to the College Football Playoff last year, and they retained their head coach at the end of the season. The team has to replace a Heisman candidate at quarterback and the explosive Jerome Ford, but the team will be well-coached.
For the Bearcats to remain relevant, they have to go undefeated. That's why the season opener against Arkansas is so important. It's a better opponent, but this is still a winnable game for Cincy. The line is at Cincinnati +7 (-120), so you can expect a close game between two quality teams.
Arkansas is looking to become relevant in the SEC West, and this will be a chance to get into a rhythm before playing some of the best teams in the country. If they can't beat Cincinnati, they will have a long season in the SEC.
---
(#4) Florida State Seminoles vs. LSU Tigers
Sunday, September 04, 2022 - 07:30 PM EDT at Caesars Superdome
The LSU Tigers want to turn things around with Brian Kelly in charge, and they should have a solid roster with talented receivers and defensive backs this year. They will square off against Florida State, who will look for growth in the offense with Jordan Travis.
The ACC is winnable this year, but the Seminoles are still behind other schools in the conference. They hope to remain relevant as NIL impacts the future of college football, but they will struggle to compete in this game if they can't turn things around quickly.
LSU is favored by three points, and all eyes will be on this game as it takes place on the last Sunday before the NFL games begin.
---
(#3) Utah Utes vs. Florida Gators
Saturday, September 03, 2022 - 07:00 PM EDT at Ben Hill Griffin Stadium
The Gators brought in Billy Napier to change the culture at Florida, and he will be working with Anthony Richardson at quarterback. Richardson is a talented quarterback with a bright future, but he will play against a stout Utah defense to begin the season.
Utah doesn't have a great history of traveling and playing well, but Florida lacks an identity at the moment. This should be a fun matchup between two great programs.
---
(#2) Oregon Ducks vs. Georgia Bulldogs
Saturday, September 03, 2022 - 03:30 PM EDT at Mercedes Benz Stadium
Oregon's new head coach, Dan Lanning, was an assistant for the Bulldogs last season. The new starting quarterback, Bo Nix, played for Auburn, one of Georgia's biggest rivals. This game will be personal.
The reigning champs have to replace almost the entire starting defense, but the Bulldogs still have more talent than almost any team in the country. This game will be packed with storylines, and Georgia will experience what it's like to be the top dog as they play the Oregon Ducks.
Georgia should win this game, but a loss would cause a massive power shift in college football this year. The Bulldogs would have to go undefeated to even compete in the CFP, and Oregon would instantly be seen as a contender for the playoff.
---
(#1) Notre Dame Fighting Irish vs. Ohio State Buckeyes
Saturday, September 03, 2022 - 07:30 PM EDT at Ohio Stadium
Ohio State has one of the best quarterbacks in the country in C.J. Stroud, along with an amazing group of receivers. The offense should be electric, but they will be tested by Notre Dame in Week 1 of college football.
The Fighting Irish have a new head coach, and the team can expect a different mentality this year. Will that lead to early success? It's hard to tell, but this will be a great way to tell.
Notre Dame essentially has to be undefeated to make the College Football Playoff, so this is a massive game for both teams. Both programs have other big games down the road, so a loss to start the season will likely put them in a precarious position.