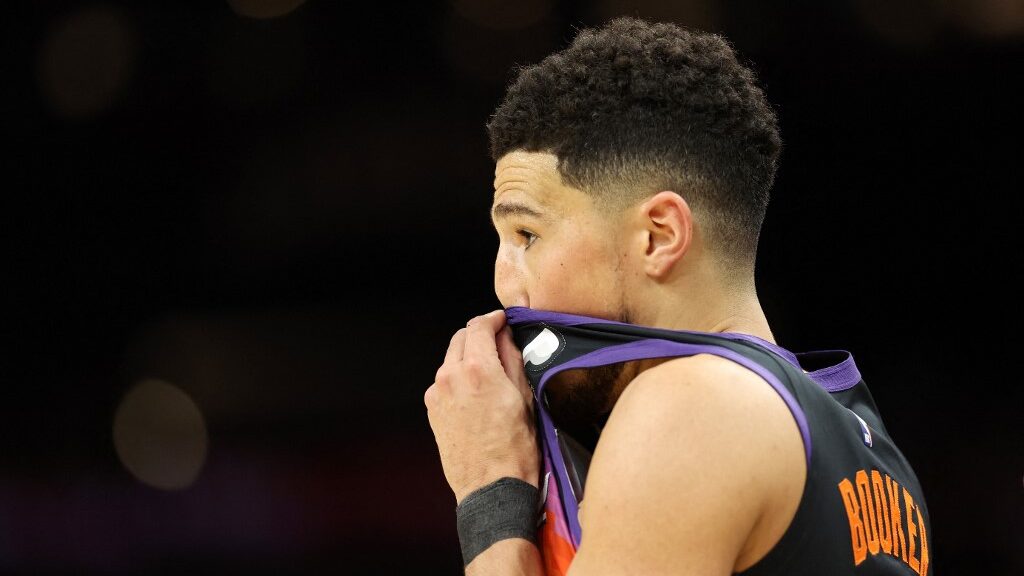 We have a quiet start to the week with baseball only on Monday, but we have a lot to talk about from the weekend, including a team losing a game in which they didn't give up a hit. If you think that is odd, we have something in MLB that has not happened as far back as they kept records of this occurrence.
About Last Weekend…
Not that you probably did not hear or see this, but how Milwaukee lost a 3-2 series lead to Boston was being outscored 39-11 in made three-point shots. That's a difference of 84 points over just two games.
Khris Middleton would have helped, but not enough against the hot-shooting Celtics and seemingly flawed Bucks defense.
Today, people are still stunned by what they saw with Phoenix in a complete meltdown loss to Dallas in Game 7 at home. The Suns were literally never in the game and were booed off the court when down 30 points at halftime when fans started leaving.
Dallas played a sensational game, but more will remember what Phoenix didn't do compared to what the Mavs did.
For all but Toronto (more on that in a minute), the other four Game 7's in the Stanley Cup Playoffs went to the home teams. This proved why you want to have a better record than your opponent. On Sunday, favored Calgary and the New York Rangers both trailed at home but came back to win in OT.
The Maple Leafs were the lone failure and they have now lost 10 consecutive series-clinching games and have not made it out of the first round in 18 years.
For the sixth time in baseball history, a team was held hitless and still managed to win. Thanks to three Cincinnati walks and a groundout, Pittsburgh scratched across a run in the bottom of the eighth inning and made a 1-0 lead hold up in the top of the ninth. There are lots of ways for a bad beat and that is among the worst in baseball.
Trendy Talk 
NBA
Miami is 13-4 OVER in home games after allowing 100 points or less this season. (Tuesday)
NHL 
Florida is 15-3 in home games revenging a loss of two goals or more the last three seasons. (Tuesday)
Colorado is 17-3 at home against teams scoring 3.0 or more goals a game.
MLB
San Francisco is 50-14 vs. NL teams allowing 4.5 or more RPG the last two seasons.
N.Y. Mets are 12-1 (+11.7 Units) after a loss this year.
Tampa Bay is 31-11 in May games since 2021.
Arizona is 15-2 UNDER when the total is 8.5 to 10 in 2022. Take a look at the best bets for this game.
Detroit is 18-5 UNDER vs. AL teams scoring 4.4 or fewer RPG.
Ian Anderson and the Braves are 17-5 when the total is 7 to 8.5.
Must-Watch TV
NBA
The Conference Finals will start on Tuesday with Boston at Miami and on Wednesday, Dallas ventures to Golden State. Review what our experts think about these battles. 
NHL 
On Tuesday, the Conference Semifinals commence. The first matchup is a Panhandle State confrontation with Tampa Bay at Florida and next, St. Louis visits Colorado. Read our previews and picks here.  
MLB 
For Monday, St. Louis and San Francisco have tough assignments, traveling to face the New York Mets and Colorado respectively after playing Sunday night.
Though this is not different from many series all season long, there is just something unusual about playing Sunday night and traveling to play Monday evening. We'll have free picks on the Cards vs. Mets, along with Atlanta at Milwaukee and Arizona at the slumping Dodgers.
Note: Review all our popular prop plays in all the sports.
The Buzz 
Here is a look at the NBA Conference Finals series prices and betting odds from Bovada.
Boston -175 vs. Miami +150
Golden State -250 vs. Dallas +200
The Celtics this large a favorite is really of note because the Heat has the home-court advantage.
In the NHL, here is how it looks from Betonline.
EAST
Florida -160 vs. Tampa Bay +140
Carolina -195 vs. N.Y. Rangers +170
WEST:
Colorado -400 vs. St. Louis +320
Calgary -195 vs. Edmonton +170
The East's top seed Florida appears vulnerable to the two-time defending champion Lightning. Otherwise, the chalk looks correct.
Out The Door 
Caught up on some reading from last week and this was incredible. Not sure if we've mentioned the first team to score five runs in an MLB game has won 92-93 percent of the time since 2010 (slight variations, either way, have happened also).
Last week, the Mets trailed the Phillies 7-1 in the top of the ninth inning and won 8-7 and Cleveland was behind the White 8-2 in the same situation and came away with an 11-inning 12-9 victory. According to STATS, teams losing by six or more runs had lost 857 straight times. And that happening twice in the same week, that NEVER had occurred in the 85 years of records they've kept.
Sometimes a line seems too good to be true. The Astros have won 12 of 13 and are +110 road underdogs at 13-21 Boston, who is 4-9 at Fenway Park. The Red Sox Garrett Whitlock has a 3.00 ERA in four starts and has more talent than Houston's Jake Odorizzi, but the 'Stros veteran has a 0.51 ERA in his past three starts. Something seems wrong with this line which is why it is probably right.
The Angels/Rangers' total is stuck at 8, but 70+ bets are on the Over, and 85% of the money is backing the Under. Hmmm.
Let's get some winners, see you back here Wednesday.