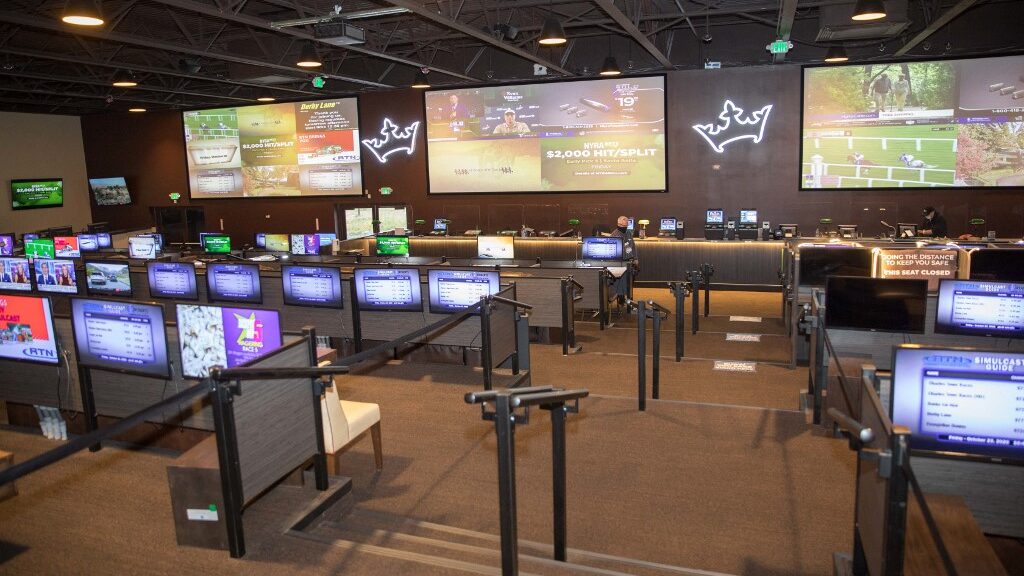 The new kid on the block isn't working alone anymore in the US sports betting market. After another record year of sports betting in New Hampshire, things may be a little different this year. For the first time ever, they'll be battling Massachusetts for bettors, and Maine isn't far behind.
New Hampshire saw a 27% increase in betting handle last fiscal year when compared to the year before, raking in more than $861 million in total bets. What's concerning is that 25% of the money came from people from the Commonwealth, and Maine could allow betting as soon as this summer.
In an interview with WMUR News, New Hampshire Lottery Spokesperson Charlie McIntyre said he isn't worried about a decrease in revenue. "A quarter of our play does come from Massachusetts," said McIntyre. "We would expect to see some drop-off, but I wouldn't imagine it would be much. Certainly, I take solace in the fact that when New York launched, New Jersey didn't see a drop-off in their revenues."
---
DraftKings Is King In New Hampshire
Another limiting factor that could affect the bottom line for New Hampshire is that DraftKings Sportsbook is the only game in town, so to speak. The mobile sports betting mogul secured a quasi-monopoly with the New Hampshire Lottery when sports wagering launched in The Granite State in 2019. DraftKings made an incredible offer that includes 51% of gross revenue going directly to the state's government.
But given New Hampshire's size, this may be the best-case situation. Even though it receives a lot of money from DraftKings, it continues to control the hold, odds and promos that the company may present. With numerous sportsbooks in the state, New Hampshire couldn't achieve this number.
There are also three retail sportsbooks open for business in New Hampshire, including,
Filotimo Casino & Restaurant — Dover
Filotimo Casino & Restaurant — Manchester
The Brook — Seabrook
All three are DraftKings locations, with video screens and sports betting kiosks. There are no live teller windows at these locations, but you can still place a wager in person at all three. But in Massachusetts, gamblers will have more apps to choose from.
---
What Massachusetts Offers That New Hampshire Doesn't
The Commonwealth formally launched retail betting on January 31, 2023. And the Massachusetts Gaming Commission is "on target" to meet its goal of launching online sports wagering in the state in March.
A total of 10 sports betting apps are expected to be ready to launch whenever Massachusetts opens online sports betting:
DraftKings
FanDuel
BetMGM
Caesars Sportsbook
PointsBet
WynnBET
Barstool Sportsbook
Bally Bet
BetFanatics
Betr
Betway also received an online sports betting license, but it will launch later in 2023. That's according to Tom Mills, Communications Division Chief for the MGC.
Research shows that bettors prefer mobile apps for a number of reasons, including convenience. This will give Massachusetts gamblers many more options to choose from (compared to New Hampshire bettors).
---
What's Next For New Hampshire?
A recently proposed bill would legalize online betting in New Hampshire. Revenue would allow many of the state's students to attend community colleges for free.
Senate Ways and Means Committee Chairman Tim Lang (R-Sanbornton) filed Senate Bill 104. The bill is expected to raise $17 million for college tuition in the first year. Money could also be applied to purchasing class books, fees, and tuition.
The idea, however, is being met with some pushback. Some lawmakers wonder what might happen to the 13 brick-and-mortar charitable casinos in the state. Under the bill, the state's lottery would oversee the betting. If approved, the law would take effect on January 1st, 2024.
---