Best Massachusetts Sports Betting Apps & Mobile Sportsbooks
The Massachusetts sports betting industry officially launched on January 31, 2023. Nonetheless, it is currently limited to in-person action only, so you still have to use an offshore sportsbook to place any bets online.
At least half of all online traffic comes via mobile apps so it should come as no surprise that the online sports betting market has had to adjust to that fact. The best online sportsbooks and mobile sports betting apps put the customer's user experience first.
When it comes to making wagers, you will spend a considerable amount of time using online sportsbooks via your mobile device. In this guide, we've given you a list of the top mobile operators in Massachusetts.
Clearly having a good mobile offering is a priority here but at the same time, we can't ignore things like customer service, available betting odds, accepted deposit methods and fast payouts. All of these things had to be taken into consideration in order to make this list. We feel confident that these suggestions will help you choose the best sportsbook for you.
For Massachusetts bettors and sports fans that are looking for more ways to gamble online, we suggest checking out one of our many in-depth betting guides that cover a wide variety of betting markets.
The Best Massachusetts Online Sports Betting Apps & Mobile Sites
Here are the top 10 mobile sportsbooks in Massachusetts. While we've given a brief description here of what they offer, we go into much more depth later in the guide.
We also have a more in-depth review of all of these sites. In fact, we have in-depth reviews on over 100 offshore betting sites available to players in Massachusetts. We suggest you take the time to go over those when you find a sportsbook that you believe is right for you.
Reviews of the Best Massachusetts Betting Apps & Mobile Sites
Before you dive into our expert reviews of the best online sports betting sites in Massachusetts, there are a few things to consider. Not all mobile betting platforms are created equal and if you have experience using your favorite sites on your desktop, you'll know that it is quite rare for those betting on phones to have the exact same experience.
Due to size restrictions among other things, the look and feel is rarely the same. That is something to keep in mind when looking at the mobile version of your favorite online betting site. We aren't saying you should accept an inferior product, instead, it's a reminder that online gambling isn't the exception when it comes to the mobile user experience.
Most sportsbooks do not have a dedicated mobile app. Of course, the ones that do will have the closest thing possible to the desktop version in terms of quality.
For the ones that do not, the question sports fans need to ask is "how close is this to the desktop version" when choosing which mobile offering is best for you. If you use that as your starting point, it will make your decision-making process a lot simpler.
1. Bookmaker: Early lines Available for Mobile Bettors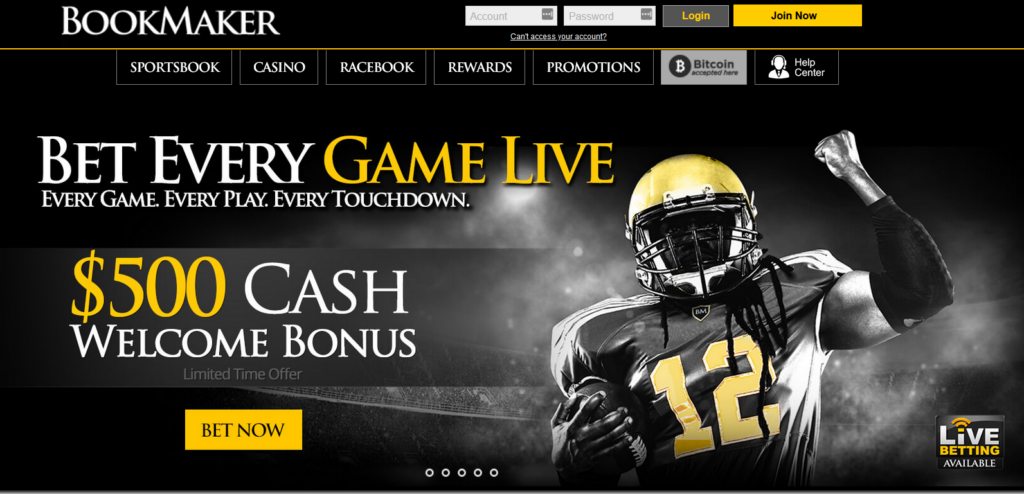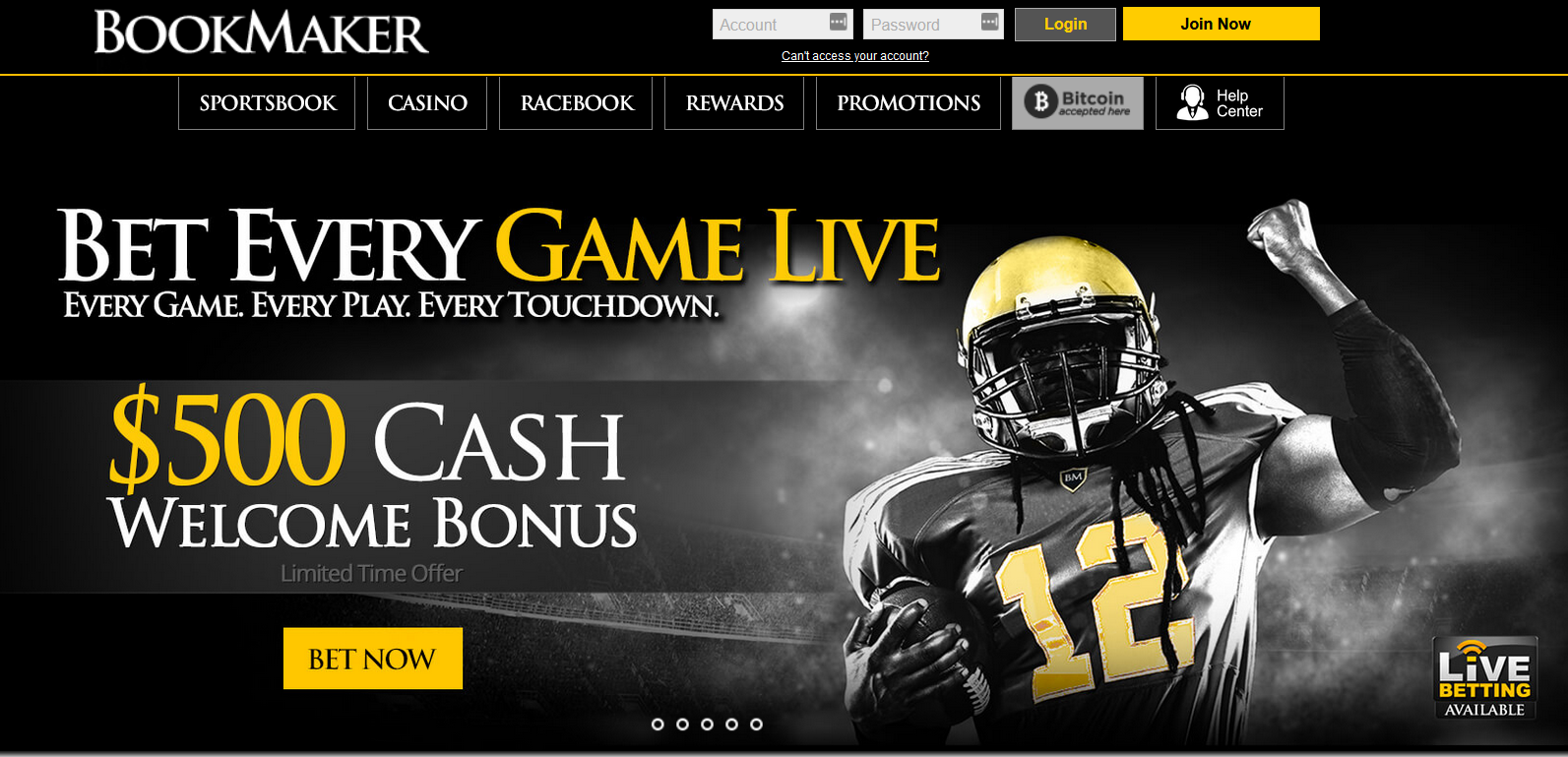 Bookmaker.eu is a regular on most lists when it comes to the best sportsbooks. They do not have a specific app but the mobile version of the site is very user-friendly. There is very little difference between the mobile and desktop versions of the site.
That is enough to put Bookmaker on this list considering they do everything else really well. All of the features from the desktop site are available on mobile which means that in terms of the user experience there is a level of consistency that you would come to expect from this brand. One of the main reasons to use the mobile site is when you are making a live bet.
The live betting market on Bookmaker is among the best in the industry. You should expect to find several betting options on whatever game you may be watching.
Of course, you can bet on a live game without watching it although that isn't something our betting experts would probably recommend. The point is, the option exists which means that regardless of what device you're using when logged into your Bookmaker account, you will be able to get action on the game.
Pros
Mobile site comparable to desktop offering
Live betting feature offers several markets on mobile
Cons
Access to loyalty program may be restricted
2. Bovada: Best Mobile Sportsbook for Prop Bets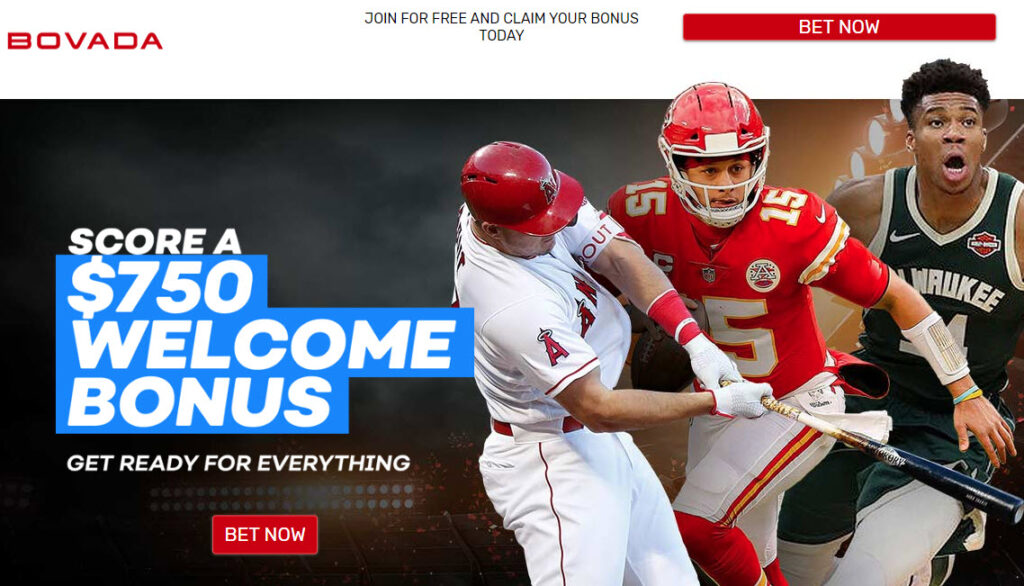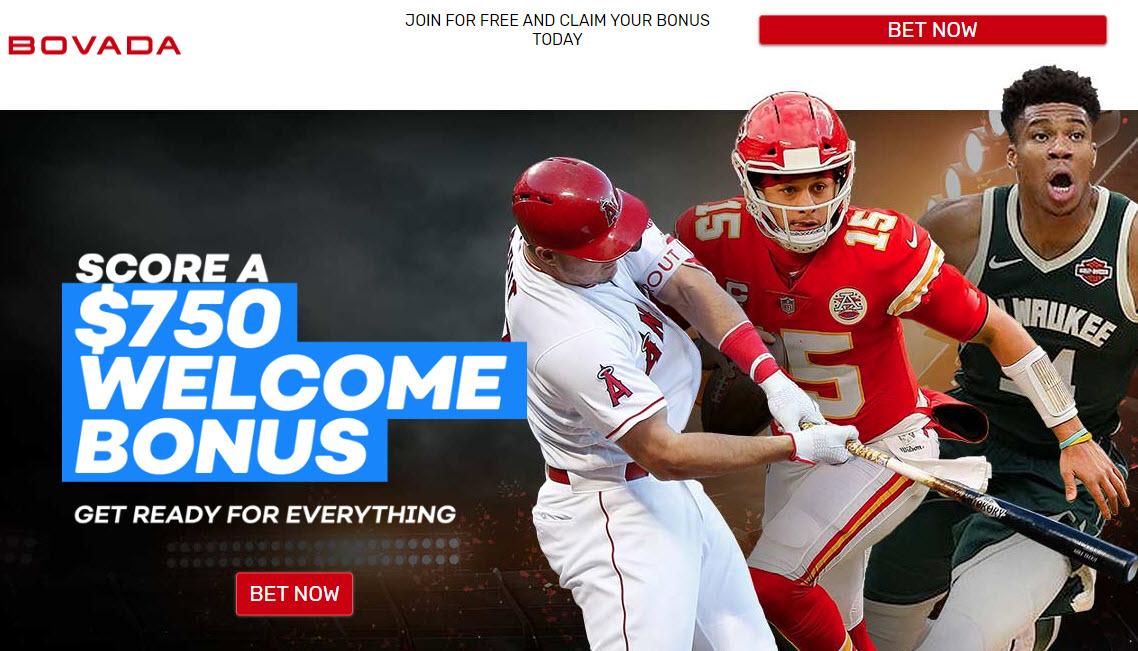 Bovada is a brand that has been around for a long time and they've been able to attract mobile sportsbook bettors in Massachusetts by being consistent. Created in 2011 as a sister site to Bodog for customers in the U.S, they understand the market they cater to and do so very in style. With that in mind, their mobile platform is easily one of the industry's best.
Bovada has long claimed that they have the busiest poker room in the country. For you poker enthusiasts, you'll be glad to know that the poker room is available on mobile. This is not as common as it should be which means you can get action no matter where you are. We've all been in a situation where we have to wait our turn which means we have time to kill.
Most people nowadays use their cellphone as a distraction when they are waiting to be called for whatever reason. With Bovada's mobile version, you can play a tournament or a quick sit & go cash game while you wait. You don't just have access to the poker room either, all of the casino games on the mobile version of the Bovada mobile site work well also. Bovada's mobile offering will keep you in the action no matter where you are.
Pros
Mobile version as good as desktop
Poker and casino offering very user-friendly on mobile
Access to some of the biggest sports markets in the industry
Cons
Odds not released as early as some competitors
3. Heritage Sports: Mobile Sportsbook With Very Appealing Odds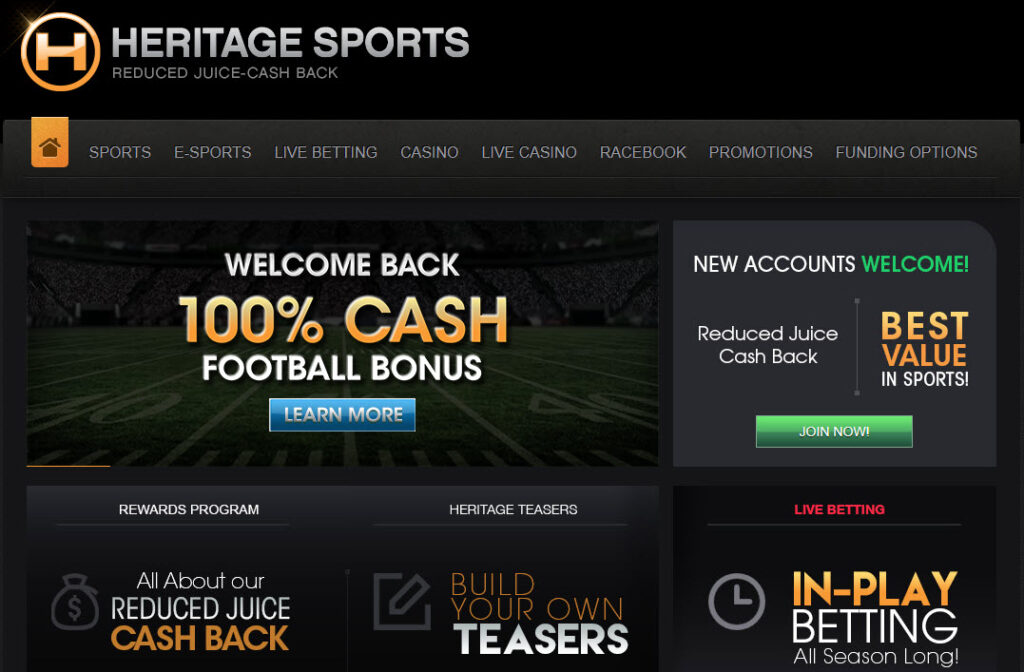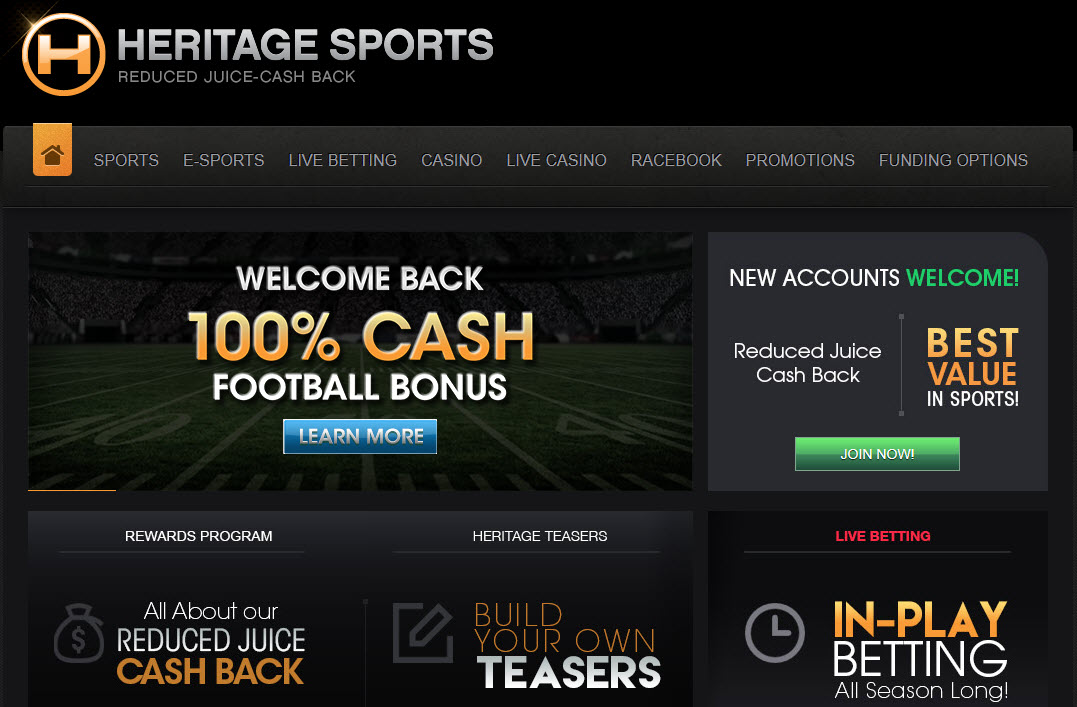 Mobile sportsbook bettors in Massachusetts that have an account at Heritage Sports are already ahead of the curve with the amazing odds that they offer. The appeal of Heritage will always have to do with its reduced juice model. Saving money every time you make a wager is reason enough to keep betting with Heritage and when you do so on your mobile device, you'll have access to some of the best odds the live betting market has to offer.
The live betting market at Heritage Sports is one of the industry's best and when you add to the 20% savings you get on spread bets, it's obvious why this offering is so popular among Massachusetts bettors. In case you're wondering how you're saving 20%, Heritage Sports' reduced juice model means you pay -108 instead of -110 which is 20% cheaper. It pays to play at Heritage and their mobile offering will keep you in the action.
Pros
Mobile-friendly live betting
Cashback bonuses available
Reduced juice of -108
Cons
Bonuses not as generous as some competitors due to reduced juice model
4. BetOnline: Best Massachusetts Mobile Site for Early Odds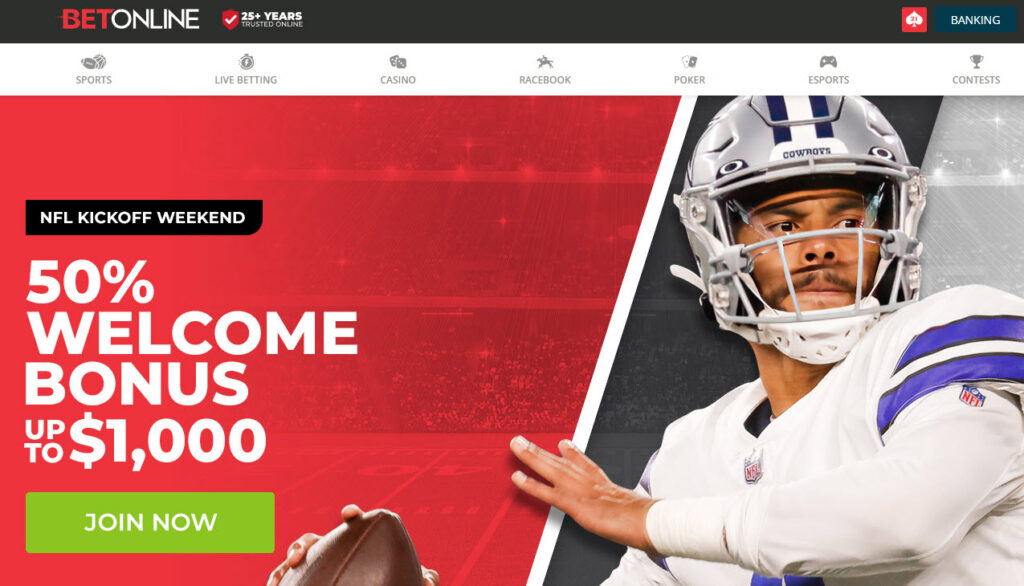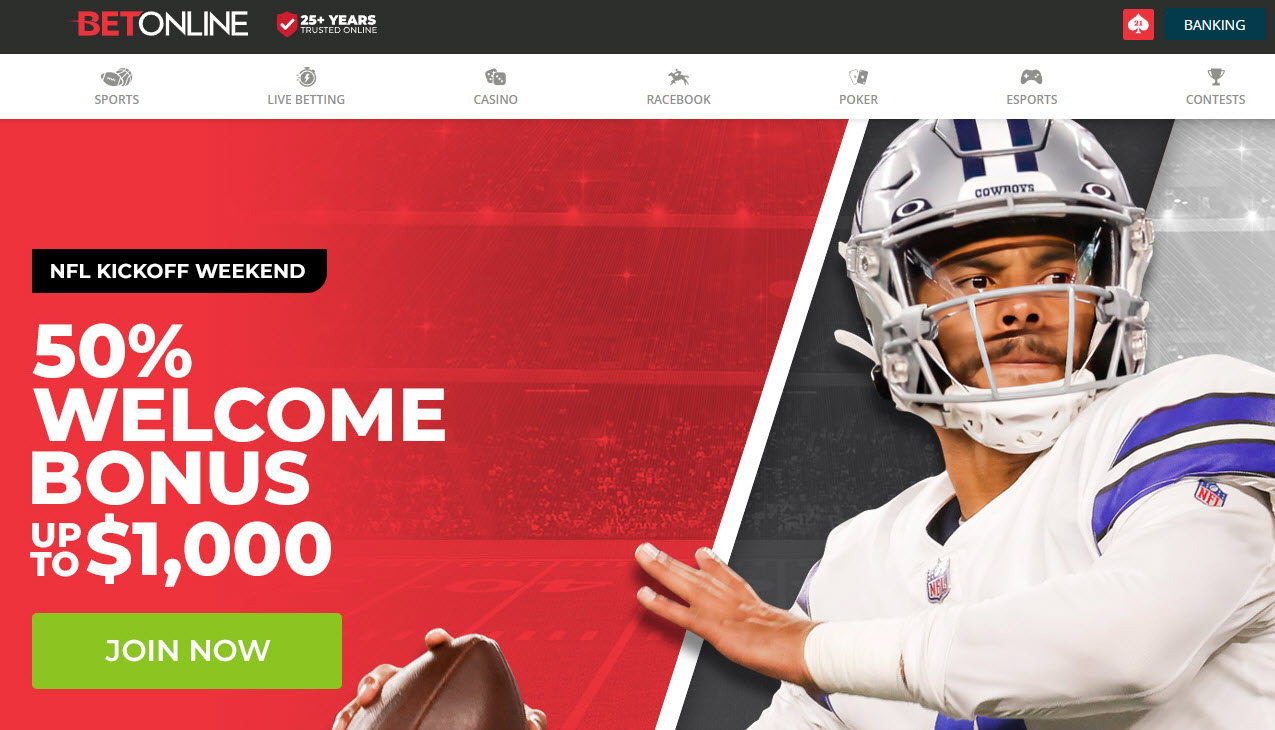 Early odds are a big feature when looking for the best mobile sportsbook in Massachusetts. One thing for anyone familiar with line shopping is that you don't want to miss a potential sale. Good thing BetOnline's mobile version of the site keeps you locked in when the lines drop. BetOnline has been in the business since the 1990s and in that time, they've built quite a reputation.
It is no secret in the industry that a lot of competitors simply copy BetOnline's odds. This practice is a lot more common than one might think. The reason they do this is that releasing lines early leaves you exposed to sharp action. That same action helps the sportsbooks that set the lines know which direction to move the odds, if at all.
In short, BetOnline's reputation as an industry leader comes from taking this sharp action in the first place. If they don't shy away from professional bettors then you know that they are a name you can trust. To that end, they have a mobile betting presence that's among the best in the business because they attract some of the biggest players in the game. You will benefit a great deal from this business model and their mobile offering will make sure you have quick and easy access.
Pros
Sharp action welcomed
Some of the best odds in the industry
Mobile version of the site is user friendly
Cons
High playthrough requirements on bonuses
5. BetAnySports: Competitive Odds for Mobile Bettors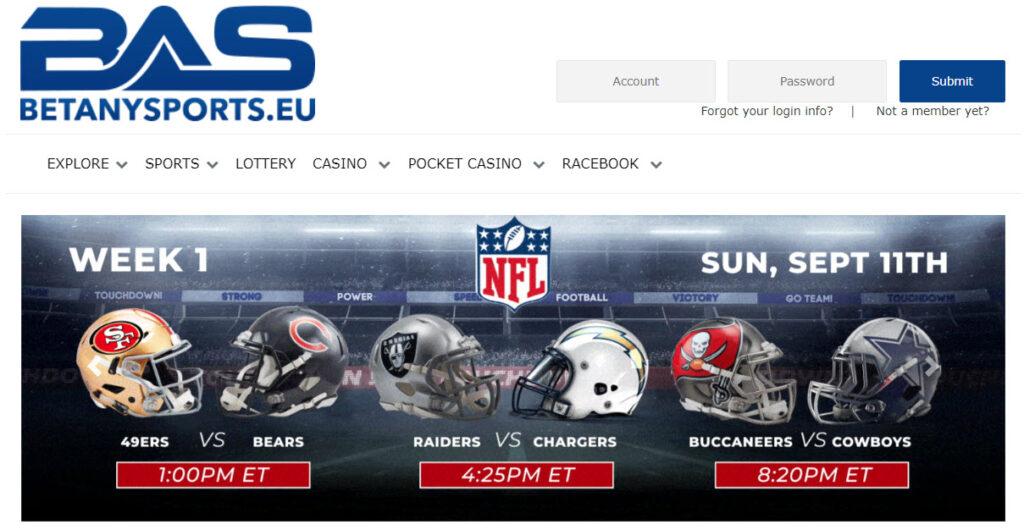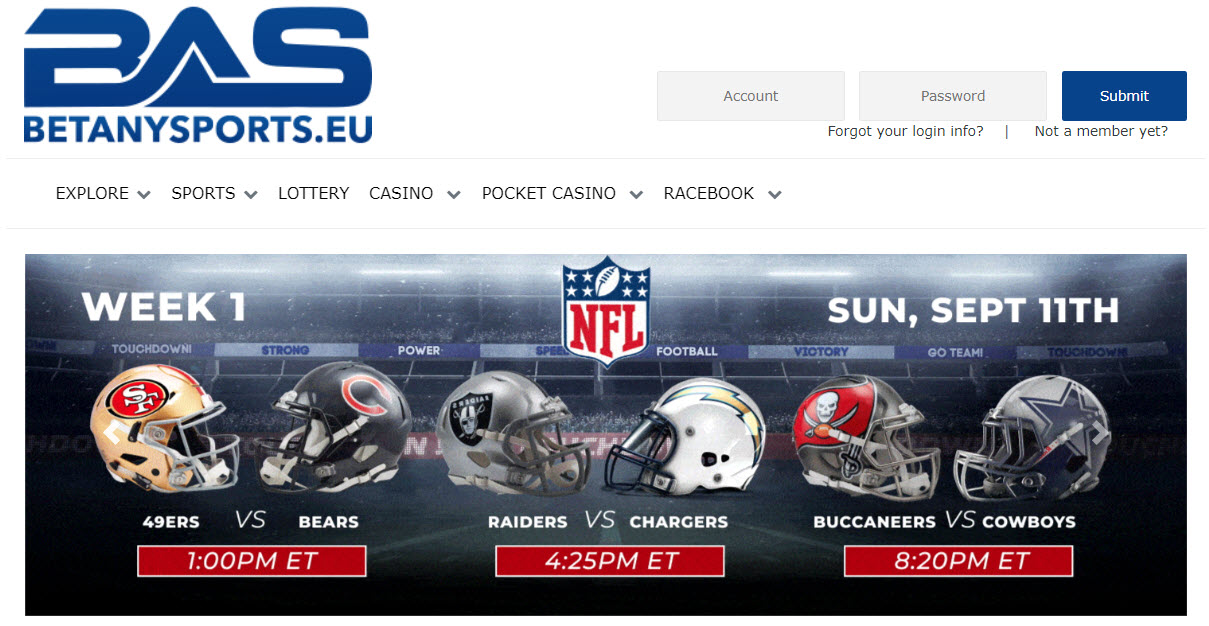 BetAnySports has great bonuses for mobile sports bettors in Massachusetts to go along with their reduced juice. If you have an account at BetAnySports, then you have access to some of the industry's best odds. Those savings are what keep customers loyal to their brand and with that, they've done a good job with their mobile offering.
We mentioned at the start of the guide that when you are looking at any mobile version of a website, you need to compare it to the desktop version for context. We bring that up again because of all the features BetAnySports has, a modern-looking website is not it. Their desktop offering is as basic as it gets.
We aren't saying that's a bad thing, we're saying if you're comparing them to some of the other names on this list, that is the one area where they would fall short. The thing is, they realize this and make up for it in so many ways, starting with their -105 price on spreads and totals.
Of course, they would love to have a website as sleek and modern as some competitors but considering they're offering you wagers at 50% cheaper than those same competitors, their customers seem to be very satisfied with that trade-off.
The most important thing for you to consider here is "how similar is the mobile offering to the desktop version". The answer is it's close enough that our experts felt the need to include them in the sites that they recommend for players in Massachusetts looking to make mobile wagers.
Pros
Industry's most competitive odds
User-friendly mobile offering
Cons
Interface not as modern as some competitors
6. BetUS: Large Bonuses and VIP Service for Mobile Users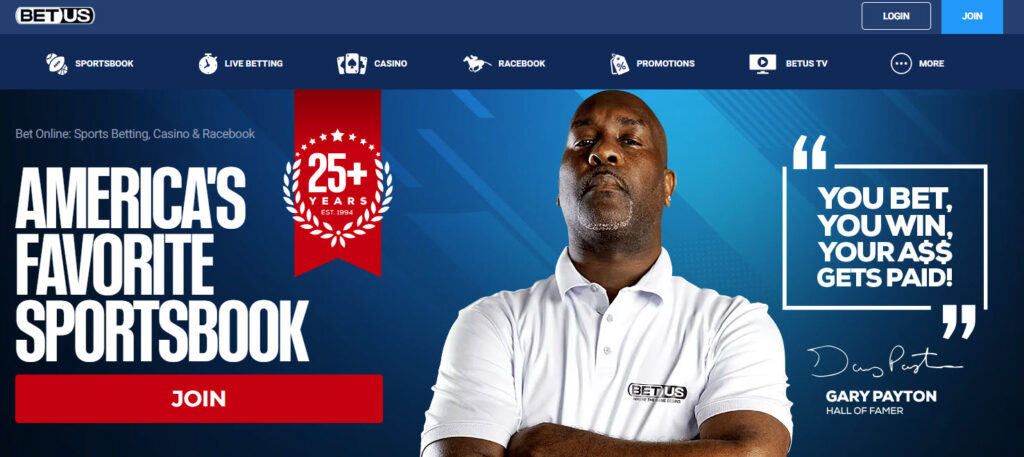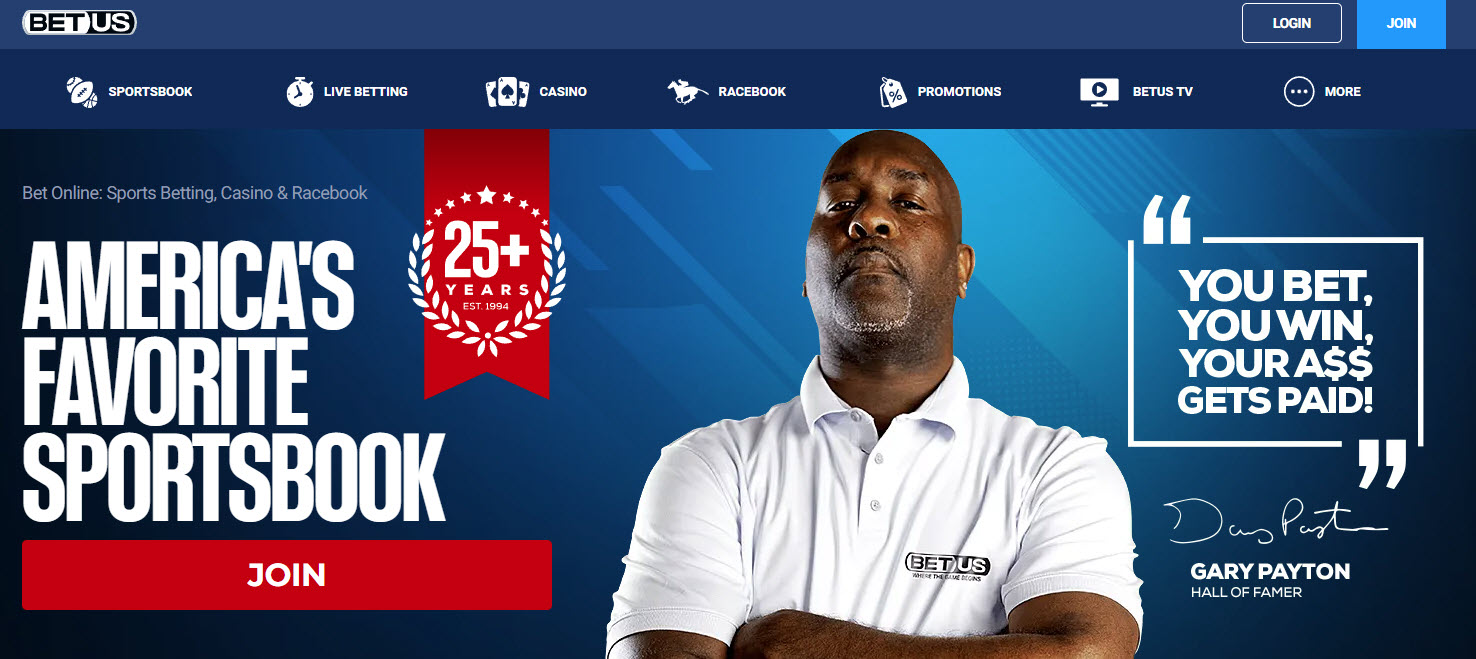 BetUS has consistently kept its offering up to date. They excel in several aspects of online gambling and the mobile version of their site is no exception. With over 30 years in the business, they've been able to stay around that long by keeping things fresh. Where they really stand out from their competitors is the generosity of their bonus model.
You will have a hard time finding any mobile sportsbook in Massachusetts that gives you more bonus money as often as BetUS. From welcome bonuses to reload promos and cashback offers, BetUS stays ahead of the game by giving customers more money for their deposits than the rest. The desktop version of their website is very sleek and modern looking. Our experts are happy to report that you can expect a good experience from their mobile offering as well making them a favorite of Massachusetts gamblers.
Pros
Biggest bonuses in the industry
Fantastic customer service
Cons
Bonus terms require higher requirements than other sportsbooks
7. WagerWeb: Quick Payout Available for Mobile Bettors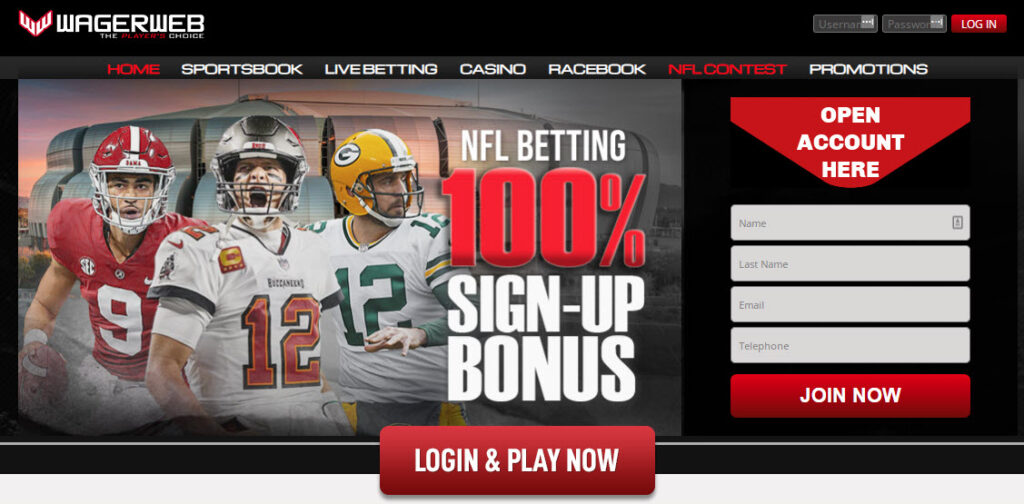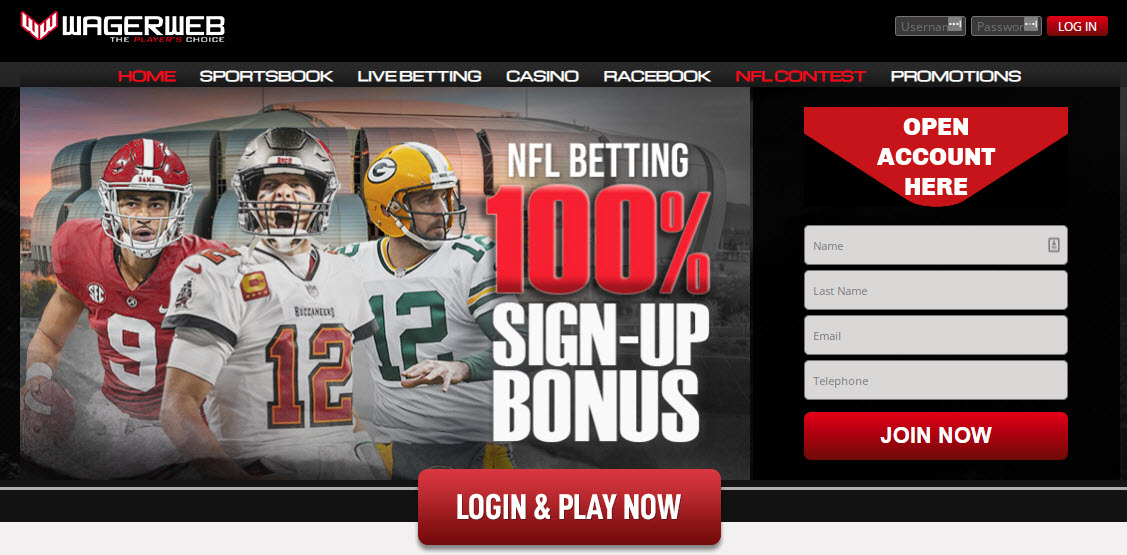 WagerWeb offers players in Massachusetts an easy-to-use mobile version that allows them to continue to save big when they bet. They are a part of the same group as Heritage Sports and when betting on spreads and totals you can enjoy -108 lines. That 20% savings are really hard to beat and as a customer, if their mobile offering is similar to their desktop version, then there's no reason not to continue saving money.
According to the feedback provided by our betting experts, we can confirm that this is the case. On top of the savings you get with every wager made, WagerWeb offers quick payouts for crypto players. WagerWeb has a fantastic mobile version that will give you access to these great savings on the go. WagerWeb also has ongoing promotions that you can benefit from.
Pros
Among the industry's most competitive odds
Fast payouts available
Cons
Betting limits not as high as some competitors
8. JustBet: Great Mobile Offering for Live Betting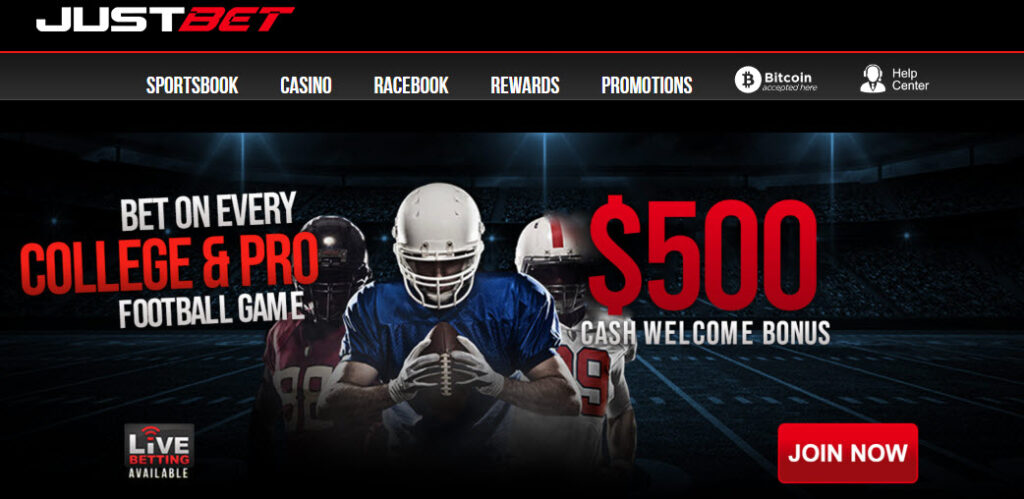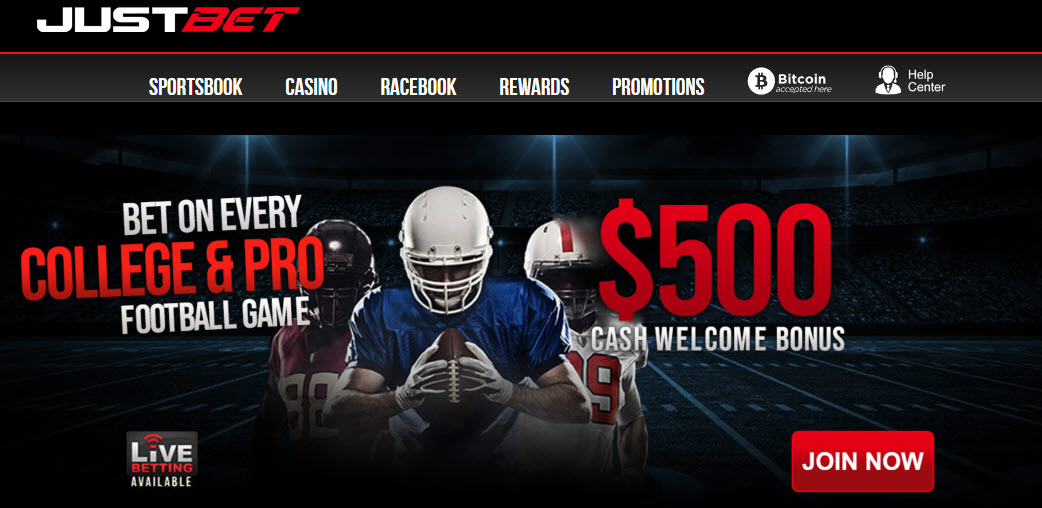 One of the main perks of using the mobile version of any sportsbook is the ability to make live bets. In terms of market share, live betting has quickly become one of the most popular betting options in Massachusetts. Live betting gives players the opportunity to make money in ways that didn't exist previously.
Your mobile betting experience will depend on the quality of the offering of course and JustBet holds up its end of the bargain with a slick modern-looking design and constant promos. Also, it's in their best interest to have a good mobile product because their live betting market is one of the industry's best. Live betting and mobile sports wagering go hand in hand which is why JustBet has exactly what you're looking for.
Pros
Mobile offering great for live betting
Early odds available
Cons
Fewer prop bets than some competitors
9. Everygame: Mobile Sports Betting Experience Very Polished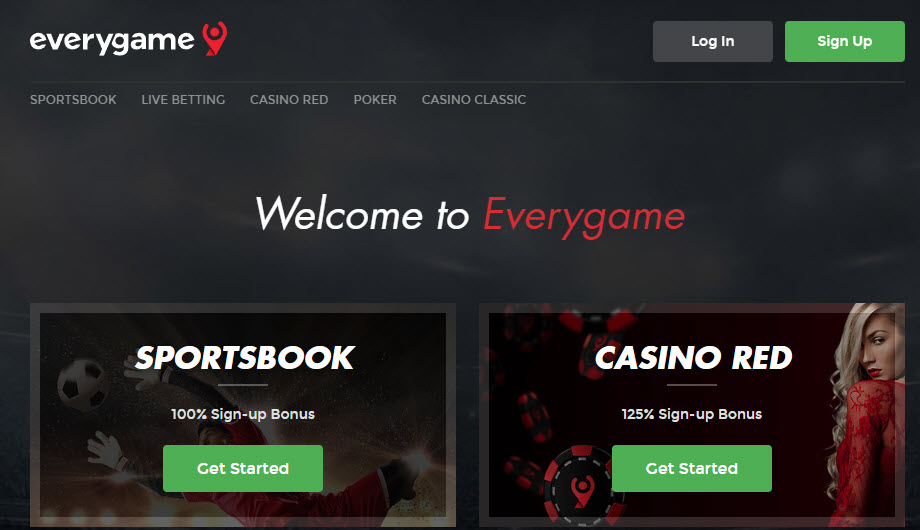 It's hard to say which brand was the first to launch a mobile sportsbook version of their site but Everygame has to be in that conversation. Their mobile offering first appeared on the scene back when smartphones first started gaining popularity over ten years ago. For that reason, they've been able to stay ahead of the curve as mobile devices continue to evolve.
The Everygame brand has been evolving since it is new on the scene. The company has been around for decades but went through a rebranding to the new name you see now. They've made a commitment to offering the best possible service and their mobile offering is a sign of those intentions. As a mobile sports bettor on Everygame's platform, you will stay connected with some of the best overall services the industry has to offer.
Pros:
Decades of industry experience
Mobile offering makes live betting easy
Cons:
Bonuses offered not as strong as some competitors
10. SportsBetting: Cash Bonus Available for Mobile Players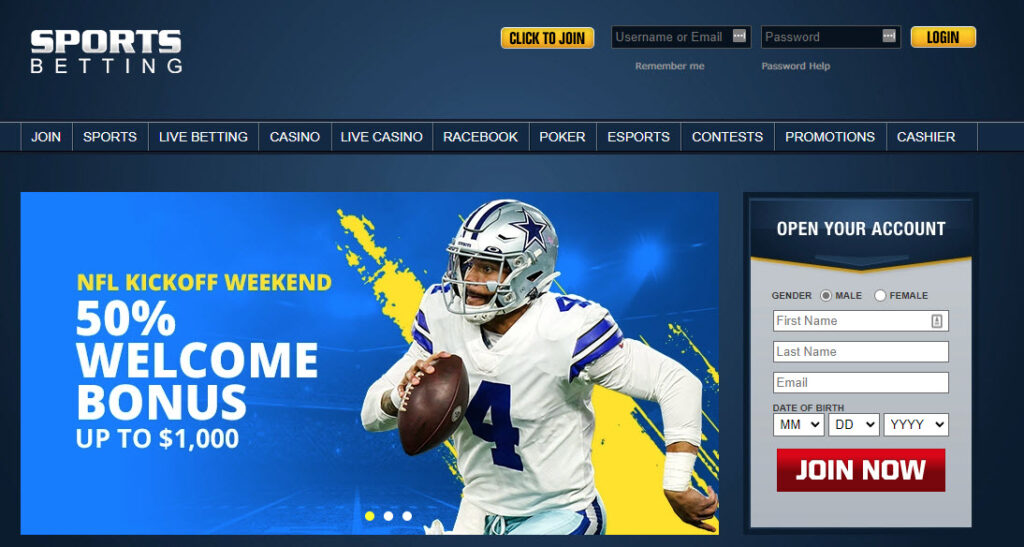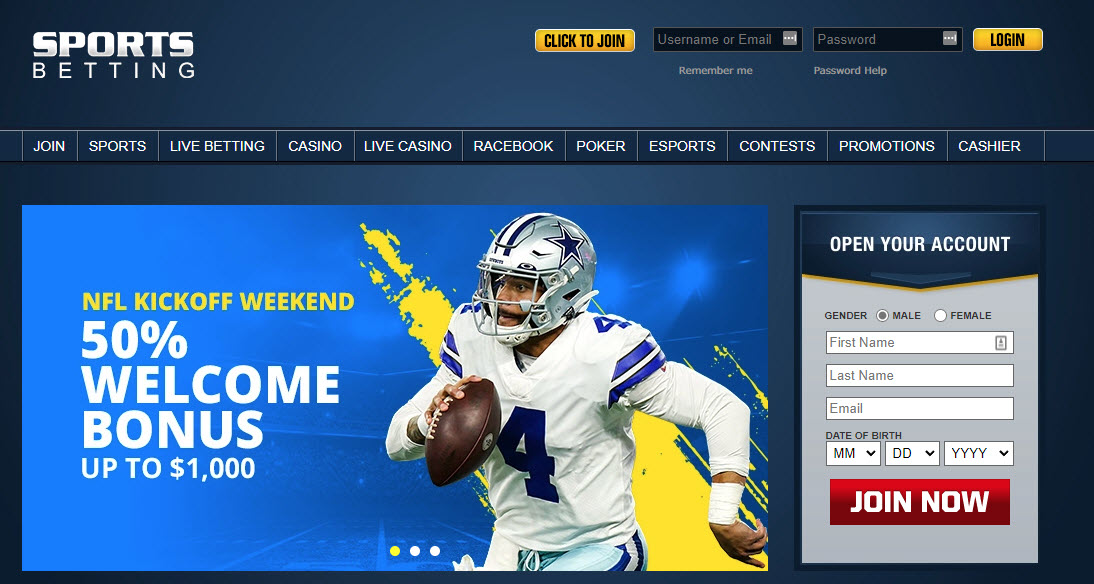 The structure at SportsBetting is one of a veteran brand which is why it's not surprising to hear that they are part of the same group as Bookmaker. What gets SportsBetting on this list for our betting experts is that it appears this site was designed with mobile first in mind. That alone wouldn't be enough for us to recommend them to online bettors in Massachusetts but it's a good starting point.
Another perk that mobile sportsbook bettors in Massachusetts have been able to enjoy while playing at SportsBetting is their high limits. Compared to their competitors, they offer consistently higher betting limits than most of their competitors. SportsBetting is definitely a favorite of online bettors in Massachusetts.
Pros:
One of the best mobile offerings available
Fast payouts
Cons:
Deposit and withdrawal fees
Is sports betting legal in Massachusetts?
Massachusetts gave sports betting the long-awaited green light in 2022.
Sports betting legislation has finally caught up in the Bay State. Legal betting is coming soon, but there is no exact timeline as to when bettors can expect Massachusetts' official sports betting launch. While the regulatory process is still being ironed out, residents have been placing wagers via offshore betting sites on their favorite sports.
These online sports betting sites are not located in the United States. They're only bound to follow sports betting law in the location that they are operating from. They currently offer legal sports betting on a wide variety of sports, including professional sports teams, college sports betting, horse racing, and more.
Latest Massachusetts Sports Betting News and Developments
July 2020 – The Massachusetts House approves HB3974.
November 2020 – Senate does not vote in favor of HB3974 ending the possibility of legalization in 2020.
January 2021 – Five sports betting bills including two from the Senate that voted against a previous bill that was approved in the House during this legislative session.
April 2021 – House Ways and Means committee excluded sports betting tax revenue from the budget. This is a sign to everyone involved that they don't see sports betting being legalized and launched in the coming year.
June 2021 – Massachusetts House unanimously approves new sports betting bill HB3977
January 2022 – HB3977 does not get the votes needed to pass in the Massachusetts Senate. Collegiate sports betting and budgeting seem to be the main issues.
August 2022 – The Massachusetts General Court agrees to adopt the conference committee's sports betting report. HB5164 is sent to Gov. Charlie Baker. Baker's signature is thought to be a formality. Gov. Charlie Baker, a long-time vocal supporter of legal sports betting signs HB5164 into law.
September 2022 – The Massachusetts Gaming Commission receives a notice of intent to apply for a license from 42 operators, even though only 15 spots are available.
November 2022 – Sports betting operators can start applying for licenses.
January 2023 – The first licenses are granted. Retail sports betting is expected to launch on January 31st.
Comparing the Best Massachusetts Mobile Sports Betting Operators
Below we've made an easy-to-review chart that gives you access to the more in-depth sportsbook reviews we've mentioned previously. These reviews cover everything you need to know about each of these offshore sportsbooks and more. There is no rule that says you can only sign up at one sportsbook so take the time to review all of the top-rated sites that we've reviewed.
| Sportsbook | Rating | Online Since | Payment Methods | Read Review |
| --- | --- | --- | --- | --- |
| Bookmaker | A+ | 1996 | Credit Card, Bitcoin, P2P, Crypto | Bookmaker.eu Review |
| Bovada | A+ | 2011 | Credit Card, Bitcoin | Bovada Review |
| Heritage Sports | A+ | 2001 | Credit Card, Bitcoin, Cashiers Check, Bank Transfer, P2P | Heritage Sports Review |
| BetOnline | A+ | 2001 | Credit Card, Bitcoin, Crypto, Cashiers Check, Bank Transfer P2P | BetOnline Review |
| BetAnySports | A | 2002 | Credit Card, Bitcoin, Electronic Check | BetAnySports Review |
| BetUS | A | 2000 | Credit Card, Bitcoin, Bank Transfer, P2P | BetUS Review |
| WagerWeb | A | 1994 | Credit Card, Bitcoin, Cashiers Check, Bank Transfer, P2P | WagerWeb Review |
| JustBet | A | 2000 | Credit Card, Bitcoin, P2P, Crypto | JustBet Review |
| Everygame | A | 1996 | Credit Card, Bitcoin, Skrill, Neteller, Bank Transfer, P2P | Everygame Review |
| SportsBetting | A | 2002 | Credit Card, Bitcoin, Crypto, Cashiers Check, Bank Transfer P2P | SportsBetting Review |
How We Review the Best Massachusetts Sports Betting Apps & Mobile Sites
The criteria we use to review these sites are quite simple. First, we know some of these legal sportsbooks excel at services that others don't. It is very difficult for any of these entities to excel at every aspect of sports betting. That said, there are minimum requirements to even make this list.
Here is a list of attributes that are needed to make the list:
Trustworthy reputation
Industry experience
VIP level customer service
Bonuses and promotions that offer players more chances to play
Creative bonuses
Fast payouts
Competitive odds
Quantity and quality of markets being offered
Large number of deposit and withdrawal options
Mobile Betting Experience
The key to the mobile betting experience is relative to the desktop experience. Most sites still prioritize the desktop/laptop version of their offerings. We firmly believe that will continue to change with companies eventually making their mobile version better than the desktop site.
Although that hasn't happened on a global scale as of yet, we do see the future of betting being on smartphones and tablets, especially with the meteoric rise of live betting. This guide serves to point you in the right direction in terms of highlighting the things that will make your mobile experience a quality one when choosing a site.
Quality of Odds & Lines
This is a feature that can never be overlooked. We all would love to have a modern user-friendly mobile version of a website to use. However, that would be pointless if the odds being offered were either not competitive or even worse, simply not available because the mobile sportsbook in question did not offer bets on that particular market. The quality and availability of odds at a given sportsbook aren't negotiable when deciding what mobile sportsbook you want to bet on within Massachusetts.
Mobile Betting Bonuses
This is another perk that some players value more than others. Believe it or not, there are players that do not take bonuses when playing at mobile sportsbooks. It's not to say they don't like bonuses, what they don't like are the requirements that come with them. This is why we urge all of our readers to take the time to familiarize themselves with the terms and conditions of any bonus you take.
Bonuses, such as a deposit match bonus or reload bonus, are a great way to stretch the betting power of a deposit you make. They aren't as good if you don't understand what's required of you when taking the offer. We have provided you with some companies that provide great bonuses but also have excellent customer service. Make sure you use the latter to help you understand the betting requirements and cashout limits that may come with your bonus.
Live Mobile Betting & Streaming
Live betting is one of the reasons we believe mobile betting is the future of the industry. This is quickly becoming one of the most popular bets in Massachusetts for a number of reasons. It allows customers to get in on the action at almost any point and sometimes gets you a chance to get better odds than you did pre-game.
Banking Options & Payout Speeds
This is a crucial feature for making our list of recommended sportsbooks. This feature isn't negotiable for us and shouldn't be for you either. If a mobile sportsbook does not have several deposit and withdrawal options, they are simply not worth your time with so many options available in the offshore sportsbooks market.
Customer Service
While you can have a good user experience without dealing with a customer service team. In fact, if you never have to speak to anyone in customer service, that means that things should be going right. In reality, it is unlikely that you will have no questions that you want to be answered. Also if you have any issue whatsoever, you will need to lean on customer service for assistance.
If you are new to mobile betting, we strongly suggest that you reach out to the customer service team wherever you choose to sign up. Not only will they answer all of your questions, but they will also most likely provide you with information you didn't know you needed.
Reputation & Security
This is everything to an offshore sportsbook. Since they aren't under United States jurisdiction, they understand that some customers might have some doubts about doing business with them. For that reason, their reputation is literally all they have to go by for a new customer.
We understand this and for that reason, we would never recommend anyone in Massachusetts to sign up with any company that does not have a solid reputation within the industry.
How to Sign up for a Massachusetts Betting App & Mobile Site
Creating a gambling profile at an offshore sportsbook is quite easy and we help you as much as we can with direct links to signup pages.
We recommend signing up at an offshore account because even though sports betting has been legalized in Massachusetts, a launch date has not been confirmed.
Once you click the "Join Now" or "Register" button, it will take you to a standard sign-up sheet that you will need to fill in accurately. If you are depositing with a credit card, your transaction is less likely to be approved if the information you provide is not accurate. You can also fund your account with debit cards, bank wires, or using a service like PayPal. Many mobile operators also allow crypto transactions, like Bitcoin.
Once you've done that you'll select a password and your preferred currency. At that point, you should be all set. If you are having any issues beyond this point, we recommend you reach out to a customer service representative to help you complete your registration.
Types of Massachusetts Mobile Betting Bonuses
There are a variety of mobile betting bonuses and promo codes available to online bettors, with some of the most common being:
Sign-Up Bonuses
These are bonuses that are for new customers as the name suggests. Not all mobile sportsbooks have signup bonuses. If you find one that doesn't, that usually means they offer some other type of perk that makes up for this fact, especially if they are one of the sites recommended by our betting experts.
Existing Customer Promotions
This bonus is for customers that have already deposited previously. This is an important point to note because the time between signing up can range from a few minutes to a few hours or even days. If you have an existing account but you've never deposited money in it, you are still considered a new customer, not an existing one.
No Deposit Bonuses
A great perk of signing up at an offshore sportsbook. These are the least frequent of all sportsbook bonuses for obvious reasons. Getting something for nothing is rare and expect your mobile sportsbook to treat no deposit bonuses as such. Please be aware that these bonuses almost always come with required play-through as well as maximum cash-out restrictions.
Free Bets
This is not something that is available at every mobile sportsbook in Massachusetts. Moreover, these types of sportsbook bonuses are usually attached to a specific event. They will definitely come with terms and conditions that include play-through requirements and/or maximum cashout limits.
Massachusetts Betting Apps & Mobile Sports Betting Sites for iOS & Android
A mobile sportsbook is no good to you if it doesn't work on your device. We will cover mobile betting app compatibility in the next sections.
Massachusetts Mobile Sports Betting on an iPhone
All of the best sportsbooks have optimized their mobile offerings for compatibility with iOS.
Massachusetts Mobile Sports Betting on an Android Device
Android devices are compatible with all of the top online sportsbooks mobile offerings.
Mobile Site vs. Mobile App for Betting in Massachusetts
For the sake of transparency, mobile apps are better than the desktop version of sites because they are specifically designed for use with mobile devices. The mobile version of a site tries to fit as much of the desktop version as they can onto mobile devices. We'll go over the main differences here.
This can cause slower response times or certain options to be very hard to find due to restrictions in space.
Mobile Site:
Mobile sites are the norm until more sites take the leap to make dedicated apps. Most sportsbooks understand that half of all online traffic comes from mobile devices so, in turn, their sites need to be compatible. At the moment, most of the top online sportsbooks have good mobile versions of their offerings but there's a lot of room for improvement across the industry.
Pros
Nothing to download
Does not take up space on your phone
Cons
Not as user-friendly as an app
Some features may be hidden due to lack of space
Mobile App:
Mobile apps will be the norm in the future but there's one big obstacle that will be hard to overcome. Whether you have an iOS or an Android, it is highly unlikely that the respective stores that house their apps will approve one that is related to gambling.
That means that these sites have to store the links or QR codes that give you access to the apps on their site. That is not as straightforward as it sounds. There's also the issue of how computer-savvy customers are. While having a smartphone is something most are familiar with, the rise of rapid technology over the past decade means that some members of society are still playing catch up. For the sake of simplicity, inclusion, and cost-effectiveness, mobile apps will eventually replace mobile versions of sites, just not in the near future.
Pros
Better user experience
Access to your account offline
Best Massachusetts Betting App & Mobile Site
Picking one mobile sportsbook from the bunch was not easy but per our betting experts, the best one available for mobile sports bettors looking to bet on their favorite teams is Bookmaker.eu. They check all of the boxes in terms of reputation, customer service, bonuses, fast payouts, and user-friendly mobile experience.
FAQ – Massachusetts Mobile Sports Betting Apps
Is mobile sports betting legal in Massachusetts?
Mobile betting was legalized in Massachusetts in 2022 but has not been launched as yet. The launch date is still pending.
Can you use sports betting apps in Massachusetts?
There are no sports betting apps available in Massachusetts. You can find a sportsbook that has a dedicated app at one of the many offshore sportsbooks that accept players from Massachusetts.
What are the best sports betting apps in Massachusetts?
This is based on your personal preferences. In this guide, we've recommended the top ten according to our betting experts. We've also mentioned that they agree that Bookmaker.eu is the best one on the list.
Can I use FanDuel in Massachusetts?
The FanDuel Sportsbook app is not yet legal in Massachusetts.

The state passed its sports betting bills that make wagering legal, but a launch date has not been announced yet for the state to start issuing permanent licenses and opening retail sportsbooks. Mobile sports betting licenses are still a ways to go.
Can I use BetMGM in Massachusetts?
The BetMGM app is not legal in Massachusetts as yet.

There are no sports betting apps available in Massachusetts until a launch date is set and the Massachusetts Gaming Commission finishes approving applications for betting licenses.