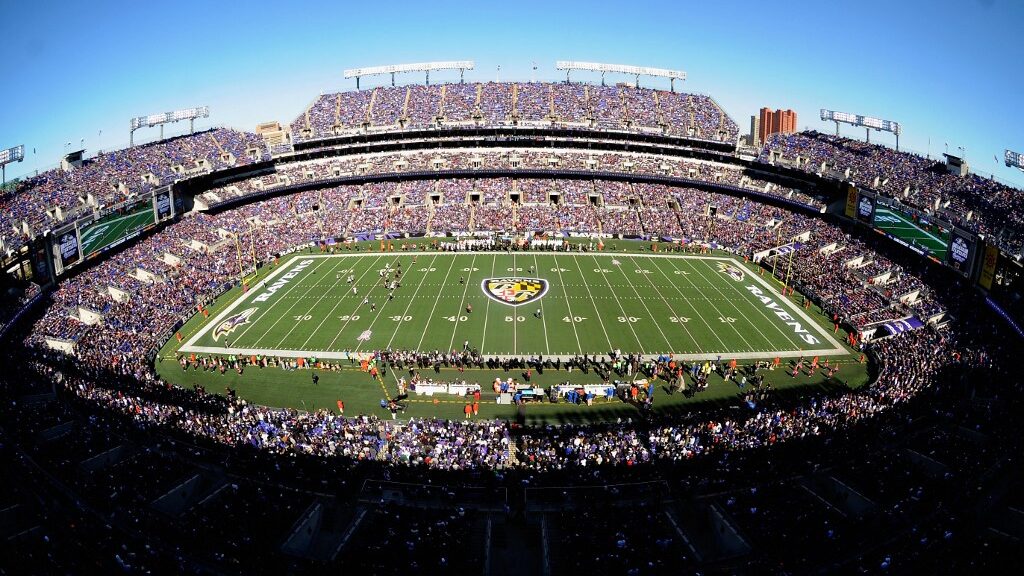 Maryland has yet to launch online sports betting despite the law being signed into law by Governor Hogan well over a year ago.
However, the retail outlets are legal and some are even in operation. DraftKings appears to be the next book up in Maryland after receiving initial approval to set up shop.
Off to the Races
DraftKings still needs to jump through a few more bureaucratic hoops to gain final approval for its first retail sportsbook in Maryland, but the path is clear and it doesn't appear as though impediments are looming.
And when they do swing open their doors, it will be at a brand-new sportsbook underneath the grandstand at Timonium Racetrack on the Maryland State Fairgrounds.
The Maryland legislature approved 17 retail locations, one of which was Timonium Racetrack, and DraftKings subsidiary, Crown Maryland Gaming LLC, signed a 10-year pact with the Maryland State Fairgrounds back in 2020 that not only includes a retail facility but online gaming as well – when it does arrive.
"There are no areas of concern with the licensure of Crown MD Gaming, LLC as a sports wagering facility operator or with Crown Gaming Inc. as a sports wagering principal entity," according to a public report provided to Maryland's Sports Wagering Application Review Commission (SWARC).
Online Sports Is Where the Money's At
The real money will be made when sportsbooks get the green light to go online. Statistics throughout the country show that online sports betting accounts for well over 90% of the overall market.
And because the brick-and-mortar establishments don't do nearly the volume, it is often looked upon as an entrée to the online gambling market.
Many states demand that an online sportsbook be tethered to a casino or a retail shop which is why we routinely see these symbiotic relationships between a casino/racino/racetrack and an online platform provider.
---
When Will Sports Betting Launch in Maryland?
The finger-pointing has been hot and heavy for several months as Governor Larry Hogan called out the SWARC for dragging its feet.
SWARC is responsible for developing the regulations, policies, and procedures for up to 60 online and 30 retail betting licenses in the state but the committee must also follow the rules set forth by the same legislators that are howling along with Governor Hogan.
Sticking to the Rules
The sports betting bill that was passed stipulated a decisive focus on minority and women-owned businesses would be part of the grand plan.
And while that is admirable on its surface, what it has done is caused the commission to scour the landscape looking for companies that fit this criterion but may not have the requisite experience to successfully enter the market.
Governor Hogan has called the bill, "overly complex", but SWARC is essentially saying they are merely following the rules created by the General Assembly, and to deviate would be breaking the law.
Last month SWARC Chairman, Thomas Brandt, said, "I understand many are frustrated that the process relating to the issuance of mobile sports wagering licenses has been time-consuming. I want everyone to know that SWARC and its support team have been operating as diligently and deliberately as we can under the Maryland sports wagering law that we're tasked to administer."
Super Bowl Launch May Be Too Optimistic
Reports indicate that even a launch shortly before the Super Bowl would be optimistic, therefore, online sports betting on the NFL this year is not going to happen in the Old-Line State.
As for that February target date, even that looks suspect based on what Jim Nielsen, COO at the Maryland Lottery and Gaming Control Agency, said last week.
"Right now, we can't determine a specific timeline for these steps, because there are many things we don't know," Nielsen told the SWARC.
"Staff believe if the applications can be issued within the next week or two, it's possible Marylanders can bet on the Super Bowl on a mobile platform. That is certainly everybody's hope."