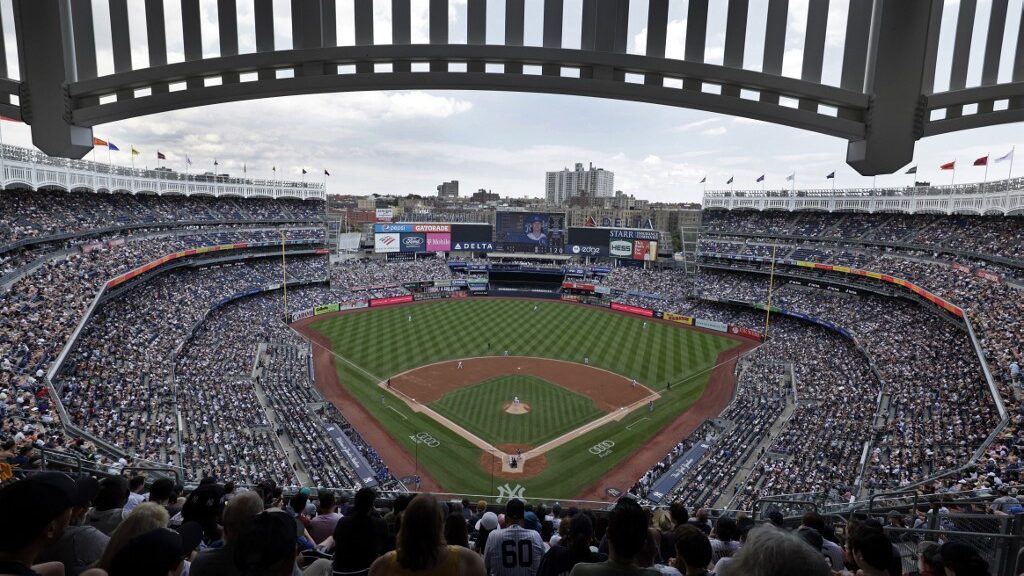 Bally's was late to the online sports betting party in New York but now they have finally arrived and became the ninth and final online platform to launch.
What they also did was sign a sports betting partnership agreement with the New York Yankees!
Playing the Long Game
New York, currently the largest sports betting market in the nation, swung open its doors for business in January with four of nine operators salivating at the opportunity to spend millions upon millions in advertising and promotions to get the highly-coveted early adopters.
Studies show that most people have only one online sports betting account which means the company that catches their attention first will likely have those customers all to themselves. Therefore, the spending frenzy to woo these early adopters is fierce and the online sports betting giants spend with reckless abandon to beat the competition to the punch.
Yet, while FanDuel, Caesars, DraftKings, and BetRivers were the first out of the gate on the day online betting in the Empire State launched, five others were playing it cool. But one by one they joined the party except for a single lone wolf sitting patiently on the sidelines – Bally's.
Why Was Bally's Late?
Bally's Chairman, Soo Kim, was asked about being late to market and expounded on playing the long game, "Oh yeah, we're OK with that. I think that look, we have a longer-term plan and I think part of this is why maybe our plan isn't fully being grasped by the public markets. The public markets tend to be very short-term-minded, what's going to happen in the next earnings, what's going to happen at the next, you know.
"But we think that actually, the current version of sports betting is not a great business. It's a fine business, it's not a great business. We think that there will be a wave of consolidation that will rationalize promotions. But more importantly, I think people will stop competing with just free money but people will start competing with product."
Bally's Strikes Agreement With Yankees
It was recently announced that Bally's had inked a deal with the Yankees to become their official sports betting partner.
The deal will give the gaming icon plenty of exposure as Bally's is now authorized to use the Yankees' trademark and logos while Bally Casino has been named as the team's iGaming partner, while Bally Play and Bally's Casino Atlantic City become the Yankees' free-to-play and cash casino partners, respectively.
Visitors to Yankee Stadium will see Bally's advertising throughout, spanning the outfield wall, walls on the main level bars, as well as the terrace level ribbon board, coupled with LED boards in the Great Hall. This is the first sports betting partner of the Bronx Bombers and the deal reportedly has Bally's as their exclusive sports betting partner.
Win-Win for Both Parties
Adi Dhandhania, Chief Operating Officer of Bally's Interactive North America said after the agreement was reached, "This is a great partnership that will give Bally Bet and our other Bally's Interactive brands terrific visibility in New York. The Yankees' history as a franchise and their popularity as a global brand speaks for itself."
Michael J. Tusiani, New York Yankees Senior Vice President of Partnerships, added: "We are excited to begin this partnership with Bally's. We hope that their branding in Yankee Stadium along with their in-stadium customer engagement will greatly strengthen Bally's overall gaming presence in New York."
Bally Bet Sportsbook continues to forge alliances and expand its reach across all sports. They are now an Authorized Gaming Operator of the MLB, the NHL, NBA, and the WNBA. In addition to the Yankees, Bally's also has partnership deals with the NFL's Cleveland Browns, the NHL's Nashville Predators, as well as the WNBA's Phoenix Mercury.