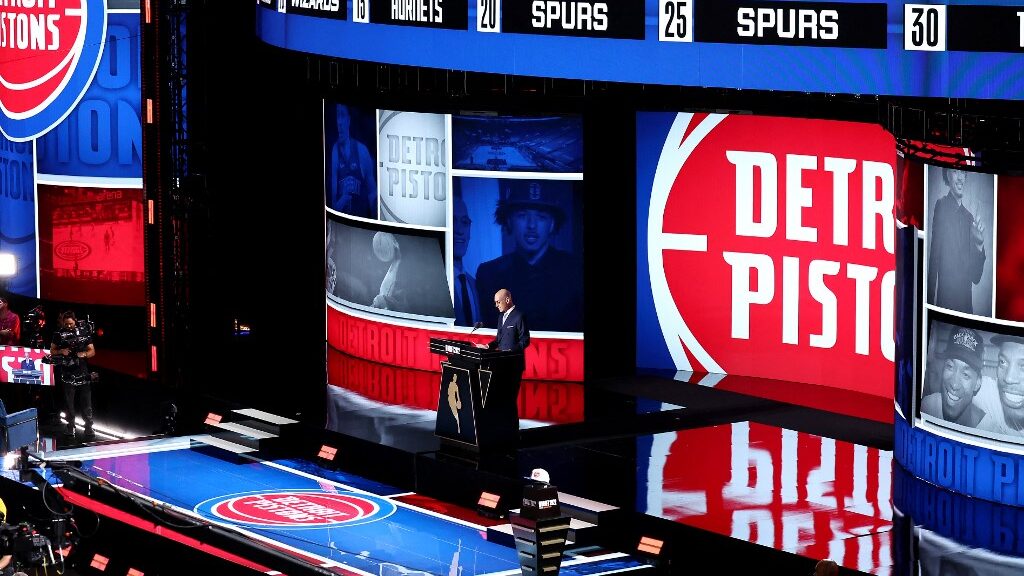 Over my years of NBA betting, I've learned that grading drafts less than 24 hours before it is over is never a good idea. I've watched a ton of basketball in my life, I know about most players that were drafted, but I haven't held interviews or scouted these players. Sometimes, you just have to trust the front office of your favorite team and believe that they did the right thing based on their homework.
But with that said, many teams had multiple plans coming into last night's 2022 NBA Draft. Some plans didn't come to fruition because for some plans, you need two to tango.
Let's break down the winners and losers of this year's NBA Draft. Again, nobody has "lost" yet, but there are teams that likely went to their second or third plan instead of being able to go through with their first plan. That's where the losses come in for some teams.
---
Winners of the 2022 NBA Draft
Detroit Pistons
The Detroit Pistons came out of tonight's draft extremely happy. The Pistons brought in Jaden Ivey and Jalen Duren to play with last year's first overall pick, Cade Cunningham. The Pistons also saw glimpses of stardom in Saddiq Bey last season and have a pretty fantastic young core moving forward.
Ivey was considered to be the most athletic player in the draft. He had many comparisons to Ja Morant with his leaping ability and style of play. He will be a solid fit with Cunningham.
Meanwhile, the Pistons were also thinking of taking Jalen Duren with the fifth overall pick if Ivey wasn't available. Instead, they grabbed Ivey fifth overall when the Kings passed up on taking him and then traded for Duren with the 13th pick of the draft. The Pistons also added Gabriele Procida with their 36th selection and added more depth.
Houston Rockets
I love what the Rockets are building. Houston ended up grabbing Jabari Smith with the third overall selection in the NBA Draft.
Essentially, Smith was -5000 to be the first overall pick just 48 hours ago. Therefore, the Rockets basically ended up with a top draft pick with the third overall selection. Houston also added Tari Eason at 17 and TyTy Washington at 29.
Just like the Pistons, the Rockets have added a ton of exciting young talent. The lineup could end up being TyTy Washington, Jalen Green, Tari Eason, Jabari Smith, and Alperen Sengun. That's a very interesting starting five and one that can develop into a true juggernaut.
---
Losers of the 2022 NBA Draft
Brooklyn Nets
Not only did the Nets make no selections in the NBA Draft, but there's talk about Kyrie Irving not coming back, forcing Kevin Durant to part ways with the Nets. The Nets would literally be right back to square one if all this happened.
Durant hasn't specifically said that he will leave if Irving leaves, but you'd have to imagine, knowing Durant, he's going to go somewhere where he can win a title. They have been dealt an unfair card. The Nets just want a team that will play every night. But so far:
The Nets haven't really been able to watch Durant and Irving play a full season.
James Harden darted in the middle of the year.
When Ben Simmons came, he didn't even want to play, sitting back injuries and anxiety issues.
So the Nets had a terrible draft but it's not really their fault. They're not wrong for asking NBA players to play in NBA games…
Utah Jazz
The Utah Jazz are currently the biggest mystery team in the NBA. The Jazz are always a playoff team but nothing more than that. Now it looks like Donovan Mitchell and/or Rudy Gobert will be leaving the team during the off-season.
If an all-star or two leaves, the Jazz will be in complete rebuild mode. But despite all of that, the Jazz didn't make a single selection in this year's NBA Draft.
Not only will they potentially lose a couple of stars, but the Jazz also won't have any young players to replace them with. So that's a bit concerning for them.
---
2022 NBA Draft: Betting Impact
Rookie of the Year Odds
The current betting odds for the NBA Rookie of the Year Award are:
Paolo Banchero (+300)
Jabari Smith (+350)
Chet Holmgren (+475)
Jaden Ivey (+500)
Keegan Murray (+800)
Bennedict Mathurin (+1200)
Shaedon Sharpe (+1200)
Of course, any of these players could make a legitimate impact on their teams next season. It's too early to make betting picks on any of this stuff. Let's see how the rest of these rosters shape up.
As we've realized, systems matter. The athletes you play with matter. It's hard to figure out who fits the best with their teams just yet. We'll come back to this!