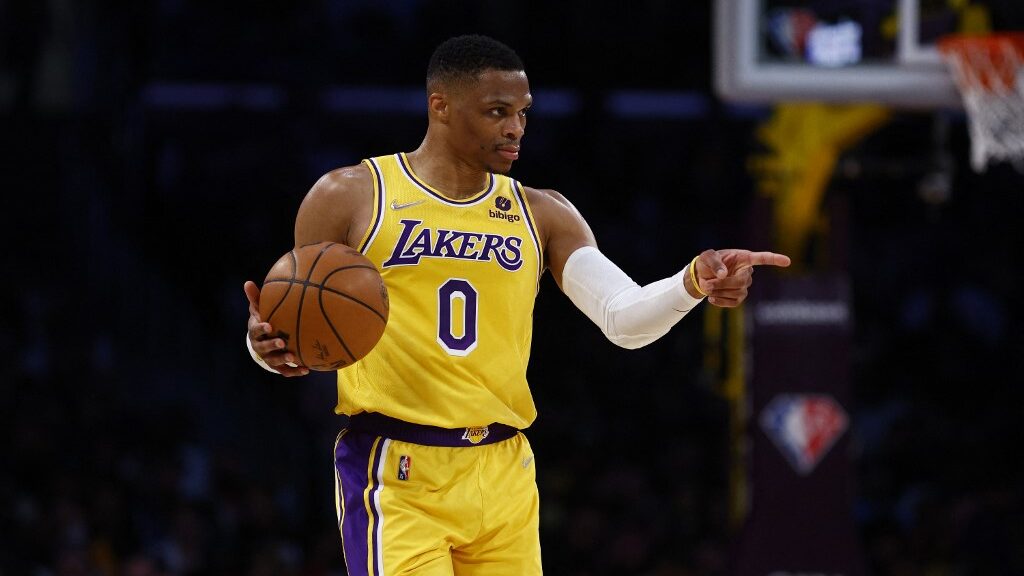 The Los Angeles Lakers went the veteran route last year, adding a whole lot of old talent. The Lakers figured that if they added a bunch of superstars past their prime, younger players would develop and would mesh well with the older bunch.
It just never worked out last year, as the Lakers went 33-49 on the season to miss the playoffs. LeBron James was hurt for the longest portion of his career while Anthony Davis continued to suffer through countless injuries as well. But it was Russell Westbrook who showed up every day, despite his production lacking.
The Lakers are in desperation mode going into this year's season. They can't waste another year of LeBron James. Therefore, the Lakers will pay close attention to detail with their roster this season to become NBA championship contenders.
Russell Westbrook: 2021-2022 Season Review
Main Stats
Westbrook averaged 18.5 points per game last season along with 7.4 rebounds and 7.1 assists.
He was close to averaging a triple-double, despite shooting under 30% from deep and 44.4% from the field.
Westbrook's turnovers reached 3.8 per game and he only hit 66.7% from the foul line last year.
But even in 2016-17, Westbrook shot 42.5% from the field. The difference was that he would get to the line 10.4 times per game and hit 84.5% from the line.
He's got to look to be more aggressive and drive to the rim instead of taking long-range and mid-range shots. We know how explosive Westbrook can be.
How Many Games Did Westbrook Play Last Season?
Westbrook shot below his career averages from deep and from the foul line and also contributed fewer rebounds along with fewer points compared to his career averages. But again, Westbrook played 78 games for the Lakers last year.
When everything was going downhill, he didn't take any breaks or take a seat on the bench. He played most games last year, even when the sports media was ripping him and calling him names.
Darvin Ham on Westbrook
The Lakers hired Darvin Ham as the head coach. He's a former Milwaukee Bucks assistant and highly regarded around the league. From each press conference and interview, it's clear that Ham wants Westbrook to put defense first.
In Ham's first introductory press conference, Ham talked highly of Westbrook, talking about the Big 3, which includes Westbrook along with Davis and James. And despite all the rumors, Ham suggested that Russ would "absolutely" be on the roster next season, and acknowledged that he has "a lot left in the tank."
Westbrook was in attendance for that press conference, which also shows his commitment to the team. When that press conference was over, Ham spoke on "NBA Today" to say he wants to turn Westbrook into "a pitbull on defense." You know what they say! Defense turns into offense! Fastbreak points for Westbrook would be fun.
Lakers' Honesty With Westbrook
The Lakers are giving honest thoughts to Westbrook this off-season. The reality is, that nobody wants Westbrook on their team. He's got the second-highest salary in basketball and hasn't specifically earned it just yet.
But Westbrook, Ham, and Rob Pelinka seem to have laid out their expectations for Westbrook for the upcoming season. Here's what Pelinka had to say about those meetings.
"I think Darvin and I have had meetings with Russ and have just been honest about how we think he fits with his team, and what we expect of him next year if he decides to opt-in and be here. He's ready to embrace a philosophy of defense first as well, and he's made that clear to Darvin and me…"
Westbrook's Commitment
There have been times when Westbrook has had outbursts in the film room or has demanded being the point guard of the team. But with a new head coach and new assistants as well, Westbrook won't be nearly as comfortable making those kinds of outbursts. If he can mature in that regard, the Lakers have something special in Westbrook.
The talent is still there. He won an MVP not too long ago after averaging a triple-double.
If Westbrook looks to get his players more involved and stays aggressive, while staying defensive-minded, he can really help rally this Lakers team to new heights and even make them valuable for NBA betting.