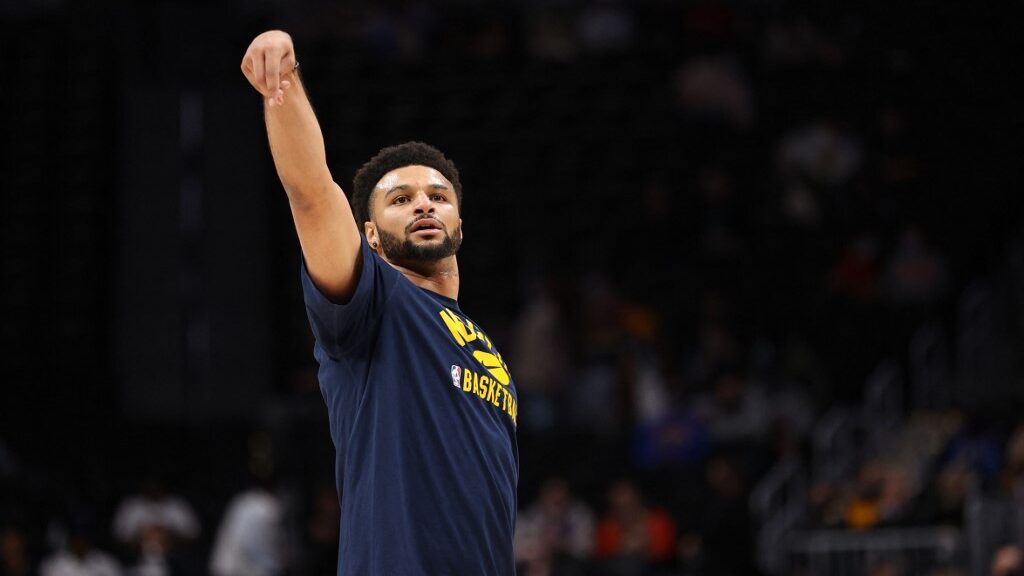 Jamal Murray just wants to ball again. Murray tore his ACL in missed the entire 2021-2022 season with the Nuggets.
His teammate, Nikola Jokic won the MVP award without Murray and Michael Porter Jr., and you could only imagine the impact that Murray would've made with Jokic playing at the elite level that he's been playing at.
But next year, Murray will be back and fully recovered, along with Porter Jr., to help Jokic take the Nuggets to the next level. Here are some reasons why Jamal Murray will make the All-Star game in the 2022-'23 NBA season.
Scoring Averages Expected to Improve
We can't forget that Murray had 21.2 points per game in the 2020-'21 season along with 4 rebounds and 4.8 assists per game.
Murray took the load off Jokic and allowed him to be more of a playmaker, without having to take a ton of shots on his own. Murray gives Jokic another threat on the floor and, of course, more teams are afraid of what Jokic can do than Murray.
So Murray will take advantage. He's not going to be the one double-teamed consistently.
Jamal Murray's Progress
Every year in the league, Murray continued to progress.
In his rookie season, he scored 9.9 points per game.
He followed that season with 16.7 points per game.
Then he scored 18.2 points per game.
Next, he scored 18.5 points per game.
Then, before he got injured, he was averaging 21.2 points per game in 2020-'21.
Before Murray's Injury
In that season, Murray was shooting nearly 41% from downtown and taking 16.5 shots per game, which was the most he had ever taken in a season.
Murray was getting comfortable and starting to elevate his game before his injury. Now, he's eager to get back out there and continue to improve.
Murray wasn't always a high-volume shooter. But he's been consistent with 4.8 assists in his last three seasons while also averaging about 4 rebounds per game in his last three seasons.
What Does Murray Need to be Considered an All-Star?
It would be cool to see Murray add a couple more assists to his game, but to be an All-Star, most fans only care about how much you average when it comes to points scored.
Murray will average more than 20 points per game. That should be enough to keep him in consideration.
Murray Is Becoming More Efficient
Again, in 2020-'21, Murray shot 40.8% from three-point range and hit 47.7% from the field before being injured. He also hit about 87% from the foul line, which is right on par with his averages. The volume of shots started to creep up but the percentages of made shots also started to increase. Not many players show that kind of efficiency.
It would be better if Murray got to the line more often, but he'll likely continue to work off the ball more with the Nuggets. Nikola Jokic is clearly the Nuggets' best passer, so the game plan is usually to get him the ball and let him facilitate the offense.
With that said, Murray isn't aggressive all the time and likely won't be aggressive coming off an ACL tear, but if he can get to the line more often with his 87% foul shooting, that would help his point total and give him a better chance at making the NBA All-Star game.
Nuggets are Contenders
Lastly, the Nuggets are NBA Championship contenders next year. Nikola Jokic carried a far worse Nuggets team into the NBA Playoffs. The Nuggets wanted more last season but really didn't have the pieces to make a title run.
Not only will the Nuggets have Murray back in action with the MVP, but again, Michael Porter Jr. will also be active coming off an injury. Players on winning teams are always stronger options for the NBA when it comes to All-Star games. This year's All-Star game featured Andrew Wiggins for the first time. Why? Because he was on a very good Warriors team.
I'm not saying he didn't deserve it, but other players probably had better numbers than him but were on worse teams. Anyway, it'll be great to see Murray back on the court with the reigning and defending MVP. Murray is what Jokic missed last year and now that he has Murray back, the Nuggets are serious threats and a nice betting pick to win the West next season.