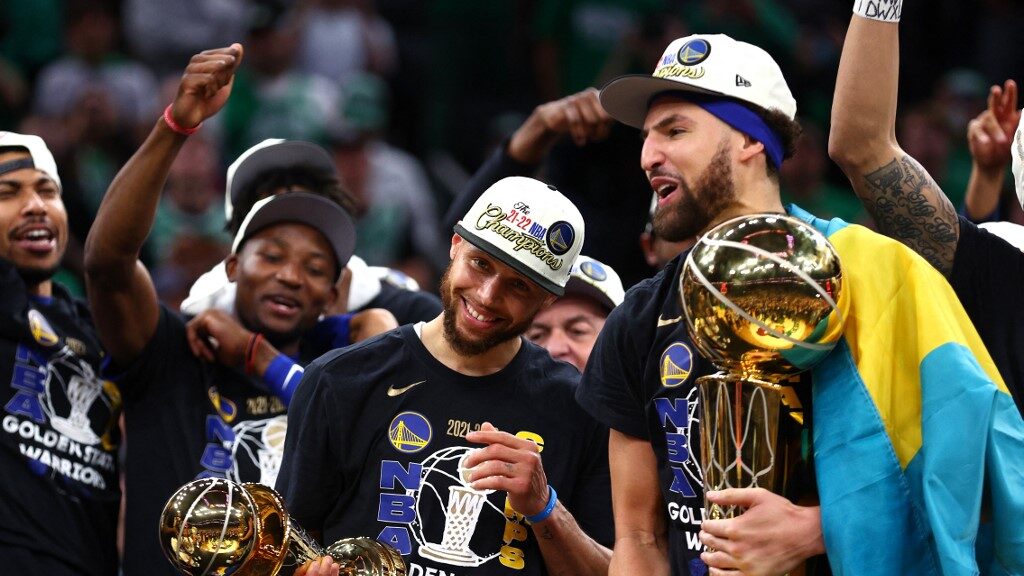 The Golden State Warriors just won their fourth title in eight seasons with the same core throughout this run.
Without having a couple of down years, the Warriors might not have had as good of a team, but overall, Golden State shut down all the haters with another Finals on the resume.
Stephen Curry Career Expectation
Soon, Warriors guard Steph Curry will go down as one of the greatest to ever play the game. He probably still gets too much disrespect.
But with another title, what will they say? Let's look into whether or not the Warriors can repeat another title next season in the NBA.
NBA 2023 Championship Odds
All NBA future odds are available at BetOnline (visit our BetOnline Review)
Golden State Warriors +450
Boston Celtics +650
Los Angeles Clippers +750
Milwaukee Bucks +750
Brooklyn Nets +800
Phoenix Suns +900
Dallas Mavericks +1200
Miami Heat +1400
Memphis Grizzlies +1600
Philadelphia 76ers +1600
Denver Nuggets +1800
Los Angeles Lakers +2000
After the Lakers, there's a drop-off from +2000 to the Pelicans at +3300.
Celtics Were Close
The Celtics came close to being one of the biggest underdogs to win the NBA Finals, but they couldn't defeat the Golden State Warriors in the Finals.
There's going to be a lot of movement in the NBA once the NBA Draft begins, but overall, we're going to look at teams the way they are now.
The Celtics likely weren't a one-hit-wonder but the turnovers will have to slow down if Boston wants any chance at a Championship in the future.
Players that Will Make a Comeback
The Clippers will have Kawhi Leonard and Paul George back playing with each other next year and the Milwaukee Bucks will hopefully have Khris Middleton in the playoffs next season.
Both of those teams will be competitive as long as injuries slow down for those two teams. The Brooklyn Nets just want to see what they have between Kyrie Irving, Ben Simmons, and Kevin Durant.
The Nets at +800 with the amount of talent on that roster, seems like the most valuable play at this very moment.
NBA Teams Expectations for Season 2023
Plus, the Phoenix Suns will likely be a one-seed in the West again and have a solid route to get to the Finals.
Meanwhile, the Mavericks are at +1200 after acquiring Christian Wood. That could be an interesting option moving forward with Luka Doncic leading the way.
And what if Miami adds Donovan Mitchell to pair up with Jimmy Butler? The Heat could, again, be serious threats in the East and could absolutely win the NBA Finals.
The Grizzlies will be young and competitive while the 76ers try to build a winner around Embiid. Those two teams are going to be legitimate candidates to win the title next year.
Nuggets and Lakers Roster
And lastly, the Nuggets will have Michael Porter Jr. and Jamaal Murray back to pair with two-time MVP Nikola Jokic.
That could be scary. Plus, the Lakers will have a new feel to them with Darvin Ham as their head coach. You can't rule out King James, right?
Comparisons Around The League
The Warriors brought in Andrew Wiggins with three years on his contract. A lot of critics didn't like the signing and believed Wiggins would never live up to the hype of a number one overall player.
Wiggins was drafted first overall in 2014 and while he showed glimpses of stardom, he never took that next step with Minnesota, for example.
But he fit right in with the Warriors, just like Kevin Durant did when he came to the Warriors. Wiggins was the second-best player for the Warriors after Curry and was the x-factor for Golden State to be crowned the title.
Warriors Roster
Wiggins is still under contract and Klay Thompson is now fully healthy from a two-year absence due to a torn ACL and a torn Achillies after that ACL injury.
Draymond Green kind of keeps the team honest and Curry continues to shoot out of his mind. As long as this Warriors team is healthy, it might be hard to beat them in a long series.
They were able to win the NBA Finals without James Wiseman on the floor, who is their prized center.
He would've been the perfect fit going up against Robert Williams, for example, but instead, Kevon Looney played center and was terrific for the Warriors when called upon.
Warriors Can Repeat
Golden State can develop talent really well. Just look like Gary Payton II and Jordan Poole if you don't believe me.
When you play for the Warriors, you are playing for a team that only knows how to win. So of course the Warriors can repeat next year!