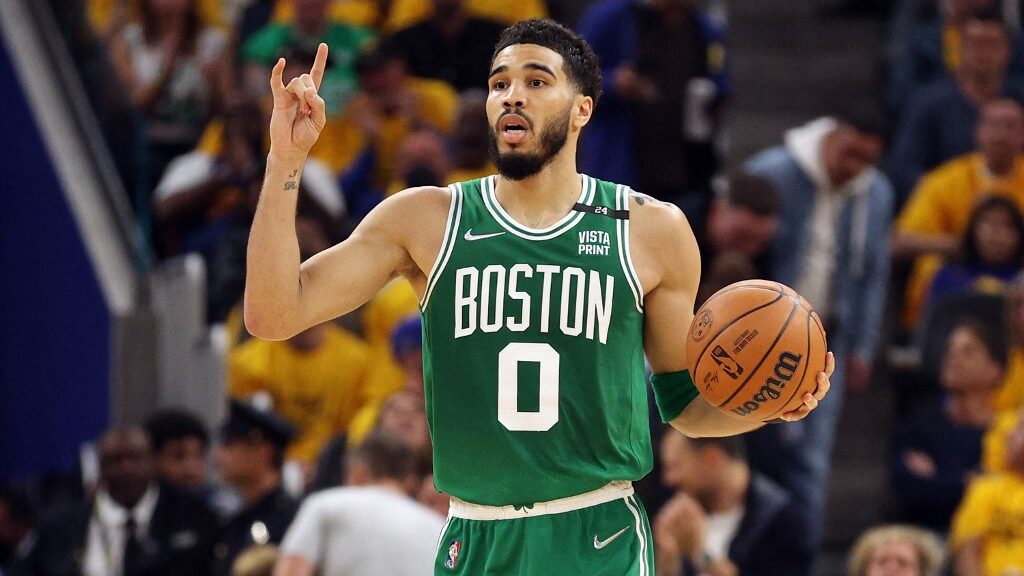 The Boston Celtics reached the NBA Finals against the Golden State Warriors after an insane turnaround in the middle of the season. At one point, the Celtics didn't even look like a playoff team, with a new head coach and a lot of finger-pointing.
But eventually, the Celtics just clicked and it was thanks to superstar Jayson Tatum. Tatum got his first taste of the NBA Finals and while it stings, he says he'll be back better than ever.
At 24 years old, Tatum has plenty of time to build his resume. He will be back better than ever. Here's why.
Scoring Progression
Jayson Tatum has averaged more points than the previous season, every single season.
In his rookie year, Tatum scored 13.9 points per game.
He then added 15.7 points in his second season.
In his third season, Tatum took a huge leap, scoring 23.4 points per game.
In his fourth season, Tatum again added 26.4 points per game.
Last year, Tatum increased those totals again, scoring 26.9 points per game.
He scored .5 more points per game while taking the same amount of field goal attempts as last season. The difference was that he was able to get to the line one more time than in previous seasons. He was a bit more aggressive to get to the cup while also taking more three-point shots.
Three-Point Shots
Tatum can improve from deep. In the regular season, he only shot 35.3% from beyond the arc. Although he added three three-pointers per game, which was a season-high for Tatum, he wasn't as efficient as he had been in previous seasons.
In the playoffs, Tatum had some big games from downtown and that shot is just going to get better as his career continues.
---
Tatum is Improving Other Areas
Rebounding
Tatum averaged 8 rebounds per game last season while also averaging 4.4 assists per game. Keep in mind that Tatum played the same amount of minutes in the regular season last year in comparison to this year.
Tatum brought down 6.9 rebounds on the defensive end but also added 1.1 rebounds on the offensive end. Both numbers were career highs. He was more aggressive on the offensive glass and also more aggressive on the defensive glass.
Assisting
Last season, he also assisted on 4.4 buckets per game, which was also a career-high in the NBA. Last season, he had 4.3 assists per game, so it wasn't a crazy jump in the assists department, but at least the number ticked up and not down.
In the playoffs, we saw Tatum dish out some terrific dimes when he wasn't making shots. He has the potential to be a 5-assist type player this season. It might be a bit harder with Malcolm Brogdon holding the ball, but Brogdon will only take pressure off of Tatum.
Avoiding Turnovers
Tatum committed nearly 3 turnovers per game last season and didn't improve in the playoffs. If the ball isn't in his hands as much, Tatum is going to improve by making better decisions with or without the ball.
---
Added Talent for the Celtics
The Celtics added Malcolm Brogdon and Danilo Gallinari to their roster. The Celtics are going to be looking to get right back to the NBA Playoffs and make another massive run. It's not going to get easier with so many other teams developing into NBA championship contenders.
However, Tatum still has a lot of developing to do with his game. If he can limit turnovers and be more efficient shooting from deep, he's going to help take Boston to the next level.
Next year, we won't be seeing Boston struggle to start the season. They're going to be really good throughout the year and potentially the best team in the Eastern Conference regular season.
---
What to Expect From Tatum and the Celtics
The additions of Gallinari and Brogdon fit exactly what the Celtics want to do. The Celtics added but didn't really subtract. They've still got Jaylen Brown, Marcus Smart, Al Horford, Derrick White Jr., and Robert Williams III. Now you can add those other additions and the Celtics look extremely talented and deep.
Boston doesn't have the best players in the world but still could be the deepest team in the league. Therefore, Tatum will be better by just being around a loaded team with so much talent.
He's going to have to be a veteran and leader at a young age for this squad, but he already showed he's capable of doing all of that after last year's run.