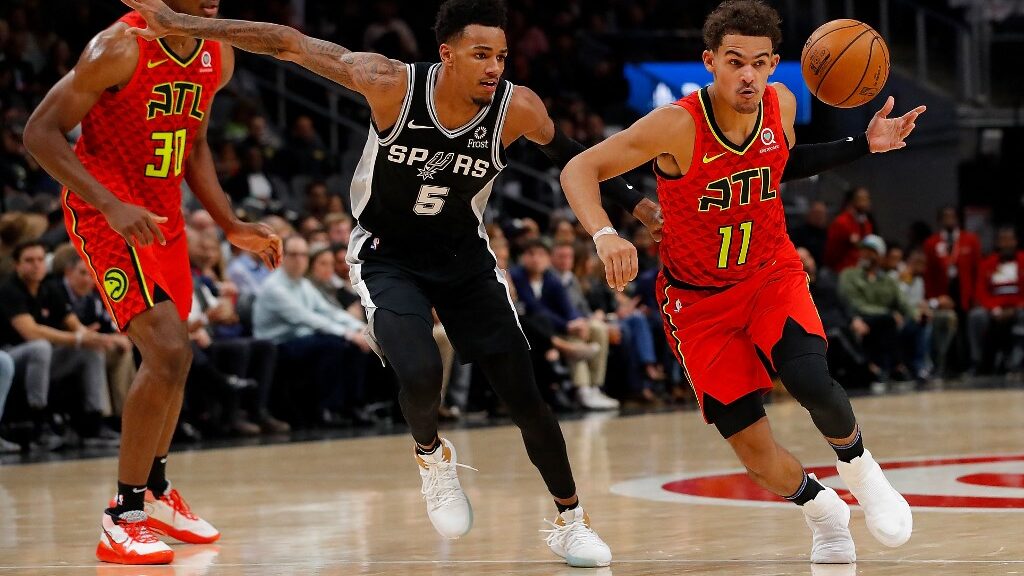 I don't want to get too excited over a Pro-Am, but the Atlanta Hawks are starting to build chemistry between Dejounte Murray, Trae Young, and John Collins.
Dejounte Murray was acquired by the Hawks for Danilo Gallinari and three first-round picks. The Spurs eventually let Gallinari walk and brought in three picks with cap relief.
The Hawks are ready to contend while the Spurs are still rebuilding. The Hawks are hoping the backcourt of Murray and Young could bring them to bigger and better heights this season.
Personally, I like the fit. Below I'll explain why.
---
Murray Is a Triple-Double Threat
How many times are you able to bring in a player like Murray, who can average triple-doubles throughout an entire month or season in the NBA? Murray can do it all on the court and it doesn't go unnoticed.
With the Spurs last season, Murray added 21.1 points per game along with 9.2 assists and 8.3 rebounds. Murray was the point guard for the Spurs and nearly averaged a triple-double.
He had a PER of 22.32, which was the 13th best in the league last season, and if he's able to do that again, alongside Young, the Hawks will be in business.
Improving Over Time
Murray has gradually gotten better over the years. In his rookie season for the Spurs, he started eight games and played in 38, averaging just 3.4 points per game.
In his second season, he scored 8.1 points per game while starting over half of the games. His minutes increased in the following year, where he added 10.9 points per game.
Soon, he was starting every game, averaging over 30 minutes per game in 2020-21. He showed a glimpse of stardom in that year, scoring 15.7 points per game along with 7.1 rebounds and 5.4 assists.
But the difference last year was that he not only scored 21.1 points per game in just three extra minutes per game. He added nearly four more assists per game and over one more rebound per game in three added minutes compared to last year.
Young Talent With Upside
Murray is only 25 years old and still has more potential in him. He's not a great shooter, but that's not why Murray was brought in. He's teammates can do that and it shouldn't be a problem considering he now has:
Trae Young
Bogdan Bogdanovic
DeAndre Hunter
John Collins
He's there to do all the little things that nobody else does consistently. That's why he fits so well.
Murray took 4.3 per game but only nailed 1.4 threes per game this season. He was just 32.7% from downtown, which was in line with his average throughout his career. He also doesn't get to the line all that much, despite how aggressive he can be around the rim when it comes to earning rebounds and whatnot.
But at least he shot just under 80% from the foul line last season when he got there.
---
Early Chemistry
I acknowledged it earlier. Young, Collins and Murray played at Jamal Crawford's CrawsOver Pro-Am event and looked incredible. I don't care what kind of basketball they're playing. It's good to see the chemistry start to come together early.
In the 126-121 victory, Murray dropped 39 points with nine rebounds and seven assists. Young had 37 points along with 13 assists and John Collins brought in 27 points with 17 rebounds.
There are going to be a lot of assists between Young and Murray and many of them will be to each other. Murray is just very versatile and that makes him so valuable.
Tempering Expectations
Obviously, the defense at Pro-Am won't compare to the NBA level, but just seeing that Murray is doing exactly what the Hawks brought him in to do is appealing.
The most impressive thing about Murray is that despite all the assists and points scored per game, he only turned the ball over 2.6 times per game last season for the Spurs.
In the same season, he averaged two steals per game. The ball will more than likely be in his hands to bring the ball up for the Hawks but now the Hawks have two legitimate options and can make sure to have one of these guys on the floor at all times.
Murray is a terrific fit for the Hawks and can really take them to greater heights this season. Right now the NBA odds have them as the 16th team favorite to win the NBA Finals but this price will probably come down once the season starts.