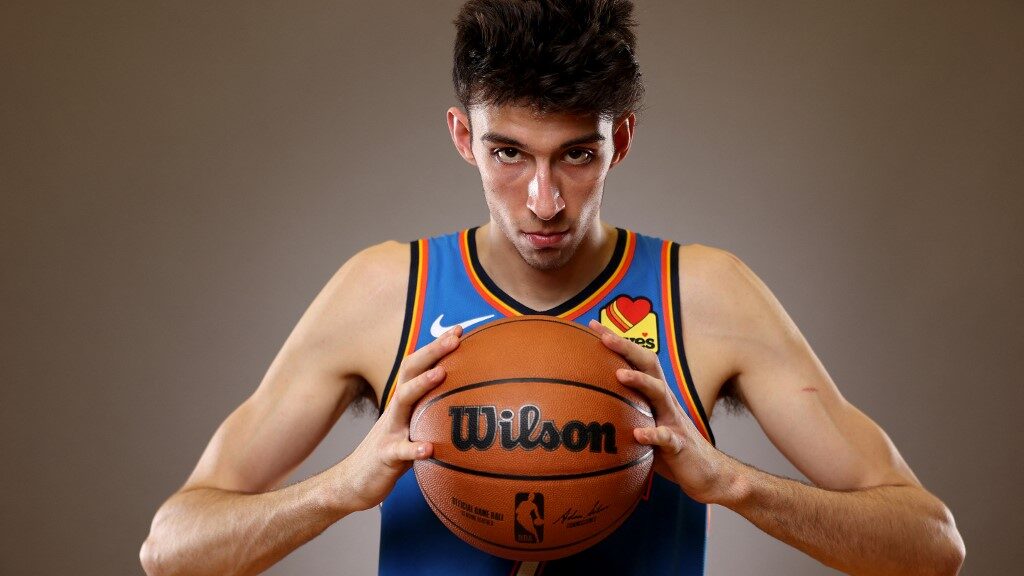 There's just something about being long and lanky. The second overall pick of the 2022 NBA Draft will not be playing a single game in the NBA this year.
Chet Holmgren's Injury
Chet Holmgren was that second pick. He sustained a foot injury in a pro-am basketball game as he was preparing for the season. He was hurt defending LeBron James in the event, just to make matters worse.
Holmgren was looking good in Summer League and played well in the pro-am events that he was invited to. He's got the incredible ability as a big man.
He's extremely tall, but can also put the ball on the floor and drive to the hoop. If he doesn't drive, he can shoot a three at the top of the key in transition.
PLAY NOW: $25,000 Free-To-Play NFL Contest: BMR's 2022 Pick'Em Pool Opens for Registration
The Dream Will Not Come True
He was going to have a real chance at winning the NBA Rookie of the Year this season, but now that dream is over. He's done for the year.
Now that Holmgren can't win the award, the draft class looks a bit lighter. However, one of those rookies will end up winning the Rookie of the Year award.
How will Holmgren's injury impact who wins the award for the top-rated sportsbooks?
---
Does Paolo Banchero Have an Easy Route?
Banchero to Win Rookie of the Year: (+190)
Paolo Banchero was selected first overall by the Orlando Magic. They passed on Holmgren and Jabari Smith Jr. to take the former Duke prospect.
Banchero scored 17.2 points per game for Duke in his freshmen year of college. He also brought down 7.8 rebounds and assisted on nearly four baskets per game in just 33 minutes of action.
He was impressive enough that the Magic drafted him first overall. He's going to get his minutes and should shine with a really slick backcourt that Orlando Magic has.
Banchero As the Reference
The Magic will be able to eventually start Cole Anthony, Jalen Suggs, Franz Wagner, Wendell Carter Jr., and Paolo Banchero.
That's an exciting group of young talent and Banchero should be the big playmaker of that group. If he becomes that guy, he'll pad his stats and earn the Rookie of the Year award.
The other player that could've padded his stats was Holmgren, with the Thunder. Banchero's odds prove that he's now more likely to win the award this season.
---
Will Keegan Murray Have a Better Chance at Winning ROY?
Murray to Win Rookie of the Year: (+450)
It's never easy when you're drafted by the Sacramento Kings, but Keegan Murray is now going to the Kings. Sacramento passed up on Jaden Ivey for Murray and everyone killed the Kings for making that move. However, everyone also killed the Raptors for their selection of Scottie Barnes, and then he ended up winning the last year, so I wouldn't read too much into that.
Murray played two seasons with Iowa and scored 23.5 points per game in his sophomore season. He shot 55% from the floor and hit nearly 40% from downtown while also adding 8.7 rebounds per game.
Of course, if he gives the Kings that kind of production next to Sabonis, Murray could easily win the award.
Realistic Roster Odds
Murray could start with De'Aaron Fox, Kevin Huerter, Harrison Barnes, and Domantas Sabonis.
That's a solid starting five, however, it's doubtful that Murray becomes the go-to guy of this offense with Fox, Sabonis, and Barnes all on the roster.
Of course, with Holmgren down, Murray now has the second-best odds to win the award. He'll get the minutes, but I just don't know if he'll get enough opportunity to play with the players he's expected to play with.
---
Could Any Other Player Win the Award?
Jabari Smith Jr.
Jabari Smith Jr. was projected to go first overall out of Auburn but was overlooked by the first couple of teams. Jaden Ivey was also a bit overlooked. Smith has the potential to be a really good scorer. He's a guy who plays tall and uses his size to his advantage, especially when shooting the ball.
Smith is probably the most balanced player in this draft class and if he's able to grow with Houston, he could have success. After all, Houston needs someone to step up.
Smith would be that guy at this point. His stats will be padded, despite the Rockets not winning many games.
Jaden Ivey
Meanwhile, Jaden Ivey gets to play alongside Cade Cunningham in Detroit. That should also be very exciting. I think Ivey and Cunningham could really fit each other's game very well.
Holmgren was going to ball out this season. Without him, Smith and Ivey are two players I'm thinking could end up actually winning the award.
They both have raw talent that if developed properly, could end up winning them an award this season.