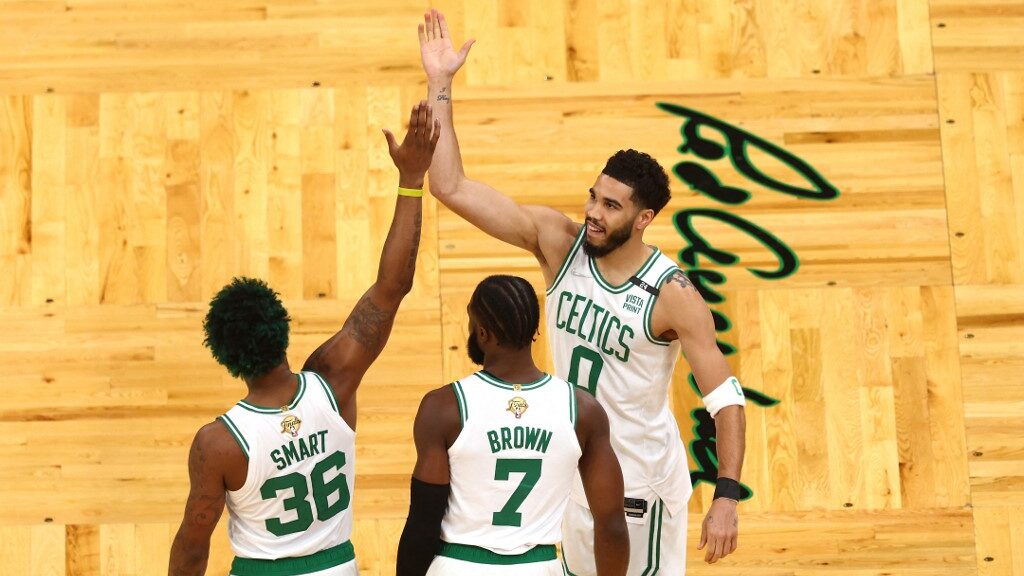 The Boston Celtics fell short of an NBA Championship last season. However, this year, expectations are much higher for the Eastern Conference Champions. The Celtics are expected to be back in the NBA Finals after some terrific moves in the offseason.
Boston might end up making more moves and currently, Kevin Durant is still being talked about in a trade with the Nets. But for now, the Celtics still have an incredible squad that can do some elite things without Durant.
Here are three reasons why the Celtics are early favorites to win this year's NBA Championship, according to the NBA futures odds.
PLAY NOW: $25,000 Free-To-Play NFL Contest: BMR's 2022 Pick'Em Pool Opens for Registration
---
Boston Has Adjusted to Ime Udoka
I'm not going to say that the Celtics didn't buy into Ime Udoka when he first took over as head coach. But I think it's clear that Celtics players needed to adjust to his style of coaching and his demands.
Once the Celtics bought into playing hard on the defensive side of the ball, opportunity started knocking. The Celtics ultimately started off their season so poorly with Udoka but ended up rallying to make the NBA Finals.
Udoka now has everyone's attention. When he first came into the league as a head coach for the Celtics, nobody really looked at the signing as a big deal. But now, in his second season as head coach, Udoka will have earned everyone's trust and will get the maximum amount of effort out of his players.
Not Only the Players Understand Udoka
On top of that, the front office started to really understand what Udoka was looking for in his players. The Celtics, even at last year's trade deadline, didn't make any huge splashes for Jayson Tatum and Jalen Brown. Instead, the Celtics just went after key pieces that fit the organization well, between Derrick White and Daniel Theis.
White, for example, was a big portion of Boston's success and played extremely well on both sides of the ball when Boston needed it the most.
Adding White was a great move by the front office, knowing he fit the script for what Udoka was trying to do. It took an adjustment from the front office and players to finally figure things out.
---
Celtics' New Additions
The Celtics added Malcolm Brogdon and Danilo Gallinari to their roster in the off-season. Again, these aren't massive signings but could become huge once the season begins.
Boston added two veterans who have the experience to solidify their bench even more than last season. These players are versatile and fit well with the rest of the group. Boston believes these key pieces can take them over the top to win the NBA Championship.
About Danilo Gallinari
Gallinari is a very good three-point shooter who can play either forward position.
Udoka even said that he's willing to play Gallinari at the center to have five perimeter players out on the court.
The defense won't be great but that offense could be dangerous.
Gallinari is capable of scoring 15 points a night and can do it in more ways than just shooting three-point balls.
He's also able to post up, hit fadeaways, and can really play any role that he's asked of by Boston.
About Malcolm Brogdon
Brogdon is a versatile guard who the Celtics believe is capable of being really good on both ends of the floor.
He's a great ballhandler and the Celtics are excited about the thought of Brogdon playing alongside White and Marcus Smart.
---
Jayson Tatum's and Jaylen Brown's Evolution
Jayson Tatum and Jaylen Brown really took major leaps last season. Those two have gone through a lot together, trying to bring a championship back to Boston. They've grown together and it would stink to see those two on different teams if Kevin Durant is actually traded for the Celtics for Brown.
I don't think the Celtics will actually go through with this trade, but I will admit that adding Durant will make the Celtics better. It's just that the Celtics should look at winning with what they have because they were so close in the first place.
Tatum and Brown continue to get better. Tatum made a lot of errors in the postseason last year but he's going to learn from them and get better. That's the thing, Tatum and Brown are only going to get better. Brown made some clutch plays along with Tatum. Plus, Marcus Smart has always been the glue guy for the Celtics, doing all the little things.
You'd hate to see this core never earn a championship. All three of those players are growing tremendously into elite players in the NBA. When you put them alongside a veteran like Al Horford, it's clear to see why this Celtics team and the top-rated sportsbooks are optimistic about this season.