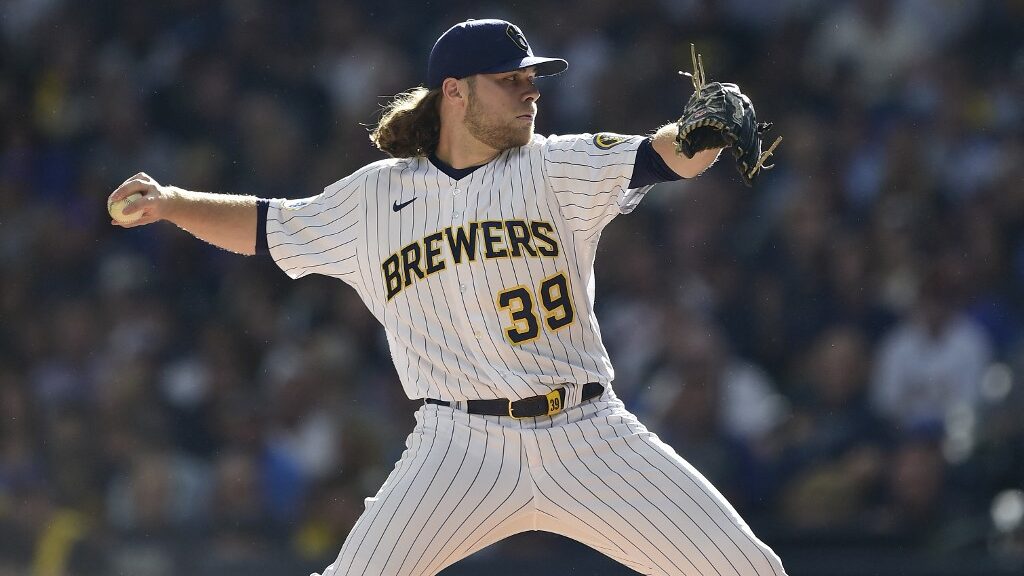 It was a close vote, but Corbin Burnes won the 2021 National League Cy Young Award after throwing 167 innings. That was the fewest innings ever thrown for a starting pitcher who won a Cy Young award so it was a bit astonishing that Burnes was able to win it.
Burnes ended with 151 points in the voting breakdown and beat runner-up Zack Wheeler, of the Philadelphia Phillies, who had 141 votes. Burnes had a two-week stint in April and May due to testing positive for COVID-19. He was also helped by a fantastic Milwaukee bullpen that could close out games that he started.
Burnes led the MLB with a 2.43 ERA and had an expected ERA of 2.01. His WAR via FanGraphs was the highest among pitchers at 7.5 and his strikeout rate was 35.6 percent, which was the eighth-highest rate of all time. All of this, after the MLB, started to crack down on using the sticky substances and other enhancers.
Burnes also led the MLB in strikeout-to-walk ratio with a 6.88 number and had a FIP of 1.63 while allowing just .38 home runs per nine innings. The only category Burnes didn't come in the first place was WHIP, where only Max Scherzer had a better WHIP than Burnes' .94.
Throughout the season, Burnes had a stretch where he threw 58 strikeouts before issuing a walk. He also struck out 10 consecutive batters against the Cubs and tied Tom Seaver and Aaron Nola for the most consecutive strikeouts ever.
Plus, Burnes threw an eight-inning no-hitter and allowed Josh Hader to finish the job in the 9th inning. Burnes didn't always have success in the big leagues. In 2018, he was in the bullpen and looked great but then in 2019, things weren't great. He gave up three home runs in each of his first three starts and then gave up two more in his fourth start in 2019.
He was demoted three times from the big leagues to the minor leagues and had an ERA of 8.82 through 49 innings in the big leagues. But Burnes made adjustments and didn't give up any hope. Scouts and the front office, in general, knew what Burnes was capable of. Burnes also knew it. So he got better and now has become elite.
After getting Lasik surgery in 2020 and pitching exclusively from the windup, Burnes saw an incredible improvement. He also threw his cutter more and struck out 117 batters with that cutter in 2021.
Now that he's got that cutter and continues to find the zone with a bunch of swings and misses, Burnes is on pace to have another stellar year. He's going to be 27 next year and is just starting to get into his prime years as a pitcher. At times, he looks unhittable and knowing that the command will always be there. Burnes is a special pitcher.
Jacob deGrom will be back in action, so that won't help Burnes' case, but Burnes can absolutely win back-to-back Cy Young awards. He also wouldn't be the first to accomplish a feat like that either.