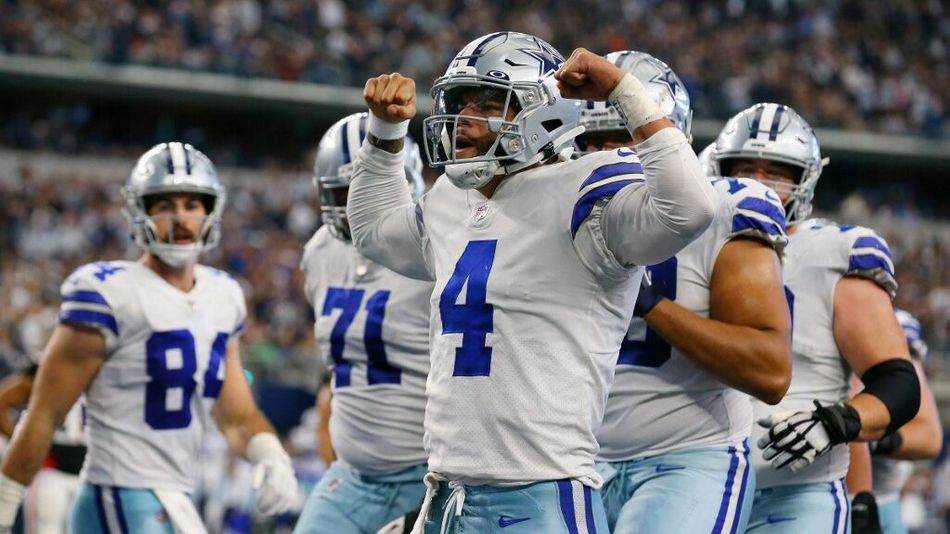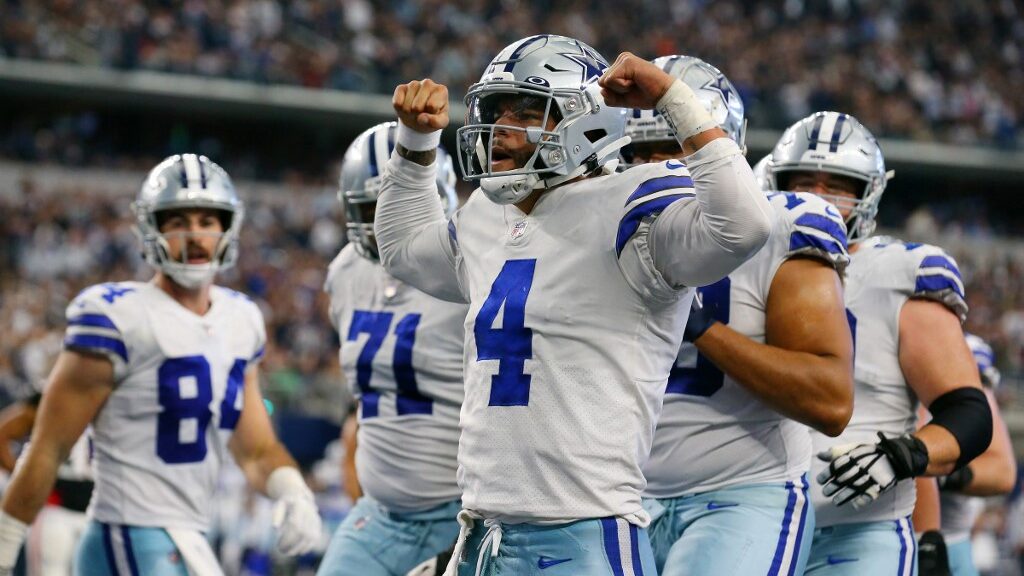 Editor's Note: After Cowboys left tackle, Tyron Smith, suffered a torn hamstring injury on August 24th, the odds for Dallas to win the NFC East took a slight hit at some of the top sportsbooks and are now tied with Philadelphia as favorites. Smith will likely be out until December.
The Dallas Cowboys look to win the NFC East in consecutive years for the first time since a five-year reign in 1992-96. For as much criticism as this division gets, it has had a different division winner every year since 2004. The last team to repeat as division champions was a four-year run by the Eagles in 2001-04.
Can the Cowboys rebound from a disappointing postseason after a 12-5 finish? Many of the NFL odds at the top-rated sportsbooks have the Cowboys with an over/under of 10 wins, which still puts them ahead of the Eagles (9.5 wins) in the division.
PLAY NOW: $25,000 Free-To-Play NFL Contest: BMR's 2022 Pick'Em Pool Opens for Registration
---
The Notable Changes for 2022
---
No power changes for the Cowboys as they are rolling with the same trio at general manager, head coach, and quarterback. Even the offensive coordinator (Kellen Moore) and defensive coordinator (Dan Quinn) are the same.
But there have been a few noteworthy changes to the roster that will make the Cowboys look a little different this season.
Adios to Amari Cooper
After trading for Amari Cooper to be the No. 1 wide receiver in 2018, the Cowboys have traded him to Cleveland. Cooper certainly energized the offense in 2018 and made the Pro Bowl in his first two seasons in Dallas.
His efficiency took an expected hit in 2020 after the Prescott injury, and last season was Cooper's least effective year with Dallas. He only caught 68 balls for 865 yards in 15 games, and that was after 13 catches on opening night.
Cooper had some of his usual quiet games as five times he failed to crack 40 receiving yards. With the Cowboys drafting CeeDee Lamb in 2020, it was clear there was a plan for this relationship to not continue beyond the 2021 season.
Taking a Gamble
But the Cowboys are taking a little gamble on extending wideout Michael Gallup after he tore his ACL in Week 17. In March, Gallup signed a five-year extension worth $62.5 million to stay with Dallas. He peaked in the 2019 season with 1,107 yards, suffered through the Dak-less season in 2020, and then had a calf injury limit him before the torn ACL last year.
Gallup is a starting talent, but he has to come back strong from injury. The Cowboys also used a third-round pick on Jalen Tolbert and given the way they have developed some of these other lesser-known receivers in recent years (Cedrick Wilson and Noah Brown), he could be productive right away.
The loss of Cooper should be very marginal on Prescott and the Cowboys this season. The biggest concern is that it makes it unlikely the offense will be better, even if there were moments where Dak seemed to be off with his receivers last year. But Lamb should be a stud for hitting the over on NFL props this year.
Losing La'el Collins Gives New Look to Offensive Line
The Cowboys also said goodbye to right tackle La'el Collins, who joined the Bengals. The former LSU star never quite materialized as that top 10 talent some thought he was before the draft.
But after joining the team in 2015 as an undrafted free agent, he was a steal who made 71 starts. However, he was suspended five games, last season.
Terence Steele picked up plenty of experience with 13 more starts last season due to the Collins suspension and the usual injury to left tackle Tyron Smith. Steele will take over at right tackle, but it does hurt the depth at tackle should Smith get injured again.
Again, going from Collins to Steele is a downgrade that will not sink the team by any means, but it makes it unlikely Dallas will get better in 2022. For that to happen, first-round rookie left guard Tyler Smith will have to be a dominant player. That remains to be seen.
Cowboys End Randy Gregory Era
Collins was not the only player who joined the Cowboys in 2015 and was let go after a rollercoaster ride on and off the field. Defensive end Randy Gregory is off to Denver with a big contract after making 50 appearances in a Dallas uniform.
Gregory made 11 of his 12 career starts last season, finishing with 6.0 sacks, and he may have had his signature game in Washington where he forced multiple turnovers when it looked like the Cowboys were going to lose that one.
The Cowboys should be fine when it comes to edge rushers, especially after Defensive Rookie of the Year Micah Parsons had 13 sacks and 47 pressures. He is the best player on the defense now. Dallas also made a wise depth signing in bringing in veteran Dante Fowler, who played for Quinn in Atlanta.
Playing for a Contract
Veteran DeMarcus Lawrence is also looking for a stronger season after being limited to seven games last year, though if we are being honest, he has never had big production outside of the 2017-18 seasons when he had 25.0 sacks. Since becoming the highest-paid defensive end in the NFL in 2019, Lawrence has 14.5 sacks in 39 games.
With Lawrence's cap number set to hit $26 million in 2023, the Cowboys may be planning for that future already with second-round pick Sam Williams (Ole Miss). He peaked with 12.5 sacks in his final college season.
New Kicker Too
We rarely talk about special teams, but it can be the difference in a couple of games each season. Veteran kicker Greg Zuerlein was not great in his two seasons with the team, but his reputation for having a strong leg came in handy in 2021.
Zuerlein helped the Cowboys beat the Chargers with a 56-yard game-winning field goal at the buzzer. A few weeks later, he kicked the Cowboys into overtime against New England with a 49-yard field goal. Given how many kickers have choked on a clutch kick against the Patriots over the years, that was impressive.
But with Zuerlein off to the Jets, the Cowboys are apparently trying to make Brett Maher a thing again. If Zuerlein's 82% success rate on field goals was not impressive to you, then consider that Maher is at 77.4% for his career. He was a solid 10-for-15 from 50-plus yards with the Cowboys in 2018-19, including makes from 62 and 63 yards. But he lost the Dallas job after missing 10 field goals in 2019.
Once again, this feels like a downgrade for the Dallas roster.
Regression Alert: Were the Cowboys a Paper Tiger in 2021?
We should remember that the 2021 NFL season was an odd one as no AFC Conference team won more than 12 games, and the Super Bowl was the first one ever to not feature a top-three seed (Rams and Bengals were both No. 4 seeds).
But by some statistical models, Dallas was ranked No. 1 in 2021. Both the Simple Rating System at Pro Football Reference and DVOA at Football Outsiders had Dallas at No. 1 for the regular season based on data.
Yet there was never any point last season where Dallas was considered the best team in the league. When the Cowboys were 6-1, the 7-1 Packers just beat the previously 7-0 Cardinals, and the 7-1 Rams and 6-2 Buccaneers were still out there in the NFC.
Weak Schedule?
One of the disconnects here is that the models care more than actual football fans do about Dallas scoring 40-plus points five times against the Falcons and lousy division rivals, including one who was resting starters in Week 18. The Cowboys were 1-5 against teams that won 10-plus games last year, only beating New England, a team that started slowly, in overtime.
Speaking of the Patriots, the 2021 Cowboys had the most dominant sweep of a division since the 2007 Patriots outscored the AFC East's Three Stooges by 153 points:
Dallas was 6-0 against the NFC East in 2021, outscoring those teams by 133 points (22.2 points per game).
Dallas was 6-6 against non-division opponents including the playoffs, outscoring those teams by 33 points (2.8 points per game).
Dallas' decline in scoring differential of 19.4 points per game outside the division is the fifth-largest drop for any team since 2002.
Suspect Positions
We have already noted that three positions look to be downgraded this year:
Receivers
Offensive line
Kicker
The defense is going to rely on a second-year player (Parsons) to be even more spectacular than he was as a rookie, which is far from a sure thing. Of the 57 players since the merger who had at least 12 sacks in one of their first two seasons, only Reggie White (1985-86) and Aldon Smith (2011-12) did it in both years while increasing their sack total in Year 2.
There is no change in any power positions for the franchise. There was no huge free agent signing or trade that is going to have a transformative effect on the offense or defense.
Dallas led the NFL in points scored (530), yet the offense ranked No. 8 in yards per drive and No. 8 in points per drive.
Since 1993, every other team to lead the NFL in scoring ranked No. 4 or higher in points per drive, including 20 finishes at No. 1.
Dallas led the NFL in points scored, yet Dak Prescott ranked 11th in ESPN's QBR (54.6).
Prescott's 54.6 is the lowest QBR for the 16 quarterbacks since 2006 to lead the No. 1 scoring team, and his ranking of 11th is only ahead of Jared Goff (56.3), who ranked 15th for the 2017 Rams.
Scoring 51 points in that new 17th game that the Eagles could not care less about in Week 18 certainly helped make this possible. But this makes Dallas look like the most fraudulent No. 1 scoring team in the salary-cap era. Why is that?
To Paraphrase James Carville: It's the Turnovers, Stupid
The elephant in the room is that the Cowboys relied heavily on turnovers last season to succeed as a defense under Quinn. Dallas led the NFL with 34 takeaways, including 26 interceptions. In the last decade in the NFL, only the 2013 Seahawks (28) and 2018 Bears (27) had more interceptions than the Cowboys last year.
Quinn was the defensive coordinator of those 2013 Seahawks, so this might look repeatable for him, but check his history. The 2014 Seahawks finished 20th in takeaways. Every Quinn defense from 2014 to 2020 finished 16th or lower in takeaways. He does not have the magic turnover recipe.
Corner Trevon Diggs had 11 of these Dallas interceptions in 2021, a phenomenal total in this era where the interception rate is at its lowest. But there was absolutely no fear from opponents throwing at these Dallas corners, and the picks made up for the fact that they allowed their share of plays too:
Anthony Brown (122) and Diggs (103) were both targeted over 100 times in 2021, ranking them No. 1 and No. 8 in targets faced according to Pro Football Reference.
Brown fared better in allowing 6.9 yards per target, but Diggs allowed 8.8 yards per target, the highest for any defensive back (min. 80 targets).
Diggs allowed an NFL-high 907 yards in coverage.
Where Will the Picks Come From?
No team has intercepted at least 24 passes in consecutive seasons since McCarthy's Packers did in three years in a row in 2009-11. Again, this might sound like McCarthy and Quinn are ahead of the curve, but the talent level of this defense is nowhere near the 2013 Seahawks or what McCarthy had with Charles Woodson and company in Green Bay.
But forget just interceptions. No NFL defense has forced 30-plus takeaways in consecutive years since the Bills in 2013-14. Dallas is going to regress in this area.
The Cowboys also had nine return touchdowns last season (most in NFL since 2014), including two blocked punt returns and five pick-sixes. Dallas had five pick-sixes from Week 4 of the 2013 season through 2020 if you want to know how unusual that is.
Count me out on this being a repeatable strategy for the Cowboys.
Prediction
Dallas ended up being the best 2021 team for NFL picks as it went 13-5 ATS, the best spread record in the league. That may have been regression too after Dallas was 5-11 ATS in 2020, the NFL's worst spread record.
While I do see this team regressing, the schedule figures to make this one come down to Week 18, if not a push at 10 wins. If Dallas wants to prove it can play better at home, then the first two weeks are great tests when it hosts Tampa Bay and Cincinnati.
The Cowboys will also be playing at the Rams and Packers, two of the best in the conference. The AFC South should be an advantageous draw after playing the AFC West last year, and those final two games in Tennessee and Washington could end up deciding the division.
The Pick
Prescott is 9-1 against Washington and 9-2 against the Giants in his career. That advantage should not last forever. With the other three NFC East teams seemingly getting better this offseason, Dallas is the only one that looks to have gotten worse, and it is true on both sides of the ball.
While there is no reason to predict a full collapse in Dallas, I would sooner expect a 9-8 or 10-7 finish than an 11-6 or better season. I will take the under 10 wins.
For once, maybe the Cowboys could turn a so-so regular season into a spirited playoff run all the way to a Super Bowl given the makeup of the NFC. It would be the first time the team got past the second round since winning Super Bowl XXX.
NFL Pick: Dallas Cowboys Season Wins Under 10 (-120) at Bovada (visit our Bovada Review)

Dallas Cowboys Season Wins Under 10

(-120)
*The line and/or odds on picks in this article might have moved since the content was commissioned. For updated line movements, visit BMR's free betting odds product.
---
On the Last Season of "The Cowboys": Did They Practice That Mojo Moment?
---
When head coach Mike McCarthy introduced "Mojo Moments" during the team's stint on HBO's Hard Knocks last year, you just assumed their season would collapse in a clutch situation.
When McCarthy was with the Packers, his teams were infamous for losing close games, including three straight postseasons in 2013-15 where they were eliminated on the final play of the game. Quarterback Dak Prescott had just one game-winning drive in the 2019-20 seasons, though his major leg injury ended his first season with McCarthy after five games.
With a healthy Dak, McCarthy's Cowboys were able to start 6-1 last year with only a loss on opening night on the final play of the game to Tom Brady's Buccaneers. Maybe that would be a playoff rematch. Prescott was able to get an overtime win against Bill Belichick's Patriots in Week 6.
He finished that game injured and backup Cooper Rush had to start and win a close one against the Vikings the following week.
November Reins in First Sign of Trouble
The Cowboys were 6-1, Prescott's numbers looked great, wide receiver CeeDee Lamb was averaging 87.0 yards per game in his second season, and corner Trevon Diggs had an interception in six straight games to make new coordinator Dan Quinn's defense look improved with multiple takeaways every week.
Things were looking great, then November started. The Broncos came to town as a 10-point underdog, and Dallas turned in one of the biggest duds by any team last season. The Cowboys were down 30-0 at home with five minutes left in the game before a couple of touchdown drives in garbage time.
Any team can have an off day, and a week later the Cowboys rebounded with a 43-3 win over a bad Atlanta team. But then Amari Cooper tested positive for COVID and missed the next two games. Lamb left the Kansas City game with a concussion and missed the next game. The battered offense scored just nine points and had a season-high three turnovers in Kansas City in a third loss.
On Thanksgiving, the Cowboys played the Raiders in a game filled with flags as both teams had 14 penalties. However, Dallas gave up five first downs via penalty on third-and-long, including a third-and-18 in overtime. The Raiders won 36-33 to drop the Cowboys to 7-4.
Home Struggles End Season
Dallas cleaned up the rest of the way in division games, including a 56-14 annihilation of Washington and a 51-26 win over the Eagles in Week 18 when Philadelphia rested many key players. Lost in between this was another home loss to the Cardinals, a team thought to be falling apart.
In the Wild Card round against San Francisco, Dallas was a 3-point favorite. Facing a tough front seven, Prescott really struggled as the 49ers built a 13-0 lead. He ended up taking five sacks and finished with a 69.3 passer rating. The running game was shut down, and Lamb was held to one catch for 21 yards.
Too Little, Too Late
Dallas tried to mount a 16-point comeback in the fourth quarter, and a couple of opportunities were there to win the game on a late touchdown with the Cowboys down 23-17. But with 14 seconds left at the San Francisco 41 and no more timeouts to use, Dallas made the weird call of a designed quarterback draw.
Prescott was able to slide after a 17-yard gain, but he was unable to get the offense ready in time for a spike with a second left. The game was over with the ball 24 yards away from the end zone.
It was an inexplicably bad call to highlight the most frustrating loss of Prescott's career. The Cowboys insist they are working on improving in these late-game situations. Burning the quarterback draw from the two-minute playbook would be a good start.