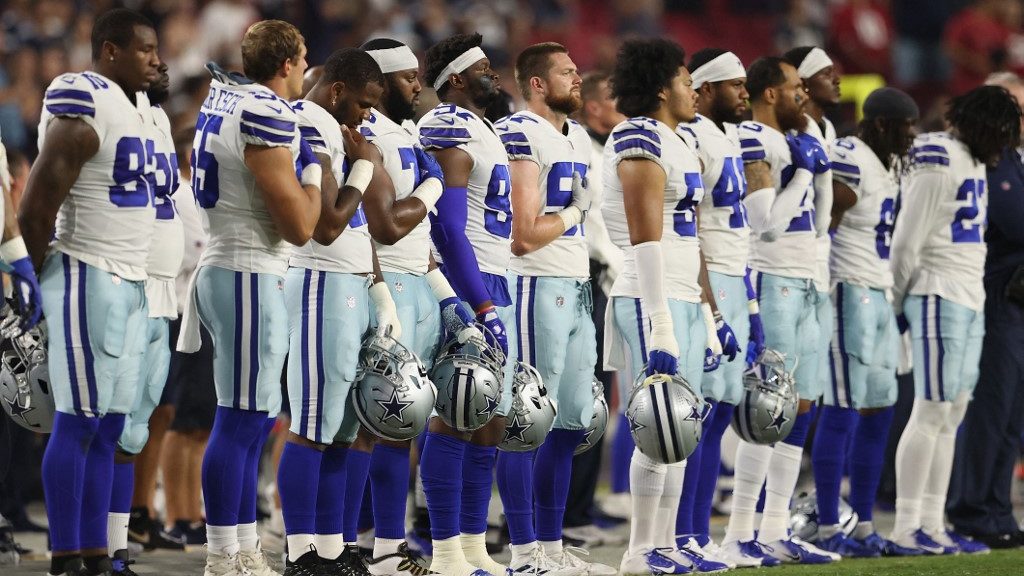 A new NFL season means more high expectations for the Dallas Cowboys, the team America loves to hate-watch. The Cowboys are scheduled for five prime-time games this year, including the Thursday night season opener in Tampa Bay.
Since the 1970 merger, Dallas has won 58.0% of its games including the playoffs, second only to Pittsburgh (61.4%) in that time. But despite the high expectations, Dallas has annually been one of the league's most disappointing teams since winning its last Super Bowl in the 1995 season. Since 1996, 13 of the 16 teams in the NFC have been to the NFC Championship Game multiple times. Dallas, Detroit, and Washington have not been there once in that time.
Last year, the Cowboys finished 6-10 in the worst division race in modern history, but an early season-ending injury to star quarterback Dak Prescott is the main reason coach Mike McCarthy gets a pass for that. Is Prescott's health going to allow him to lead the Cowboys back to their first NFC East title since 2018? Many of the top sportsbooks have the Cowboys with an over/under of 9.5 wins, making them the favorites in the division.
On the Last Season of Cowboys: Lose Dak, Lose the Worst Division Race Ever
The Cowboys were looking at 2020 as a redemption season after such an uninspiring year in 2019. That year, the Cowboys were 8-0 when they scored at least 31 points and 0-8 when they did not. Dallas could not buy a close win. Dak Prescott led 15 game-winning drives in his first three seasons but had none in 2019. However, the Jason Garrett era was finally over. He was replaced by Mike McCarthy, who took a year off after being fired from Green Bay. He pontificated about being more in tune with analytics and making aggressive calls after having a long history of conservative coaching and coming up short in close games with the Packers.
After a close 20-17 loss to the Rams to open the season, it looked like little had changed for McCarthy and the Cowboys. Then the record-setting shootouts started. Dallas became the first team in NFL history to play four straight games in which the team scored and allowed 31 points. They would have gone 0-4 in those games if the Atlanta Falcons had any common sense to recover an onside kick, but that was botched, and the Cowboys came away with a 40-39 comeback for their first win of the season.
While that game ended the comeback drought, the Cowboys still came up short against Seattle (38-31) and Cleveland (49-38) with the offense turning the ball over three times in three straight games. Fumbles were the biggest issue. Prescott was feeling the new offense, becoming the first quarterback in NFL history to pass for 450 yards in three consecutive games. No one had ever done that three times in the same season, let alone three weeks in a row.
But with the lack of ball security and the Dallas defense being shredded, this only produced a 1-3 record. Against the Giants in Week 5, Prescott suffered a gruesome broken ankle, ending his season immediately. He finished two attempts shy of qualifying for rate stats, or else he would have had an NFL record with 371.2 passing yards per game in a season. Still, the Cowboys would prefer to not see him have to throw so much since it was coming as a result of playing from behind.
Andy Dalton replaced Prescott and was able to lead the Cowboys to a win over the Giants. But he was injured against Washington and had a COVID situation that led to Dallas starting unknown quarterbacks Ben DiNucci and Garrett Gilbert against the Eagles and Steelers. The Cowboys had a chance to steal both games, and likely could have won with Dalton, but it was not meant to be. The team was 2-7 and only the pathetic nature of the division kept us paying attention to the rest of the season.
Even a 3-9 start did not bury the Cowboys in the division race. A three-game winning streak kept the season alive going into the final game, but Dalton took six sacks and the offense really struggled in a 23-19 loss to the Giants, ending the team's season for good.
The 2020 Cowboys allowed 473 points, the most in franchise history. With Prescott coming back, it is clear where the Cowboys need to improve the most to get back to winning games.
The Notable Changes for 2021
There is some real good news-bad news with this Dallas team. The good news: Prescott is back, and the Cowboys moved on from defensive coordinator Mike Nolan, who still coached the game like it was stuck in the Stone Ages. The bad news: Prescott may not be 100% healthy all season, and the new defensive coordinator is Dan Quinn, the coach who blew a 28-3 Super Bowl lead (and many more) with Atlanta.
As last year showed, nothing is more important than Prescott's health. While the ankle injury is one concern, a shoulder injury this month has also led him to an MRI, and we may not see him take the field at all this preseason with one game left. The Cowboys are stressing no big deal, but you would expect that as no one wants to start panicking over their $160 million investment (with $126 million guaranteed). Until we see Prescott play in a game and looking like the player we know he can be, then it is a concern.
Dallas just needs health instead of more talent on offense. With Prescott, the Cowboys have one of the most talented offenses in the league led by an impressive wide receiver trio of Amari Cooper, Michael Gallup, and CeeDee Lamb. Lamb especially should be looking forward to playing more with Prescott this year. But the Cowboys should also be better at tight end after getting Blake Jarwin back after he missed 15 games. Left tackle Tyron Smith is also back after missing 14 games last year to boost the offensive line that will have to help out running backs Ezekiel Elliott and Tony Pollard. Dallas' running game was at its worst since the 2012 season last year.
As for the curious hiring of Quinn, he is someone who should be more comfortable as a defensive coordinator than having the full control of a head coach. Quinn's best work was with the 2013 Seahawks, the Super Bowl-winning defense that stymied the record-setting Broncos. However, his 2014 unit was not as good at holding leads and blew a 10-point lead in Super Bowl 49 to New England. Last year, Quinn became the first coach in NFL history to blow two fourth-quarter leads of 15 points in the same season, and he pulled it off by Week 3.
Maybe Quinn's biggest problem is that he adheres to Pete Carroll's philosophy of not sending pressure in clutch situations and keeping the play in front of the defense. Make an offense go the length of the field with short gains and avoid gambling to give up the big play. But offenses have not had many issues at driving down the field against Quinn's defenses with the game on the line just as Prescott did with Dallas in Week 2. It will be interesting to see if Quinn continues not being aggressive with Dallas since McCarthy has been preaching "Mojo Moments" on HBO's Hard Knocks this training camp. What better way to seal a win than a well-timed blitz that results in a game-ending takeaway?
It would be nice if Dallas had the pass-rushing talent to get there without sending more than four, but DeMarcus Lawrence is not DeMarcus Ware. Since he signed his big contract in 2019, Lawrence has not made the Pro Bowl or notched double-digit sacks or even 30 pressures in the last two seasons. He is also on PUP now after having surgery on his back. Lawrence must be the key guy as the Cowboys did not bring back Aldon Smith (unreliable off the field) or Everson Griffen (signed with Minnesota). Randy Gregory is also anything but reliable, having played 38 games since 2015 and earning 10.5 sacks. Veteran Tyrone Crawford retired after being with the team since 2012.
Linebacker Sean Lee also announced his retirement after an injury-plagued career. Linebackers Jaylon Smith and Leighton Vander Esch have not been living up to the hype for the Cowboys. But they hope to have gotten things right with first-round rookie Micah Parsons out of Penn State. Quinn has coached Bobby Wagner (Seahawks) and Deion Jones (Falcons) in previous stops, and the hope would be that Parsons can turn into that kind of cornerstone for Quinn in Dallas. However, he is just a rookie and he sat out 2020 for COVID reasons, so he may not be an instant star this season.
To replace Xavier Woods at safety, the Cowboys brought in Damontae Kazee, who had some success with Quinn in Atlanta, including seven interceptions in the 2018 season. Quinn also expects to use former Atlanta safety Keanu Neal at linebacker this season. But with the Cowboys spending so much to keep their offense together and on Lawrence's contract, there was not much left to spend on free agents, making the draft more important.
The Cowboys made six selections in the top 115 picks in April's draft, and they were all on the defensive side of the ball, including investments at all three levels of defense. That seems like the right strategy for a team that knows it can score points, but time will tell if Quinn was the right hire to stop teams from scoring on the Cowboys.
Cowboys: Give Me 30 or Give Me Death
These stats may interest me more than any other person on the planet, but this feels like pertinent info for online bettors this season. The Dallas Cowboys have not won a game in which they failed to score at least 30 points since the 2018 NFC Wild Card win against Seattle (24-22). Over the last two seasons, the Cowboys are 14-2 when they score at least 30 points and 0-16 when they do not. Even the Bengals are 2-22-1 (.100) when they do not score 30 points, and they only have six total wins since 2019. The Chiefs (13-5) have the best record since 2019 when failing to score 30 points.
Only 15 teams since the 1970 merger have gone through a whole season without winning a game in which they did not score 30 points. Not only are the Cowboys the last two examples, but the Cowboys are the first team to do it in back-to-back years and the only team of the 15 to win more than four games in each season. While this is not the same thing as a traditional winning streak, there has never been a scoring breakdown like this in NFL history. The closest thing to Dallas' 14 consecutive wins with 30-plus points scored was when the Patriots had 12 such games in 2010-11.
The split was even more pronounced in 2020. Despite Prescott missing most of the season, Dallas still had eight games with at least 30 points scored. That makes the 2020 Cowboys one of 94 NFL teams since 1940 (and one of 10 in 2020) to have at least eight games with 30 points in the regular season. However, the Cowboys also had eight games where they failed to score even 20 points. If you break down those 94 teams, they average 2.3 games with under 20 points and only the 1998 Bills had six low-scoring games. I can say with confidence that the 2020 Cowboys are the worst offense and team to ever score 30 points eight times.
With 2020 being the highest-scoring NFL season on record, expectations are for more of a defensive resurgence in 2021. So, the Cowboys should not be so feast or famine on offense with Prescott back, but maybe the team can get back to some normal 27-20 and 24-17 type of wins at some point this season. If the Cowboys still have to score 30 to get a win, then there will not be many victories again this season.
Prediction
We are going to assume that Prescott is healthy enough to get through the season. His return and the state of this division makes Dallas a very tempting choice to hit the over in wins for your NFL picks this year. Prescott is 19-6 in his career against his division, including records of 7-1 against Washington and 7-2 against the Giants.
The beginning of the year may not be kind to Dallas. Opening in the defending champion's house on banner-dropping night to start the season is never an easy task. Going to the Chargers in Week 2 could also be a tough one if Justin Herbert is indeed the real deal. But the Cowboys have a great chance to get on track with a home slate against the Eagles, Panthers, and Giants. Denver and Atlanta are very winnable home games in November prior to a tough trip to Kansas City. Hosting the Raiders on Thanksgiving is another favorable game. Going to New Orleans a week later should not be as challenging as it was in the past when Drew Brees was eviscerating defenses in the Superdome.
Four of the last five games are division games for Dallas. The only non-division game is at home against Arizona, which again is a winnable game for this team. The only games on the whole schedule to feel hopeless about are going to the Super Bowl teams (Tampa Bay and Kansas City). The other 15 games are all winnable, but we know Dallas will slip up several times. Still, going 10-7 or better looks absolutely reasonable on the strength of this offense alone.
2021 Cowboys Over/Under Pick: Over 9.5 wins (-120) at Bovada (visit our Bovada Review)
*The line and/or odds on picks in this article might have moved since the content was commissioned. For updated line movements, visit BMR's free betting odds product.