Best Utah Sports Betting Apps & Mobile Sites
Shawn West has been involved with college basketball, NFL and college football and MLB since he left his job as bank vice president two decades ago. He lives in North Carolina with his wife, children, two dachshunds and a variety of turtles.
More and more states across the United States are taking strides to legalize sports betting. More than two dozen states have already legalized it, either in-person, online or both. Many others are either in the process of making it legal or are actively debating the issue in their state legislature, with bills proposed in each year's session.
There is one notable exception: Utah has been very clear about its opposition to sports betting, and all forms of gambling. It is the only state in the continental 48 that does not have any form of legalized gambling, including a state lottery. The state has passed laws to close any loopholes that may allow gambling, online or in person, and has even proposed federal legislation in the U.S. Congress that would ban online gambling across the country.
With the most hostile legal position toward gambling in the country, Utah makes it difficult to find ways to place bets without risking being charged with a crime. Residents of the state have two options: They can go across the border to more gambling-friendly states on any side of Utah, or they can go online and use online gambling sites located outside the country.
Offshore sportsbooks abide by the laws and regulations of the country where they are based, not the ones where their customers are located. So they are not under the jurisdiction of Utah state law or the U.S. federal code regarding wagering on sports.
Highly regarded online gambling sites have a well-developed website that bettors can access from their computers. But more and more people are using mobile devices, not computers, to place bets. So the best Utah sports betting sites offer mobile sites and apps that give customers the same gambling experience on their phone or tablet that they'd get at their computer.
With literally hundreds of offshore online betting sites, it can be tough to know which ones should be avoided and which are on the up-and-up. Luckily, we're here to help you. We've assembled a group of gambling experts who have gone through all the offshore sportsbooks available to Utah residents. They looked at how the sites registered customers, what bonuses and other perks they offer, how financial transactions are handled and sensitive data is stored, and what the wagering experience is like on the full site and the mobile platform.
They took the performance of each of these offshore betting sites on all these different factors and combined them to come up with an overall grade for the site. Using that information, they assembled a ranking of the 10 best sports betting apps and mobile sites available to Utah bettors. In addition to the top 10 listings, they also put together detailed reviews of each site, with pros and cons to give a better sense of what to expect. We'll also go through the state of sports betting in Utah, what history has led the state to its current position, and what, if anything, might change.
The Best Utah Sportsbooks in 2023
List of the Best Utah Betting Apps & Mobile Sites
Our expert panel rated and graded the best sports gambling apps and mobile-optimized sites and ranked the 10 best ones available in Utah.
Each site and app in our top 10 has a long history — years long, if not decades — of safe, reliable play. They all pay out on time, in full, and without headaches. In other words, they can be counted on to treat you fairly. They also offer betting markets in all major sports, with leagues, teams and games from around the world. There's also a deep menu of betting methods, including parlays, teasers, prop bets, live betting, point spreads, and moneylines.
Reviews of the Best Utah Betting Apps & Mobile Sites
Each member of the top 10 does a number of different things well, which is why they impressed our panel of experts enough to earn a spot in the rankings. But none of them are exactly the same as any other one. The different sites have different areas of expertise.
Another detail to consider is that most of the sites reviewed don´t offer a native app, instead focusing on optimizing their mobile site which tends to be more reliable when it comes to sports betting.
Each gambler is also different, with different factors they consider most important and different preferences for their betting experience. We are confident that any of the sites in our top 10 would be an excellent choice for mobile sports betting, but choosing the one that's right for you is a personal decision. To help you make it, our experts gave detailed evaluations of each of the top 10 sites, including pros and cons to show why the site placed where it did in the rankings, and where other sites may be a better fit.
Some of the factors our expert panel weighted include the quality and ease of use of the mobile interface, the size of the site's betting limits and minimum bets, how the betting odds compare to competing sites, payment methods offered, the quality of customer service, and the size and variety of bonuses for new users and existing customers.
1. Bookmaker: Welcomes Sharp Bettors in Utah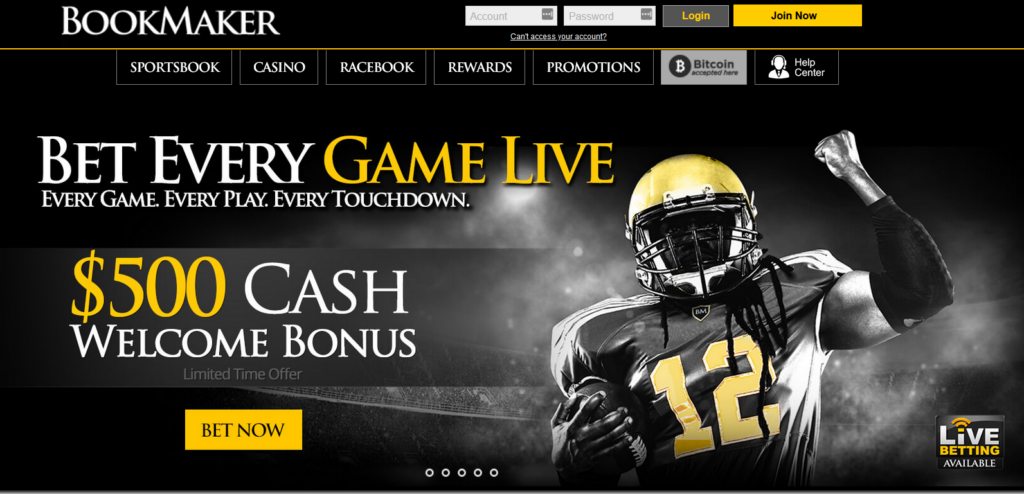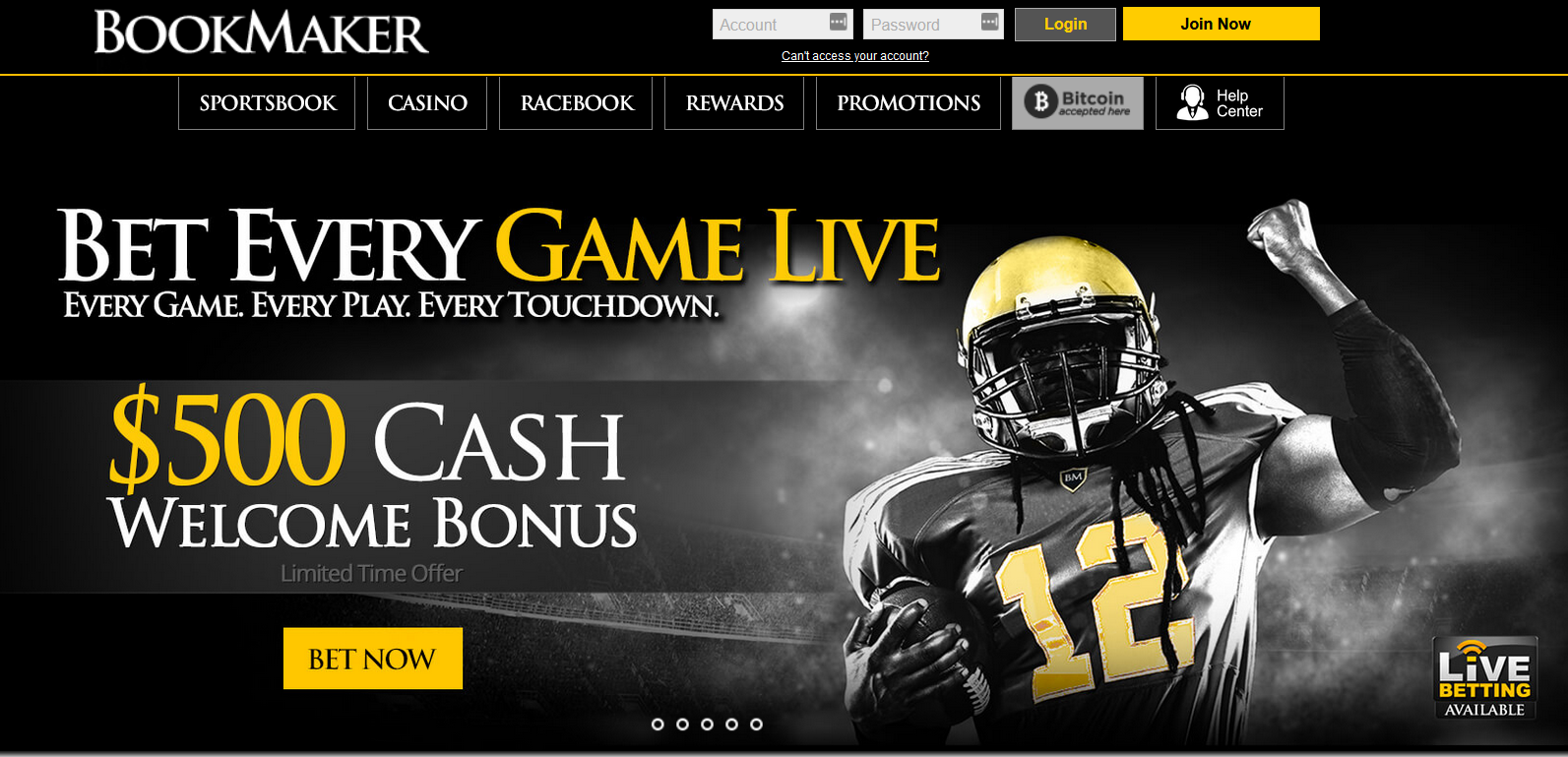 The top all-around sports betting mobile site in our rankings is Bookmaker.eu. Using Bookmaker on a phone or tablet offers the same functionality as the main site. Everything you can do with the full site is as easy on their mobile platform. That includes using Bookmaker's sportsbook, as well as their racebook and online casino.
Bookmaker appeals to gamblers of all levels, from first-timers to professionals. It offers the highest betting limits and earliest posted lines and odds, which experienced gamblers and high rollers will appreciate. But it also has low minimum bets, to allow inexperienced bettors to begin cautiously. There's even a free casino section to allow gamblers to learn the ropes before they start playing for real money. Bookmaker also has earned a reputation of never cutting off a bettor on a winning streak.
The user interface is easy to use and uncluttered, making it easy for newcomers to navigate without getting lost. It also allows gamblers to place their bets quickly, without too much clicking around.
Bookmaker also earns points for its loyalty program, as well as a flexible set of sign-up promo offers.
Pros:
Mobile site is as easy to use as the main site
Offers high limits and low minimums
One of the earliest to post betting lines and odds
Outstanding loyalty program and bonuses
Cons:
Loyalty program doesn't allow professionals to participate
Doesn't have a live online poker room
2. Heritage Sports: Top Mobile Site for Live Betting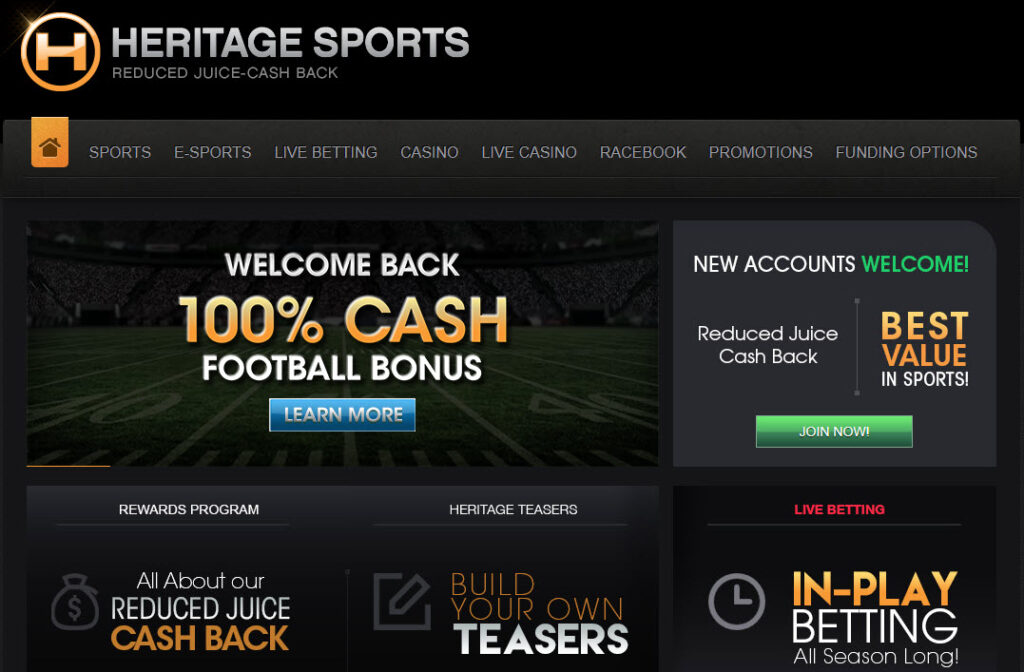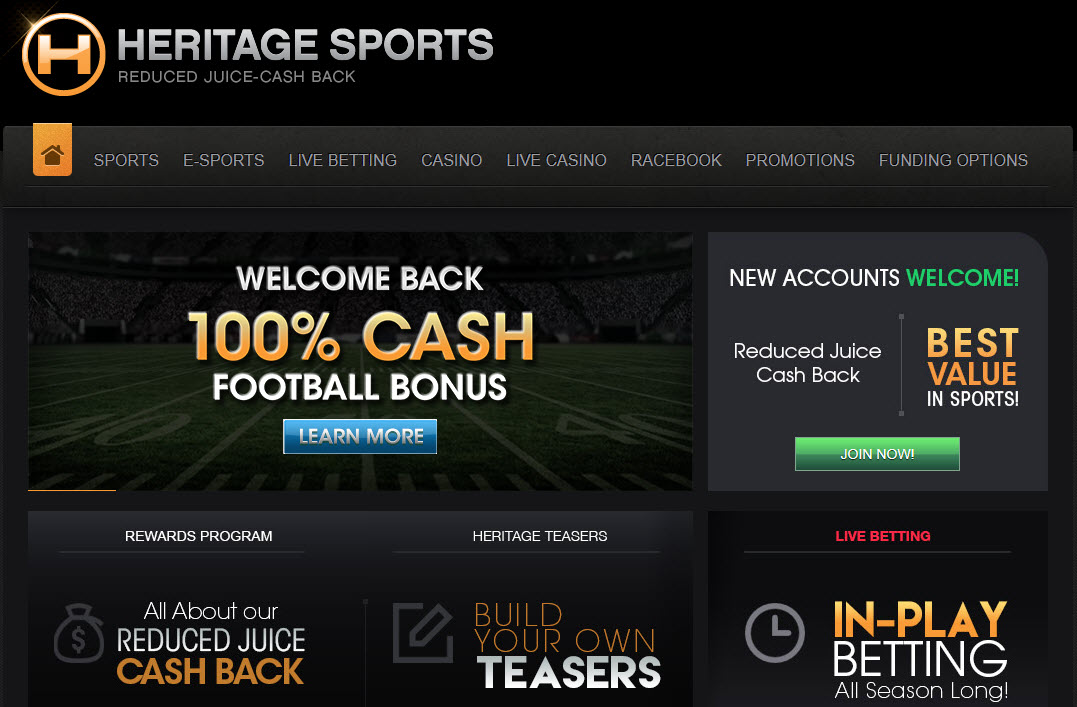 Heritage Sports gets the silver medal from our panel of experts, getting the No. 2 ranking in the top 10. Customers can expect to feel like VIPs with Heritage Sports. That's because it got its start as an invite-only elite gambling site, and it still acts that way with all of its customers. They offer 24/7 customer service, fast payouts and a cashback rebate program.
Heritage Sports also gives gamblers a discount with their reduced juice odds of -108, instead of -110, on many sporting events. It's a small boost to bettors' profit margins that adds up over time.
Using Heritage on a mobile device offers the same experience as the full site. That goes for Heritage Sports' sportsbook, as well as the mobile casino, which has a live dealer section.
If you want to do live betting on sporting events that are in progress, Heritage Sports is the choice as the best place to go. This site was one of the first sites to embrace live betting and, as the market has grown in recent years, it still offers the best live betting platform in Utah. Their mobile site is easy to browse and allows you to place your bets quickly, a must when you're betting on games as they're going on, and time is of the essence.
Pros:
Mobile site is just as good as the main site
Our choice for the best live betting platform
Gives all customers the VIP treatment
Offers reduced juice lines
Cons:
Welcome bonuses are lower than elsewhere
Doesn't offer a live online poker room
3. Bovada: Great Variety of Prop Betting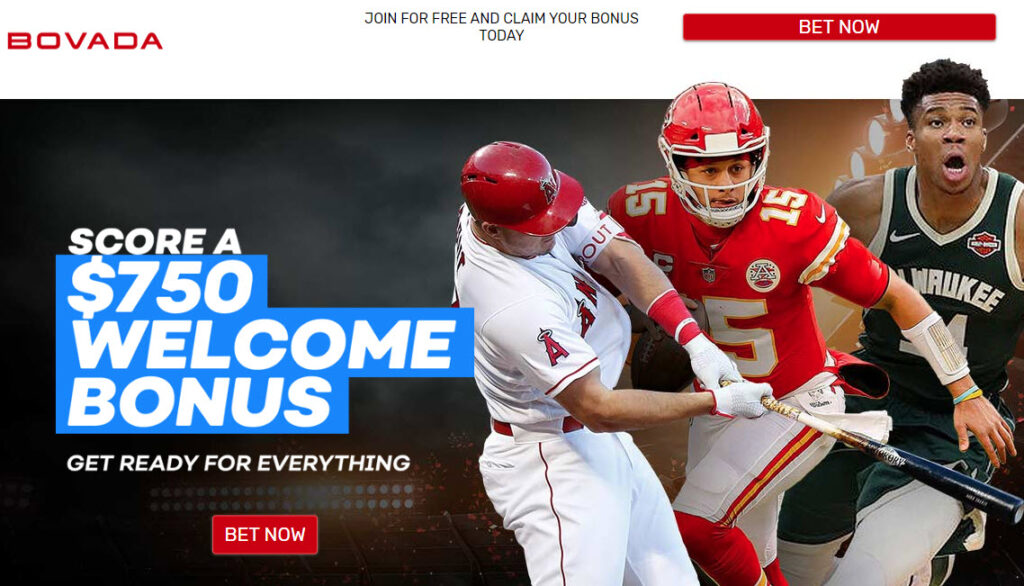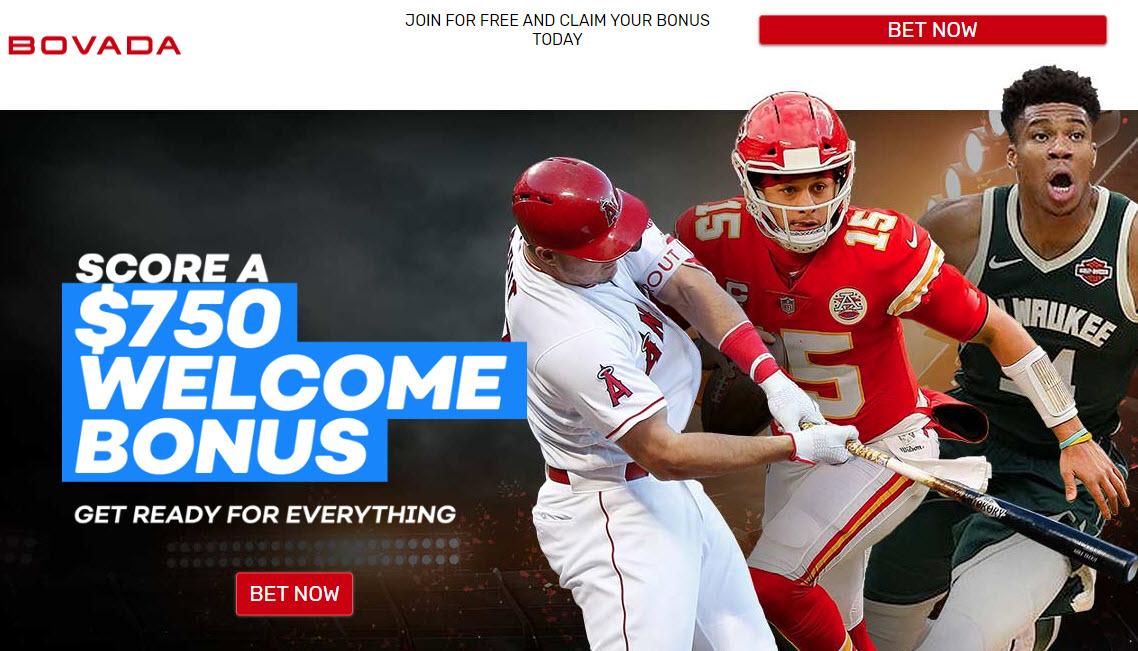 Bovada comes in third in our top 10 rankings and may be the most popular online sportsbook, with a legion of loyal fans quick to sing its praises. While our rankings focus on the best mobile sites and apps for betting on sports, Bovada's mobile platform offers all the amenities of a full casino experience.
Bovada customers can use their mobile devices to place bets on Bovada's racebook, casino and poker room, which is the busiest one in the United States. Bovada also takes bets on non-sports markets, like entertainment and politics. The mobile site is every bit as good as the main site on a computer with no loss of functionality. However, there is a downloadable app for their poker product.
Ignoring all the other things you can do at Bovada, the sportsbook is one of the best around and worthy of the No. 3 spot in our rankings. No other sportsbook has as many options for prop bets, and the menu includes a number of low-risk prop bets that give you the chance to bank a few easy wins to get you started.
Unlike other online betting sites, switching from the full site to the mobile platform at Bovada doesn't mean that you have to lose options. Everything you can do on the full site is also available on your device.
New Bovada customers can take advantage of a menu of options for welcome bonuses, and Bovada has much lower rollover requirements than the rest of the industry. Bovada's bonuses have a 5x rollover, which is more than twice as low as its competitors.
Betting limits are as high as $5,000 for some events, although some professionals prefer higher limits and tend to opt for sites other than Bovada. Recreational gamblers of all risk tolerance levels should feel comfortable there, however.
Pros:
More prop bets than anyone else
America's busiest live online poker room
Mobile platform is nearly identical to the full site
Low rollover requirements for bonuses
Cons:
Betting limits may not be high enough for pros
Lines and odds don't post as early as elsewhere
4. BetOnline: Fastest Payouts in Utah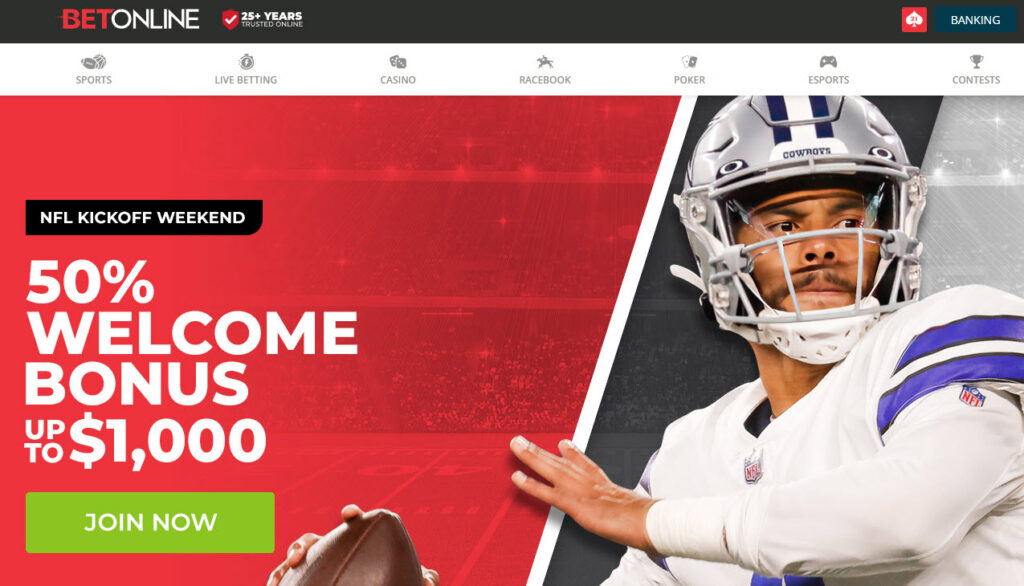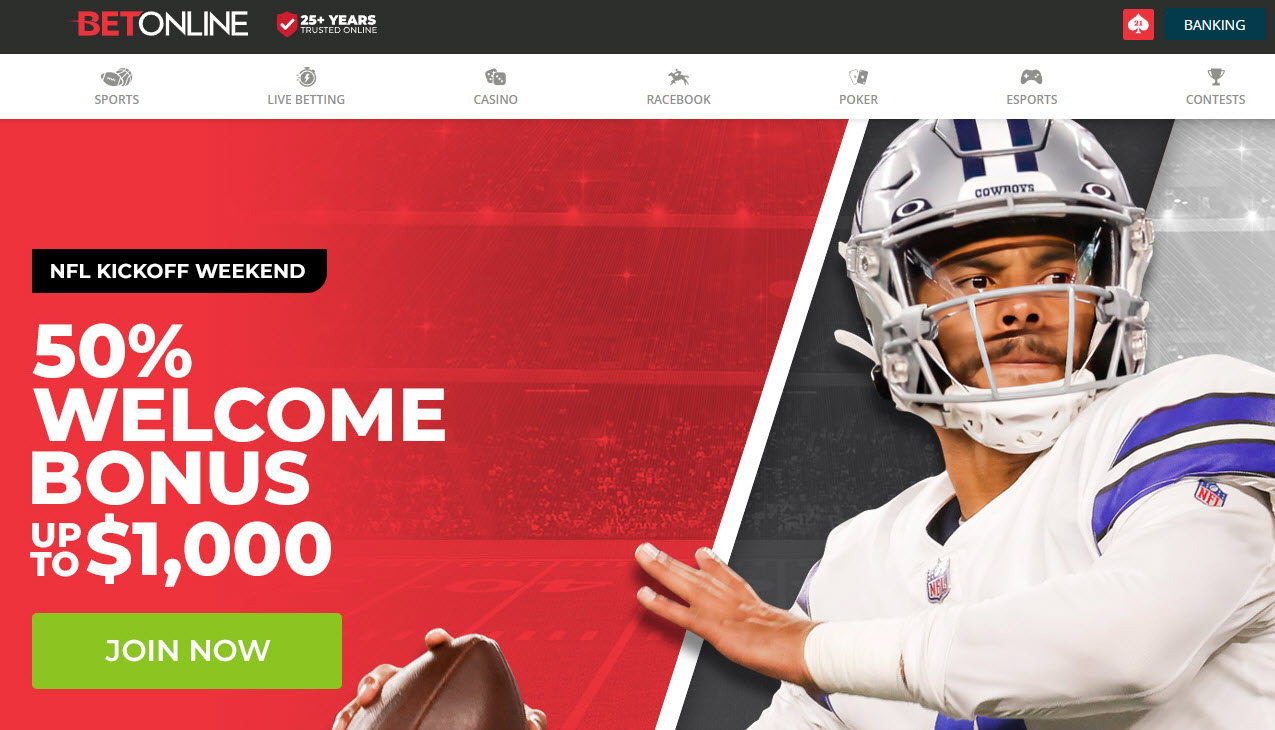 One area where the 10 best mobile betting sites and apps in Utah differ is with their odds. For point spread bets and over/under total wagers, most sportsbooks offer identical lines on either side of the cutoff—usually -110/-110. When a site changes those odds, for instance to -108/-108, that's known as reduced juice and gives bettors a discount on their bet.
BetOnline goes one step further. It is one of the few sites available in Utah that offers opinionated lines. That means that the odds on either side of the cutoff are not symmetric. They might be -112/-108 or -113/-107. This offers gamblers an opportunity to boost their profit a little bit, if they pick correctly. It also provides variety for gamblers who shop around at different sportsbooks.
Outside of the sportsbook, BetOnline has a busy poker room that is part of the third-largest online poker network in the United States. There's also an online casino with more than 500 different games available.
These rankings are based on mobile sports betting sites and apps, however, and BetOnline has an outstanding one. Their software recently had an upgrade, making their mobile site one of the best ones available. BetOnline also has a separate poker app that you can download to access their live room from your mobile device.
Pros:
Best opinionated lines in Utah
Busy poker room in the U.S., with its own app
Online casino with large selection of titles
Recently upgraded mobile software
Cons:
Some transactions have fees attached
Some complaints about the poker room
5. BetAnySports: Best Reduced Juice Model in Utah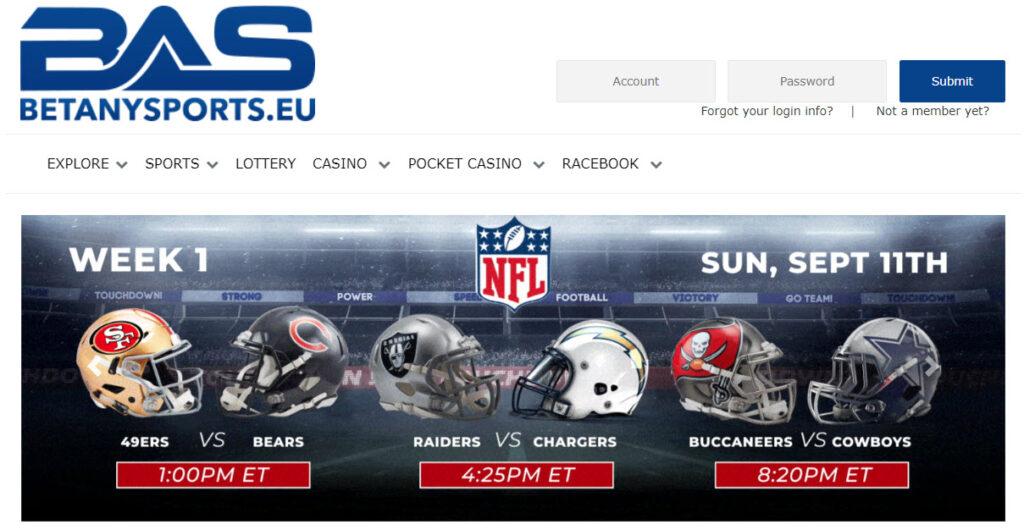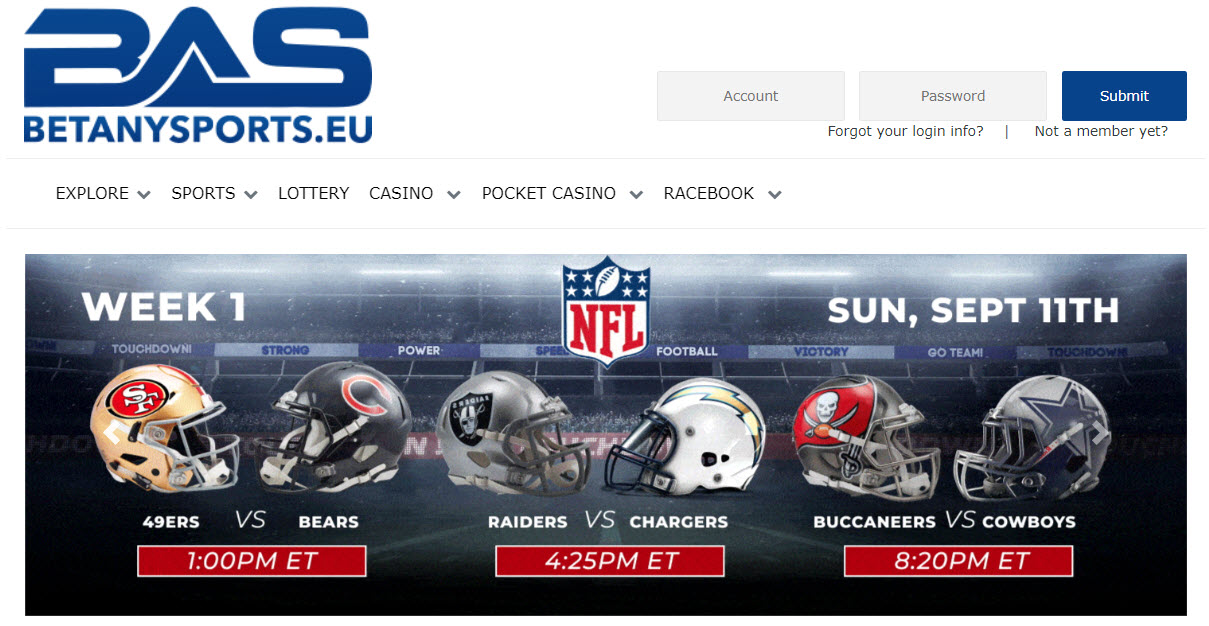 BetAnySports was already one of the 10 best mobile sports betting sites in Utah, but our panel of experts was so impressed with the site in their last review that they boosted its grade from an A to an A+ rating. One of the primary reasons BetAnySports received the highest possible grade is that it is one of the best values in Utah thanks to its reduced juice model.
Not every sportsbook offers reduced juice. It's a way for gamblers to cut the edge they need to turn a profit. Reduced juice means that the site offers better odds than the standard -110/-110 on either side of a point spread or cutoff. Most sites that offer reduced juice cut the odds to -108/-108, but that's not good enough for BetAnySports. They offer odds as favorable as -105/-105. It may not seem like much of a difference in any individual bet, but the savings add up for bettors over time and makes it far easier to finish in the black.
Just like low-cost providers in other industries, BetAnySports can afford to offer its discounts by cutting overhead in other areas. So you won't see all the same frills, bells and whistles that are available at other sites. Bonuses and promotions for current customers are not as generous as some competitors who have odds that are less favorable to bettors. The user interface –both the interface for the full site and the one for BetAnySports' mobile platform– is more bare-bones than other sites. There are no fancy graphics, shortcuts or other special features. But its scaled-back and uncluttered presentation makes it easier to find what you need and get your bet placed.
One area where BetAnySports doesn't cut back is in their customer service, which is one of the best of the offshore books.
Pros:
Best reduce juice and value for bettors
Pays out quickly and in full
Uncluttered site makes it fast and easy to place bets
One of the best customer service departments
Cons:
Bonuses and promos are low
Interface doesn't have the graphics and shortcuts other sites offer
6. BetUS: Higher Welcome Bonuses and VIP service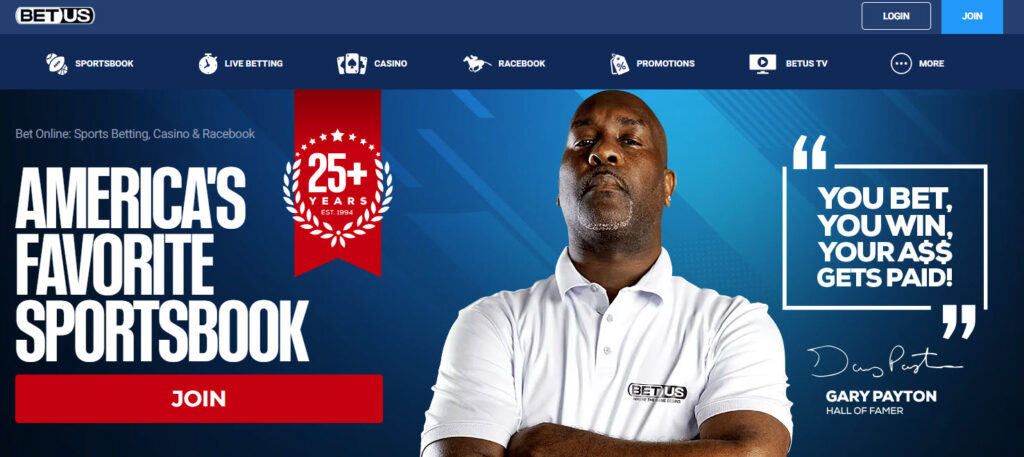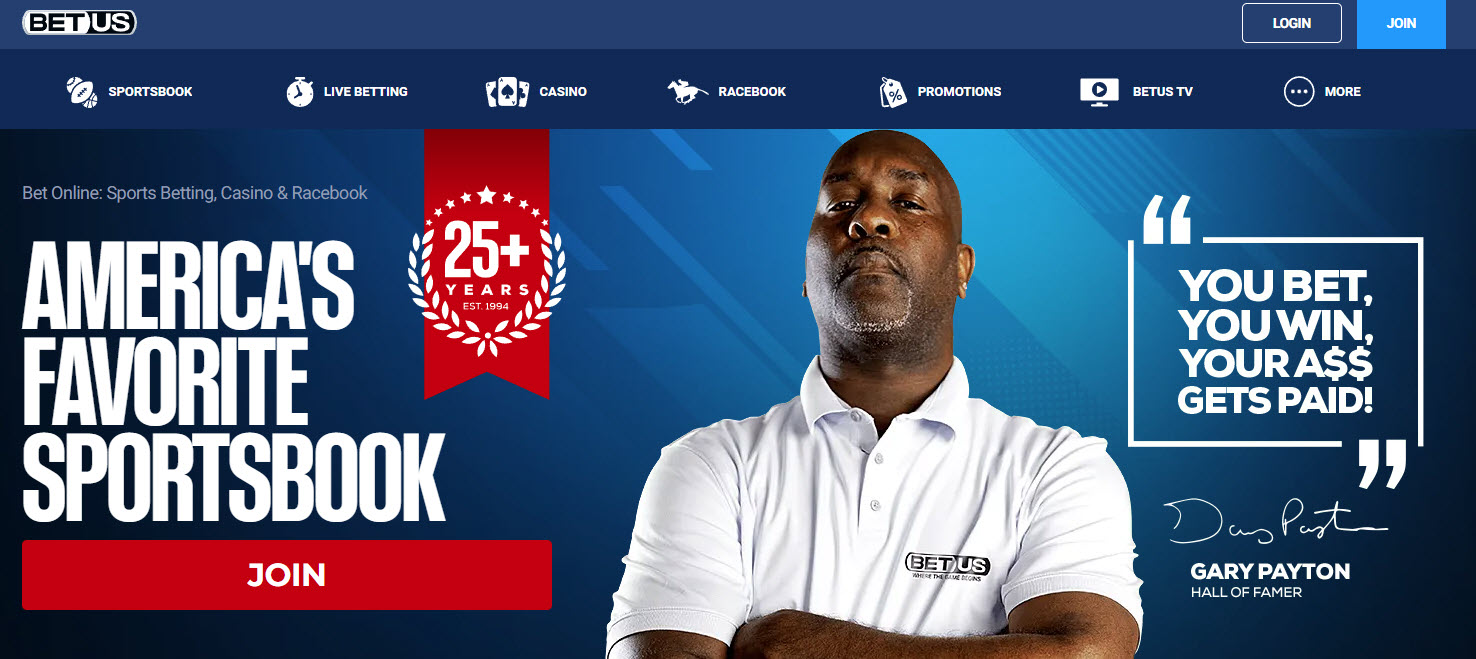 BetUS was recognized by our expert panel for having the most generous bonuses in Utah. Their bonus program is also one of the most flexible in the state. New customers have a wide variety of welcome bonuses to choose from, with different dollar amounts and rollover requirements. Users can select a smaller bonus, with a rollover that makes it easier to withdraw your money, or a larger bonus with a stricter rollover requirement.
BetUS also has separate start-up bonuses for its online casino and its sportsbook, giving you more flexibility and more free money to wager. The baseline welcome bonus from BetUS matches your first deposit by more than 100%. It can go as high as 200%, however, if you're willing to deal with the higher rollover. On average, BetUS' welcome bonus will pay as much as $3,000.
Their mobile site is laid out in an organized fashion that allows users to easily find their way around. It's intuitive, putting options in the place where customers are likely to look. Everything is easily accessible, making it convenient for users to place bets on their mobile devices.
BetUS also puts a value on providing an entertaining venue for gambling. It has weekly podcasts discussing games and offering analysis from former pros like NFL Hall of Famer Warren Sapp. It also produces videos to help break down upcoming games.
Pros:
Flexible bonus program allows users to find a bonus amount and rollover requirement that best fits them
Separate bonuses for casino and sportsbook that match more than 100% of your first deposit
Podcasts and videos give site personality
Mobile platform is well organized and intuitive
Cons:
Rollover requirements can get quite high on larger bonus amounts
Releases lines and odds later than competitors
7. WagerWeb: Same-Day Bitcoin Payouts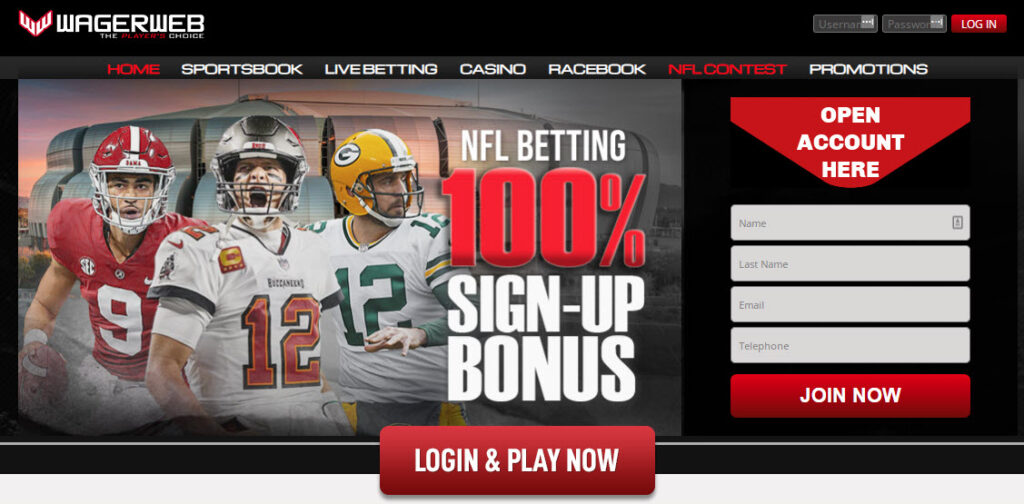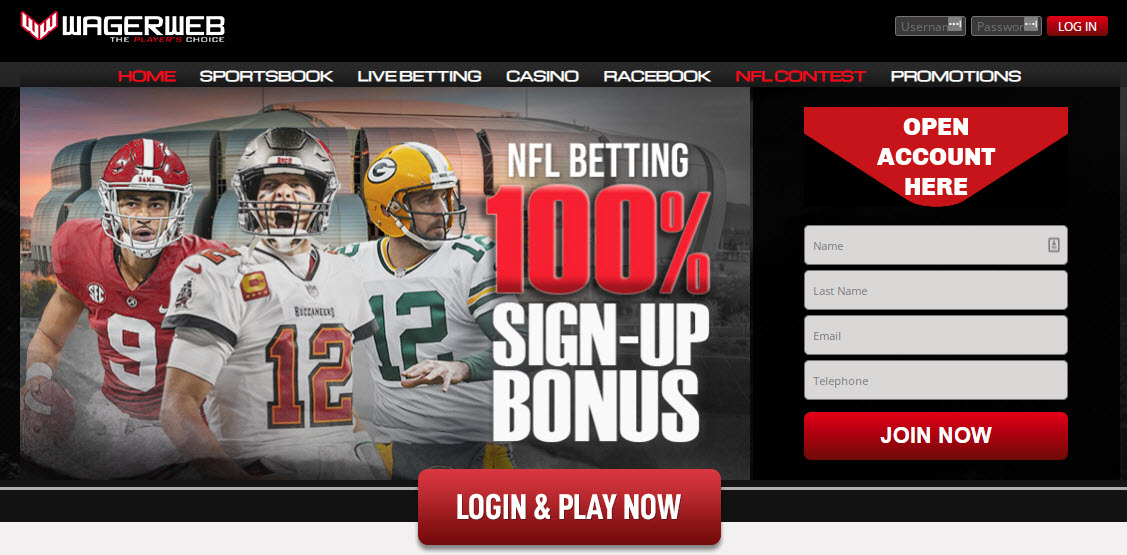 WagerWeb may remind you of the No. 2 site in our top 10 ranking, Heritage Sports. That's because the two are partner sites, and WagerWeb has many of the same characteristics that placed its sister site so high in our rankings.
WagerWeb offers reduced juice on its betting lines, just like Heritage, and like Heritage, it has a 1% cashback rebate promo to let bettors earn back some of what they lose. Welcome bonuses can give new customers as much as $1000 when they register for their account and make their first deposit.
WagerWeb also has time on its side. Founded in 1994, it has nearly 30 years of treating gamblers right. There's no way to fake such a long history of reliable, safe operation, and WagerWeb's reputation is spotless. They've been paying out in full and on time, including same-day payouts for crypto users.
WagerWeb's mobile site runs well on all devices, with no lags in loading pages—a frequent complaint of users of other mobile platforms. You can also get your bet slip filled out and your wager placed quickly, making it an outstanding option for live betting. The user interface is also slick and attractive but also functional, making it easy to navigate. The racebook and casino work just as well as the sportsbook on mobile devices.
Pros:
Pages on mobile site load fast and look good
Offers reduced juice lines
Rebate program gives 1% cash back on losses
Long history of fast payouts
Cons:
Customer service isn't available 24/7
Betting limits aren't as high as elsewhere
8. JustBet: Utah's Best Alternative for Mobile Betting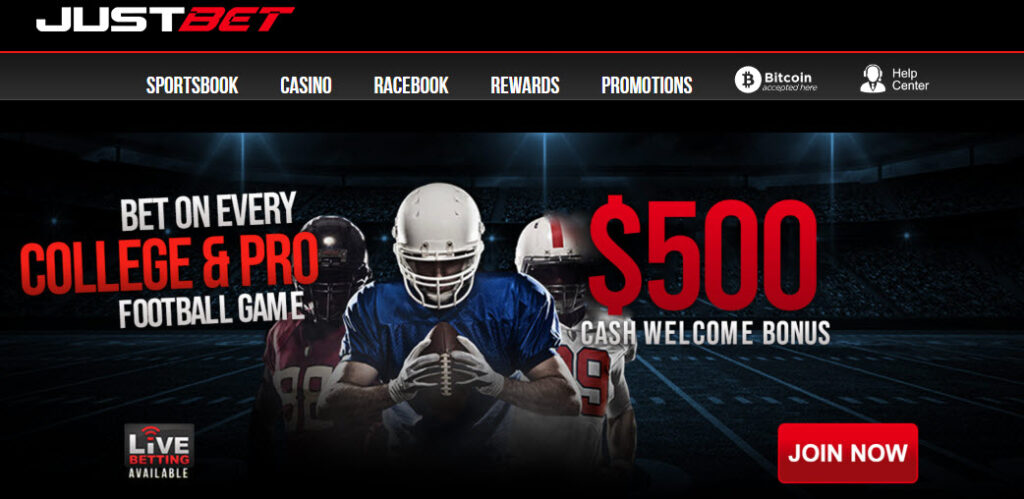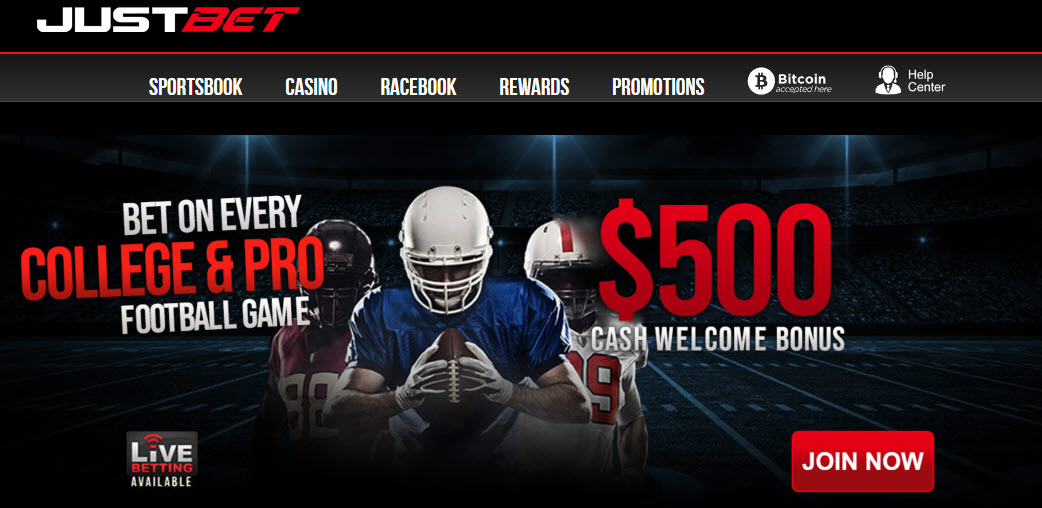 JustBet has a problem: it's stuck in the shadow of its higher-profile sister site, Bookmaker.eu. If Bookmaker sounds familiar, it could be because it took the top spot in our 10 best mobile sites and apps for sports betting. Even though JustBet isn't as well known, many of the things that make its sister site the best in the state are also available there, making it the best alternative for Utah mobile sports betting.
JustBet caters to all types of gamblers, from high-rolling pros to cautious newbies. It offers high limits and low minimums, so everyone will be able to find a bet amount that fits their comfort level. It also has user-friendly software that anyone can use and a mobile site that works just as well as the main site.
JustBet's mobile user interface goes with a less-is-more minimalist design, so users won't be overwhelmed with unnecessary options and features. Instead, it does away with the clutter, letting you find the games and markets you want quickly. There are also plenty of shortcuts, so you'll get where you need to go and get your bet placed without much delay. It also keeps the number of clicks at a minimum, avoiding one common complaint of gambling sites on mobile devices. With one click, you can find games about to start or popular bets at the moment. The betting slip is also easy to navigate, so your bets will get placed quickly. That makes live betting on JustBet fast and easy, since you don't want to take a lot of time getting your bets in when the game is going on at the moment.
Pros:
Uncluttered, user-friendly mobile site ideal for live betting
Betting limits are very high
Odds and lines are among the earliest to publish
Caters to all levels of gambler
Cons:
Doesn't have a search function
No live online poker room
9. Everygame: Worldwide Menu of Sports to Bet On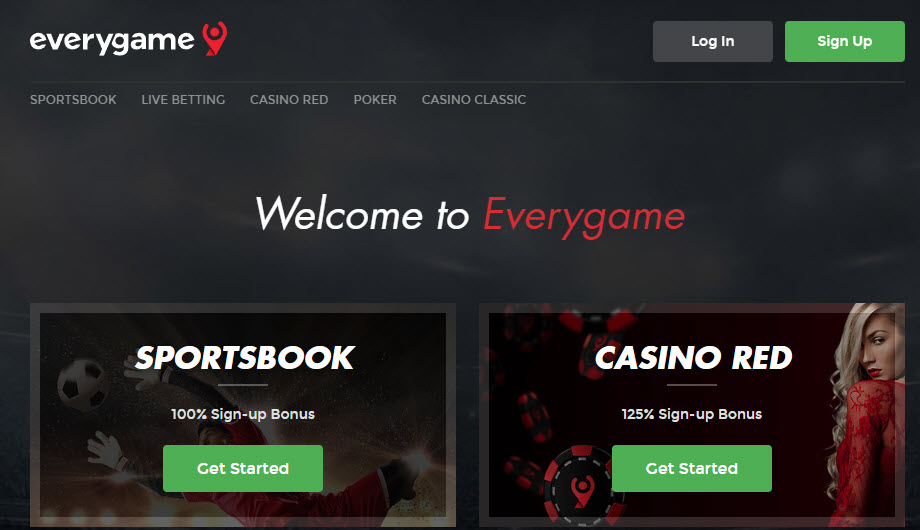 When it comes to offshore betting sites, reputation is everything. If you're sending your money overseas and hoping to be able to collect your winnings without problems, you'll want to find a trustworthy spot. And when it comes to reputation, you won't find one better than Everygame. They are the world's oldest online gambling site, with nearly 30 years in the business. That's nearly as old as the web itself and older than many of its customers. Throughout all that time, they've been treating customers fairly and paying out in full and on time.
Old doesn't mean outdated, however. Everygame began its days as Intertops, but it has changed with the times, including a rebranding that gave the site its new name, as well as brand-new, cutting-edge software.
The upgraded site offers one of the most attractive, stylish user interfaces of any mobile sports betting site. Its mobile online casino and poker room are also state-of-the-art. The casino also has the largest selection of different game titles of any site available to Utahans.
Everygame has a worldwide customer base, and its selection of betting options reflects that. The site offers a wider range of sports, leagues, games and events from around the globe than anyone else. Obviously, you'll find all the major sports from around the world, but you can also bet on more obscure sports and lesser-known leagues from Asia, Australia and Europe.
With so many games, it would be easy for things to be cluttered and tough to navigate, but, like a true veteran, Everygame offers a variety of shortcuts and widgets to let you find what you're looking for quickly.
The mobile site also offers plenty of shortcuts to keep from being cluttered. You can find a list of games that are about to start, as well as other search methods to get you where you need to be quickly and easily.
Pros:
Mobile interface is state of the art after recent upgrade
Biggest selection of international sports, leagues and games
More casino game titles than anywhere else
Shortcuts make it easy to navigate both the full and mobile site
Cons:
Sometimes new account verification gets delayed
Mobile site pages are sometimes slow to load
10. GTbets: Ongoing Promotions That Change by the Week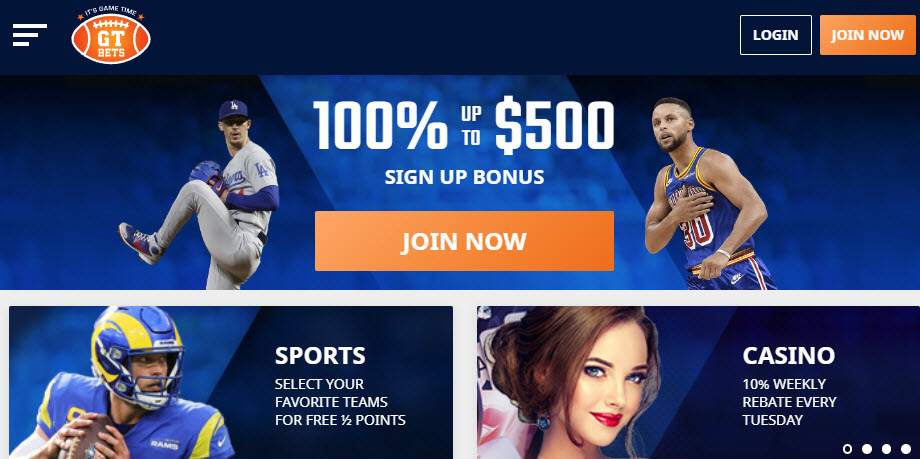 One of the reasons our experts supplemented the top 10 list with detailed evaluations of each site is to highlight the unique features each mobile betting site offers. That's ideal for GTbets, which is one of the more creative, hard-working sportsbooks around. They attract customers with aggressive welcome bonuses and keep them with constantly changing promotions and betting features you won't find anywhere else.
GTbets matches your first deposit in full, up to $500, then gives you 50% match on reload bonuses, up to $999. They also have a constantly changing set of ongoing promotions for their customers. GTbets sends out a weekly message to loyal customers, giving them a full list of all the latest promotions that are available for the upcoming seven days.
Our experts were also taken by one of the more creative features they've seen: GTbets' favorite team feature. You register your favorite team with the site, and then, when you bet on games involving them, you get an extra half-point in your favor on the line. So, if the Jazz are your team, and they're three-point favorites, you can bet them at -2.5.
They also offer a statistics section with the latest performance information on pro and college teams, to help you research before placing your bets. They also have a betting slip that allows you to adjust your bet based on your level of risk tolerance.
Pros:
Offers an advantage when betting on your favorite team
Ever-changing set of promotional offers
Stats section helps you do research
Reduced juice on all football lines
Cons:
Fees on some withdrawals are high
No search function for mobile site pages
How We Rank the Best Utah Betting Apps & Mobile Sites
Our experts evaluated a number of factors to come up with our top 10 list. Here are some of the factors they thought were important when rating these online sports betting sites.
Mobile Betting Experience
A sportsbook app or mobile platform should offer a similar gambling experience to using the full-blown main site on a computer. The best Utah betting sites have all the functionality of the full site on devices. Their apps and mobile pages load fast, are easy to navigate and user-friendly, and are laid out in a way that makes sense. They are easy to read, even on tiny phone screens, and offer shortcuts to help you find what you need quickly.
Sports Betting Apps
Betting on an app should be the same experience as on a website. It should open quickly and allow you to place bets without delay. The best sports betting apps offer a safe, reliable betting interface and offer a full menu of sports, banking methods, and bonuses.
Mobile Betting Bonuses
The best sites offer a variety of bonus options, but the highest dollar amount is not always the best. Bonuses can differ on how much of your deposit the site matches, how high the bonus amount is capped, and on the rollover requirements attached to the money, which can make it difficult to withdraw. Bonus money may also be limited to certain areas of the site—it might only be available for sports bets or casino bets. Some sites offer separate bonuses for each area of the site.
The online sportsbooks in our top 10 are flexible, allowing you to pick and choose which combination of bonus size and rollover you want. There are also other perks offered, such as risk-free bets and free plays. We looked at maximums, percentages, minimum deposits, rollovers and expiration dates.
Live Mobile Betting & Streaming
Live betting, or in-play betting, as it's sometimes called, is a perfect fit for mobile devices. But pages on your phone or tablet need to load quickly and allow you to place your bets without delays. The best sites offer a variety of live betting options. Many sites live stream games and events, allowing you to follow the action and track your bet in real-time.
Banking Options
Using an offshore sportsbook means that your money will be crossing national borders. That can cause delays in some types of transactions. The best online sportsbooks make it fast and easy to deposit and withdraw funds from your account. Delays and fees should be kept to a minimum. Transactions should be secure, and the site should offer a wide selection of payment methods and withdrawal methods, including credit cards, debit cards, bank wire transfers, e-wallets and crypto (Bitcoin, Bitcoin Cash, Litecoin, Ethereum). Most sites also offer additional benefits, such as same-day payments, for using Bitcoin and other altcoins.
Customer Service
If an issue comes up, the best sites allow you to quickly resolve it. They offer 24/7 customer service, with multilingual agents available, if you need them. The people helping you should be friendly and professional, and you shouldn't have to wait on hold for a prolonged amount of time. These sites have different ways to get help, including phone, email and live chat.
Security
The sites in our top 10 differ in a lot of areas, but security is not one of them. All 10 of the sites in our rankings have a pristine security record and a spotless reputation. If there were any issues with security, our experts will drop the site from consideration. Each of our 10 best mobile betting sites has a history that is years, if not decades, long.
Is mobile sports betting legal in Utah?
We'll be blunt: Utah doesn't want you betting in their state. They've done everything they can to prevent it, including passing some of the toughest anti-gambling laws in the United States. Utah is one of the very few states where no form of gambling, including a state lottery, is permitted.
Some of Utah's earliest settlers were Mormons, and followers of that religion still make up well over half of the state's population. The Mormon religion is opposed to gambling in all forms. So, while other states are moving toward legalizing sports betting, or at least discussing the possibility, it doesn't seem like that will be on the horizon in Utah anytime soon.
That gives Utah residents two options if they want to bet on sports. They can cross state lines. Idaho, Arizona and Colorado border the state to the north, south and east, respectively, and, of course, Nevada to the west are all well-known for being gambling friendly.
The second option is to use an offshore sportsbook like any of the ones in our top 10. Offshore sites are not under the jurisdiction of Utah state law or U.S. federal code.
Signing Up for Mobile Sports Betting Apps & Sites in Utah
If you're ready to get started betting on a wide selection of sports, it takes just a few minutes to register for a sports betting mobile site or app in Utah. The process is fast and easy. Here's a quick guide.
Step 1: Open a Sports Betting Account
Once you've chosen the site you want to use, go to the homepage and click the "Join" button. You'll have to register some basic identifying information. You may need to verify your identity by identifying a code sent to your phone.
Step 2: Choose a Payment Method
Once you've set up your account, you need to fund it. Go to the Cashier section, and there will be a menu of deposit methods. Choose one and enter your account information and the amount you want to deposit.
Step 3: Select a Player Welcome Bonus
Most sites offer a selection of possible welcome bonuses. Pay attention to the matching percentage, any expiration dates and rollover requirements and maximums. If the welcome offer is a deposit bonus, you also might get additional bonus money for using cryptocurrency. Be sure to enter the promo code, if one is required, to collect your bonus.
Step 4: Choose a Sport to Wager on
Now you're ready to get started with mobile wagering. Pick the sport, game and type of bet you want to make and fill out the betting slip.
Step 5: Place your Bet
Submit your bet slip, and you've placed your first wager. Good luck!
Selection of Promotions & Bonuses Available in Utah
Offshore sportsbooks want you as a customer, and they're willing to pay to lure you. Whichever site you choose, you should be offered a variety of different welcome bonuses that are available to first-time customers only. Once you've signed up, sites also offer loyalty bonuses to keep their customers happy.
Here are some of the most common types of bonuses:
Welcome Bonuses
Almost every sports betting mobile site and online sports betting app offers a sign-up or welcome bonus to new customers. It's the most common type of bonus awarded in the industry.
Usually, the sportsbook will match a portion of your first deposit. It ranges from as low as a 50% match, meaning that if you deposit $500, they'll give you an additional $250, all the way up to a 200% match, which would mean your $500 will get tripled, when they match it with another $1,000.
Bonuses are usually capped at a maximum amount. They may have expiration dates or rollover requirements. Bonuses may also be limited to specific areas of the site — for example, a site may offer a maximum $1,500 bonus that must be used in the sportsbook and a separate $500 casino bonus.
Existing Customer Promotions
Sites also offer loyalty bonuses to keep current customers from straying to other sites. Reload bonuses are a popular type. They work the same as welcome bonuses and match a percentage of any additional deposits you make (to "reload" your account). Sites also offer cash-back programs, loyalty points programs, enhanced odds, and risk-free bets.
No Deposit Bonuses
No deposit bonuses are rare, but you'll see them on occasion. The online sports betting site gives you free money, funding a few of your bets for free. They may offer you free bet tokens with an expiration date. No deposit bonuses are more common as a loyalty perk for current customers than a welcome bonus.
Risk-free Bets
Risk-free wagers are a common promotion. Sites will allow you to bet from a select range of wager options without worrying about losing money. Different sites may call them free bets or bet insurance. Usually, you place a bet using money from your account. If you win, it's business as usual and you can collect your winnings just like with any normal bet. If you lose, however, the site will refund the money you bet, usually with a free bet credit.
It will likely come with rollover requirements and expiration dates, making it tougher to withdraw from your account.
Utah Betting Apps & Mobile Sites for iOS & Android
Sports betting apps and mobile platforms in Utah should be accessible with all mobile devices —phones and tablets, new models and old, Android and iOS.
Utah Mobile Sports Betting on iPhone
To download sportsbook apps in Utah, iPhone users should go to the Apple Store. There is a search function allowing you to find the app associated with your favorite sportsbook. Some online gambling sites have a link that will take you to their app's Apple Store listing. Once you find it, you can download it onto your phone.
If the sportsbook you chose doesn't have an iPhone app, you can create a mobile progressive web app on your device for free.
Utah Mobile Sports Betting on Android
Android users can download a site's sports betting app from the Google Play Store. You can either search the store for the app, or your favorite sportsbook may have a direct link to the Google Play Store listing on their web page. If the site doesn't have a native app, you can create a mobile progressive web app on your device.
Mobile Sites vs. Sportsbook Apps for Betting in Utah
We've been talking about mobile-optimized websites and apps as if they were the same thing. While both are fantastic mobile betting options, as they allow you to wager from your phone or tablet, there are some differences between the two:
Mobile Site
Using a mobile online sports betting site doesn't require that you download anything. Just go to a sportsbook's mobile site directly from the browser on your phone. You just enter the sportsbook's website URL and it will automatically load the mobile site if you're using a device. You don't need to do anything special to reach it.
Pros:
Instant access and a simple process
Doesn't require any storage space on your device
Doesn't need to be updated
Accessible on most devices—phone or tablet
Cons:
Site may be down at times
Not as secure as an app
Mobile App
To use an app, you must download and install the app on your phone or tablet. It will appear on your phone screen, and you can use it by clicking the icon to open the app.
Pros:
Start-up is quick and easy
Security is better than using a mobile site
Guaranteed to work on your device
Cons:
Not all sites offer apps for all devices
Takes up storage space on your device
FAQs – Top-Rated Betting Apps and Mobile Sites in Utah
Can I gamble online in Utah?
You can not gamble online with a state-regulated betting site under the state's gambling laws. However, you are perfectly within your rights to use an offshore sportsbook or casino.
Is mobile sports betting legal in Utah?
Not if Utah has anything to say about it. They've passed laws forbidding companies and providers in the state from offering online gambling, and some politicians from Utah have even tried to get online gambling banned across the U.S. However, if you want to bet on Utah sports, you can visit one of the offshore sportsbooks in our top 10, which are not subject to Utah state law or U.S. federal regulation.
Can I use sports betting apps in Utah?
Utah residents can only bet on sports using an app or mobile site from offered by any offshore sports betting websites. State law prevents any providers in the state from offering a means to gamble, so your only online options are located overseas.
Why is there no gambling in Utah?
There is no legal state-regulated gambling in Utah due to the fact that the state's residents are mostly Mormons, and they view gambling as immoral. This means your only legal options for gambling is with offshore sites or offshore mobile sites, as in-person sports betting and gambling is unavailable, as is online betting. We recommend using one of our highly-rated offshore sites in our review above.
Where can I gamble in Utah?
Because there is no in-person betting or online gambling with a state-regulated online site, you will need to use an offshore mobile sportsbook or offshore mobile site. These offshore betting apps and offshore sports betting sites do not fall under the state's gambling laws.
Can you bet on Bovada in Utah?
Despite Utah's strict gambling laws, Bovada is available for residents of Utah State to enjoy. In fact, it is one of our top-rated sites for gambling in Utah.
A sports betting bill in North Carolina, which had not made any progress for almost two months, will likely be discussed and possibly voted on by the entire Senate this week. Earlier this week, the Senate Committee on Commerce and Insurance reviewed the sports betting bill and gave it a positive assessment, recommending it to

---