Best New York Sports Betting Apps & Mobile Sites
Ever since the changes in New York sports betting law that allowed online sports betting operators to open in the state, mobile betting has been taking off.
Any sports fan New York will know just how popular sports are in the state, and hence it is hugely important that New Yorkers have the option to bet on their favorite sports teams, players, and events.
Thankfully, this option has been available for years through various sports betting apps and mobile betting sites available to New York bettors.
We have reviewed and analyzed dozens of mobile sportsbooks to find the most efficient mobile platform that will give customers the most outstanding sports betting experience.
Our experts have also gone over some of the legal aspects of sports betting in the state of New York, important elements to consider when choosing a provider, and the reasons why offshore sportsbooks continue to be the best option for New Yorkers that wish to bet.
New York Betting Guides
If you're looking for more guides to online betting, we suggest checking out some of our other guides for New Yorkers. Each of these guides are in-depth and will teach you what you need to know about various betting markets.
List of the Best New York Sports Betting Apps & Mobile Sites
After examining numerous mobile betting sites and sports betting apps available in the New York area, we have come up with a list of our ten favorites. These providers not only offer competitive betting odds on various national and global sporting events, but they also allow customers to make avail of a selection of bonuses and promotions which make the sports betting experience so much sweeter.
More importantly, all of the names suggested below have a proven track record of being safe and offering reliable payouts in a timely fashion.
Reviews of the Best New York Betting Apps & Mobile Sites
While you may already be interested in one or several of these New York sports betting apps, we have given a more detailed breakdown of our top five apps below. This will allow you to compare the benefits of each app and find your preferred sports betting app with ease.
1. BetOnline – Best-Rated Mobile Betting Site in New York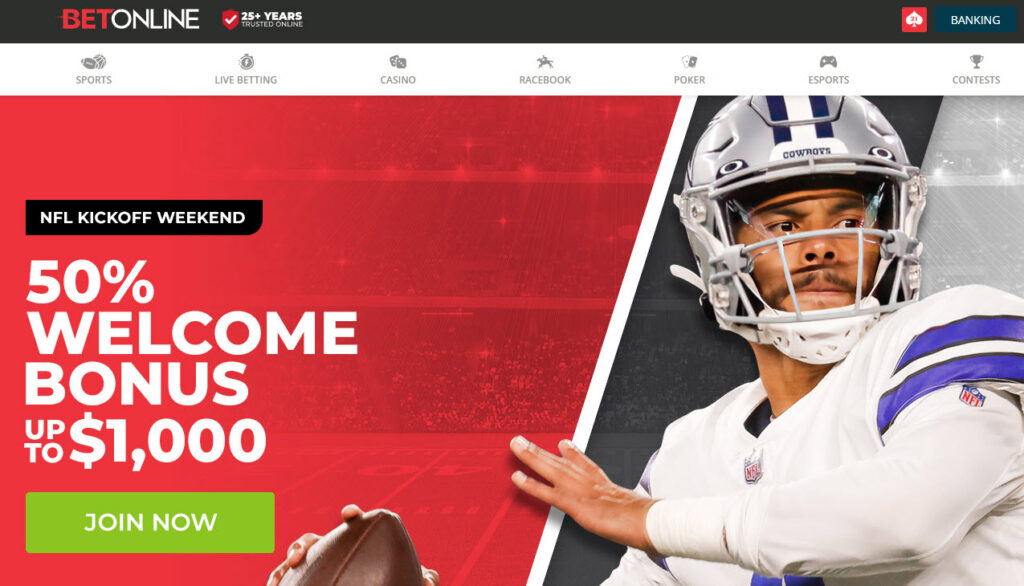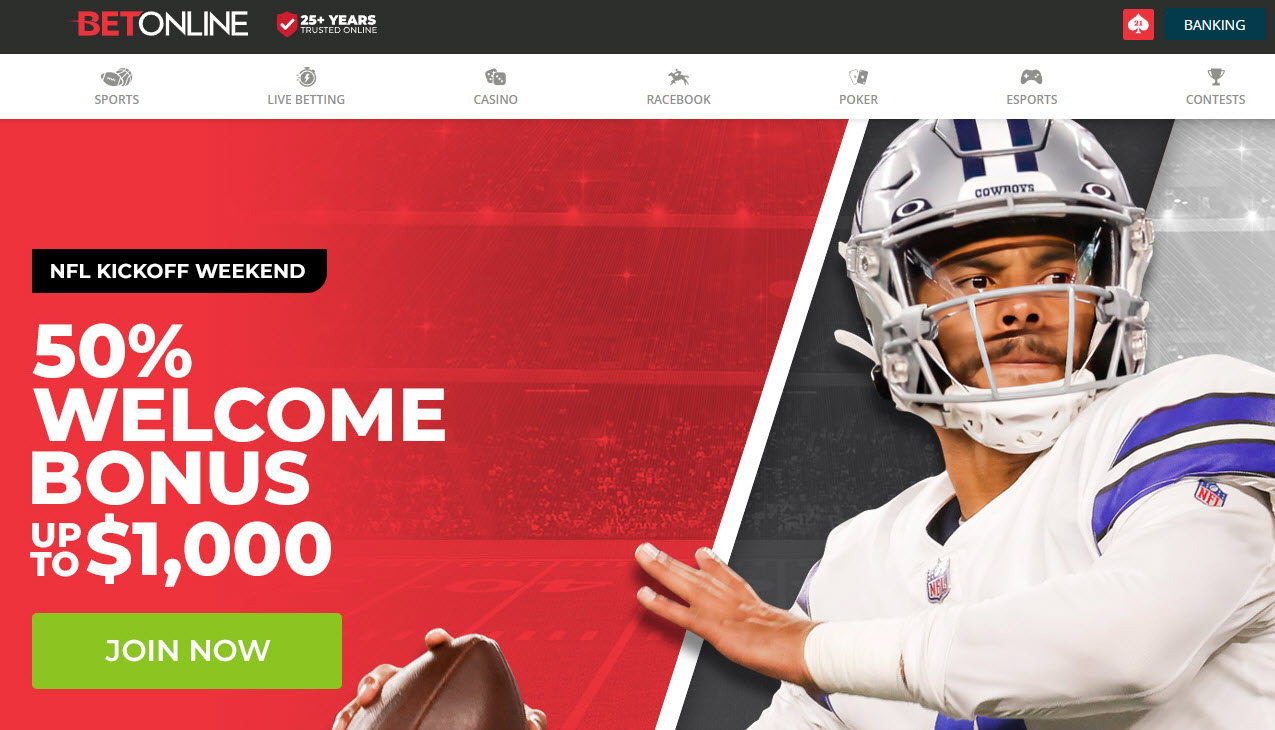 BetOnline has an extremely impressive mobile betting site with a wide selection of sporting events from around the world. In combination with this, New York bettors can also engage in live betting on this site, making it one of the most polished interfaces out there.
The racebook section of the site is also an attractive feature, allowing New York customers to place bets on their favorite horses at any time. Although BetOnline doesn't have a native app for the sportsbooks, it does feature a downloadable poker app. In order to access the sports betting features, players can simply create a shortcut to the site on their phone's home screen. The online casino is also fully optimized for mobile play.
Furthermore, BetOnline is also highly focused on customer care and service and has a 24/7 live chat feature available. They also offer numerous promotions to new and existing customers.
Pros:
Top-of-the-line software for mobile betting
Stream live events on smart devices
Generous bonuses and promotions
Cons:
Bonuses do not consider racebook action for rollover
Rollover requirements are higher than some competitors
2. Heritage Sports – Best Mobile Betting Site With Reduced Juice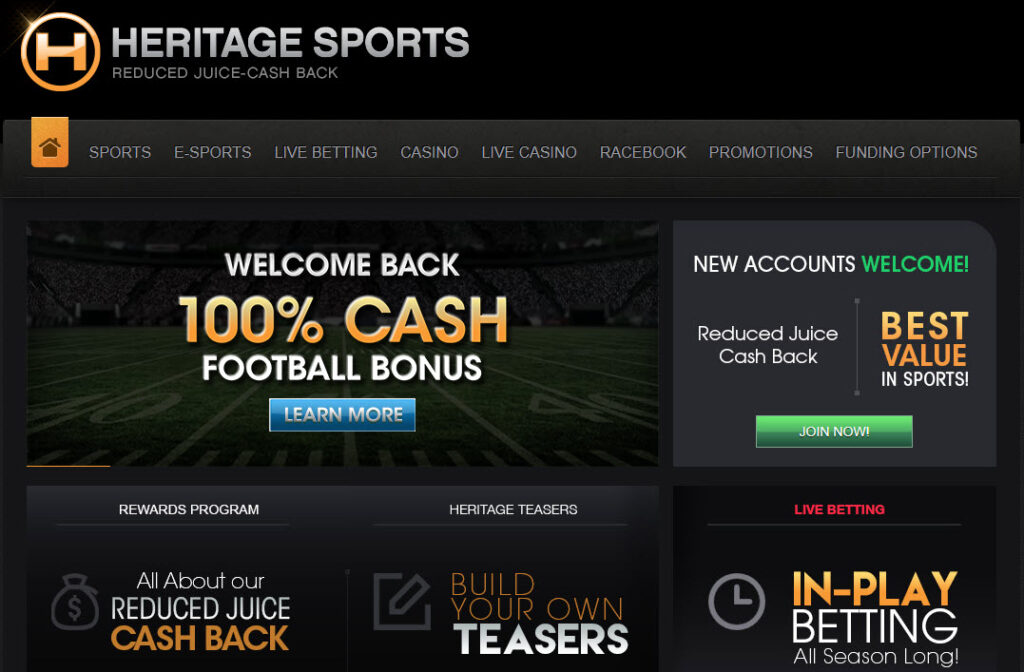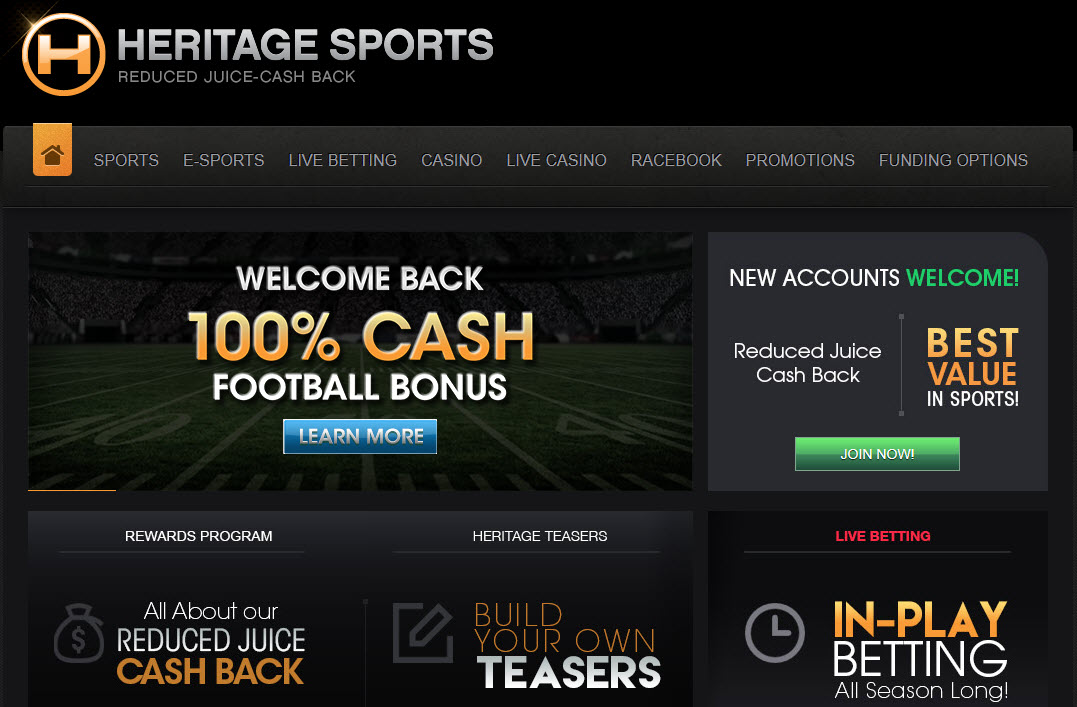 Heritage Sports is another highly reputable offshore sportsbook with a focus on native American sports such as the NFL and the NBA which is great when you consider their reduced juice lines of -108.
This site also offers a live betting feature, allowing customers to place bets on their favorite teams and players as sporting events unfold. This also goes for the online casino, where users can access live dealer games.
Heritage Sports does not currently have an app that can be downloaded on the Apple app store or Google play store, however, the site itself is highly compatible with these mobile platforms
This means customers can convert the site to a web app and pin it to their home screen, allowing for quick access to the site at any time they need.
Heritage Sports offers several promotions, like their reduced juice cashback offer,
Pros:
Outstanding live betting platform
Reduced juice lines
Cashback bonus
Cons:
Online poker room not available
Bonuses can be lower than other sites
3. Bovada – Best Sports Betting App in New York for Live Streaming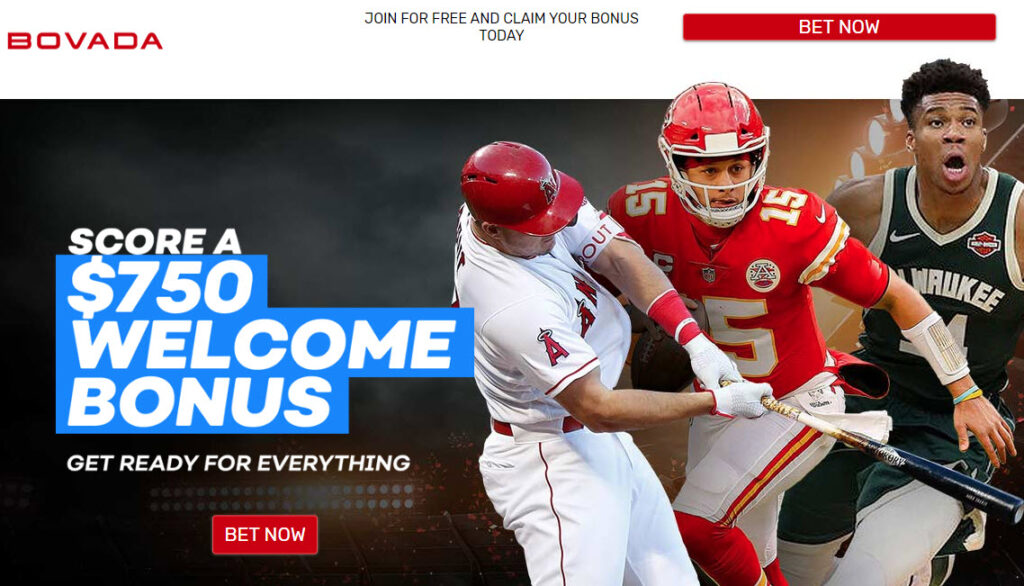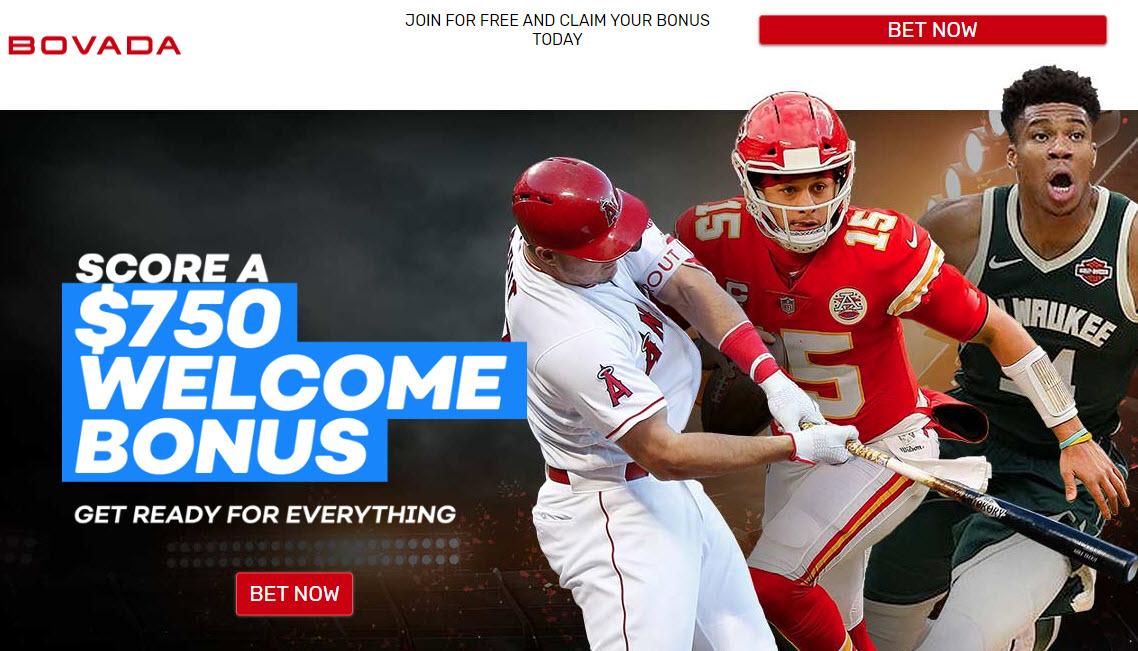 Bovada is a hugely popular online betting site in New York, largely thanks to its extensive coverage of worldwide sporting events but also due to its reputation as the busiest poker room in the United States.
Furthermore, the live betting feature adds greatly to its attraction, allowing New York bettors to place bets on their favorite props markets.
Bovada had a mobile app that could be downloaded from most mobile platforms including the Apple app store and the Google play store. However, after it presented some issues with the login function, the company decided to fully optimize the website for mobile betting.
Bovada is also known to offer one of the juiciest sign-up bonuses in the industry with a 75% match on the first deposit, up to $750. Even better, action at both the casino and racebook also counts towards the rollover requirement.
Pros:
Generous bonuses and promotions
Compatible with most mobile devices
Wide variety of sports covered
Cons:
Possible restrictions on withdrawals
Mobile site not available worldwide
4. Bookmaker – Accepts action from all players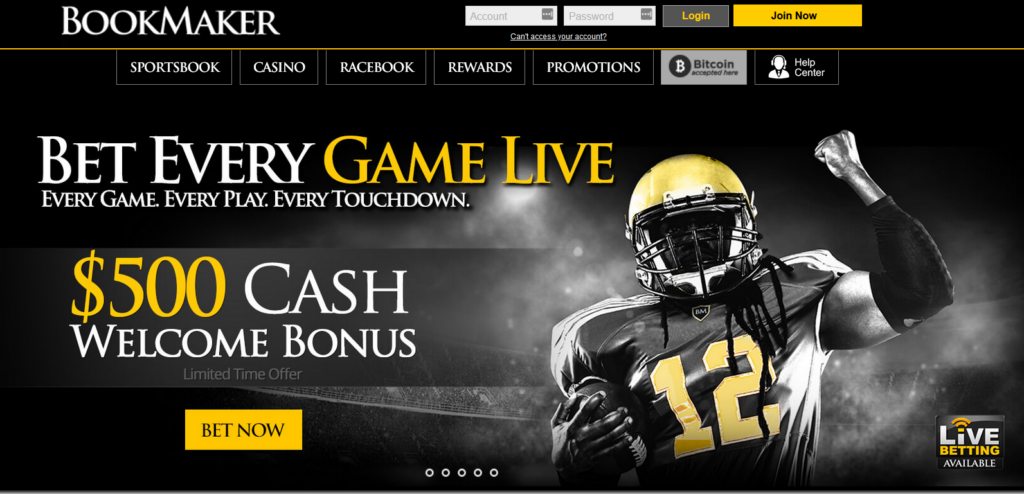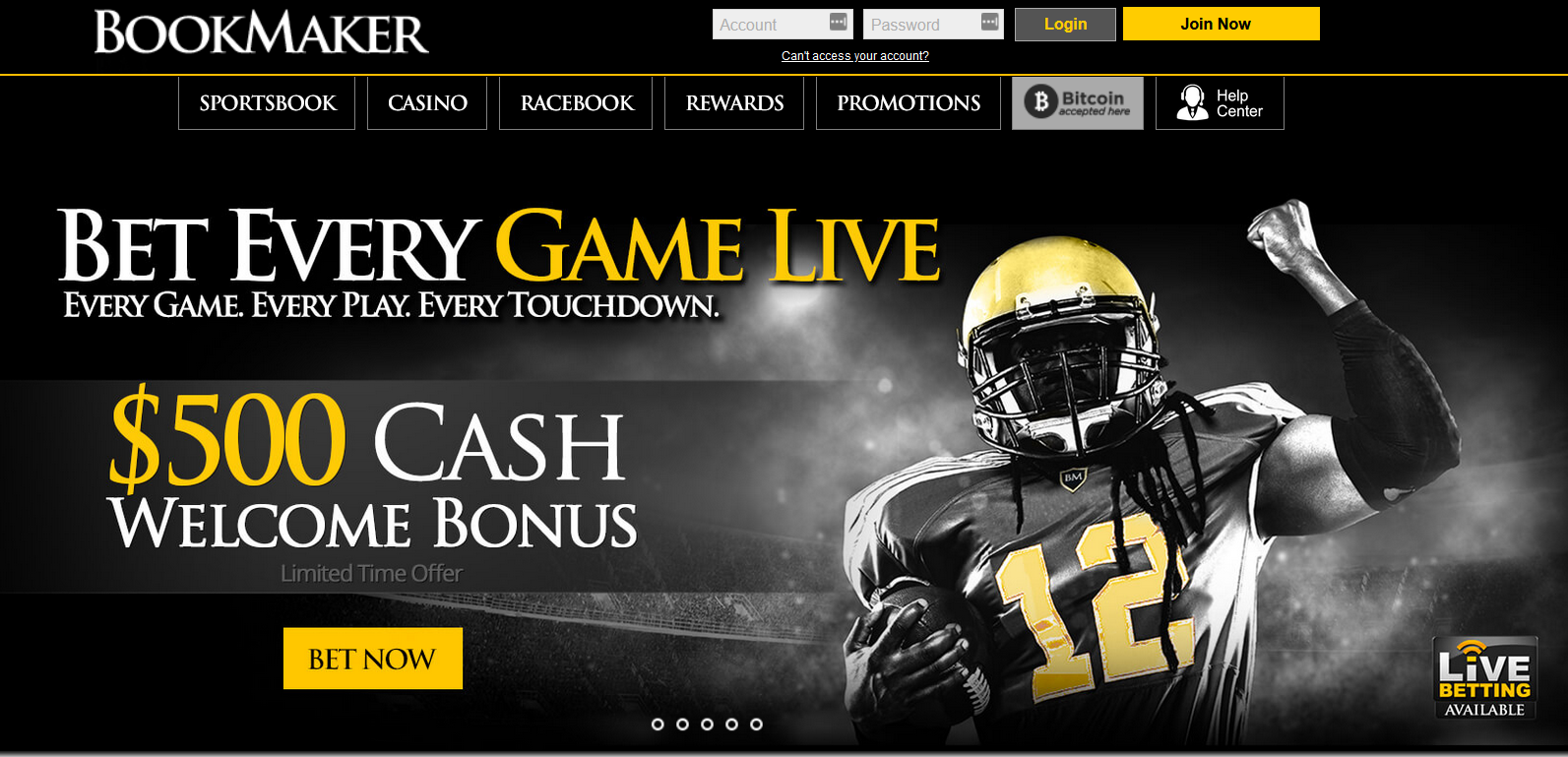 Bookmaker.eu is an extremely popular sports betting site that has been in the business for over 25 years. One of the major features of this provider is the live betting section which has been fully optimized for mobile betting as well.
With nearly three decades of experience, Bookmaker has been able to build its exceptional reputation for providing high-quality customer care and an extremely enjoyable sports betting experience by catering to every type of customer, including high rollers and sharp bettors.
Another great perk of using Bookmaker.eu is having access to early lines as they are one of the industry leaders when it comes to publishing betting odds on a daily basis. This helps you get a better price as the lines at competitors could already be influenced by smart money.
Bookmaker offers some of the best bonuses in the industry but what's really outstanding is their dynamic loyalty program, available to every user as soon as they register.
So, if not having the best online casino available and you don't mind the lack of poker rooms, this is a great option for sports bettors.
Pros:
Sharp action is welcomed
Offers esports betting markets
Live betting available
Cons:
Props markets are not as robust as other competitors
No online poker rooms available
BetUS – Extensive Coverage of Sports Betting Market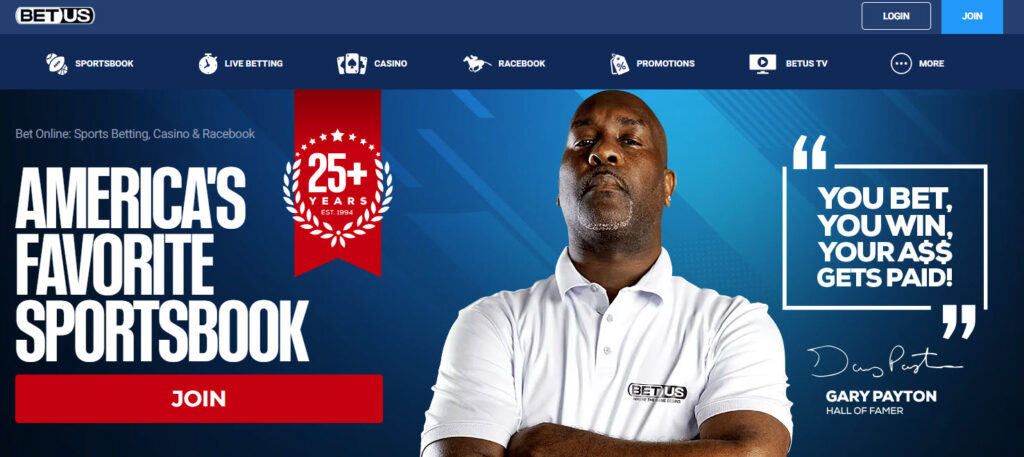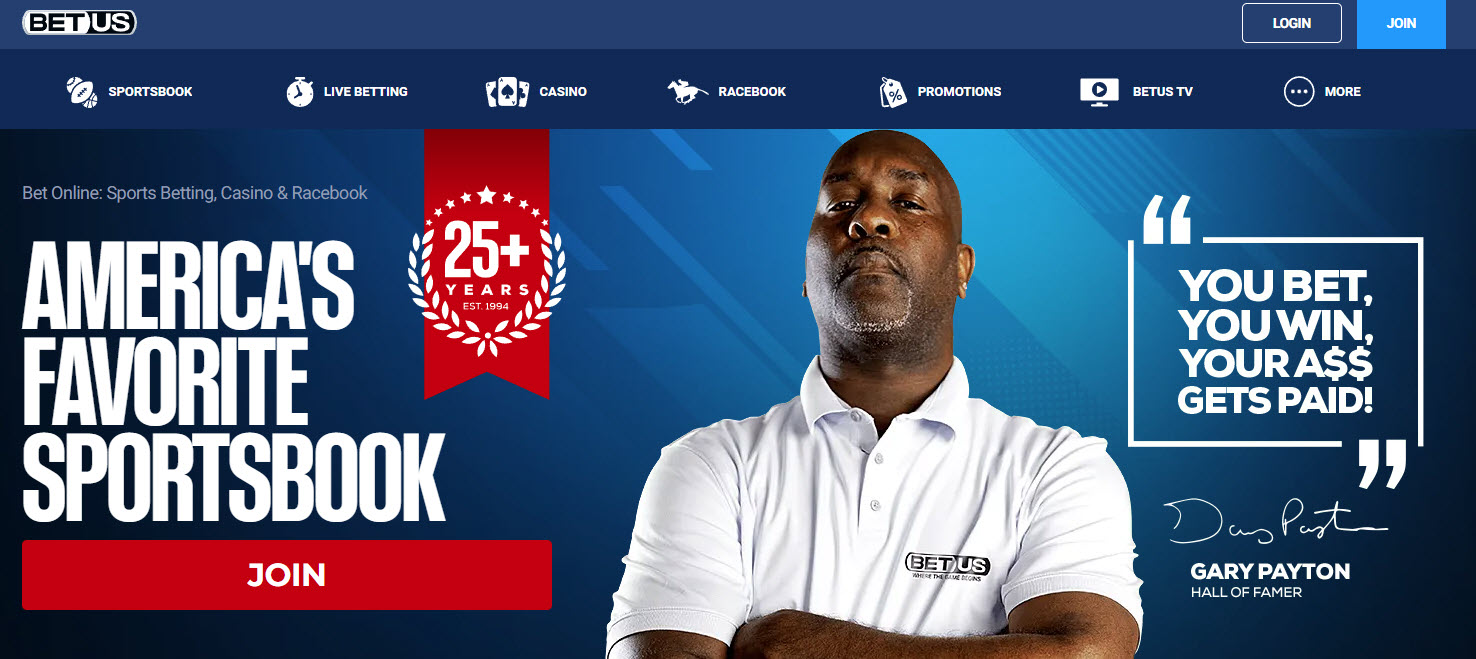 BetUS is a highly customer-friendly offshore sportsbook and hence, it is the perfect site for any New York bettor, whether you are a complete beginner or an experienced professional.
Furthermore, a major advantage BetUS has over other mobile betting sites is its BetUS TV section, on which bettors can watch live videos of experienced pros giving their predictions for various sports betting markets, getting the latest coverage available.
While there is no downloadable app for BetUS, the site is extremely adaptable and is compatible with all iOS and Android devices. This means the site will look great and work perfectly on any device you wish to access it on.
BetUS offers customers several generous bonuses. For example, joining customers can avail of a 125% sign-up bonus; however, this does require a minimum deposit of $100 as well as the promo code "JOIN125."
Pros:
Multiple promotions and bonuses
Over 25 years of experience
BetUS TV coverage
Cons:
High rollover requirements
Fewer payment methods available
Comparing the Best New York Sports Betting Apps & Mobile Sites
When comparing New York's top mobile sportsbooks, there are several factors and features that may pull you towards or push you away from certain options. Hence, we have created a guide on some of the more beneficial aspects of sites below.
Mobile Betting Experience
The most important thing to consider when choosing a sports betting app is the amount of enjoyment you get from the betting experience. This can be influenced by many factors, all of which can make the betting process more straightforward, easy, and exciting.
The pragmatism of a betting app or mobile betting site is also a key element of how attractive the betting platform is and how likely you are to bet with it consistently. The best sportsbooks are easily navigated, accessible and they allow you to place bets in a simple and straightforward way.
Mobile Betting Apps
For you to be able to enjoy your mobile wagering experience, it is important that any sites that offer an app provide you with premium software.
Mobile Betting Bonuses
Another hugely important feature of sports betting apps is the bonuses and promotions they offer their users.
These include free bets, welcome bonuses, and no deposit bonuses among others. Most apps will offer users bonuses, however, it is up to you to figure out how beneficial these bonuses are, and if they are attractive enough to persuade you to choose a certain site.
Live Mobile Betting & Streaming
Live betting is another attractive feature that can bring a lot of bettors to a particular online sports betting app, the capability to live stream a range of sports events can truly set an app apart from its competitors.
This allows users to watch the sports event they are betting on live as it happens, adding another level of excitement to their betting experience.
Banking Options
Most online sportsbooks will now accept a broad range of banking methods, including debit cards, credit cards (Mastercard, Visa, American Express), bank wire transfers and even crypto.
If you plan on making deposits through crypto then this may be important for you. Additionally, the easier it is to make withdrawals, the more attractive the app will be to users.
It's important to keep in mind that bank transfers take longer than the other banking options.
Customer Service
Customer service is key for sports betting apps, with many apps nowadays offering 24/7 live chat, email, and telephone communication methods.
Licensing & Security
It is also important to ensure the sports betting app you choose is fully licensed and secure, as all of the apps are in our previously discussed list.
It's important to be sure that you're dealing with legal and official sportsbook operators; as with any online space, there are some untrustworthy outliers. You can find them on our blacklist.
Is mobile sports betting legal in New York?
Mobile sports betting is completely legal in New York and has been since January 2022, when it was officially launched by the state authorities. The launch of sports betting has caused explosive growth in the state's online sports betting industry. This means that there are now numerous betting options at both retail sports betting locations and online sportsbooks in the state. For the online markets, there is a wide range of betting options available, from placing wagers on professional or college sports, betting on horse races or gambling on casino-style games. This makes online sportsbooks the most popular options with many bettors.
Most sportsbook operators offer easy-to-use mobile sportsbooks on their site or downloadable sportsbooks apps.
History of Mobile Sports Betting in New York
The sports betting law in New York has adapted a lot over time to try and keep up with the large demand for sports betting in the state. Here's a look at how we got to today.
1883: New York was the first state to ban all lottery games
1967: The lottery was reinstated.
1970: Previous laws that restricted betting to horse tracks were dissolved; track betting facilities introduced video machines to become 'racinos'
2001: With the hope that sports betting revenue could help the community rebuild after the 9/11 terrorist attacks, tribal casinos were legalized statewide.
2002: New York joins forces with the Multistate Lottery Association to offer larger multi-jurisdictional lotteries to residents.
2013: The Upstate NY Economic Development Gaming Act passed legalizing New York sports betting, contingent on federal legalization as well.
2018: The Supreme Court overturned PASPA, finally allowing wagering on sports in the United States at retail sportsbooks and online sportsbooks.
2019: Rivers Casino & Resort became the first location that offered retail sports betting. Draftkings Sportsbook, FanDuel Sportsbook, and Caesars Sportsbook began opening betting locations, too.
2021: A state budget bill opened up the online sports betting market in New York, fully legalizing online sportsbooks and their mobile counterparts.
2022: In January, the online sports betting market officially opened in New York.
How to Sign up for a New York Sports Betting App & Mobile Site
In order to register for a New York mobile betting site has never been easier. Follow the steps below and you will have your mobile betting account with your chosen sportsbook operators set up in minutes.
Step 1: Open a Sports Betting Account
First, select the app or site which you would like to join and open it. From there simply click on the "Join" or "Sign Up" button on the homepage and complete your registration.
Step 2: Choose a Payment Method
Once your account is registered you can then select your preferred payment method and deposit as many funds as you like.
Step 3: Select a Welcome Bonus
You will generally then be offered a welcome bonus and the promo code that is required to activate this bonus.
Types of New York Mobile Betting Bonuses
Online betting sites can generally provide better bonuses and promos in comparison to commercial casinos and retail sports betting locations. However, betting bonuses can vary between different providers, and while all bonuses are beneficial to the bettor, there are some key differences to be aware of particularly when you consider the broad range of different promos available.
Welcome Bonuses & New User Promos
As the name suggests, a welcome bonus or new user promo is one that offers an incentive to new bettors that have just joined a sports betting app. This is generally seen as a percentage and is capped at a certain value. Welcome bonuses are a popular option that is offered by numerous sportsbooks as they provide a great experience for players new to the site.
Existing Customer Promotions
While welcome bonuses entice customers to join a sports betting site, existing customer bonuses encourage them to stay. These include reload bonuses, enhanced odds, and insurance bets among many others.
No Deposit Bonuses
A no-deposit bonus ultimately allows bettors to place a bet without having to make a deposit beforehand. This is usually given to new customers in an effort to kick-start their mobile betting experience.
Risk-Free Bets
Similar to no deposit bonuses, risk-free bets also allow users to bet without risking their own money, however bettors may be required to make a deposit beforehand to make avail of a free bet.
New York Betting Apps & Mobile Sites for iPhone & Android
The best mobile betting sites in New York are always compatible with several mobile devices, with Android and iOS being the most important two.
New York Mobile Sports Betting on iPhone
It is vital nowadays for any mobile betting platform that their app and site are completely compatible with Apple software. If the site has an app on the app store, then this can simply be downloaded to the iPhone or Apple device.
New York Mobile Sports Betting on Android
Like Apple, Android also has an incredible number of users worldwide, and therefore it is highly important that New York mobile betting apps and sites can be accessed through Android devices.

Any sites that have an app allow Android users to download this app from the Google play store. While sites that do not have an app can still be accessed quickly and easily by pinning the site icon to the home screen of the phone.
Mobile Site vs. App for Betting in New York
While both are beneficial ways to engage in mobile sports betting, apps and sites have several advantages and disadvantages, as we have outlined below.
Mobile Site
One of the major advantages of a mobile betting site is the lack of a need to download a potentially large app, while still being able to access the site quickly and easily.
Pros:
Instant access to site
Saves device storage space
No need for regular updates
Accessible on most devices
Cons:
Site may occasionally crash
Less secure than a downloaded app
Mobile App
While a mobile sports betting site allows for immediate access, an app requires a download before the user can begin betting.
Pros:
Exclusive app icon for quick startup
More secure sign-up process
May run smoother than mobile site
Designed for specific mobile platform
Cons:
May not be compatible with all devices
Takes up device space
Best New York Betting App & Mobile Site
As we conclude our guide on mobile betting sites in New York, we hope you can use the information provided to pick the sports betting app which you feel will fulfill all your requirements and give you the best possible mobile sports betting experience.
After going through the benefits and drawbacks of each of our selected choices, we simply have to go for BetOnline thanks to its unique combination of competitive odds, generous bonuses, and exceptional customer care.
FAQ – Mobile Sportsbooks & Mobile Sports Betting Apps in NY
Can I bet online if I live in New York?
Bettors in The Empire State have been able to legally bet online since 2022.
What online sports betting sites can I use in NY?
You can use any state-regulated online sports betting websites or offshore sites to bet on sports and to gamble in NY.
Which sports betting apps are legal in NY?
There are numerous mobile betting apps in New York. Traditional apps like Caesars Sportsbook or FanDuel Sportsbook are available.

You can also turn to the online sportsbooks that have operated offshore for decades. They offer the opportunity to place all types of sports bets, whether that's on your favorite professional sports teams or your favorite college teams.
Is FanDuel mobile legal in NY?
Yes, the FanDuel Sportsbook app has been legal and available in the state of New York since January 8th, 2022. You can use FanDuel Sportsbook to enjoy online casino gaming, sports betting or Daily Fantasy Sports. However, our highest-rated mobile sportsbooks in our reviews above offer more benefits to their customers than their competitors do.
Does DraftKings work in New York?
Yes, the DraftKings Sportsbook app has also been legal in New York since January 2022. You can enjoy Daily Fantasy Sports and more with this app. All of the other popular legal sports betting apps are available in New York as well. Additionally, you can use any offshore legal betting apps or mobile-optimized sites for mobile or online wagering.