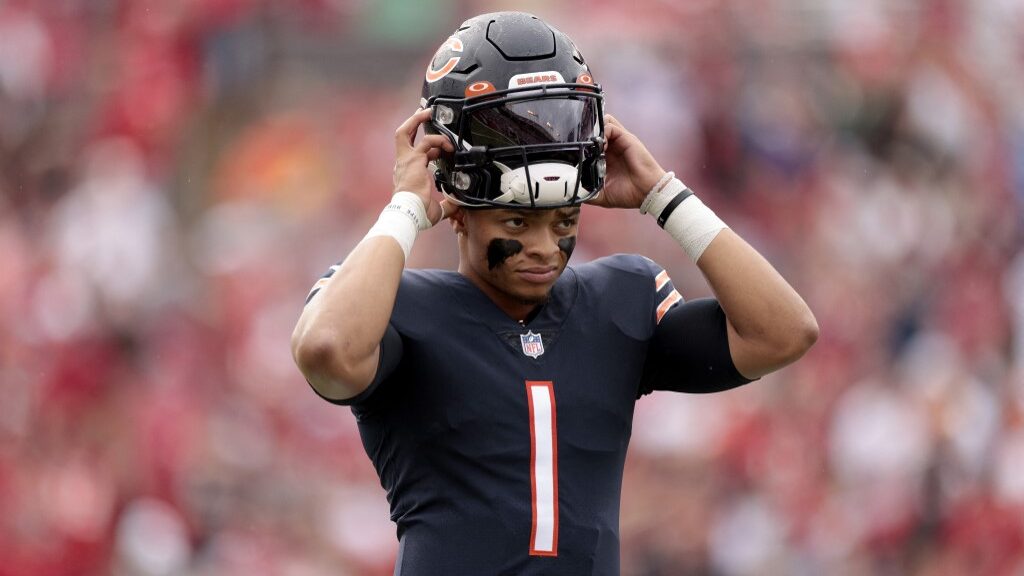 Quarterback Justin Fields, who started 10 games for the Chicago Bears last fall following Andy Dalton's injury, finished his rookie campaign with an uninspiring 1,870 passing yards with a 58.9% completion rate. He also threw 10 interceptions compared to only 7 touchdowns.
Now, entering just his second season at the helm, Fields is getting a fresh start under a completely new regime in Chicago after a frustrating rookie year, which ended with a 6-11 record and a staff overhaul.
But with a new mindset, a new scheme, correcting mistakes, and building trust, Fields shouldn't have any trouble finding success in the 2022 NFL Season.
A New Mindset
They say "mindset" is everything and that is especially true when it comes to being a quarterback who is essentially the leader of the pack. Last offseason, Fields was tasked with competing for the QB1 spot. Now, he's the Bears' go-to guy, which has naturally given him a boost of confidence in his ability to lead his team––and it's not going unnoticed by his teammates.
"You just feel him in the huddle," tight end Cole Kmet said, via ESPN. "He's not just repeating the play, he's telling you the play, and there's a difference in that. That gives me confidence as a player out in the field. He's talking to each guy. It's not just a repeat-a-play, he's telling us a play, which is a difference."
Defensive tackle Justin Jones is also feeling his presence. "He has a commanding leadership on the field, a legit field general," Jones said. "He gets guys wound up, gets guys going."
A New Scheme
Learning a new scheme, especially as a young signal caller, can be challenging. However, in Fields' case, it shouldn't be, considering it's a new scheme that caters to his strengths, which include utilizing his speed, and creating a solid run game mixed with play action.
And so far, things are going well for Fields and the others under Luke Getsy's quarterback-friendly offense. "With the concepts that we have, with the players we have, I think everybody's catching on pretty quick," Fields said.
"Like I said, they're throwing a lot at us right now, so, as long as we can manage to do everything right or do most of everything right and not make the same mistake again, I think we'll be just fine when that time comes around."
Correcting Mistakes
With learning new concepts comes mistakes and 23-year-old Fields has a mature understanding that those mistakes are inevitable, but he has been running a tight shift practice in order to get things just right.
"He is learning, but while he's learning, he's upset with mistakes," tight end Ryan Griffin said.
"He's not OK with guys in the wrong place. He'll tell you that, and that's what you need in the leader of this offseason. An example would be some guy makes a [mental error], 'It's OK, we'll move on.' No, we get it corrected right there, and it starts with No. 1."
Building a Trusting Foundation
The quarterback-play-caller relationship is key to being NFL Championship contenders, something that Fields noticeably lacked last season.
However, that should change this year as he and Getsy have been making it a priority since spring to build that trust in order to create a solid foundation.
"That's extremely important," Getsy said. "I was raised on that — that the play-caller and the quarterback have to have a great relationship, and that's important. We have to be on the same page, always. That's where I've felt like he's grown, is he's communicating with me so well now, things that he's feeling, things that he sees, and so that part of it has just been tremendous, for a young guy to be able to do that. These three or four months that we've been together, it's been a lot of fun."
What to Expect From Fields and the Bears
With the Bears' underwhelming wide receiver depth and shaky offensive line, it will be a Getsy and Fields show this season, but that doesn't mean it'll be a disappointing one to watch, whatsoever––especially with a new and improved Fields in Year 2.
"As a quarterback in this league, he wants to take over the league," wide receiver Darnell Mooney said of Fields.
"He's already Justin Fields. He wants to be the best quarterback in the league. He's taken the stride to be there. I got unbelievable faith that he will be there, and his success is my success, so as long as he's doing good, I'm doing good, we're all doing good."