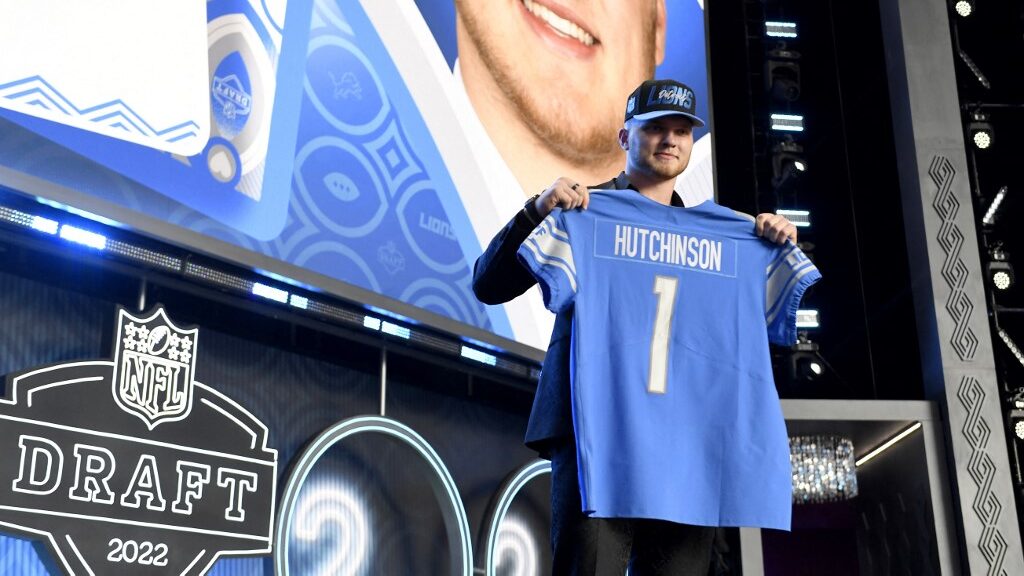 Don't be a sheep and sleep on the Detroit Lions this season. After a depressing 2021 campaign that ended with a 3-13-1 record, this new and improved Lions team is ready to rack up some wins come fall.
The Lions added a handful of help this summer but their "unicorn", who is on tap to make a big impression in his first year in the league is their 2022 NFL Draft first-round pick, Aidan Hutchinson.
Though he was projected to go No. 1 overall, Detroit ended up drafting Hutchinson at No. 2 overall out of Michigan this past April. Now heading into his rookie year, some might say he has that "dawg in him" and wants to show why he deserved to be the top pick.
More Than What the Lions Expected
When the Lions selected Hutchinson with their first pick, they knew they were getting a player who would give them his all. What they didn't know was that he had even more to offer.
Coaches' Impression
"Obviously, we're very excited to have him, but I think he's a better athlete than I thought he was," defensive line coach Todd Wash said, via Detroit Sports Nation. "Dan (Campbell) and I and even Brad (Holmes), we've talked about it. I said he's a better athlete than I thought he was off tape. There's kind of a unique way he can lean and bend that we didn't necessarily always see on tape, but out here you really see it and versus good competition. So we're excited about where he's at."
It's no surprise that Hutchinson is already making an immediate impression just as he did during his freshman year at Michigan.
Teammates' Impression
In fact, he is projected to win this upcoming season's NFL Defensive Rookie of the Year Award with the best betting odds at +500. And there's no doubt he has what it takes to do so, per his teammates, who have also been very impressed with him.
"He is a man on a mission," Hutchinson's teammate and second-year defensive tackle Michael Brockers said, via Aaron Wilson of ProFootballNetwork.com. "He does everything he's supposed to do, you don't even have to tell him. This is him doing a lot of his rookie duties. We didn't even ask him, he just went on and did it. 'What do you guys need for the room' and stuff like that. This is a man who thinks ahead. You can respect a guy like that. He has a lot of respect in my book."
---
PFF Is High on Hutchinson
Hutchinson enters the league fresh off of a remarkable 2021 season where he logged 16.5 tackles for loss and 62 total tackles, the third-most sacks in college football. And as a 6 ft. 9, 270-pound explosive defender, he shouldn't have any trouble racking up sacks at the next level, according to Pro Football Focus.
PFF has Hutchinson on tap for the most productive season among all rookie pass rushers this year by a big margin:
Aidan Hutchinson: 57.0 pressures, 9.4 sacks, 16.5 run stops
Kayvon Thibodeaux: 52.7 pressures, 8.9 sacks, 15 run stops
Travon Walker: 43.4 pressures, 7.2 sacks, 14.5 run stops
Jermaine Johnson: 45.5 pressures, 7.7 sacks, 14.75 run stops
---
Why Hutchinson Will Succeed in His Rookie Year
Pro Football Focus's Eric Eager details why Hutchinson is destined for success in Year 1:
"In 2021, Hutchinson placed in the 98th percentile in PFF pass-rushing grade among players who eventually played in the NFL, the 99th percentile in pass-rush grade on true pass rushes, the 97th percentile in pass-rush grade on pass plays without play-action, the 98th percentile in overall pass-rush win rate and the 99th percentile in run-defense grade."
Of course, Hutchinson is going to have some hefty competition and it'll ultimately take the Lions winning for him to officially be considered DROY, but so far, he's on the right track to help the Lions ahead of the 2022 NFL Season.