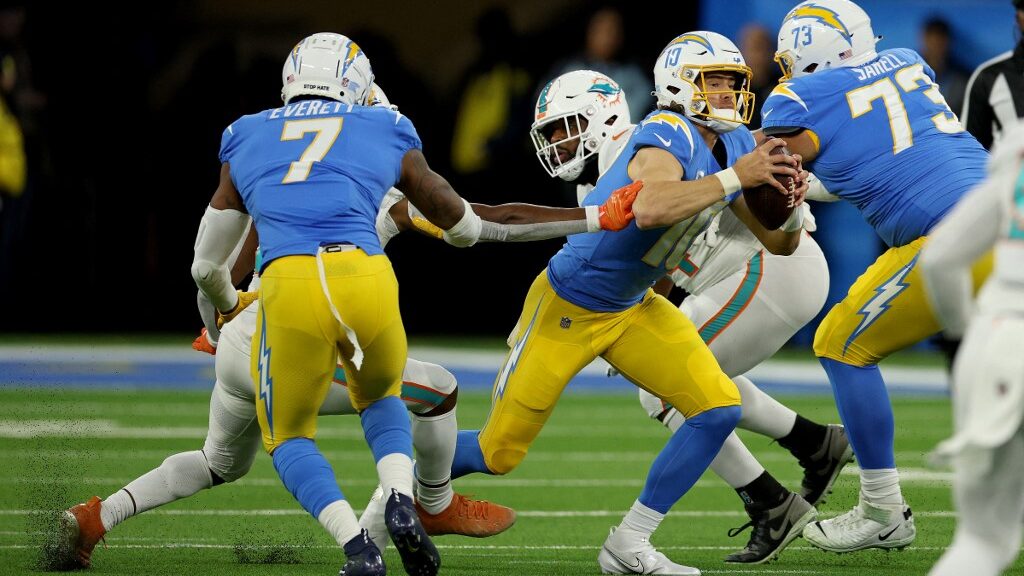 NFL Pick: Chargers -3 (-105) at Bovada (visit our Bovada Review)

---
Chargers quarterback Justin Herbert has suddenly become a polarizing figure as the NFL continues to transition from a golden era to find its next crop of stars to lead the way in the 2020s.
Things already look bright and familiar in the AFC just as they did in the early 2000s:
Patrick Mahomes' consistency and attack on the record books put him in the role of a modern-day Dan Marino and Peyton Manning.
Joe Burrow's cool demeanor and quick rise to the Super Bowl have drawn comparisons to Joe Montana and Tom Brady.
Josh Allen's big arm and backyard football bring to mind John Elway and Ben Roethlisberger.
But what about Herbert? His ability to put up yards and points and not see them translate into playoff success fittingly recalls three past Chargers greats: Dan Fouts, Drew Brees, and Philip Rivers.
We take a look at how the Chargers (7-6) could be ruining another great quarterback, and if Herbert can get back to .500 for his career with a win this week. The Chargers are a 3-point favorite against the Titans at the NFL odds boards.
---
Tennessee Titans vs. Los Angeles Chargers
Sunday, December 18, 2022 – 04:25 PM EST at SoFi Stadium
The Art of Chargering
The Chargers can change cities, stadiums, uniforms, head coaches, and quarterbacks, but it just seems like they are cursed to not win a Super Bowl. The team's only Super Bowl appearance remains the 1994 season, when bus driver Stan Humphries was under center. They never got there with the aforementioned Fouts, Brees, or Rivers.
What is Chargering? When you see the Chargers playing well in a game and they end up losing, you can expect there was some Chargering that went down. Only the Atlanta Falcons rival the Chargers at losing games in inexplicable fashion.
Rather than believe there is some curse on the franchise, it likely is a combination of not having a Hall of Fame-caliber head coach to take advantage of the special quarterback talent, some general bad luck in close games, and way too many injuries practically every season. Throw in there usually being a superior team in the division for the last decade (Peyton Manning's Broncos and Patrick Mahomes' Chiefs), and you get a team with five playoff wins in the nearly 30 years since their only Super Bowl appearance.
But the opportunity to draft Herbert with the sixth pick in the 2020 draft to replace Rivers seemed like a godsend. However, 13 games into his third season, the Chargers sit at 7-6 and in danger of missing the playoffs again.
Where has it gone wrong? As you'll see, the quarterback has rarely been the problem.
---
2020: Offensive Rookie of the Year
In typical Chargers fashion, the team was going to sit Herbert as a rookie but had to give him an emergency start in Week 2 after a team doctor punctured Tyrod Taylor's lung with a pre-game injection.
With no experience, Herbert passed for 311 yards and led his team to a late lead against the defending champion Chiefs. But in what would be the story of his early career, Herbert's Chargers lost in overtime after Mahomes led a comeback.
Herbert would start his career 0-4 despite throwing nine touchdowns with a 107.1 passer rating in those games. There was even a game in Carolina where the Chargers, trailing 21-16, had a perfect lateral play set up, but Austin Ekeler dropped what would have been the game-winning touchdown.
It would get crazier than that.
Things Keep Going Downhill
By the sixth game of his career, the Chargers had already blown as many 17-point leads (three) as they did in 19 years with Brees and Rivers at quarterback. The Chargers blew double-digit leads to Mahomes' Chiefs, Brees' Saints, Brady's Buccaneers, and lost on the final play to a Drew Lock touchdown pass in Denver.
Herbert would have his ups and downs as a rookie, but he still set the rookie records for touchdown passes (31), total touchdowns (36), completions (396), and 300-yard passing games (eight). He won Offensive Rookie of the Year despite being the third quarterback off the board.
But the Chargers finished 7-9 and missed the playoffs after blowing way too many games they should have won. That led to the dismissal of head coach Anthony Lynn.
---
2021: Playoff Access Denied
Enter rookie head coach Brandon Staley. He was a defensive coordinator with the Rams, but he was young and had a feel for offense too. His aggressive decisions on fourth down were the talk of the league early in the 2021 season after the Chargers beat the Chiefs in Kansas City and came back to win a 47-42 thriller over Cleveland to start 4-1.
But after a humbling 34-6 loss to the Ravens where some of those fourth downs just dug the hole deeper and faster, the Chargers started alternating wins and losses. After a 41-22 win in Cincinnati and a 37-21 win over the Giants, where Herbert uncorked one of the best deep passes you'll ever see, the Chargers were back on track with an 8-5 record. Herbert was gaining traction in the unstable MVP race. He was 14-14 as a starter and looking to go over .500 for the first time, and it was time for the game of the year.
It was Week 15 vs. Kansas City, the rematch on Thursday Night Football to take control of the AFC West. It was a classic, back-and-forth game with both teams blowing a lot of scoring chances. But Herbert led a 75-yard touchdown drive to put his team on top 28-21 with just over two minutes left.
If he would get the one defensive stop plenty of great quarterbacks have gotten from their teammates over the years, he would be 9-5 and in first place in the division. But Mahomes did it to the Chargers again and scored a touchdown. The Chargers had a disappointing drive stall at midfield, and the game went to overtime.
The Chiefs won the toss, and Mahomes and Travis Kelce made sure Herbert never saw the ball again in a 34-28 final.
So What Happened?
The Chargers did not respond well to that loss after blowing a game as an 11-point favorite in Houston the next week.
At 9-7, the Chargers needed to beat the Raiders in Las Vegas in the final game of the season to make the playoffs. Despite Herbert leading a 15-point fourth-quarter comeback to force overtime after converting six fourth downs, the Raiders still got the final score of the game in a 35-32 overtime win. The Chargers missed the playoffs at 9-8.
The 2021 Chargers allowed 459 points (27.0 per game), the most ever by a 9-win team in NFL history. In three games against playoff teams (Dallas, Kansas City, Las Vegas), Herbert led the Chargers to a late lead or tie, but the defense allowed the game-winning points on the final snap.
With Herbert becoming the first quarterback in NFL history to throw 30 touchdowns in his first two seasons, it was clear the team had a good thing going on offense. It was the defense that Staley needed to fix to get this team into the playoffs.
---
2022: MVP or Social Media Quarterback?
The Chargers entered the 2022 season as a favorite for the playoffs, possibly the division title, and Herbert was a major MVP candidate.
That all looked great for about seven quarters. In Week 2 in Kansas City, the Chargers led 17-7 in the third quarter before Mahomes was starting up another comeback. With the game tied at 17 in the fourth, Herbert had a long drive going after hitting tight end Gerald Everett on consecutive passes to the 3-yard line. Everett motioned to the sideline to be removed, but he was denied as the Chargers went to the hurry-up offense.
Instead of taking a visibly gassed Everett out of the game, or calling a timeout, or running the ball on first-and-goal, the Chargers kept him in, and Herbert threw Everett another pass. His legs were dead on the route, and the Chiefs jumped it for a 99-yard interception return for a touchdown.
The Chargers did not recover from that swing, and Herbert suffered a rib injury that was bothering him so much that he stopped running on a third down when he could have easily picked up the first. He still found a way to throw a dagger on fourth down for the best throw of the night, but the Chiefs won 27-24.
Unsure if Herbert would start the next game, he ultimately did, but the Jaguars blew the Chargers out 38-10. With key players dropping like flies to injury – Joey Bosa, J.C. Jackson, Rashawn Slater, Keenan Allen, Mike Williams – the Chargers were 5-3 going into a tough two-game stretch with the 49ers and Chiefs.
History Repeats Itself
The Chargers would lead in the fourth quarter of both games in prime time, but both would end in losses after Herbert threw a desperation interception in the final seconds. Once again, he had given his team a late lead against the Chiefs, but once again Mahomes and Kelce had the final score.
Dealing with the Chiefs twice a year is not fun, and despite Herbert having a fourth-quarter lead in all five games against Mahomes, the record is 1-4 in those games for the Chargers.
It's not like Herbert is incapable of leading a comeback. He is 10-14 (.417) at fourth-quarter comeback opportunities, which is a better record than Josh Allen (10-17, .370) and Burrow (5-12, .294). Herbert has led four game-winning drives in 2022.
Burrow vs. Herbert
Burrow gets a lot of credit for taking the Bengals to the Super Bowl last year with a 10-7 record and for currently being 9-4 with a 3-0 record against Mahomes in his career. But if Herbert had Burrow's defense, especially against the Chiefs, then he would be in the same position right now at 9-4 instead of 7-6.
Just look at the difference in how Burrow's defense has limited Mahomes in the fourth quarter and overtime compared to what the Chargers have done.
Mahomes against Herbert's defense in fourth quarter/overtime:
4-1 record
17 drives
11 scores (7 TD, 4 FG)
62 points
3.65 points per drive
Mahomes against Burrow's defense in fourth quarter/overtime:
0-3 record
7 drives
2 scores (2 FG)
6 points
0.86 points per drive
Staley was supposed to fix the Chargers' defense, yet they rank 26th in points per drive allowed (2.31) one year after ranking 28th (2.48). That's not enough improvement.
If you compare how frequently the Chargers have allowed at least 27 points in Herbert's starts, it makes sense why his record is not as good as his peers:
Justin Herbert: 25-of-45 starts (55.6%)
Derek Carr: 65-of-141 starts (46.1%)
Patrick Mahomes: 35-of-87 starts (40.2%)
Jalen Hurts: 12-of-33 starts (36.4%)
Tua Tagovailoa: 11-of-32 starts (34.4%)
Dak Prescott: 27-of-97 starts (27.8%)
Russell Wilson: 48-of-186 starts (25.8%)
Joe Burrow: 11-of-43 starts (25.6%)
Tom Brady: 92-of-376 starts (24.5%)
Lamar Jackson: 15-of-65 starts (23.1%)
Josh Allen: 14-of-79 starts (17.7%)
Herbert's Performance So Far
Herbert has not taken that next step to MVP level this season, but when you have to compensate for a bottom-ranked defense and a running game that is 31st in yards and 30th in yards per carry, there are going to be inefficiencies.
When running back Austin Ekeler, No. 3 wideout Josh Palmer, and journeyman tight end Everett are leading the team in targets and catches because of the injuries to Allen and Williams, the passing numbers are going to suffer. Herbert's yards per attempt is down to 6.6, nearly a full yard below last season's 7.5.
In 2021, 42.4% of Herbert's passes went to Allen and Williams. That target share is down to 20.5% in 2022 because of injuries.
What Should We Expect From Now On?
Herbert has not had his stunning breakout year a la 2020 Josh Allen, 2021 Joe Burrow, 2022 Jalen Hurts, or (last two weeks withstanding) 2022 Tua Tagovailoa. Maybe it's because Herbert was already so good as a rookie while those guys weren't. For Herbert to take such a huge leap forward, the Chargers would have to acquire a game-changing talent like a Stefon Diggs, Ja'Marr Chase, A.J. Brown, or Tyreek Hill.
Until that happens or until the Chargers figure out how to play defense, Herbert is going to be like the guy he replaced. You know, the quarterback in Mahomes' shadow, the one you watch on RedZone every late Sunday afternoon in a one-score game in the fourth quarter, seeing if he'll deliver or screw it up. And the results will be about 50/50, so the team will be about .500, and that is usually not good enough for the playoffs.
But Herbert, like Rivers before him, still gives you a chance, and if this franchise can ever find the right leader at the top, they'll have their quarterback in place for the next decade.
---
Titans vs. Chargers Prediction
The Titans are reeling with three-straight losses, and the defense suddenly looks terrible with the Eagles and Jaguars ignoring the run to take to the air and shred them that way.
This could be a very good game for Herbert if the Titans continue playing this way. He finally got healthy games out of Williams and Allen against Miami, and while it wasn't a perfect night, the Chargers got the 23-17 win and never trailed. Herbert controlled the game with 39 completions on 51 attempts.
The concern here would be Derrick Henry going up against a run defense that is allowing 5.4 yards per carry, in competition for the worst average in the Super Bowl era. But Henry has not been that dominant in the last month, and while he had good numbers against Jacksonville, he lost two fumbles.
The Betting Pick
The Titans have scored more than 24 points once this season. It sounds risky, but let's trust the Chargers to build on last week's smart game plan and to cover against these Titans at home for your NFL picks.
A win here to get to 8-6 and the Herbert discourse will get more interesting. Regardless of if you think he's a "social media quarterback" or a fringe top-10 quarterback, you have to admit the playoffs would be far more exciting with Herbert instead of Mac Jones and the Patriots or Mike White and the Jets.
In fact, that No. 7 at No. 2 wild card matchup could be Herbert against one of Mahomes, Allen, or Burrow. This is what the new AFC is supposed to look like.
Just cut down on the Chargering and Herbert will get there.
Don't forget to check out our gambling guides on the best California betting sites if you're planning to wager on this game from the Golden State.
NFL Pick: Chargers -3 (-105) at Bovada
*The line and/or odds on picks in this article might have moved since the content was commissioned. For updated line movements, visit BMR's free betting odds product.