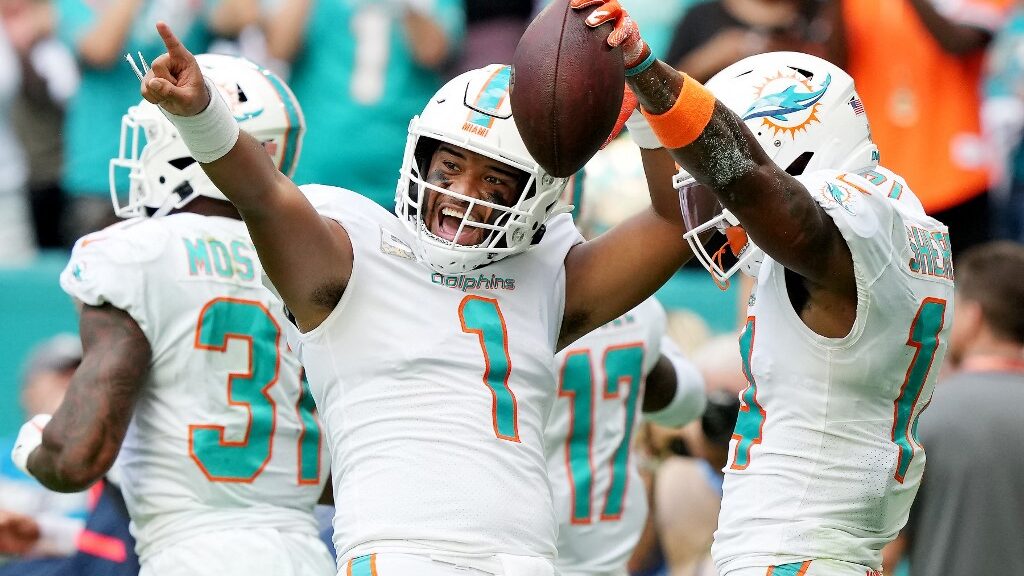 There may be no quarterback more polarizing this season than Tua Tagovailoa. Some see him as a leading MVP candidate with the best efficiency metrics in the league, and some see him as a product of the new talent and system installed by the Miami Dolphins in the offseason.
Is Tua the most valuable player, or is he the player who had the most value added around him this year? The truth is usually somewhere in the middle, but there is no denying that Tagovailoa has a great opportunity this Sunday in San Francisco to make an MVP statement against the league's top-ranked defense.
The Dolphins are a 4-point road underdog at many of the top-rated sportsbooks. Let's look at how far Tua has come from his first two years, what impact Tyreek Hill is having on his season, and the challenge he faces against the 49ers this week.
PLAY NOW: $25,000 Free-To-Play NFL Contest BMR's 2022 Pick'Em Pool With Weekly Prizes
---
Miami Dolphins vs. San Francisco 49ers
Sunday, December 4, 2022 – 04:05 PM EST at Levi's Stadium
What Mike McDaniels Brings to Tua in Miami
When we previewed the Dolphins before the season, there was a lot of optimism that rookie head coach Mike McDaniel would bring the vaunted "Shanahan-style offense" to Miami for Tagovailoa.
This would mean a stronger running game, more play-action passing, and more YAC and explosive plays. Some of this has materialized, but not all of it.
Rushing Support Is Not Great for Tua
For example, Miami's hit-or-miss running game ranks 28th in yards and 27th in yards per carry. Jeff Wilson was acquired via trade from San Francisco, but he only managed 39 yards against Houston's terrible run defense last Sunday. The offensive line's run blocking has left something to be desired this year. This is not the kind of Shanahan-related running game we are used to seeing.
Receivers Are Getting Separation But…
But one area that has improved the most is designing an offense with more open receivers. Miami's receivers just could not separate the last two years regardless of who was throwing the passes. When we look at the aggressiveness rate from Next Gen Stats, which measures the rate of passes thrown into a tight window, we see clear improvement under McDaniel for Tua:
In 2020, Tagovailoa (20.3%) finished as the sixth-most aggressive passer.
In 2021, Tagovailoa (19.3%) was the most aggressive passer.
In 2022, Tagovailoa (11.3%) is the fifth-least aggressive passer.
That is awesome, but how much is it just Tyreek Hill running past defenders? That's when the numbers take an interesting turn as you see Hill's average separation is 3.5 yards, which is almost identical to the 3.6 average he had in Kansas City in 2021 (source: Next Gen Stats). That still beats having DeVante Parker as a top wideout, as Parker is once again last in separation (1.5 yards) with New England.
But beyond Hill, Jaylen Waddle's average separation has actually gone down from 3.3 yards to 3.1 yards, and tight end Mike Gesicki's average only increased from 2.8 to 3.1 yards this year. The only other Miami receiver with more than 17 catches is Trent Sherfield, and his separation is fairly average at 2.8 yards.
Yards After Catch: The Plot Thickens
How about YAC? That continues to be such a huge part of the San Francisco passing offense where McDaniel came from, and sure enough, Jimmy Garoppolo leads all quarterbacks in 2022 with 6.9 YAC per completion, according to Pro Football Reference. But a lot of that seems to be the result of how hard it is to tackle Deebo Samuel, George Kittle, and even the receivers like Brandon Aiyuk and Jauan Jennings.
Still, you probably did not expect to see this (source: Pro Football Reference):
2020 YAC/completion: Tagovailoa (4.1) ranks 31st out of 35 quarterbacks
2021 YAC/completion: Tagovailoa (4.6) ranks 29th out of 31 quarterbacks
2022 YAC/completion: Tagovailoa (4.5) ranks 32nd out of 35 quarterbacks
Waddle (5.9) averages more YAC per reception than Hill (4.4) according to FantasyPros, which may come as a surprise to some. But Tua is not getting a ton of YAC from his receivers this year.
What's the reason for that? The depth of his targets.
Average Target Depth
Offenses that throw downfield tend to average less YAC as the receivers are usually met at the catch, but you are content with that when you are crushing it in the intermediate range. Miami has turned into that kind of passing attack this year, putting Tua closer on par with the days of Kurt Warner in St. Louis or Peyton Manning in Indianapolis rather than a Matt Schaub or Jimmy Garoppolo clone who is feasting on YAC.
According to Next Gen Stats, Tua's average 2021 pass traveled 7.0 yards, the third-shortest passes in the league. This year, his average pass is 9.2 yards, the third deepest among full-time starters.
Sure, you might have guessed that when you saw the two bombs to Hill in the huge comeback in Baltimore in Week 2, but that's not really what this offense is about. Since Tua threw those touchdowns of 48 and 60 yards to Hill in that quarter, he has not thrown a single touchdown pass over 29 yards. Tua has one touchdown pass that came outside the red zone since Week 3.
Digging into the numbers, the throws where Tua has been almost automatic on this year are in the range of 13-to-21 yards. It's the dig routes and deep outs. He has done much better than his peers and the league average (54.5%) on such throws:
Tua Tagovailoa: 48-of-62 (77.4%, ranked No. 1)
Matthew Stafford: 20-of-31 (64.5%, ranked No. 2)
Patrick Mahomes: 42-of-67 (62.7%)
Jalen Hurts: 26-of-48 (54.2%)
Josh Allen: 43-of-85 (50.6%)
Jimmy Garoppolo: 19-of-39 (48.7%)
---
Play-Action Prom King?
To recap, this Miami offense for Tua does not run the ball that well, does not get much YAC, and he is hitting the throws downfield to receivers who are doing a good job of getting open.
It must be the play-action, right? Last season, Tagovailoa led all quarterbacks with 29.9% of his passes coming on play-action according to Pro Football Reference. This year, he is again leading all quarterbacks with 32.0% of his passes on play-action, more than 5.0 percentage points higher than anyone else.
But what if I told you the numbers did not give him the boost you might expect? Here are his play-action splits for the last two seasons from Pro Football Reference:
Tua in 2022
With play-action: 69.2% complete, 9.5 YPA, 2 TD, 2 INT, 97.6 PR
Without play-action: 70% complete, 8.8 YPA, 17 TD, 1 INT, 124.3 PR
Tua in 2021
With play-action: 69.8% complete, 8.5 YPA, 5 TD, 2 INT, 103.0 PR
Without play-action: 66.9% complete, 6.1 YPA, 11 TD, 8 INT, 84.5 PR
His best numbers, including most of his touchdowns, are without play-action this season. He had a much bigger boost using it in 2021 without McDaniel and Hill.
Coming into this skeptical of Tagovailoa based on his first two seasons and the pieces now around him, it is hard not to be impressed with how he has played.
The best knock may actually be the schedule, as a five-game winning streak against Pittsburgh (dropped four interceptions), Detroit, Chicago, Cleveland, and Houston is not going to excite anyone. Even the huge 21-point comeback in Baltimore loses a little luster when you see the Ravens are historically bad at holding multi-score leads in 2022.
But the schedule argument can strongly go in Tua's favor before the season ends if he keeps playing like he has.
---
Tua Tagovailoa's MVP Case
Going into Week 13, Tagovailoa (+600 at Bovada –visit our Bovada Review) has the third-highest betting odds behind Patrick Mahomes (-150) and Jalen Hurts (+375).
But there is a very sound argument for Tua to move ahead and claim the award after Week 18. It involves a three-step process.
First, Mahomes and Hurts will both have to slip up down the stretch. Have a bad loss, have a disappointing game in prime time, or just don't put anything special on the resume the rest of the way.
Second, since he missed 2.5 games, Tagovailoa will have to maintain his league-leading efficiency numbers. Tagovailoa currently leads the NFL in these categories:
Yards per attempt (9.0)
Yards per completion (12.9)
Adjusted net yards per pass attempt (9.18)
Touchdown pass percentage (6.7%)
Passer rating (115.7)
QBR (82.8)
These numbers often lead to an MVP award. The ANY/A (9.18) is currently ranked fourth all-time. In all nine seasons where a quarterback was above 8.60 ANY/A, one of those quarterbacks won MVP.
Third, and this is likely the hardest part, is Miami has to win out. That way, Tagovailoa can play the "his team was 14-0 in the games he started and finished, and they were 0-3 when he couldn't go" card, which will resonate very well with voters.
The voting process has also changed this season as voters will be able to rank their top five choices instead of just submitting one name. That should only help Tua. Everyone saw the concussion in Cincinnati and how scary that situation was. The fact he can come back and play like this is remarkable.
It's Not Impossible
But if all three things happen – Mahomes and Hurts slip, Tua's stats remain No. 1, the 14-3 record – then Miami could be the No. 1 seed. Presumably, Tagovailoa would have big games on his resume against the 49ers and Bills, which would put him above Mahomes, who was incredible against the 49ers but also threw a game-ending pick to Buffalo. Tua would also get credit for winning the toughest division while the Chiefs' AFC West race turned out to be a major dud.
It is not an easy MVP path, but at +600 odds, you would not expect it to be. Still, there is a chance that all could happen, but it starts by performing Sunday.
---
Tagovailoa vs. 49ers
The next test for Tagovailoa is a San Francisco defense that allows a league-low 15.7 points per game.
Other than a two-week period in Weeks 6-7 when the defense was down several starters in Atlanta and lit up by Mahomes and the Chiefs, the 49ers have held their other nine opponents under 20 points.
San Francisco's Specialty
They shut out the Saints last week 13-0. They technically shut out Geno Smith and the Seahawks in Week 2 as Seattle's only points came on a blocked field goal return.
The 49ers are the 12th team since 1950 to shut out four straight opponents in the second half. No one has done that in five games in a row in that time, so history could be made here.
Unfortunately, Miami has been shut out twice in the second half this year against Pittsburgh and just last week against Houston. At least the Houston game can be traced to resting starters too early.
The 49ers are not elite at creating turnovers, but they do shut down the run better than anyone right now. Jeff Wilson is unlikely to have much of a revenge game, so it will be on Hill and Waddle to step up here.
What to Expect for Sunday
Tua is going to have to be accurate on those intermediate throws again. The 49ers have not faced many good quarterbacks this year. Mahomes had 423 yards and scored 44 points on them, something that will be brought up if this MVP race becomes heated. Justin Herbert also had a good first half in San Francisco before going scoreless after halftime.
Those are the best passers the 49ers have seen this year. If Tagovailoa wants to be in the MVP race or get accepted as being the better player than Herbert, then performing in a game like this is how he gets to that level.
That's going to resonate more than throwing for 300 yards against a Chicago defense that just got embarrassed by Mike White.
---
Dolphins vs. 49ers Prediction
Generally, you want to lean to the mentor (Shanahan) getting the best of the assistant (McDaniel) in a matchup like this, especially when the mentor is the home favorite with the best defense in the league.
But then you watch Garoppolo hand an interception right to a linebacker as if he never saw him, and you look at the way the 49ers played the last time they faced a dynamic passing game (Chiefs), and you start to believe in Miami again.
Smart money is still on the 49ers to win this game, but it is a golden opportunity for Tagovailoa to add a huge game against this caliber of defense on his resume. It is a huge deal for the MVP race, the division race, and the No. 1 seed race as well.
The only shame is Mahomes and the Chiefs will be in Cincinnati taking on Joe Burrow's team in the same time window this Sunday. If Tua falters against a great defense that can shut down his running attack, and if Mahomes gets past his last tough opponent, then the MVP race is all but locked up Sunday night.
The Betting Pick
If the Dolphins can step up and pull this off, then this might be the team, the coach, and the quarterback to watch go the distance this year. Let's take the Dolphins with the points for your NFL picks.
If you're a fan of the Miami Dolphins, rememer to visit our guide on Florida betting sites, where you can find the best sportsbooks available in your area.
NFL Pick: Dolphins +4 (-115) at Bovada

*The line and/or odds on picks in this article might have moved since the content was commissioned. For updated line movements, visit BMR's free betting odds product.