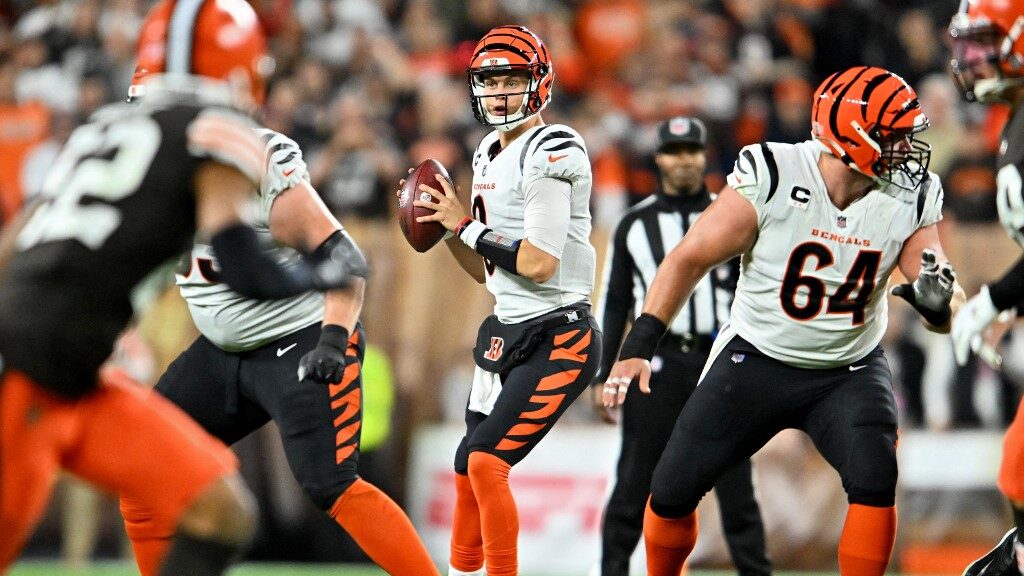 Cincinnati Bengals quarterback Joe Burrow is in the envious position of being the first quarterback to start 3-0 against Patrick Mahomes and the Chiefs, the AFC team thought to be at the top of the list for potential dynasties this decade.
But we are not here to talk about whether Bengals-Chiefs is the NFL's next great rivalry or if the Bengals are the favorites to return to the Super Bowl. There is something more urgent this week.
How in the world can a quarterback go 3-0 against the Chiefs and 0-4 against the Cleveland Browns? When not playing the Bengals since 2020, the Chiefs are 39-9 and Kevin Stefanski's Browns are 21-22. Is this one of the NFL's most random stats, or one of the best arguments for styles make fights?
We are going to look at Burrow's history against the Browns, what they have that the Chiefs do not, and if this is the week the Ohio kid gets his first win over Cleveland. The Bengals are a 6-point home favorite at many of the Ohio betting sites.
Cleveland Browns vs. Cincinnati Bengals
Sunday, December 11, 2022 – 01:00 PM EST at Paycor Stadium
Burrow vs. Browns Game 1 (Week 2, 2020)
In the second game of his rookie season, we got to see Burrow in prime time in Cleveland on Thursday Night Football. It turned out to be a high-scoring affair with Burrow completing 37-of-61 passes for 316 yards, three touchdowns, and no interceptions. Burrow had little rushing support while the Browns piled up 215 yards on the ground.
Despite the final score, Burrow never had the ball in a one-score game in the fourth quarter. The turning point came in the third quarter when Myles Garrett produced a strip-sack of Burrow deep in his own end, which led to a 1-yard touchdown drive to help the Browns take a 28-13 lead.
Thanks to a touchdown pass to Tyler Boyd with 43 seconds left, the Bengals were able to cover as 6-point underdogs at the NFL odds, but the onside kick failed, and they lost 35-30.
Burrow vs. Browns Game 2 (Week 7, 2020)
Burrow had his first 300-yard passing game in the NFL against Cleveland. In the rematch as a 4.5-point underdog, he was even better on his way to his first 400-yard passing game. In addition to 406 passing yards, Burrow nearly led the team in rushing with 34 yards and scored a rushing touchdown to take a 7-0 lead.
But unlike the first game which was artificially close and high scoring, this was a true shootout between Burrow and Baker Mayfield. It did not start that way with the two quarterbacks exchanging interceptions. Burrow also lost another fumble on a strip sack by Garrett. But after that fumble, there were 11 straight possessions with a score (eight touchdowns, three field goals) if you exclude the kneel-down before halftime.
The Browns did not have Nick Chubb, so Mayfield took on more of a starring role with 297 yards and five touchdown passes. He struck first in the fourth quarter to give the Browns a 24-20 lead. Burrow answered with a 16-yard touchdown pass to Tee Higgins for a 27-24 lead.
After Mayfield led another touchdown drive to take a 31-27 lead, Burrow thought he had the first signature game-winning drive of his NFL career. He connected on a fourth down with running back Giovani Bernard for a 3-yard touchdown with 1:06 left to take a 34-31 lead.
But the defense was a massive letdown in allowing Mayfield to move 75 yards in under a minute for a 37-34 lead. Burrow got the ball back with only four seconds left, or not enough time to do anything.
Mayfield became just the second quarterback in NFL history to throw three go-ahead touchdown passes in the fourth quarter of a game. Bruce Gradkowski was the first to do it against the 2009 Steelers for the Raiders.
Burrow may have done it too that day if he had a little more time. The game ended up being the highlight of his rookie season before he tore his ACL.
Burrow vs. Browns Game 3 (Week 9, 2021): Browns 41, Bengals 16
With a new season and revised expectations with rookie Ja'Marr Chase at wide receiver, Burrow had a chance as a 2.5-point home favorite to get his first win over Cleveland.
But things went sour on the opening drive after Burrow forced a pass to Chase in the red zone and Denzel Ward jumped the route for a 99-yard pick-six to take a 7-0 lead. It was the second meeting in a row where Burrow threw a red-zone pick on his first drive. Chase would later lose a fumble, and the Bengals were uncharacteristically sloppy at home.
The Cincinnati defense was also a major letdown after allowing a 60-yard touchdown pass from Mayfield to Donovan Peoples-Jones and a 70-yard touchdown run to Chubb. The Bengals allowed two offensive touchdowns of 45-plus yards in 2021 and they were both in this game. Including the Ward pick-six, three of the four longest touchdowns the Bengals allowed in 2021 were in this game.
The Browns led 31-10 after the Chubb touchdown and the Bengals just never seriously threatened on the way to a 41-16 rout. There would be no rematch for Burrow in Week 18 as the Bengals rested him and other key players with the playoff seed locked up. The Browns ended up winning that game too, 21-16.
Burrow vs. Browns Game 4 (Week 8, 2022): Browns 32, Bengals 13
On Halloween this year, the Bengals were coming in hot on offense as 3-point road favorites. But a hip injury to Chase was going to be tough to overcome against a Cleveland team playing with some desperation with a 2-5 record.
For the third meeting in a row, Burrow threw an interception on the opening drive against Cleveland. This one was less his fault than the others as Garrett tipped the pass at the line and it was eventually deflected to a Cleveland defender.
But that turnover seemed to rattle Burrow, who later lost another fumble on a sack against Cleveland, and the Browns led 11-0 at halftime. The Browns were able to get the double score with a field goal and touchdown to end the first half and start the second to quickly take an 18-0 lead.
One three-and-out where Burrow was sacked on third down, and after another great touchdown drive, the Browns were running away with it at 25-0.
An exchange of touchdowns did the Bengals few favors at 32-13. But after the Bengals finally got a stop on defense, Garrett was again in Burrow's face on a half-sack to bring up a fourth down that was not converted with 4:03 left. The Browns ran out the clock on Cincinnati's worst performance of the season.
Burrow was sacked five times and the Bengals ran the ball 10 times for 36 yards. The Browns had no issues containing this offense without Chase.
---
Where the Browns and Chiefs Differ
While the Bengals are only beating the Chiefs by three points every time, they are still coming through and winning those big games. In comparison, an 0-4 record against Cleveland looks terrible, but there are valid reasons why playing the Browns are a different challenge for this team.
First, there are the procedural differences in the games the Chiefs have played against Cincinnati compared to Cleveland:
Division familiarity could be one issue as head coach Zac Taylor has retained his coordinators since 2019, and Stefanski's staff more or less knows what to expect from the Bengals.
Cleveland has faced Burrow without Chase three times, including twice as a rookie. The Chiefs have faced Burrow with Chase all three times and he has destroyed their defense.
Burrow is a better quarterback now and Chase makes the whole offense better as we saw in his return against the Chiefs last week.
Then there are two huge roster differences between the Chiefs and Browns:
Everything in Kansas City runs through Patrick Mahomes while the Browns are much more willing to feed on play-action passing and the rushing of Nick Chubb and Kareem Hunt.
It is a more balanced attack in Cleveland, and Jacoby Brissett played well in Week 8 for Cleveland.
If the Browns can get good quarterback play, then we know the rest is gravy as Chubb is one of the best behind that offensive line.
The presence of Myles Garrett has had a huge impact on Burrow, who is susceptible to sacks against elite pass rushers as the offensive line is not good enough and he wants to hit big plays often.
In four games against Burrow, Garrett has 6.0 sacks, two forced fumbles, and tipped that pass that was intercepted in Week 8.
In four games against Cleveland, Burrow has taken 17 sacks, thrown four picks, lost three fumbles, and averages 6.63 yards per pass attempt.
In three games against Kansas City, Burrow has taken six sacks, thrown one pick, zero fumbles, and averages 9.10 yards per pass attempt.
The Chiefs struggle to generate takeaways and lack that dominant edge rusher like Garrett or T.J. Watt or Micah Parsons – the type of player you need to get after Burrow quickly.
With the Bengals taking on that persona of a young, finesse offense with a great passing game and bottom-ranked run game, the Browns' old-school approach of running the football and playing defense works well in these matchups.
But maybe the secret sauce in this 4-0 record for Cleveland has been the surprisingly excellent performances by Mayfield and Brissett. Just look at their combined stat line in these four games against Burrow's Bengals:
69-of-94 (73.4%)
1,012 yards
10.77 yards per attempt
10 touchdowns
2 interceptions
134.7 passer rating
36.3 points per game
4-0 record
Throw in Chubb rushing for over 100 yards in three of these games he played, and you have such a potent offensive attack here that most quarterbacks would have gone 0-4 in these games if their defense played like this.
But Cleveland's latest change at quarterback could oddly be the reason why Burrow gets the win this week.
---
Is Deshaun Watson Ready for This?
There will be plenty of words said in the future about this Deshaun Watson situation in Cleveland and if it was worth it, but on first impression, it was a bad start last week in Houston. The offense failed to score a touchdown and relied on three return touchdowns to win 27-14 against the worst team in the league.
Brissett would have won that game with ease, but the Browns benched a quarterback who was having a career year to replace him with a quarterback who was suspended for 11 games. Everything about that just felt wrong, and while Watson could legitimately cite rust for his weak performance last week, he still has no one to blame but himself for not playing since the end of the 2020 season.
But now here he is on the road against a red-hot team that just beat the Chiefs again, and he is going to have to deliver way more than he did last week when he passed for 131 yards, his second-fewest passing yards in a start.
Watson is 2-22 in his career when his team allows more than 25 points. The Bengals have not scored fewer than 27 points at home since Week 1. If there is one thing we know about Burrow, it is that he is more prolific at home than he is on the road. Check the career splits:
Burrow at home: 318.2 passing yards per game, 8.66 yards per attempt
Burrow on road: 250.9 passing yards per game, 7.14 yards per attempt
Burrow is at home, he has Chase, and he may get Joe Mixon back, but Samaje Perine is awesome either way at running back. What more does he need to get a win against the Browns?
---
Browns vs. Bengals: Pick and Predictions
It would be such a random yet fitting NFL thing for Stefanski to go 4-0 against Burrow with Mayfield and Brissett, then promptly lose his first game with Watson at quarterback. But you should expect it to happen as Watson does not look ready to go toe-to-toe with a Super Bowl contender in just his second game back.
Lest we forget, the Texans were 4-12 with an average scoring offense in Watson's last full season in 2020. Once thought to be the quarterback who would rival Mahomes in the AFC this decade, he is old news already.
This is Burrow's moment to shine. Take the Bengals to cover for your NFL picks.
NFL Pick: Bengals -6 (-110) at Bovada (visit our Bovada Review)

*The line and/or odds on picks in this article might have moved since the content was commissioned. For updated line movements, visit BMR's free betting odds product.