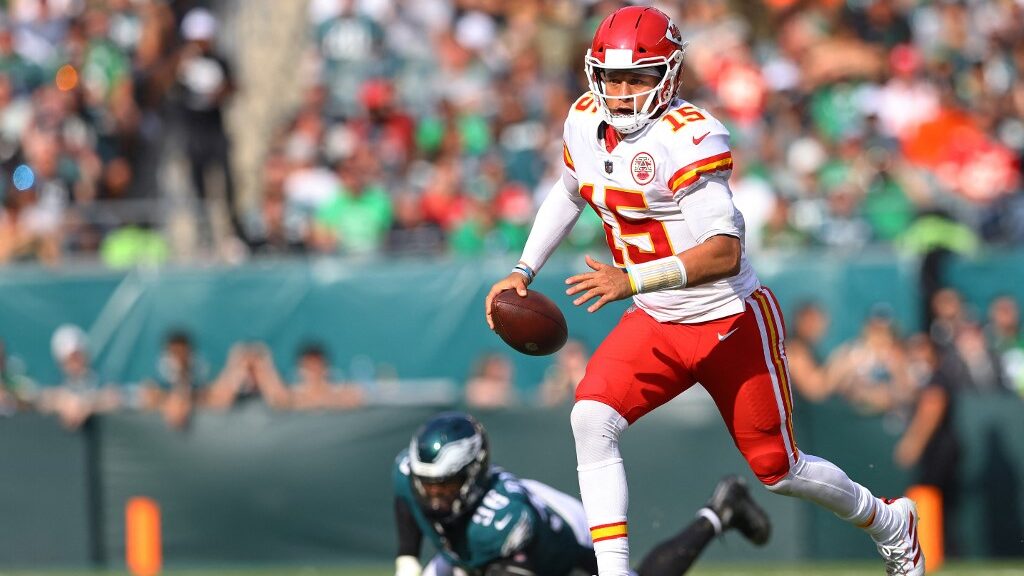 The NFL season comes down to one more game in Super Bowl LVII between the Kansas City Chiefs and Philadelphia Eagles.
But one game still means you can build your last Daily Fantasy Sports (DFS) lineups for the 2022 NFL season using your favorite sportsbooks.
Remember, NFL fans from the Show Me State or the City of Brotherly Love who are looking to make a wager on Super Bowl LVII should be sure to check out our top-rated Missouri or Pennsylvania betting sites.
---
Kansas City Chiefs vs. Philadelphia Eagles
Sunday, February 12, 2023 – 06:30 PM EST at State Farm Stadium
We understand there are differences in the lineup constructions used at different operators, but we will be providing a strategy for four different lineups to give you a better shot at the biggest prizes:
An Eagles-Centric Lineup
A Chiefs-Centric Lineup
A Contrarian Lineup (favorable to a shootout)
A Tournament Lineup (filled with some long shots)
All of these lineups will feature an MVP pick, which is the player you designate to earn 1.5x as many points as usual.
The rest will be flex position choices.
---
DFS Team 1: Eagles-Centric Lineup
MVP: Jalen Hurts, Eagles QB
Flex 1: DeVonta Smith, Eagles WR
Flex 2: A.J. Brown, Eagles WR
Flex 3: The Eagles Defense
Flex 4: Jerick McKinnon, Chiefs RB
This is a team built for a great night for the Eagles. Jalen Hurts may very well throw for fewer yards than Patrick Mahomes, but he can more than make up the difference in rushing points with his ability to get more yards on the ground and he has a record 15 touchdowns already this year, including three games with multiple scores on the ground.
Hurts also passed for a career-high 387 yards against the Chiefs last year, so you never know if history repeats itself. He also rushed for 47 yards in that game. Given this is the Eagles in the Super Bowl, maybe Hurts follows in the footsteps of Nick Foles and catches a touchdown on a new Philly Special.
We want Hurts as our MVP in this lineup given his dual-threat abilities.
Not only Hurts
DeVonta Smith had 122 yards in that game against the Chiefs last year, and this defense allows a lot of big days to wide receivers. We also like A.J. Brown to break out and have a big game after being held to 50 yards in the last two playoff games. He had over 130 yards against the Chiefs last year as well and they are playing a lot of young players in that secondary.
We also want the defense of the Eagles as they have the ability to get a lot of sacks, and turnovers, and it is not uncommon for a great defense to score a touchdown in the Super Bowl like these previous SB winners:
the 2000 Ravens
the 2002 Buccaneers
the 2008 Steelers
the 2013 Seahawks
the 2015 Broncos
Finally, since we have to have at least one player from both teams, we went with Jerick McKinnon in the hope he will eat up some receptions and add to his nine receiving touchdowns this year. He just feels more likely to score out of the backfield than someone like JuJu Smith-Schuster is against these corners.
---
DFS Team 2: Chiefs-Centric Lineup
MVP: Travis Kelce, Chiefs TE
Flex 1: Patrick Mahomes, Chiefs QB
Flex 2: Isiah Pacheco, Chiefs RB
Flex 3: Kadarius Toney, Chiefs WR
Flex 4: Dallas Goedert, Eagles TE
Maybe call this one the Travis Kelce Super Bowl MVP lineup, because this is the path for him to become the first tight end to win the award.
He needs to have all of Mahomes' touchdown passes, and hopefully, Isiah Pacheco can score one on the ground as the Chiefs just hammer in a score instead of trying to get too cute.
The Chiefs' Skill Players Can Take Advantage. Will They?
But Pacheco needs to step up against a defense that ranks 24th in yards per carry (4.6) and allowed 200 yards to the Chiefs last year.
If Kadarius Toney can contribute in the Super Bowl, that would really make that trade look smart as he has had a few good games and touchdowns for the team. Maybe he gets a rushing touchdown on a trick play.
As for the Dallas Goedert pick, he is a tight end capable of 50 yards and a touchdown in this game. But if you wanted to swap Goedert and Pacheco for DeVonta Smith and Jerick McKinnon, then that is another choice for this one.
---
DFS Team 3: Shootout-Favored Lineup
MVP: Jalen Hurts, Eagles QB
Flex 1: Patrick Mahomes, Chiefs QB
Flex 2: A.J. Brown, Eagles WR
Flex 3: Isiah Pacheco, Chiefs RB
Flex 4: Kadarius Toney, Chiefs WR
Flex 5: Noah Gray, Chiefs TE
We are playing both quarterbacks in this one, but Hurts gets the nod at MVP because of the rushing value he can bring to this game.
We also are stacking Hurts with his best receiver in Brown, banking on him to get out of his slump in this matchup.
What makes this a bit of a contrarian lineup is that it expects big things from Mahomes in the absence of Kelce. Instead, we are banking on Noah Gray to catch a touchdown to fill out our final cheap pick of the lineup.
Variety is the Spice of Life
We also have the aforementioned NFL picks in Pacheco and Toney, who can provide value in unusual ways in this matchup - if the Chiefs use Pacheco as a receiver more like last game and if Toney gets rushing attempts.
But mostly, this lineup is looking for the two quarterbacks to shine without any of the missing receivers having a dominant game.
---
DFS Team 4: Tournament Lineup
MVP: Jalen Hurts, Eagles QB
Flex 1: DeVonta Smith, Eagles WR
Flex 2: Marquez Valdes-Scantling, Chiefs WR
Flex 3: Jerick McKinnon, Chiefs RB
Flex 4: Isiah Pacheco, Chiefs RB
Flex 5: The Chiefs Defense
We are definitely going against the grain here, but anymore the Super Bowl can get really weird, and playing a weird lineup might be the way you win a DFS tournament based on one game.
Who saw the Rams and Patriots playing a 13-3 game in Super Bowl 53, or the Chiefs not scoring a touchdown in Super Bowl 55's 31-9 loss, or the Eagles and Patriots combining for the most yards in NFL history in Super Bowl 52?
In the final game of the season, let's go nuts, but we do have some logic for each pick here.
When the Going Gets Weird, The Weird Turn Pro
As mentioned in the other lineups, Hurts as MVP is built on the idea that people will flock to Mahomes, but Hurts is the dual-threat who already had a game where he accounted for 434 yards against the Chiefs last year. He might just let it rip in this game after getting the bye week to rest.
The logical choice for Hurt's stack is Brown, his best receiver, but Smith has been the go-to guy more as of late, and he has almost as many 100-yard games since Week 13 as Brown has had all season. We saw Tee Higgins outscore Ja'Marr Chase last week against the Chiefs thanks to a touchdown, so maybe the same can happen here for Smith over Brown.
For Marquez Valdes-Scantling, what if he shocks the world and has another 100-yard game against a great secondary that has only allowed four 100-yard receivers this year?
But MVS had his best game of the season against the Bengals, and he can step up while the other wide receivers are injured or not cut out for this matchup. MVS has also caught a touchdown in both playoff games, and without laying Kelce and Mahomes here, we are hoping he has Mahomes' only touchdown pass (or two).
Banking On The Running Backs and the Chief's D
Playing both Kansas City running backs is probably going to be something done in very few lineups, but if the Chiefs run the ball like they did last year against the Eagles (200 yards), this could be the difference maker.
It is not crazy for Pacheco to rush for 100 yards and a touchdown if the Chiefs commit to it, and McKinnon is one of the best-receiving touchdown options in this game. You also get points per reception.
The final slot goes to the Chiefs' defense when most people will be on the Eagles' superior defense. But the Chiefs sacked Joe Burrow five times and have forced multiple turnovers in four straight games. They are peaking at the right time with their young core, and Chris Jones finally got his first two playoff sacks last time out.
In Philadelphia's three losses this year, the Eagles have two games with four giveaways and a third game with a pick-six thrown. If the Chiefs win this game with a full team effort instead of a Mahomes-to-Kelce masterclass, this should be a productive lineup.
You just have to be willing to play outside the box.
Make sure to check out these great Super Bowl betting sites for your 2023 NFL Championship betting needs.
*The line and/or odds on picks in this article might have moved since the content was commissioned. For updated line movements, visit BMR's free betting odds product.