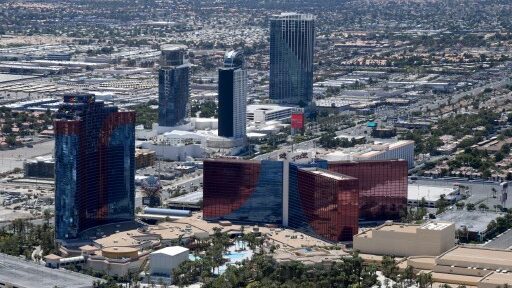 The Palms Casino-Hotel has been shuttered since March of 2020 due to the global pandemic but December 16th, 2021 ushered in new hope and charted a fresh course for the off-strip casino. That was the day in which the Nevada Gaming Commission approved the ownership change from Red Rock Resorts (formerly Station Casinos) to the tribal San Manuel Gaming and Hospitality Authority.
New Tribal Ownership
Yaamava' Resort & Casino at San Manuel (formerly San Manuel Casino) in Highland, California has been operated by San Manuel Gaming for over three decades and the entity has recently contributed substantial funds to Las Vegas universities and local community outreach programs. The tribe also has deals with the Las Vegas Raiders, Vegas Golden Knights, and Allegiant Stadium.
The Palms initially opened in 2001 and boats a 90,000 square foot casino accompanied by 700 hotel rooms, conference and meeting areas, as well as a movie theater, spa, and the customary amenities and shops one would find in a Las Vegas-style hotel and casino. It was purchased by Red Rock Resorts for $312.5 million in 2016 and renovated to the tune of $620 million, making this nearly a billion-dollar investment for the casino group.
But after the pandemic derailed plans for the Palms to show off its splashy and pricey new upgrades, Red Rock Resorts was looking to clear the books, which is when San Manuel Gaming and Hospitality Authority came calling. The deal was consummated by a $650 million cash deal and the new-look casino is expected to swing open its doors sometime in the spring of 2022.
First Tribe Owned Casino in Las Vegas
San Manuel Gaming chairwoman Latisha Casas said, "The Palms is a well-designed property which has been beautifully redeveloped and maintained by Red Rock Resorts. Our board believes that the Palms is a casino resort that many of San Manuel Casino's loyal guests would enjoy."
This will be the first time a tribe has owned and operated a hotel-casino in Las Vegas, although Mohegan Gaming & Entertainment operates the casino only at Virgin Hotels of Las Vegas while the Seminole Tribe of Florida's Hard Rock International is angling to purchase the Mirage at some point in the not-too-distant future.
Alan Feldman, a distinguished fellow in responsible gaming for the International Gaming Institute at the University of Nevada, Las Vegas, commented on the deal, "Palms is a particularly strategic investment. This is a property that just had an enormous amount of investment poured into it. And they picked it up for very much what [most would think] was below market value, considering how much had just been spent on it — a great value for them.
"I don't think for a second anyone should doubt the marketing prowess of this particular group or, frankly, any group in tribal gaming," Feldman said. "Some of the most beautiful casinos in the country are on tribal lands run by tribal entities. San Manuel may be one of the best examples."
What Does the Future Bring for The Palms?
As for how the Palms will change under the new tribal ownership remains to be seen but if it is similar to the other San Manuel property then it should be a particularly intimate experience for their customers.
"San Manuel is a very good example of a tribe that is incredibly sensitive about its culture and its history," Feldman said. "Part of that is an expression of its care and compassion about everything — about its people, about its community, about its land. And I think that extends to their customer in a different way than when a commercial company says [it] cares about [its] customers."