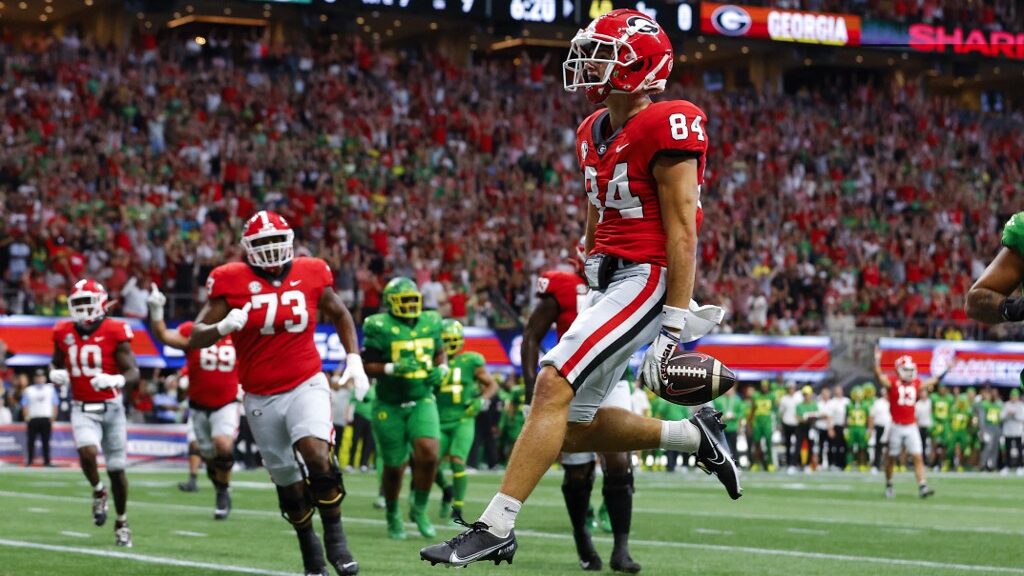 How much fun was it watching college football all weekend? For those who couldn't, we will cover as much as possible for you and if you did, we have tidbits you might not be aware of.
Beginning every Monday, we'll supply some early hot trends for you to pay attention to in college football as well as the NFL.
PLAY NOW: $25,000 Free-To-Play NFL Contest: BMR's 2022 Pick'Em Pool Opens for Registration
---
About Last Weekend…
---
NCAAF – Where to Begin?
Georgia, at least for one game, looked every bit as impressive as last year in hammering Oregon 49-3 as 16-point favorites.
It felt like the first team against JV, with the Ducks not in the same stratosphere.
Notre Dame vs. Ohio State
Ohio State labored with a Notre Dame squad that was very physical on defense until wearing down late. The Buckeyes' passing offense needs further work, but the defense was exceptional after halftime but never threatened to cover the -17.5 points.
To reach the highest levels, Notre Dame will need better quarterback play.
Utah and Florida had a fantastic football game with the Gators (+2.5) escaping late thanks to QB Anthony Richardson who played an exceptional contest.
Unless USC goes unbeaten, the Pac-12 will likely miss the CFP again with the Utes' setback.
North Carolina vs. Appalachian State
If you wanted points, North Carolina and Appalachian State fit the bill. The Tar Heels (+3) despite allowing 40 points in the fourth quarter, managed to win 63-61.
The teams scored 62 points in the fourth quarter and the total for the game was 57. UNC has serious pass coverage problems everywhere.
South Dakota State vs. Iowa
Iowa beat South Dakota State 7-3 and wasn't close to covering the -10.5 football odds or scoring a touchdown. That's correct, the Hawkeyes' points came on a field goal and two safeties. It was a highly entertaining game.
Florida State and LSU was a fun matchup. The Seminoles appear to be a much better team but have to improve their offense in the red zone.
LSU has a lot to fix and it might be midseason before we have a real read on them but what a wild ending.
MLB
Albert Pujols continues to amaze, coming off the bench yesterday to hit a two-run bomb to break up a scoreless game in the 8th inning against the Chicago Cubs. That was Pujols 695th homer with just over a month left, and with the way he's swinging the bat, 700 is not out of reach. Remarkable!
Arizona's Zac Gallen blanked Milwaukee Sunday giving him 6.0+ scoreless innings in six consecutive starts. That places him in unique company and Gallen's scoreless streak has reached 41 1/3 innings which is the eighth-longest run without a run allowed in baseball history.
---
Trendy Talk
---
MLB
Dodgers are 24-4 line off two straight home wins against division rivals.
Seattle is 13-3 after allowing four runs or less in six straight contests.
Milwaukee is 11-2 Over vs. an NL starting pitcher whose ERA is 5.90 or worse this season.
Michael Wacha and Boston are 9-1 when playing against a team with a winning record this season.
NFL
Buffalo is 7-0 Over in road games when the total is 49.5 or higher.
Cleveland is 6-15-1 ATS in Week 1 matchups.
Baltimore is 0-7 ATS as a favorite of 3.5 to 9.5 points.
Atlanta is 0-6 ATS in home NFC games.
NCAAF
Clemson is 0-6 ATS in September games the last two seasons.
UCF is 1-8 ATS after scoring 42 points or more in their last game.
Central Michigan is 9-0 ATS in home games after scoring 42 points or more.
Syracuse is 2-14 ATS off an upset win by 14 points or more.
WNBA
Chicago is 8-2 ATS in road games versus teams making 44% or more of their shots this season.
Seattle is 2-9 ATS revenging a home loss.
---
BMR's Betting Pulse
---
MLB
Make sure to review our top picks for moneyline, run line, and totals for Monday and Tuesday.
NFL
We start Week 1 looking into Thursday's beauty between Buffalo and the L.A. Rams. We also have our Early Week Value Picks and a look at the Sunday Night affair with Tampa Bay and Dallas and more.
NCAAF
Take a look at our preview and pick for the high noon showdown on FOX with Alabama at Texas.
This and Week 2 value plays to begin your week.
Tennis
U.S. Open tennis continues as we head towards the finals later in the week. Review all of our top tennis picks.
---
The Buzz
---
NCAAF – Random Stuff
Twitter was crucifying Notre Dame offensive coordinator Tommy Rees for his play-calling. If you watched the game, the Fighting Irish were trying to hang in and hopefully generate a turnover for a score. Could Rees have been more aggressive? Certainly, yet that style would likely have led to turnovers and a 20+ point win by Ohio State.
Let's watch the Irish offense in the coming weeks before passing judgment.
The Pac-12 is now 1-8 SU against the SEC in Week 1 and seven of the teams were ranked. Does Utah win at home over Florida? Likely, but that's not where they played.
The ACC didn't lose all their games Saturday, nonetheless, it was not pretty. The Tar Heels and N.C. State both should have lost and Boston College did at home, to Rutgers. (4-5-1 ATS) Definitely not the start this conference is looking for trying to keep up with the SEC and Big Ten.
---
Football Focus
---
NCAAF
Sixty quarterbacks switched teams in the transfer portal and 40 started in Week 1. With 131 teams, that is an enormous number.
Arizona vs. San Diego State
The two biggest disappointments of the weekend were San Diego State completely outplayed by what many thought was a mediocre Arizona squad, losing 38-20 as six-point home favorites.
Ex-Washington State QB Jayden de Laura was excellent for the Wildcats, but no excuses for the Aztecs, who were flat for the opening of their new stadium.
Boise State vs. Oregon State
Most know this already, but Boise State is not close to what it used to be. The Broncos were mistake-prone and were outplayed by Oregon State in losing 34-17 as two-point dogs. The L.A. recruiting connections of yesteryear have dried up.
NFL
Giving 7 points in Week 1 of the NFL season is very risky. Make those road teams handing out points and despite how good Baltimore and San Francisco are, do you really feel good about doing that?
---
Out the Door
---
MLB – Here Comes the Judge
Aaron Judge accounted for all 3 runs the Yankees scored in Tampa Bay in losing the series. Judge has 20 homers since the All-Star break and the rest of his teammates have accounted for only 30.
NCAAF – New Playoff System
The 12-team playoff college football has plenty of detractors already. Nevertheless, this opens up more chances for others and eliminates the possibilities of the Big Ten and SEC having six teams if the format was expanded to eight.
Plus, the best teams will not always win, making it more like March Madness.
Tennis – Farewell!
Thanks for everything, Serena!
---
Who Is Right?
---
With not much noticeable line movement in baseball today, we turn our attention to the college football odds. Though "officially" starting at -18.5, last week we saw Alabama favored at -16 over Texas. That line has now climbed to -20.5 and we are not sure that is finished. Would you back the Longhorns at +20.5 right now?
Have a great Labor Day!
Let's get some winners! See you back here Wednesday.