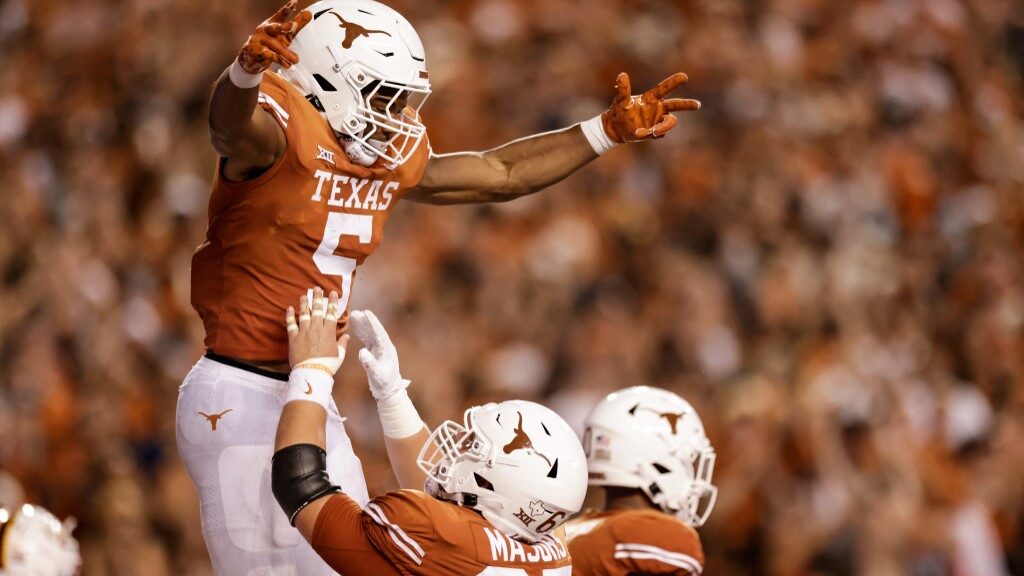 Next Saturday, Alabama makes a trip to the Lone Star State to take on the Texas Longhorns in Austin. This is one of the most important games of the season for Nick Saban and the Crimson Tide, especially as the Longhorns could feature a gamebreaker in running back Bijan Robinson.
Let's take a look at how Robinson could be a key player in this NCAAF Week 2 matchup as Alabama and Texas are set to collide at the Darrell K Royal-Texas Memorial Stadium at high noon.
PLAY NOW: $25,000 Free-To-Play NFL Contest: BMR's 2022 Pick'Em Pool Opens for Registration
---
Alabama Crimson Tide vs. Texas Longhorns
Saturday, September 10, 2022 – 12:00 PM EDT at Darrell K Royal-Texas Memorial Stadium
The Crimson Tide is a decided early -17 road favorite ( as of Sunday, Sept. 4) after whipping Utah State 55-0. Some SEC analysts believe this team could be as dominant offensively as Nick Sabin's championship club of two years ago and close to as strong defensively as those who won titles about a decade or more ago.
Standing in their way, possibly, is Texas and if there is someone that understands the current state of the Alabama football program, it is Longhorns' head coach Steve Sarkisian who did two different stints in Tuscaloosa (2016 and 2019-20), mostly as the offensive coordinator.
Sarkisian knows getting a shootout with Bama is the surest way to lose and probably by a wide margin. That's why using running back Bijan Robinson and others to control the clock and chains is the Longhorns' best bet to stay in the contest on FOX Saturday.
The Lowdown on Bijan Robinson
The 6-0 220-pound Robinson is a junior and last season was a Doak Walker semi-finalist. Online betting sites listed him with around the 10th-best betting odds to win the Heisman Trophy this season.
He has the rare ability to read blocks moving laterally and go at top speed three steps later when going forward. In the truest sense, he's a pure running back, with flexible hips that allow him to dip and return to upright without losing speed.
Robinson has shown good hands at Texas and if there is a knock on this possible first-round draft pick is that he doesn't have breakaway speed. However, there are many busts in Canton, OH of running backs that were not the fastest guys on their team.
Figuring Out the Crimson Tide Defense
Coming into 2022, Alabama was thought to have the best linebackers, secondary and top 5 defensive line in college football.
Maybe Tom Brady, Cooper Kupp or former Tide running back Derrick Henry might have success against Nick Saban's defense, but even that trio would need some help.
Texas will need to be very creative to solve the Crimson Tide's defense and the NCAAF odds.
Robinson's Role Has to Be Diversified
It was hard to learn much about the Longhorns last week, as they routed a terrible UL-Monroe squad 52-10 as 37.5-point home favorites. Robinson was sparingly used with only 10 carries and three receptions, gaining 71 yards rushing and adding 40 more yards receiving.
Chances are Texas will not just be able to line up and go right at this stout Alabama defense for four quarters.
That's where Sarkisian will likely assemble a game plan that features Robinson in traditional offensive sets but also uses him in different ways.
How to Use Robinson?
This would include split backs with a quick pitch to the strong side of the formation, looking to have Texas offensive linemen engage with the Bama defense and let Robinson try and find a running lane.
Or a trick would be draws or counter-move, where Robinson takes a false step to the left or right and with a pulling guard going the opposite direction of Bijan's initial move, trying to have the Tide's defense overcommit on their initial read.
Getting the ball to Robinson in the pass offense is imperative. This should include wheel routes away from two or three receivers' formation to create one on one coverage. Or, fake draws and let him read the linebacker going left or right, depending where the Bama runner's hips are turned and go opposite to catch a pass.
Texas Needs Superior Effort From Their QB
QB Quinn Ewers is the key to Robinson having a gamebreaker day. If he's on target and moving the chains and hitting a few deep passes, Robinson is a factor all game long.
The other aspect is the Texas defense has to stop Alabama enough to stay within 10 points, so the Longhorns can use their full game plan. If the Horns trail by 17 or more, that probably forces them to throw the ball which curtails Robinson's effectiveness.
If Texas plays their A-Game and can get Saban's crew off-kilter, Robinson can be a difference-maker and the Longhorns could cover for your NCAAF picks.