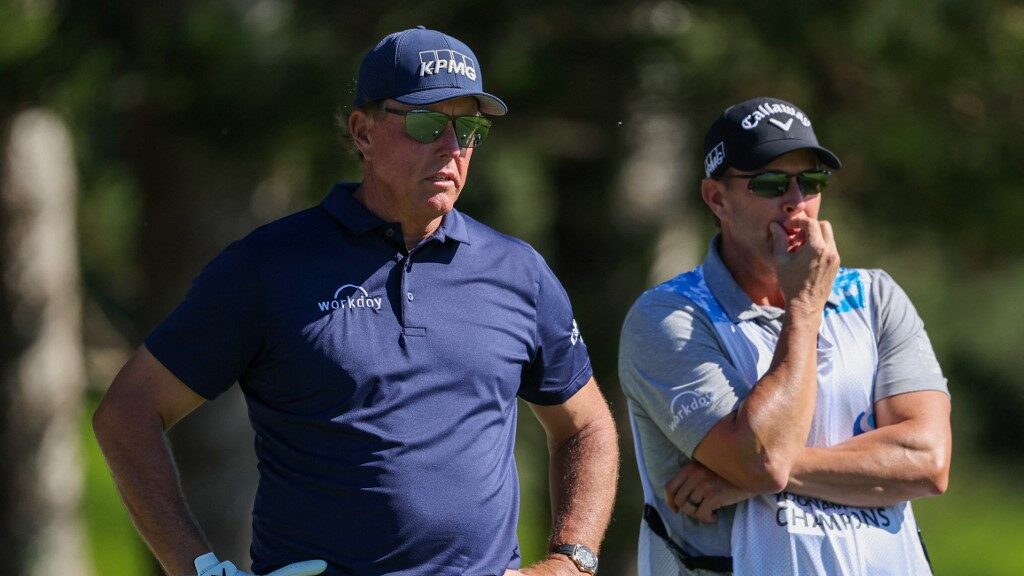 It was another fascinating night in sports and we have it covered top to bottom. We also have news on the PGA Championship and who the favorites are and reports of drowning your sorrows about golf bets won't come cheap. This plus an incredible story about Phil Mickelson you have to read.
About Last Night…
It seemed stunning that Boston held an eight-point halftime lead over Miami on the road playing without Marcus Smart and Al Horford. Evidently, the Heat thought the same thing and issued a 39-18 third quarter beatdown on the Celtics and cruised to a 118-107 victory as four-point favorites.
Jimmy Butler had an amazing 41 points (without making a three), 9 rebounds, 5 assists, and 4  steals. That's what Clark Kellogg calls a "stat sheet stuffer".
By now, most hockey fans outside of Tampa/Clearwater are tired of seeing the Tampa Bay Lightning in the playoffs. After a seven-game series with Toronto and winning the finale on the road, Tampa Bay figured to lose the series opener at in-state rival Florida. Though the Lightning did not have a lot of life, they were tied after two periods.
An early third-period goal added a spark to Tampa Bay and two power-play goals later they were +140 road winners at 4-1.
St. Louis played an outstanding contest at Colorado, before falling 3-2 in OT as +180 road dogs. Looking forward to seeing how both clubs play Thursday.
For Boston's Nathan Eovaldi, he's in the record books for all the wrong reasons. Eovaldi permitted five home runs in an inning against Houston, becoming just the third hurler ever to do so. That was the Astros 13th win in 15 tries.
Orlando was the winner of the No. 1 pick in this year's NBA Draft followed by Oklahoma City, Houston and Sacramento.
Trendy Talk 
NBA
Golden State is 19-10 UNDER teams outscoring their opponents by 3+ points a game this season. Read More
Boston is 15-4 ATS off a road loss by 10 points or more. (Thursday)
NHL 
NY Rangers are 11-2 after allowing three goals or more in three straight games this season.
Edmonton is 14-1 after allowing one goal or less in their previous game.
Tampa Bay is 8-1 in road games in the second round of the playoffs the last three years. (Thursday)
Colorado is 10-1 at home versus teams outscoring their opponents by 0.5+ goals a game. (Thursday)
MLB 
Arizona is 2-28 in road games vs. an NL starting pitcher whose WHIP is 1.25 or better.
Chicago White Sox are 2-11 (-11.4 Units) after batting .225 or worse over a five-game span.
Seattle is 12-0 OVER after scoring two runs or less in two straight games. What do our experts think?
Boston is 14-4 UNDER after a loss.
Logan Webb and the Giants are 10-0 as a favorite of -125 to -175.
WNBA
Chicago is 2-11 ATS after playing three consecutive games as a favorite.
Must-Watch TV
NBA 
The Western Conference Finals commence tonight and all eyes will be on Luka Doncic to see if he can continue his magic. Review today's free picks and return Thursday to find out about Game 2 with Boston at Miami.
NHL 
Tonight, the Battle of Alberta begins with Edmonton at Calgary. Also, the New York Rangers head south to Carolina to do battle with the Hurricanes. Tomorrow, we have a pair of Game 2's and Florida and St. Louis will be after victories.
MLB 
Today we are covering to see if the Blue Jays can sweep the Mariners, who takes the rubber game between Houston and Boston, and will San Diego go up 2-0 on Philadelphia? See what our experts think and return Thursday to find our selection in the battle of the Lone Star State, the Astros vs. the Rangers.
Note: Review all our popular prop plays in all the sports.
The Buzz 
On Thursday we have the second major on the golf schedule, the PGA Championship from Southern Hills in Tulsa. The Top 5 favorites are Scottie Scheffler +1100, Jon Rahm +1400, Justin Thomas +1600, Rory McIlroy +1600 and Jordan Spieth +1800. Scheffler and Spieth are the hottest players coming in.
If you are looking for a longer shot, Shane Lowry and Max Homa could be worth a look at least for Top 20 wagers.
And if you have not heard, Michelob Ultra and Stella Artois are going for $18 or $19 on the course. We heard they are 25-ounce cups but come on!
After not allowing a run in his first 12 relief appearances, Aroldis Chapman has given up one run in each of his last four outings. Last night was especially costly for those who had the Yankees on the run line. Chapman got the first two out with ease against Baltimore with a 5-3 lead, he next allowed three straight singles.
Of course, he retired the next batter, not giving baseball bettors a shot in extra innings.
Out The Door 
The gambling saga of Phil Mickelson continues and it's not getting better for him with a forthcoming book, "Phil: The Rip-Roaring (and Unauthorized!) Biography of Golf's Most Colorful Superstar" by Alan Shipnuck.
Jim Nantz talked about Phil and being in the same fantasy football league with him. "The best story is from 2020," Nantz said. "Phil had Alvin Kamara as his running back when he went for six touchdowns in Week 16. That gave Phil such a commanding lead in the standings it was a virtual certainty he was going to win the title. I'm talking a 99.999 percent probability."
"He sent out an email to the whole league, gloating. I mean, he went on and on, really laying it on thick. Well, the team that was in second place had Josh Allen as their quarterback, and in the last game of the season, on Monday night, Allen went for 39 points and Phil lost the title by one point."
Nantz went as far as to say he believed the loss even showed up on the golf course. "He was crushed," Nantz said. "Absolutely devastated. He took it so hard I honestly believe it affected his play on the West Coast swing."
Mickelson's string of results following the fantasy football loss give a bit of credence to Nantz's theory — in his first three tournaments of the new year, Mickelson had two missed cuts and one T53 finish. (This Nantz story appeared in Yahoo Sports)
While this book won't help Lefty, the Billy Walters book (legendary gambler), who went to jail in part for insider trading, allegedly passing along information to Phil when they played golf, which Phil told the feds, could be the most damaging.
At 1:30 pm Eastern, the Yankees, Blue Jays and Angels all had better than 90 percent of the money and bets backing them for Wednesday.
Let's get some winners, see you back here Friday.