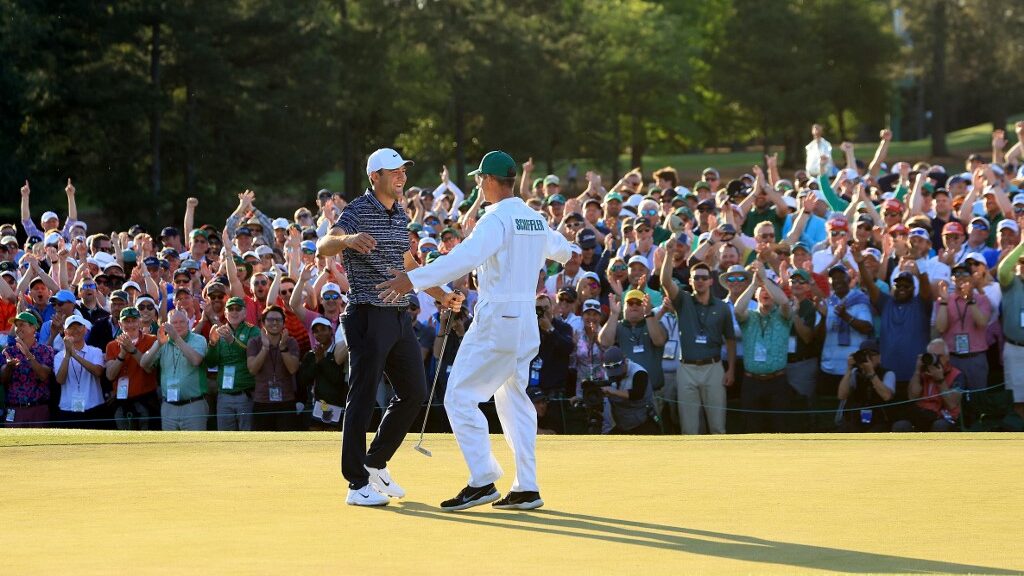 Scott Scheffler won The Masters and is the best player in the world right now. Learn how much money he's made in two months. Four days in the books for MLB and it's already starting (chaos). The NBA Playoffs begin Tuesday, what you need to know.
About Last Week…
Congrats to Scott Scheffler for becoming the 4th player, 25 years of age or younger to win The Masters in the last 40 years. At last look on Wednesday, his betting odds were +1400 to win. That's Scheffler's fourth win in six starts covering 57 days. He had not won a tournament as a PGA Tour player before that. That's 8.4M collected in that span.
Patience paid off for tournament golf bettors backing Rory McIlroy. After opening at +2 thru 36 holes, Rory went nine under the rest of the way to finish second and if you had him for a Top 5 or Top 10, you got paid. How were your weekend bets?
The craziness of baseball was on full display Saturday and Sunday. It started on Saturday with UNDERs 13-1-1 and the next day it was 9-5-1 OVER. Next, through two games, Cleveland, Minnesota, and Pittsburgh had a grand total of seven runs scored. On Sunday, collectively, they tallied 36 total runs, highlighted by 17 by the Indians, whoops, the Guardians.
After just four days of a new MLB season, Tampa Bay remains unbeaten and Baltimore winless.
TRENDY TALK 
NBA
Brooklyn is 2-13 ATS in home games versus teams making 46% or more of their shots this season. (Tuesday)
L.A. Clippers are 1-11 ATS revenging a straight-up loss as a home favorite this season. (Tuesday).
Atlanta is 10-2 ATS in home games playing against a team with a winning record in the second half of the season. (Wednesday)'
San Antonio is 25-11 UNDER as an underdog of 3.5 to 9.5 points. (Wednesday)
 NHL 
Montreal is 1-11 in home games revenging a road loss by two goals or more. We have some great player props.
Anaheim is 0-14 revenging a loss of two goals or more. (Tuesday)
Nashville is 8-0 after three consecutive non-conference games. (Tuesday)
MLB
Seattle is 11-3 (+13.1 Units) vs. AL teams allowing 3.9 or fewer RPG the last two seasons.
Colorado was 6-31 in road games in the first half of the season last year. (Applies Today)
L.A. Angels are 15-1 OVER vs. an NL team with an on-base percentage of .315 or lower the last two seasons.
Baltimore was 11-33 against the RL after allowing eight runs or more in 2021. (Applies Today)
Arizona was 0-10 in home games against AL West opponents in 2021. (Tuesday)
Must-Watch TV
NBA
The NBA postseason Play-In games are set. On Tuesday, Brooklyn and Minnesota look like they  should advance to be the 7-seeds officially but will they cover their respective points spreads?
NHL 
Just one game with Winnipeg at Montreal. The Jets just about have to win out to have a chance to reach the playoffs. The last 16 meetings are 8-8 and the home team is 4-4 in these matchups. On Tuesday, a whopping 14 encounters, with several playoff implications.
MLB
Just two teams have their home openers on Monday and three more on Tuesday. One series we will be closely following is San Diego at San Francisco on the first two days of the new week at BMR. Both teams won their opening series. So did the Mets and Phillies and they open up a series on Tuesday.
The Buzz 
We told you last week we would have the odds to win the NBA title. Courtesy of Bovada (visit our Bovada Review).
2022 Championship Winner
Phoenix (+260)
Milwaukee (+500)
Brooklyn (+600)
Boston (+800)
Golden State (+900)
Philadelphia (+1100)
Miami (+1200)
Memphis (+1500)
Dallas (+2800)
Denver (+2800)
Utah (+2800)
L.A. Clippers (+4000)
Toronto (+8000)
Chicago (+10000)
Minnesota (+10000)
Atlanta (+20000)
Cleveland (+25000)
Charlotte (+50000)
New Orleans (+100000)
San Antonio (+100000)
Remember, only twice in NBA history has a team not seeded 1, 2, or 3 won the title.
Eastern Conference Winner:
Bucks (+250)
Nets (+300)
Celtics +400
Western Conference Winner:
Suns (+110)
Warriors (+450)
Grizzlies (+600)
We should not overreact to baseball but Cody Bellinger of the Dodgers is completely healthy and had two hits at Coors Field. Not good. Also, Julio Urias's average fastball was 91.4 MPH Saturday, down from 94.1 in 2021. He threw 200 innings last year and had never come close to that figure before. Just sayin'.
Out The Door 
The Boston Celtics ended the season 51-31 and the No. 2 seed in the East. At the halfway point they were 20-21 and closed 31-10 SU, which broke the previous record for most wins by a team with a losing record at midseason. Since March 1st, the Celtics are 13-4-1 ATS.
Baseball bettors are pounding the OVER's for the Mariners at Twins and Brewers at Orioles, with both the cash and tickets over 80%. Milwaukee is also past 85% in both categories to beat Baltimore in their home opener. (At 12:45 pm ET)
Additionally, more than 82% of tickets are on the OVER for the Blue Jays and Yankees, yet, just over 50% of the cash is on the UNDER. (sharp action)
This past weekend, I tuned in to Dan Shulman and Buck Martinez who do the Toronto Blue Jays games. They are professional, entertaining, and informative, among the best in baseball. Martinez, who was a former major league catcher said something I had not heard but is great to know. "The reason catchers now catch with one leg out is, in part, it is easier to frame pitches low in the zone they could move to strikes." Who do you like this afternoon?
Let's get some winners, see you back here Wednesday.