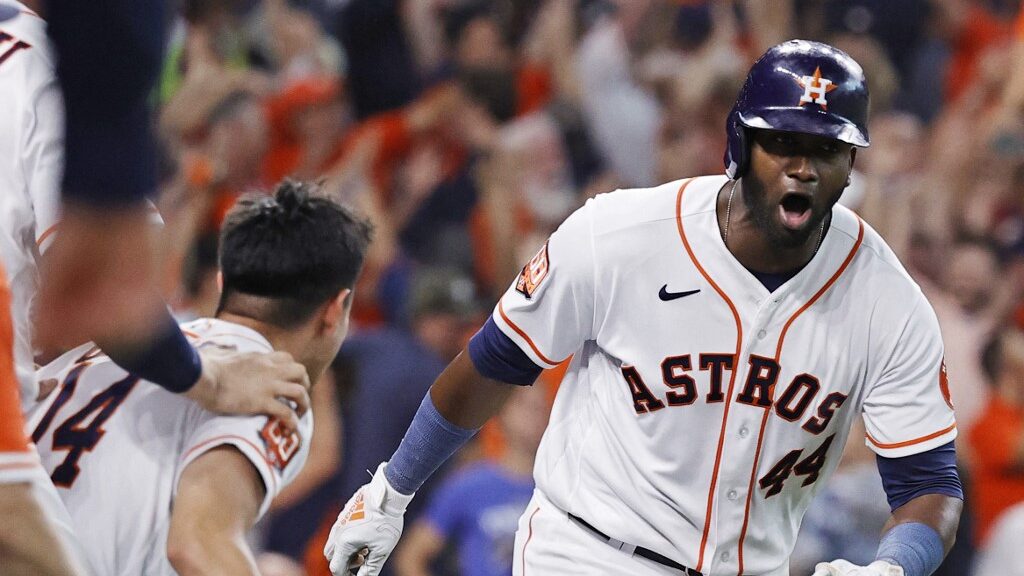 The next round of the baseball playoffs started and there were two thrilling games. We talk about those and wonder if the oddsmakers are going overboard on low totals.
On the topic of low, the NFL scores are trending downward and we provide the facts and offer reasons why this is happening.
This Saturday could be epic for college football with the quality of the games, as we show you. This and all the top trends of the day or for upcoming contests.
---
About Last Night…
---
MLB Playoffs
The only underdog to win was Philadelphia, 7-6 at +170 to +180, depending on the sportsbook. The Braves' Max Fried was throwing down the middle pitches and Phillies hitters were not missing them. Atlanta has to be encouraged they roughed up the Phils bullpen, which is without closer David Robertson, who pulled a calf muscle when celebrating the series win over St. Louis.
Seattle had Houston beat, but yet again, a team plays one way for 162 regular season games and changes in the postseason. Up 7-5 with two outs and two Houston runners on base, Mariners manager Scott Servais didn't trust any reliever to face the dangerous Yordan Alvarez and turned to Robbie Ray, who had made six prior relief appearances.
Alvarez smashed Ray's first pitch into the upper deck for a walk-off winner. That was the Astros' first win in 49 tries in the postseason when trailing by more than a run after eight innings. Houston backers went "whew", surviving a -220 wager.
The New York Yankees and Los Angeles Dodgers held serve and also covered the run line betting odds in their Game 1's.
NHL
Though it was not the same feeling, the New York Rangers (-130) got a measure of revenge in knocking off Tampa Bay, after losing in the Finals to the Lightning after having a 2-0 series lead.
---
Trendy Talk
---
MLB
Atlanta is 16-4 after two or more consecutive losses this season.
Clayton Kershaw and the Dodgers are 58-13 vs. an NL team with a batting average of .250 or lower in the second half of the season in his career.
Houston is 43-13 in day games this season. (Thursday)
Cleveland is 30-12 UNDER after allowing four runs or less in five straight games. (Thursday)
NFL
Chicago is 15-4 ATS off two consecutive road losses. (Thursday)
Atlanta is 3-18 ATS at home after three or more consecutive wins against the spread.
Carolina is 0-8 ATS playing against a team with a losing record.
Dallas is 10-1 ATS in road games the last two seasons.
Atlanta is 2-11 ATS in home games against conference opponents.
NHL
Edmonton was 29-9 vs. division opponents last year.
Chicago was 5-21 vs. division opponents last year.
Montreal was 11-30 in home games last season.
NCAAF
Louisiana is 10-1 under against conference opponents. (Wednesday)
Baylor is 9-2 ATS after covering the spread in two out of their last three games. (Thursday)
Navy is 8-1 ATS vs. teams scoring 34 or more points a game. (Friday)
Syracuse is 13-1 ATS at home after gaining 300 or more rushing yards.
Penn St. is 2-18 ATS vs. teams who give up 12 or less points a game.
Memphis is 0-8 ATS in road games after the first month of the season since 2020.
---
BMR's Betting Pulse
---
MLB
The Divisional Round of the Playoffs continues with Game 2's the next two days. We will have the action followed from the start to the finish with free picks.
NFL
We have a Thursday battle (?) between Washington at Chicago to start Week 6. We also let you know who is on Upset Alert, our Best Bets, along with Last Chance Value Picks, which arrive Thursday!
And you won't want to miss the breakdown of the anticipated skirmish between Buffalo and Kansas City.
NCAAF
Tonight we have a Sun Belt clash you can wager on along with two more contests Thursday!
Everyone in college football will be talking about Alabama vs. Tennessee, Penn State vs. Michigan, and Oklahoma State vs. TCU.
We have those broken down plus Best Bets, and many other top games previewed.
NHL
On Wednesday we have a twin bill on TNT with Boston at Washington and later Chicago at Colorado. On Thursday we have a big 10-play card.
Note: Don't forget to review all our popular prop plays in all the sports.
---
The Buzz
---
NCAAF
This Saturday is going to be an amazing day in college football with so many great games.
How amazing you ask? Check it out.
MLB Playoffs – Under's Overvalued?
Three of the four Divisional Round games went OVER Tuesday. For Game 2's, three of the four matchups are 7 or lower for totals, yet, six of the eight best offenses in baseball are still playing.
Great pitching can stop great hitting, but we wonder if the team(s) is hitting the ball well?
NFL – Davante Adams Charged With Assault in Kansas City
Adams was charged after pushing a photographer while leaving the field in the Chiefs' Monday night win against Las Vegas.
You can make your own decision on this, but here is a different view that might explain the situation better.
---
Football Focus
---
NFL – From The Twitter (It's Joke, like Your Grandparents Talk)
Underdogs 48-31-1 ATS
Totals – Unders: 47-33
Division Games – 20-7 under
Prime Time Games: 11-4 under
Why is scoring down? Defenses are playing a lot of Cover 2 (two deep safeties) to prevent deep passes. Offensive coordinators are taking what is given and running the ball more and using several different kinds of screens.
This means you have to drive down the field and the clock is running, shortening games which leads to lower scores.
NCAAF – Biggest Line Moves
Temple +26 to +23.5 vs. UFC (Thursday)
SMU -10.5 to -13 over Navy (Friday)
Florida State +6 to +3.5 vs. Clemson
Arkansas +2 to -1.5 over BYU
Texas -14 to -17 over Iowa State
NFL – Biggest Line Moves
Commanders/Bears Total 40 to 37.5 (Thursday)
Buccaneers -6.5 to -9 over Steelers
Jets +10 to +7 vs. Packers
Bills Pick to -3 over Chiefs
---
Out The Door
---
Football – One More Thing on Lower NFL Scores
It should also be noted that offensive coordinators are calling bad plays. How often do you see a 3rd down and 8-yard pass play thrown for five yards? All the time. If you need eight yards, why not design a nine-yard pass play?
Also, how many times have you seen this? It's 4th and one or two yards and a 25-yard pass attempt down the sidelines that goes incomplete. Low percentage try. There are 20 better plays in every team's playbook to pick up a yard or two.
MLB Playoffs
The Phillies with a hot Zack Wheeler would seem to have a heck of a chance to go up 2-0 on Atlanta. Nonetheless, as the trend shows above, the Braves have bounced back all year.
---
Who is Right?
---
Here we are just the second day of the NHL season (we know the games in Prague counted) and Colorado is a Big Gulp-size -400 money line favorite over Chicago at home.
Bets are running in the low 90s percent on the Stanley Cup champs and the cash is in the upper 90s. Seeing as it is the first game of the year for both clubs, would you dare make a wager on the Blackhawks at +325 or take them on the puck line (+1.5) at +135?
Let's get some winners! See you back here Friday.