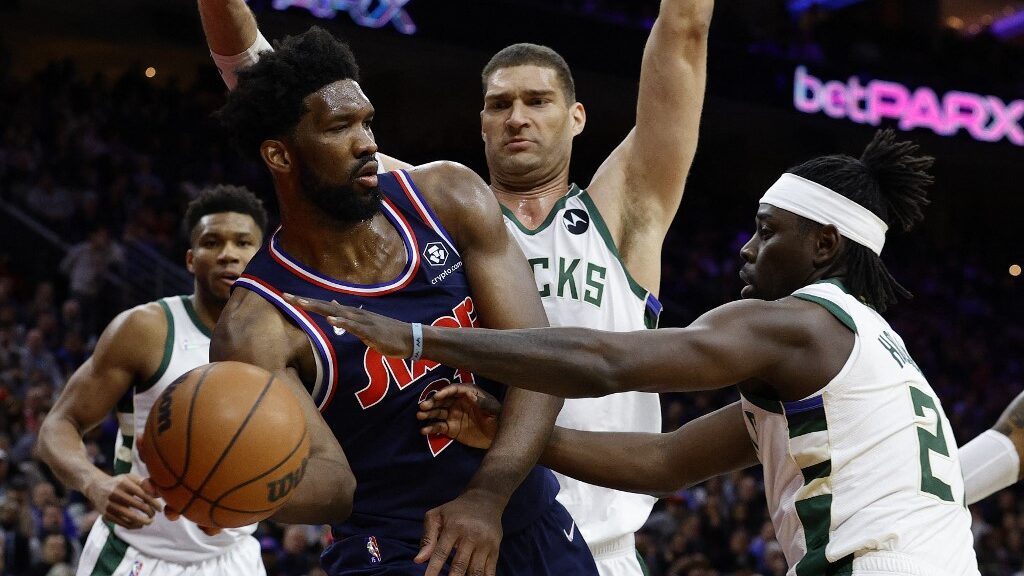 The NBA races are boiling hot, especially in the Eastern Conference. Also, more Spring Training thoughts, and some sharp trends.
About Last Night…
The Milwaukee Bucks went into Philadelphia, outscored them by 10 them in the fourth quarter and escaped by two over the 76ers as one-point underdogs. If Boston defeats Miami tonight, the Bucks take out the top seed in the East, even for just a day.
Paul George returned for the Clippers to lead a 25-point comeback for L.A. in overtaking Utah in the last stanza, outscoring them by 18 in the final dozen minutes to win by five. The Clips are locked in at the 8th slot in the West and George gives them a much better chance to win.
Xavier and Texas A&M jumped to early leads in the NIT semifinals and pulled away. That sets up a fun matchup on Thursday for the championship game.
Trendy Talk 
 NBA   
Phoenix is 13-1 ATS revenging a loss. Read our matchup prediction and make some money.
Oklahoma City is 22-6 ATS versus teams forcing 13 or less turnovers a game this season.
Miami is 10-0 ATS in road games having lost three of their last four games since last season. Look at our picks and make some money on this game.
Minnesota is 19-2 OVER after allowing 130 points or more.
L.A. Clippers are 12-0 UNDER revenging a blowout loss of 20 points or more the last three years.
NCAAB
Fresno State is 6-0 ATS in road games after failing to cover four of their last five against the spread. (Thursday)
Texas A&M is 8-0 ATS versus foes making 45% or more of their shots this season. (Thursday)
NHL
Winnipeg is 0-9 in road games after playing a game where four or fewer total goals were scored this season.
N.Y. Rangers are 13-2 playing against a bad team (Win Pct. 25% to 40%) this season.
Seattle is 14-4 OVER after a division game this season.
Must-Watch TV
NBA 
Miami heads to Bean-Town to face Boston, after ending their 0-7 ATS streak. The Heat will look to cool down the white-hot Celtics who have won 22 of 26 and are 17-8-1 ATS in that stretch. That's the first encounter on ESPN, the second game is Phoenix at stumbling Golden State. The Warriors are on a 1-6 SU and ATS downturn, while the Suns' offense is clicking, having shot 50% or higher in nine games in a row.
NCAAB
On Thursday we have two tournament championship games. NCAAB odds have Fresno State favored to win the Basketball Classic at Coastal Carolina. The NIT title tilt has Texas AM favored and these angry Aggies are out to prove they were Big Dance worthy. Not lost on us, Xavier fired their head coach and the Musketeers started playing to their potential.
NHL 
Calgary leads the Pacific Division but directly behind them is Los Angeles and Edmonton, who are in a terrific battle for 2nd place. The Kings are ahead by two points, yet, they have played an extra game. For what it is worth, the visitor has taken three straight.
The Buzz
The NBA Eastern Conference has four teams at the top within a game of each other in the loss column. Miami, Milwaukee, Boston and Philadelphia could finish first to fourth. The next 12 days will be fascinating and those making NBA picks better have their A-Game checking these teams out.
If you didn't hear, Cleveland owner Jim Haslem has gotten a "cool reception" from fellow owners for signing Deshawn Watson to a fully guaranteed contract. Haslem's risk has likely changed all future larger contracts.
In Spring Training news from Arizona, I went to see San Francisco and Milwaukee. The pitching matchup was a good one with Logan Webb for the Giants and Corbin Burnes for the Brew Crew. Webb didn't have it, unable to spot pitches and allowed four runs, six hits (2 HR's), and walked two in five innings. Having never seen Burnes in person, sat behind the plate and he was devastating with eight punchouts in five innings, giving up a run and one hit. His cut fastball is lethal. Wondering how to make winning picks for MLB? BMR's community can help!
Milwaukee looks like an OVER play against the betting odds for season wins at 91.5. No opinion on San Fran, but crazy their win total is 85.5 after winning a franchise-best 107 games in 2021.
The Nuggets and Suns are both over 80+ percent to cover on Wednesday night in The Association as of 1:00 EDT.
Out The Door 
Not unexpectedly, New York, New Jersey and Nevada were the top three states in reported gross revenue in February. Somewhat surprising to see Indiana 6th.
As of this moment, the Lakers are out of the NBA playoffs. In truth, no need to make the postseason to play a game or two. Instead, keep LeBron, tell him the other old guys are going and that the franchise is starting over.
At least one of us likes the new NFL rule for overtime.
Let's get some winners!