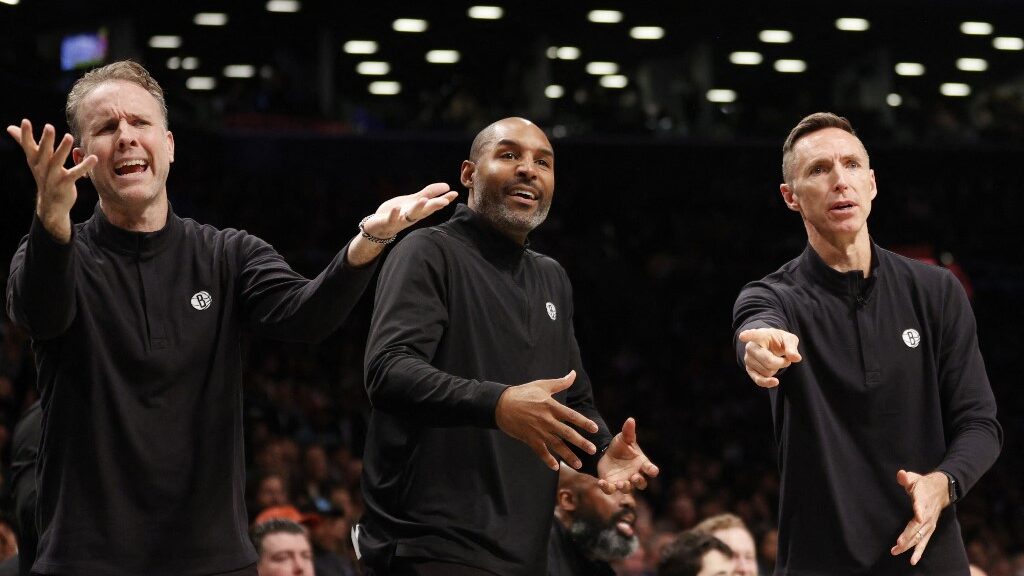 It was a wickedly fun night watching the NBA Play-In games and as expected, they were right around the sportsbooks number. More stomach churning tonight for us studying the betting odds. Plus, a major league record set and more!
About Last Night…
After taking a 40-20 lead over Cleveland, it was inconceivable Brooklyn would fail to cover again at home, yet they did. The Nets were never in serious danger of losing, but they let up and the Cavs kept coming and Brooklyn fell to an unimaginable 5-27-1 ATS as a home favorite.
The Clippers had Minnesota beat, up 10 in the fourth quarter and Karl-Anthony Towns fouls out. At that moment it seems like the Clippers thought they won and the Timberwolves decided to play harder. Minnesota started running and gunning and got super aggressive on defense and Los Angeles was not up to the challenge. Amazingly, the Clips not only failed to win but did not cover the +3 either.
Never heard of Cleveland Guardians rookie outfielder Steven Kwan? You are not alone. But he's doing things nobody has ever done, like getting on base 18 times in the first five games of his big league career. (Major League record) And going into today, he had not swung and missed! Crazy!
Trendy Talk 
NBA
Atlanta is 10-2 ATS in home games playing against a team with a winning record in the second half of the season.
San Antonio is 25-11 UNDER as an underdog of 3.5 to 9.5 points. Take a look at our winning picks.
NHL
Los Angels is 10-1 UNDER revenging two straight losses where the opponent scored three or more goals.
Minnesota is 28-6 after playing a home game. (Thursday)
Boston is 14-1 after two or more consecutive losses since last year. (Thursday)
MLB
Arizona is 2-29 after scoring one run or less AND 0-11 in home games against AL West opponents the last two seasons.
San Francisco is 40-9 vs. a team with a bullpen ERA of 4.70 or high since last year.
Detroit is 14-1 UNDER in home games after batting .225 or worse over a five-game span since 2021.
Baltimore is 22-8 UNDER in April games since last season.
Logan Webb of the Giants is 14-1 at home when the total is 7 to 8.5. Are player props your speed?
Must-Watch TV
NBA
Charlotte and San Antonio are 5.5-point road underdogs on Wednesday night and if they fail to win their season is over, and Atlanta and New Orleans will play on Friday. Who does what tonight?
NHL 
Los Angeles got a big win yesterday at Chicago to stay in 3rd place in the Pacific Division but drew a rugged assignment at Colorado Wednesday. For Thursday, a dozen games on the schedule, and we'll have a hot parlay pick.
MLB
The Blue Jays and Yankees have shut out each other to start their four-game series. Whoever wins tonight, will be in a position to win the series. See what our expert thinks about tonight's matchup! Oakland beat Tampa Bay Monday and pushed them again Tuesday, losing by just one run. What happens on Hump Day?
The Buzz 
Owner Daniel Snyder is in big trouble with the NFL and the US government for allegedly holding back money owed to other teams and for other unprofessional behavior. This story will only get bigger and the Commanders' coaches and players will be asked what they knew.
With so many day games on Wednesday, it is impossible to talk in detail about certain situations. However, we are intrigued to see how former Boston pitcher Eduardo Rodriguez does against his old team, now wearing a Detroit uniform. Just before the first pitch, E-Rod and the Tigers were +125 underdogs.
Three-quarters of the betting public see the Blue Jays vs. Yankees as an OVER play. Sharp money is calling for another UNDER with Jose Berrios taking on Gerrit Cole.
Out The Door 
Remember J.T. Daniels, who was supposed to be Georgia's starting quarterback last year, got hurt again just like he did at USC? Well, he's on the move again, this time to West Virginia. He was listed as the No. 6 recruit coming out of high school in 2018. Quite a journey.
One of the most popular bets this baseball season is OVER/UNDER first inning. We have not seen any results, just more talk about it on social media.
Philly fans might be the toughest to please in sports, but if you play hard, give it your all, acknowledge your mistakes and keep grinding, they will respect you. Phillies' third sacker Alex Bohm made three errors Monday and was roundly booed. He was shown saying "I F'N hate this place." Here is what happened when he came to bat Tuesday.
The Las Vegas Raiders just extended QB Derek Carr's contract. Will that make the Raiders better in the new future?
Let's get some winners, see you back here Friday.