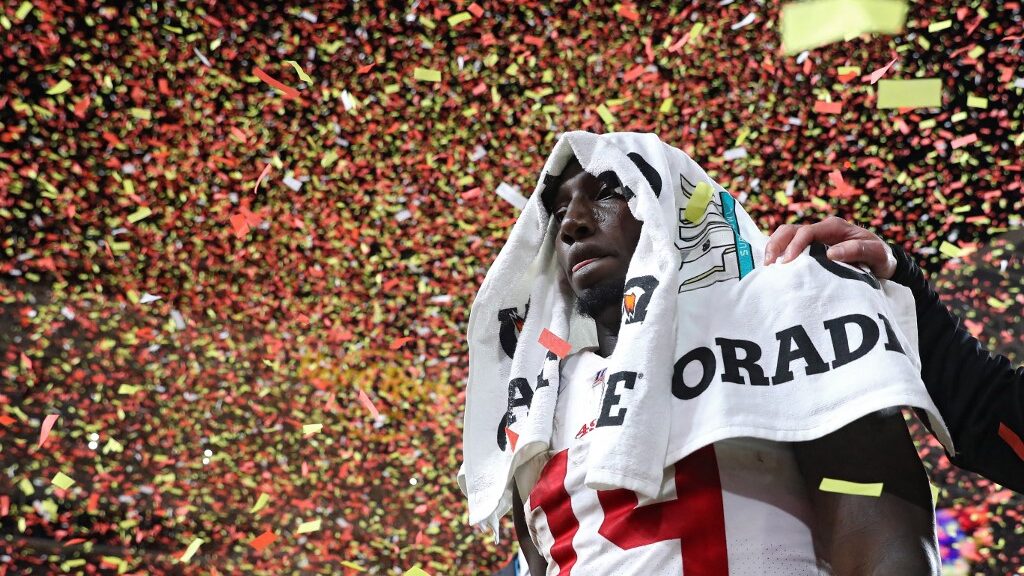 It was fun Thursday night in the NBA, with all sorts of happenings. Depending on what side you were on, you went to bed happy or sad. For the weekend, loads more of NBA Playoffs, plus NFL receivers wanting to get paid and more.
About Last Night…
In all honesty, we think the word "choke" is used far too often. Nonetheless, after watching Minnesota, we cannot think of another word to describe what we saw. The Timberwolves had a first-half lead of 26 points that was cut to seven at halftime and built it back to a 25-point lead in the third quarter.
Seeing the T-Wolves were two-point home underdogs, with two such leads, they were golden until they were not. Teams leading by 25 points in the NBA postseason were 380-8 SU. Make that 380-9. Minnesota scored 48 points over the last 34:30 minutes of the contest, which included two 12-point quarters.
With two minutes left they visibly quit, in what was, at least by this writer's memory, the dumbest playoff basketball ever seen.
Enough negative talk, what a great showing by Dallas. The Mavericks' defense was not special, as Utah shot 56.2%, but they outscored Utah by 27 points from behind the arc for the upset. Quite a display for an 8.5-point road underdog.
Denver played a fantastic game, but when it mattered at crunch time, Golden State came through to win and cover to grab a 3-0 series lead.
If you think baseball players act like tough guys who talk and do nothing when the benches empty, hit Google using – Portland Sea Dogs vs. Binghamton Rumble Ponies fight – you won't be disappointed.
Trendy Talk
NBA
Atlanta is 11-2 ATS in home games when playing against a team with a winning record in the second half of the season.
Milwaukee is 15-6 UNDER when the line is +3 to -3. What's the Sharp Pick for this game?
Phoenix is 14-3 ATS when the line is +3 to -3 this season.
Utah is 0-9 ATS after trailing in their previous game by 15 or more points at the half. (Saturday)
Brooklyn is 13-5 UNDER at home when the total is 220 to 229.5. (Saturday)
Memphis is 14-5 ATS after scoring 105 points or less. (Saturday)
NHL
Washington is 28-6 as a road favorite the last two seasons.
Minnesota is 21-3 in home games off a win. Get on some player props.
Florida is 16-1 as a home favorite of -200 or less this season. (Saturday)
Anaheim is 0-11 when playing against a marginal winning team (Win Pct. 51% to 60%) in the second half of the season. (Saturday)
MLB
Atlanta is 48-20 after scoring two runs or less since 2020.
Toronto is 33-10 UNDER on the road when the money line is +125 to -125.
Minnesota is 4-18 against the run line after two straight games where the bullpen gave up no earned runs
Chris Flexen and Seattle are 10-0 vs. teams whose hitters  draw three walks or less a game since last season.
Must-Watch TV
NBA
Three uniquely different storylines in Friday night action. Can the Hawks beat Miami to make it a series? Will Milwaukee and Phoenix be able to overcome star players' injuries tonight and Sunday?  
NHL
It is the last weekend of the regular season and there are important matchups and betting opportunities to follow each day.
MLB  
We have three series of note this upcoming weekend and look for free picks for Friday and Saturday. The matchups are the Blue Jays at Astros, Red Sox at Rays and two hated rivals, the Dodgers at the Padres. On Sunday, watch for our selection on the ESPN night affair, Milwaukee vs. Philadelphia.
The Buzz
San Francisco's Deebo Samuel says he wants out of Frisco. Sound familiar? With wide receivers getting paid big money, guys like Samuel and A.J. Brown (Titans) want to be paid before the final year of their rookie contract. NFL players are showing they have more leverage than ever.
The UK is further tightening its gambling advertising through government regulations. What will it mean, a further decline in advertising to the public and fewer free play wagering. The impact will mean little because bettors are going to bet.
All three NBA road teams tonight are favored, despite Phoenix and Milwaukee missing important players. For money wagered, the preference of teams read this way; Bucks, Suns and Heat.
Two curious baseball betting odds worth following:
Yankees/Guardians Total – Cash 84% OVER / Bets 51% UNDER
Brewers/Phillies Total – Cash 60% OVER / Bets 69% UNDER
Also, the White Sox are getting over 90% support on money and wagers to take down the Twins.
Out The Door  
It should be another fascinating weekend of NBA Playoff betting. With each game, the best team is being established.
For golf bettors, Xander Schauffele and Patrick Cantlay combined for a 13-under par 59 on Thursday in the four-ball first round of the Zurich Classic of New Orleans, the only two-man team event on the PGA Tour. They were among the Top 3 favorites going in.
USFL starts Week 2 and last week favorites were 3-1 ATS and UNDER was 3-1. Curious to hear about TV ratings and handle for this week.
Next week, we'll have NFL Draft talk. And we promise, no mock drafts.
Let's get some winners, see you back here Monday!