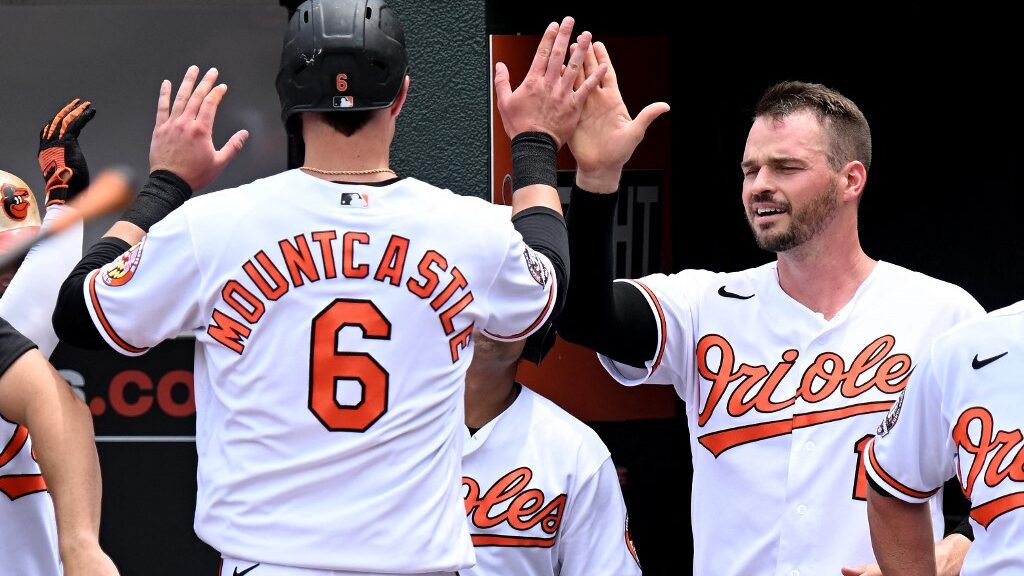 Major league baseball was upside down in several locations with many unexpected results. The NFL had several fascinating stories which we covered along with our Football Focus. The Boston Celtics have made off-season moves and one could trigger more action.
This plus a lot more for a Monday!
---
About Last Weekend…
---
MLB
Though Baltimore and Seattle won't return to action until Tuesday, they both will have eight-game winning streaks on the line. The Orioles swept the Rangers and the Angels and Mariners vanquished San Diego and Toronto.
From Elias Sports, we learn this is the 1st time since 2006 that there are concurrent 8 or more game win streaks when both teams started the streaks at least five games below .500. If any of us would have had the foresight to back both teams after they won their first game, we would have picked up +14.95 units. Isn't looking back great!
The Cincinnati Reds were among the worst home teams in baseball, but after sweeping Tampa Bay, they leave town having won four in a row and are 18-28, which is up to the fifth-worst home record. Oddly, after no walk-off wins in their first 77 games, Cincy had four from July 3-9, including one on a balk.
Tennis
Congrats to Novak Djokovic, who was the Wimbledon winner, giving him 21 major titles, one behind Rafael Nadal. However, Novak Djokovic has refused to be vaccinated for Covid 19 which caused him to miss the Australian Open and that could happen again for the U.S. Open in late August. He would undoubtedly be the betting favorite in New York.
Also, congrats to longshot Elena Rybakina for winning the women's title at Wimbledon. Rybakina arrived in London ranked 23rd, but thanks to a blistering serve (49 aces, 19 more than the next best player) and relentless approach, she took home the hardware.
---
Trendy Talk
---
MLB
N.Y. Mets are 24-8 (+17.8 Units) after a loss this season.
Colorado is 32-13 UNDER when playing against a team with a winning record in the second half since 2021.
AARON NOLA and the Phillies are 6-17 line when playing against a team with a winning record.
The Mariners are 14-2 in away contests after four or more consecutive home games. (Tuesday)
L.A. Angels are 2-10 when playing with a day off. (Tuesday)
WNBA
The Dallas Wings are 6-2 ATS over Seattle since 2000. (Tuesday)
Atlanta and Chicago are 18-7 Over in their last 25 matchups. (Tuesday)
---
BMR's Betting Pulse
---
MLB
Massive series between the Mets at Braves in the battle for 1st place in the NL East. We are locked in with free picks and game previews for the first two games of the series.
Though nobody is catching the Yankees in the AL East, Boston and Tampa Bay will collide to start the week, trying to position themselves for the wild card. Plus, we are covering the skidding St. Louis Cardinals on Monday and Tuesday.
WNBA
With the All-Star game polished off, the WNBA returns Tuesday, with Washington traveling to Los Angeles to battle the Sparks.
---
The Buzz
---
MLB: Angels Having a Devil of Time Scoring Early
If you are wondering how the L.A. Angels could have collapsed as they have, check this out. ESPN Stats and Info had the Halos with 40 first-inning runs in April and May (2nd most). Since then, Angels have eight, which is tied for the fewest.
NBA: Celtics and Pacers Staying Busy
Over the weekend Boston signed Danilo Gallinari and traded for Malcolm Brogdon of Indiana. Brogdon reportedly was out of the country when hearing about the trade. When he returns and if he passes the physical, that could signal a sign and trade deal for the Pacers with Phoenix for center Deandre Ayton.
NFL: The Next Joe Namath?
We don't know how Zack Wilson will turn out for the New York Jets, but he turned up on Twitter this weekend for nothing to do with the Jets betting odds or football. Wilson, as the story was reported saw his old girlfriend now dating his former BYU teammate and Washington WR Dax Milne.
The girl in question, Abbey Gile, was referred to in negative ways on social media as you might have guessed and she responded by saying Wilson was the real "homie hopper" as he had allegedly slept with his mother's best friend.
You just know commissioner Roger Goodell can't wait for NFL training camps to open.
---
Football Focus
---
Los Angeles Rams to Win Super Bowl: +1100 – 5th overall choice at Bovada (visit our Bovada Review)
Los Angeles Rams Season Win Total: Over 10.5 (-105) / Under 10.5 (-125)
Football Pulse
Last season the Rams went all in to win the Super Bowl and did so. Will the same hunger return in 2022? As we have seen, that's not always the case unless it was New England with Tom Brady and Bill Belichick.
Nevertheless, coach Sen McVay is a driven individual and while some of his in-game sideline management comes into question, he still has a very formidable squad.
McVay helped assemble one of the top offensive lines that could run the ball. There are questions about how much this group could slip this season, which would affect Matthew Stafford and the passing offense. We should not forget Stafford will throw the interceptable ball almost every game.
The defense should remain a strength with Aaron Donald and Jalen Ramsey the leaders and among the best at their positions. The schedule overall will be tougher, but Seattle and San Francisco may not be with QB changes. A bet on the over for your NFL picks is not unreasonable at these odds.
---
Out The Door
---
Golf: British Open Takes Center Stage
This is the 150th British Open (or Open, as many are calling it now) this week, which starts Thursday. It will be held at the hallowed grounds of The Old Course at St. Andrew's. Some fear unless the weather kicks up, technology and player skill could lead to some very low scores for a major championship.
Here is a look at the early favorites to win from Bovada.
Rory McIlroy +1000
Jon Rahm +1600
Jordan Spieth +1600
Xander Schauffele +1600
Scottie Scheffler +1800
Matthew Fitzpatrick +2000
Will Zalatoris +2000
Cameron Smith +2200
Justin Thomas +2200
NFL: Calais Campbell Chasing Super Bowl Ring and Something Surprising
Calais Campbell will return for his 15th NFL season. Though he would relish a championship ring, he has another goal that has emerged. Campbell has played poker for years and entered the World Series of Poker, but never tried the main event, until this year.
"I want to win the WSOP main event," Campbell said. "It's a tough thing that very few people have done, but I feel like, why not? If it can be done, why not me?"
---
Who is Right?
---
Tonight is the opening game with Arizona at San Francisco. The scheduled pitchers are Merrill Kelly (7-5, 3.42 ERA) and Alex Cobb (3-3, 4.74), with a somewhat surprising total of 7.5. (We thought it might be higher)
No matter, the tickets purchased are in the mid-60s by percent on the Over. That is definitely not the case on the amount of money bet, which is right around 80% on the Under. This looks like wise guy money and if you have followed this at The Pulse, that's where the winners have been!
Let's get some winners and see you back here Wednesday.