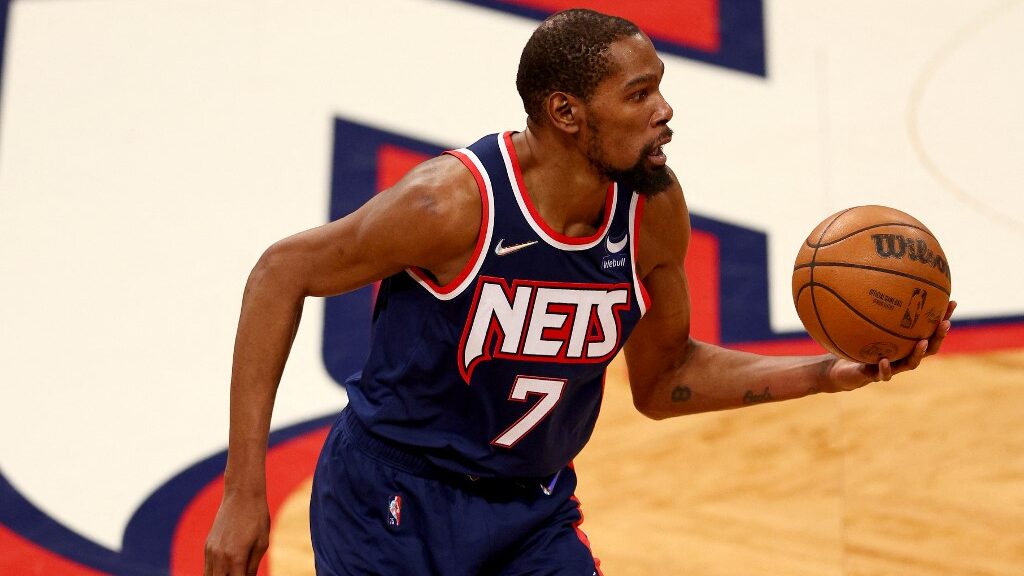 Today's report has a boatload of big names. We learn about Kevin Durant, Serena Williams, Chris Sale, Manny Machado, and more.
Besides having betting news on the ACC, we have sad news about Wake Forest QB Sam Hartman. Won't it be strange not to see the Big Ten on ESPN?
All this and free picks and top trends coming your way.
---
About Last Night…
---
MLB
If you had the Yankees/Mariners Under 6.5, last night, it was better than going through a Taco Bell drive-thru at 1:00 am after an evening of being the life of the party. The game was not decided until the 13th inning when Seattle scored the game's lone run.
New York had a month of bad base-running on a single contest. The Mariners are now 26-14 in one-run games.
San Diego (-171 odds) ended their 26-inning scoreless streak with a 7-4 extra-inning win over San Francisco. The Padres took a 4-1 lead into the 9th inning, but Josh Hader had nothing in pitching two consecutive nights and allowed the score to be tied.
Manny Machado wanted to go home and sailed a three-run walk-off bomb for the Friars to win.
Tennis
Serena Williams announced she will be retiring from tennis after the U.S. Open.
"Maybe the best word to describe what I'm up to is evolution," she said. "I'm here to tell you that I'm evolving away from tennis, toward other things that are important to me.
"A few years ago I quietly started Serena Ventures, a venture capital firm. Soon after that, I started a family. I want to grow that family."
Arguably the best women's player of all time, Serena brought the power aspect to women's tennis in a way that had not been seen before.
---
Trendy Talk
---
MLB
Texas is 3-14 against the run line in road games vs. teams averaging 1.25 or more homers a game in the second half since 2021.
LA Angels are 3-16 (-17.6 Units) after allowing three runs or less in two straight games.
Toronto is 12-1 over revenging a one-run loss this season.
Minnesota is 13-1 over revenging a road blowout loss of six runs or more.
Kyle Wright and the Braves are 13-0 when the total is 8.5 to 10.
NFL
Baltimore is 12-2 ATS as a favorite of 3.5 to 9.5 points. (Thursday)
WNBA
Dallas is 11-4 over at home versus teams scoring 77+ points a game.
Minnesota is 6-0 ATS vs. teams outrebounded by five or more a game.
CFL
Winnipeg is 9-0 ATS off a road win the last two seasons. (Thursday)
---
BMR's Betting Pulse
---
MLB
Minnesota tries to avoid being swept by the white-hot L.A. Dodgers. This plus our top money line, run line and total for daily picks.
NFL
The NFL preseason starts in earnest Thursday, make sure to review our Week 1 Best Bets and Parlay action!
CFL
Week 10 has arrived in the CFL and Winnipeg tries to improve to 10-0 in a quick rematch with Montreal on Thursday as a double-digit favorite.
Note: Review all our popular prop plays in all the sports.
---
The Buzz
---
College Football: Wake Forest Loses Quarterback for Now
Today, it was announced that Wake Forest quarterback Sam Hartman is out indefinitely due to a non-football-related medical condition.
Head Dave Clawson said Hartman underwent a procedure yesterday. Clawson made it clear there's no time frame, but he will return.
Below we have our ACC preview and you can be sure Wake Forest betting odds will be pulled and adjusted upward. Hoping for the best for Hartman.
Golf: LIV Golf Has Failure and Success
The three former PGA Tour players who left on their own accord, but still wanted a chance to be in golf's postseason, had their lawsuit turned down to play this weekend at Memphis.
The judge's ruling stated the trio would not suffer any financial hardship because they had been compensated so well to join LIV Golf.
Sports Media: Big Ten Eschews ESPN
Since 1984, the Big Ten has been a major part of ESPN and they were able to grow in part into the behemoths they are today because of that relationship.
On Monday night it was reported the Big Ten rejected ESPN's contract offer and they are going to do a new deal with FOX Sports and likely CBS and NBC.
It will be fascinating to see what this means for the Pac-12, Big 12 and of course Notre Dame, but one thing we know, the rich get richer.
---
Football Focus
---
As we get closer to the start of football, we will have a report on every college football conference and each NFL division before their season starts. This Friday we have: Big Ten
Odds to Win ACC Conference 2022
Clemson -140
Miami Florida +500
N.C. State +750
Pittsburgh +1000
Wake Forest +1600
Florida State +2000
North Carolina +2200
Louisville +2800
Virginia +5000
Boston College +5000
Virginia Tech +6600
Georgia Tech +20000
Syracuse +25000
Duke +50000
*All odds via BetOnline (visit our BetOnline Review)
Football Pulse
Though the ACC has four other teams in the preseason Top 25 Coaches Poll besides No. 4 Clemson, the betting odds suggest the Tigers should win going away coming off their worst season in years.
When you see teams like Florida State, Louisville, and Virginia Tech with these high futures odds, that explains how weak the ACC is in 2022.
We find out just how smart Dabo Swinney is currently coming off a 10-3 season in which Clemson did not even play for the ACC title and had its first losing ATS year (5-7) in five years. Both offensive and defensive coordinators left and they were replaced inside the program. How much the O-Line improves along with quarterback D.J. Uiagalelei will determine their fate.
Miami is favored to win the Coastal Division with Mario Cristobal returning to his alma mater. Expectations are high for this season and the not-too-distant future for the Hurricanes. Cristobal's first job is more max effort from his new team and mental consistency.
PLAY NOW: $25,000 Free-To-Play NFL Contest: BMR's 2022 Pick'Em Pool Opens for Registration
There are ACC folks that believe N.C. State can win the Atlantic Division even if they lose at Clemson. The Wolfpack defense is loaded with experience and Dennis Leary might end up being the best QB in the ACC.
Pittsburgh begins the year as the conference's defending champion, however, losing QB Kenny Pickett (expected) and Biletnikoff winner Jordan Addison (not expected – transfer) changes the offense.
Nonetheless, all five offensive line starters are back and the Panthers' front seven is always stout against the run. How the new quarterback and improving the secondary (115th vs. the pass) decides if Pitt is Over/Under 8.5 win total.
Wake Forest was the stunning Atlantic Division champ thanks to an outstanding offense with QB Sam Hartman (now out) at the controls and he returns. The Demon Deacons defense wore down in the second half of last season but should be faster this season.
ACC Champion: Clemson (-140) at BetOnline
ACC Darkhorse: Wake Forest (+1600) at BetOnline
---
Out The Door
---
NBA – Nets Governor Tells Kevin Durant Who is Running Franchise
Kevin Durant had a meeting with Brooklyn Nets governor Joe Tsai in London according to The Athletic. Durant wants to be traded and supposedly told Trai he goes if Steve Nash stays as head coach.
K.D. who is 33, more recently injury-prone and has four years and $198 million left on his contract, was told by Tsai, that the franchise will decide when and if he's traded and that he supports Nash and the coaching staff.
Good for the Nets franchise for not caving in.
As you might guess, no current futures odds on New Jersey with this mess on their hands.
MLB – Sale Slips Off Bike
Red Sox left-hander Chris Sale will miss the rest of the 2022 season after fracturing his right wrist in a bicycle accident.
Whatever could go wrong has for Sale with Boston and he still has two years left on his contract for a team that is merely .500.
NFL – Week 1 Biggest Line Moves
New England -2 to +2.5 vs. N.Y. Giants (Thursday)
Detroit -1.5 to +1 vs. Atlanta (Friday)
Chicago -1 to -3.5 vs. Kansas City (Saturday)
Buffalo -3.5 to -1 vs. Indianapolis (Saturday)
---
Who is Right?
---
Tonight, the Atlanta at Boston contest had an opening total of 9.5 and it has come down to 9. Those placing bets are sure of an over, with almost 90% backing that side.
However, those with cash are somewhat less sure the over is a sure thing in the low 50s on that side.
At 9, at least you could get a push if the score is not as high. What would you do?
Let's get some winners! See you back here Friday.