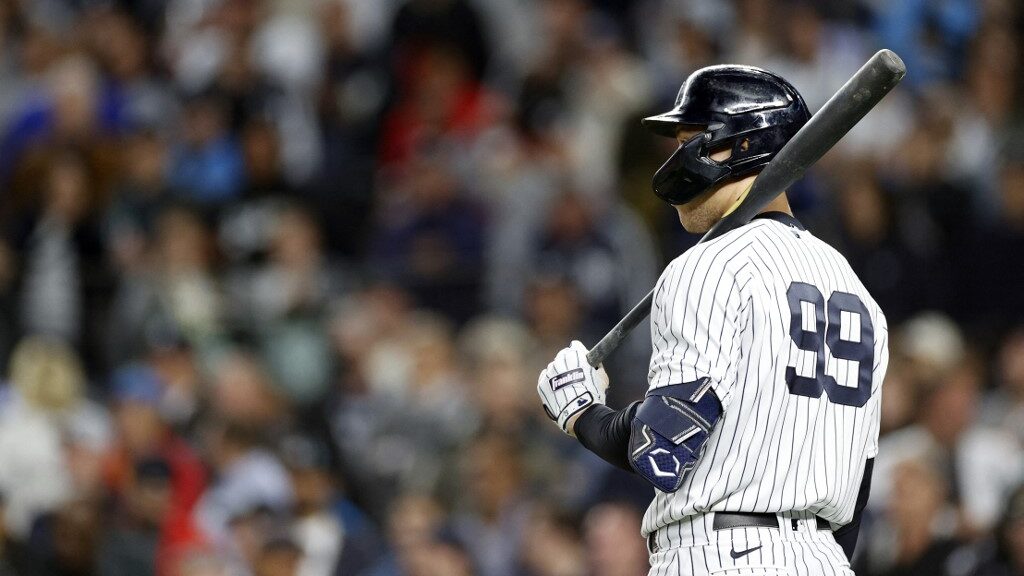 Let's start this article by going through what happened in sports betting Tuesday night. Then jump ahead to Aaron Judge, who will remain a Yankee for all of his 30s and reportedly took less money to do so.
Of course, you have to review our top trends and free picks before betting tonight. Next, let's delve into football line moves, which include trying to wrap our head around the Lions favored over the Vikings.
---
About Last Night…
---
NBA
A hot pick Tuesday morning was Denver at -4, which was bumped up to -5 with Dallas having played Monday and giving their best back-to-back performances of the season. Then the market turned and the Mavs got pounded, dropping the line on them to +2.5. Dallas made 17 threes, after making 20 the night before, and won outright 116-115.
If you had the Lakers +3 at Cleveland you were feeling pretty good until Anthony Davis left with an illness after just eight minutes. Los Angeles lost 116-102 and you didn't even get a "sorry".
NCAAB
In the Jimmy V Classic, Illinois survived a long second-half drought and got hot in the last eight minutes while playing great defense and tied No. 2 Texas. In overtime, the Fighting Illini dominated and they won 85-78 as two-point underdogs, handing the Longhorns their first loss.
Duke had not played well and almost everyone was wondering about the absence of Coach K. At least for a game, Blue Devils fans saw what they wanted from a talented crew playing to their abilities, beating Iowa 74-62 as a Pick.
NHL
The NHL has been a beast unless you are choosing the right underdogs. Last night the Islanders (-185), Hurricanes (-295) and Kraken (-270) were all stunned by bad teams or those that were slumping. The parity in the NHL is remarkable.
Though Boston, New Jersey and Vegas have been domineering early, only the Golden Knights were even given a thought with a chance to be in first place in their division.
---
Trendy Talk
---
NBA
Boston is 9-0 ATS having won four of their last five games.
Memphis is 13-2 ATS after two consecutive non-conference contests.
Minnesota is 23-5 Over after allowing 130 points or more.
New York is 24-8 Under in home games revenging a same-season loss.
NHL
Calgary is 0-5 (-8.9 Units) after playing four consecutive home games this season.
Boston is 15-1 as a favorite this season.
Vancouver is 9-0 Over in road games against teams who average 29.5+ shots on goal.
NCAAB
Penn St. is 16-3 ATS after playing a game as an underdog.
Weber St. is 1-13 ATS after a game giving up five or less offensive rebounds.
Tennessee is 21-4 ATS at home after two straight games where they had 10 or more steals.
Santa Clara is 17-2 Over at home when the total is 150 to 159.5.
Nebraska-Omaha is 11-1 Over playing only their 2nd game in eight days.
NFL
L.A. Rams are 2-10 ATS in non-conference games the last three seasons. (Thursday)
Denver is 0-10 ATS against teams who force one or less turnovers a game since last season.
Cincinnati is 7-0 ATS vs. defenses allowing a completion percentage of 61% or higher.
Tennessee is 8-0 ATS after allowing 300 or more passing yards in their last game.
NCAAF
Navy is 7-0 ATS versus teams averaging 4.75 or more rushing yards a carry.
Army/Navy are on a 16-0 Under run.
---
BMR's Betting Pulse
---
NBA
Follow our Spread, Money Line and Total picks, along with top player props for Wednesday, and return for Thursday's Nuggets vs. Trail Blazers tilt.
NCAAB
Watch for our Best Bets and Top Plays Wednesday and Thursday, plus prop picks and more in our NCAAB picks page.
NHL
Over the next two days, review our Top Plays on Moneyline, Puck Line and Totals.
NFL
We start Week 14 with the Raiders looking to stay hot against the Rams on Thursday. We follow that up with previews and free picks on the rest of the schedule, including the Jets vs. Bills and Eagles vs Giants.
World Cup
It is on to the quarterfinals starting Friday. Watch for our previews and free picks, and don't forget to check out our post on the latest odds.
NCAAF
One last regular season matchup with Navy vs. Army and we have it covered in every way known to man.
Next, the Bowl Season with a few early previews already posted.
Note: Review all our popular prop plays in all the sports.
---
The Buzz
---
MLB – Winter Meetings Have a "Judge"ment
With speculation Tuesday evening that Aaron Judge could sign with San Francisco, Wednesday morning, the New York Yankees inked the outfielder to a nine-year 360 million dollar deal. Reports had the Padres offering 400M for 10 years.
Judge will be 31 and there is a real possibility he might have just had the best season of his career. If he can come within 10 to 15 percent of his 2022 numbers through the first five years of the contract, that would help, because in the last two or three he's going to be a DH hitting .220 or lower with about 20 homers and a ton of strikeouts. New York had to sign him, but unless they win a World Series or two, not sure what this will all mean.
There have been a number of other moves made, but we are going to wait until later to comment on what has happened.
NFL – Not Good but Not as Bad as First Believed
The news on Lamar Jackson and Jimmy Garoppolo is not good, but it doesn't appear they are done for the season which could be a break for the Ravens and 49ers in the postseason.
---
Football Focus
---
NCAAF – Coaching Carousel Continues
With Louisville having an opening, the Cardinals finally got their man in former Cards QB Jeff Brohm from Purdue. The next vacancy to fill is the Boilermakers.
NFL – Lions Favored Over 10-2 Vikings
Still trying to make sense of Detroit, a 2.5-point home favorite over Minnesota this Sunday. We are not saying the odds are incorrect, with the Lions on a 5-1 and 6-0 ATS run. The Vikings only have a +10 point differential despite their 10-2 record.
When you compare the Vikes to the Eagles, who have a better record at 11-1 with a +112 point difference, and Dallas 9-3 at +127, one has to agree the Vikes are overachieving. Yet, this point spread does not feel comfortable.
NCAAF Biggest Line Moves
Navy +1.5 to -2.5 over Army
Navy/Army Total 33.5 to 32
NFL Biggest Line Moves
Raiders/Rams Total 42 to 44.5
Bengals -4 to -6 over Bengals
Lions +2.5 to -2.5 over Vikings
Cowboys -14 to -17 over Texans
Dolphins -13 to -3 over Chargers
---
Out The Door
---
NCAAF – Transfer Portal
Starting to have second thoughts on the transfer portal, already, over 800 players at all levels of college football are on the move and it will surpass 1,000 well before the last college football game of this season is played.
Seems like this needs more structure and accountability than a complete free for all.
Also, for selfish reasons, this changes the structure of the bowl games, and trying to keep up with all the movement becomes a challenge when having to check the betting odds almost daily.
MLB – Be A Dodgers Shortstop
The past three shortstops the Dodgers have had, Manny Machado, Corey Seager and Trea Turner have gone on to other teams as free agents and signed deals for at least 300 million.
Sports Handicapping – It Can Pay to Be a Moron
Long-time handicapper Stu Feiner just signed a deal with Barstool Sports you won't believe.
---
Who is Right?
---
Not exactly game-of-the-week material, nonetheless, the Clippers are at the Magic this evening. What grabbed our attention was 68% of basketball bettors were on the total, which dropped from 218 to 216. However, 70% of wagers placed are on the Over. Which side makes the most sense to you?
Let's get some winners! See you back here Friday!