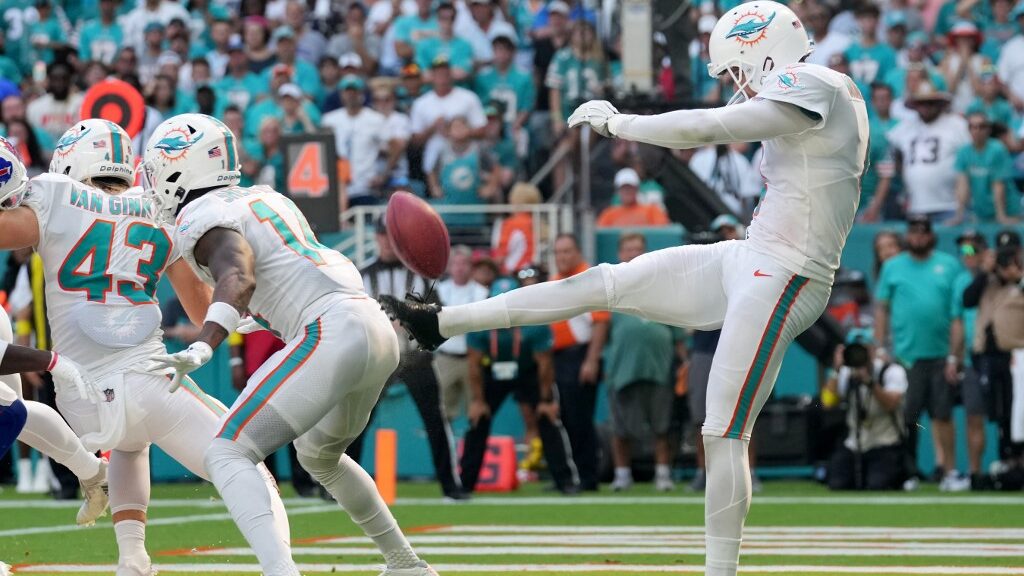 It is a good thing football just comes around mostly on Saturday and Sunday because the madness is exhausting! We cover some of the highlights, lowlights and meltdowns of another great week of football and get you started with some early trends to ponder.
Plus, a coach losing his mind, a butt punt and other stories of sheer madness.
PLAY NOW: $25,000 Free-To-Play NFL Contest: BMR's 2022 Pick'Em Pool Opens for Registration
---
About Last Weekend…
---
NFL
In spite of having an enormous 497-212 yardage advantage, the Buffalo Bills could not execute what should have been a game-winning touchdown at Miami and lost 21-19 as four-point favorites. Both teams were thoroughly spent with 90-degree temps and 70% humidity. The heat and frustration got to Bills offensive coordinator Ken Dorsey at the end of the game.
The Kansas City Chiefs let Indianapolis hang around and paid the price by losing 20-17. The Colts looked arguably like the worst team in the NFL after two weeks on the road, but a home crowd and desperation did wonders for the Colts in engineering the upset.
The Green Bay Packers put together two great drives and could have had another only to fumble at the goal time with Tampa Bay recovering. The Pack could have held a 21-3 lead at that point. The Buccaneers' defense played back to normal and Tom Brady was in a position to tie the game, but the Pack's defense held firm to win 14-12 as slim underdogs. Couldn't help but think of Mike Evans's stupid suspension likely costing his team the win.
NCAAF
Georgia and Michigan looked ordinary in wins in which they failed to cover. For the Bulldogs, one cannot fault them because they could not play like that forever.
The Wolverines on the other hand allowed a good Maryland to gain 397 yards and 27 points. It pointed to if Michigan cannot get to the quarterback, there are holes in their defense.
Oklahoma looked very overrated in being upset by Kansas State again. The Wildcats just have their number and all the talent the Sooners lost in the offseason finally showed.
It was a rough week for the Top 25 overall at 5-12 ATS when not facing others in the Top 25.
There were a couple of bad beats but if you had Arkansas, that was hard to choke down. Ahead 14-7, the Razorbacks were going in for a 21-7 lead when they fumbled inside the two-yard line. Texas A&M picked it up and started running and just when it looked like the runner would be down, Demani Richardson took the ball from his teammate and found a clear path to run the rest of the way, for a scoop, theft and score. That was a 14-point turnaround.
Arkansas still had a chance to win and cover (+2 or +1.5) down 23-21, with 1:30 left in the game, but Cam Little's 42-yard field goal attempt hit nearly the top of the right upright and fluttered to the ground in the end zone – no good.
---
Trendy Talk
---
MLB
Boston is 20-46 in AL East games this season.
Atlanta is 20-5 in road games vs. teams whose hitters draw three walks or less a game.
NFL
Dallas is 8-1 ATS in road games.
Miami is 13-32 ATS after allowing 400 or more total yards in their last three games. (Thursday)
Atlanta is 2-18 ATS at home after three or more consecutive wins against the spread.
NY Jets are 1-12 ATS after two straight games with 40 or more pass attempts.
NCAAF
BYU is 6-0 ATS at home games after gaining 525 or more total yards in their previous game. (Thursday)
San Diego St. is 21-6 UNDER in road games after playing two straight non-conference contests. (Friday)
Houston is 0-7 ATS at home after playing a game where 60 total points or more were scored. (Friday)
Minnesota is 13-1 ATS after allowing 40 or less rushing yards.
---
BMR's Betting Pulse
---
MLB
This is the last full week of the regular season. Review all of our best moneyline, run line, and totals for Monday.
NFL
Tonight we have the Monday matchup between Dallas and the Giants. We start working on Week 4 with Early Value picks, along with the Thursday battle (Dolphins at Cincinnati), Sunday skirmish (Chiefs at Buccaneers), and our first contest in London (Vikings vs. Saints). On Tuesday look for several more key matchups.
NCAAF 
We start with the Marquee Matchup of the week with Alabama at Arkansas along with Week 5 Early Value picks and several other encounters for Thursday and Friday. On Tuesday, we take a deep dive into teams in the Top 25 from the betting perspective.
---
The Buzz
---
NFL –Butt Punt
The Bills/Fins battle was great fun, but Miami's butt punt when backed way up offered great levity to a serious day of football.
NFL – A Return to Totals Normality
After the under started the year 22-10, we thought Week 3 would produce more normal results, with players having played a couple of times after so many barely playing in the preseason. The results going into Monday night are 7-7-1 on totals on the closing line NFL odds.
NCAAF – Not Just Yet Miami and Texas
There has been a lot of talk about the Hurricanes on their way back to prominence. A loss at Texas A&M rubbed a little shine off the apple, but manhandled by home by Middle Tennessee State 45-31 as 25.5-point point favorites! Get back to us in 2023 Canes.
After taking Alabama to the wire, Texas was getting back on track. Nobody assumed winning in Lubbock would be a breeze for the Longhorns (-7 betting odds) but to lose to Texas Tech, is unacceptable. Steve Sarkisian is now 3-7 SU in the Big 12 and is headed to the SEC.
MLB – Mariners Meltdown
If you had Seattle at -170 on the money line or -105 on the run line, you put that one in the column after they built an 11-2 lead over Kansas City, on Sunday. Hopefully, you didn't spend it, because the Royals came roaring back and won 13-12.
Seattle has a four-game lead on Baltimore to make the AL Wild Card, but if they don't, this game will be why.
---
Football Focus
---
NCAAF – Just How Bad is Hawai'i Football?
New Mexico State is annually one of the five worst teams in college football for years. The Aggies though were 4.5-point home favorites against the Rainbow Warriors and won with ease 45-26. That tells you what a sad state of affairs there is on the island for the football program.
NFL – The Eagles Are Flying
Despite losing this past weekend, Buffalo and Kansas City remain the favorites to win the Super Bowl, but thanks to Philadelphia's 3-0 start, they now have the best odds in the NFC at Bovada (visit our Bovada Review).
---
Out The Door
---
The Las Vegas Raiders are the lone 0-3 team and have dropped those contests by 13 points, with one of the setbacks in OT. The last team to be the only 0-3 squad through three games was the 1959 Detroit Lions, who finished the season 3-8-1. And Vegas wanted an NFL franchise… Maybe someday they will get one…
Appalachian State fans and the team have had a season full of excitement in September. After an OT loss to North Carolina, upsetting No. 6 Texas A&M and an improbable win over Troy, this happened.
The Mountaineers were on upset alert, dropping from -10 to -7 vs. James Madison. App. State was cruising 28-3 when the bottom fell out and the Dukes scored the final 29 points for the 32-28 upset. WOW!
---
 Who is Right?
---
With just four baseball games and a tight Monday night football game expected, our usual feature doesn't make sense.
Instead, we note Miami at 3-0 and has gone from -1 to -3 at Cincinnati for Thursday night football. This sounds a little crazy right? Just keep in mind that the Dolphins are being outgained by 59 yards a contest, have allowed more than 400 yards in each game and have to travel on a short week after an exhausting game mentally and physically.
Let's get some winners! See you back here Wednesday.