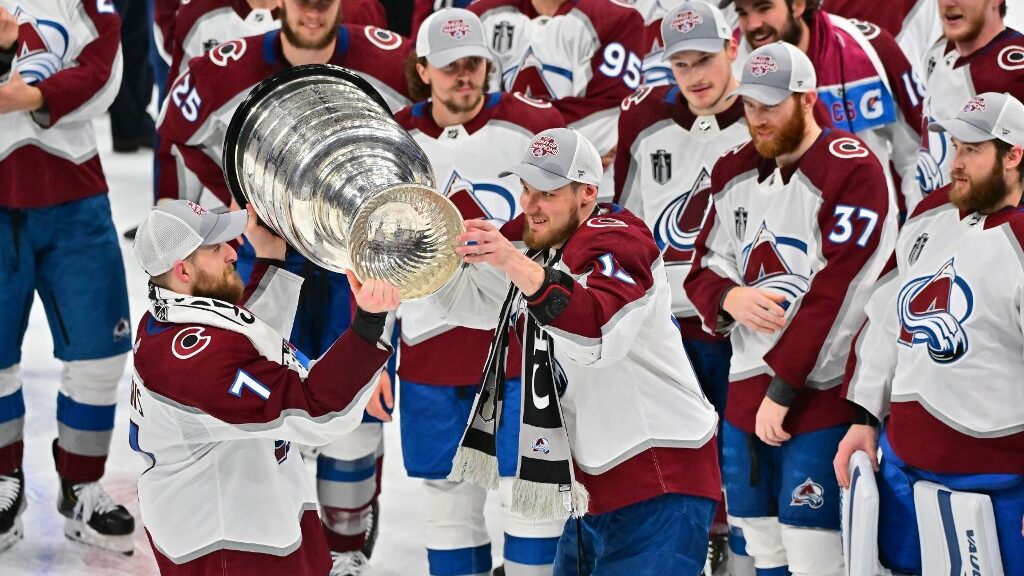 Get ready for this: Mondays are going to be light for bettors for a while. We have MLB and the WNBA to talk about and you should be enjoying the break.
We do cover what happened over the weekend when we crowned champions in hockey and men's college baseball. Plus, we had a fun MLB brawl and more Yankees magic.
---
About Last Weekend…
---
NHL
The Colorado Avalanche prevented Tampa Bay from winning a third straight Stanley Cup with a come from behind 2-1 triumph to win their third Cup in franchise history.
For those that wondered about Colorado's defense, they held Tampa Bay without a shot for 10 minutes in the third period when holding a 2-1 lead. The Avs were 16-4 in the postseason, which is the second-best record since the NHL went to all seven-game series in 1987.
Men's College World Series
Of the eight teams that made it to Omaha, Ole Miss had the second-highest odds to win it all. The Rebels had a losing record in the SEC, but came together late in the year and were thought to be the last club to make the 64-team field. Now they are the kings of college baseball.
MLB
The New York Yankees were no-hit Saturday. Even worst, going back to Friday, they were 0-52 against Houston pitching when they found themselves trailing 3-0 on Sunday.
The Yanks finally got a hit in the 7th inning with Giancarlo Stanton's solo shot and went into the 9th inning tied 3-3. Then for a second time in four days, Aaron Judge hit a walk-off homer against the vaunted Houston bullpen.
New York is the first team in MLB history to split a four-game series with a batting average as low as .123.
---
Trendy Talk
---
MLB
The Chicago White Sox are 3-13 (-12.8 Units) after batting .225 or worse over a five-game span.
The Oakland Athletics are 5-29 vs. a starting pitcher who gives up 5.5 or fewer hits a start.
The Baltimore Orioles are 13-2 under after three or more consecutive unders.
The Toronto Blue Jays are 19-5 over in June games.
The Colorado Rockies are 9-1 against the run line at home after scoring four runs or less in four straight games.
WNBA
The Indiana Fever are 1-7 ATS after playing a game as a road underdog this season.
The Las Vegas Aces are 10-1 ATS in road games off an upset loss as a favorite.
---
BMR Betting Pulse
---
MLB
We kick the week off looking into the series between Boston and Toronto, with the Red Sox having passed the Blue Jays and Rays in the AL East. Also, how bad will the Yankees wipe out the A's?
Tuesday, the Mets seek revenge in the Big Apple against Houston after being swept in H-Town and Milwaukee makes a rare trip down to Tampa Bay.
NFL
Is Trey Lance ready to take San Francisco to the Super Bowl? Read our thoughts on Tuesday.
---
The Buzz
---
MLB: It's On!
Normally, baseball fights are lamer than a couple of four-year-olds getting in a tussle. However, the Mariners vs. Angels had some real fury and legit punches thrown as you can see.
In all, four individuals from each team were ejected, but Halos scored twice in the 7th inning to win once in the series, 2-1 as -135 home favorites.
NFL: Watson on Trial
Deshaun Watson will have his NFL hearing on Tuesday and while no official announcement is expected immediately, it doesn't appear good for Watson or Cleveland. Stay Tuned.
NBA: World Spinning Around K.D. and Kyrie
There is a great deal of conjecture about where Kyrie Irving and Kevin Durant could end up if Irving doesn't sign with Brooklyn and off-season betting odds on a variety of teams could be affected.
---
Football Focus
---
Buffalo Bills to Win Super Bowl: +600 – 1st overall choice at Bovada (visit our Bovada Review)
Buffalo Bills Total Wins 11.5: Over (-140) / Under (+120)
Football Pulse
The Buffalo Bills are primed for a Super Bowl run out of the AFC. The offense is in the good hands of QB Josh Allen and late last season, coach Sean McDermott finally trusted his offensive line more and the running game was not a weakness.
In turn, this helps him keep Allen out of harm's way as a runner, yet, he can still take off for big gains when necessary. The Bills' offense might even be more diverse in 2022.
Buffalo did lose players up front on defense, but replacements like Von Miller might be more impactful, especially when it comes to making big plays. The secondary is solid and they took a cornerback in the first round which should add more depth.
Anything less than a Super Bowl appearance is a disappointment.
---
Out the Door
---
This has been a real challenge for baseball bettors. Most underdog bettors we know are in the red and backing favorites come with risks because there are so many favorites of -170 or higher. If you are having a winning year against the MLB odds, we salute you.
Saw the movie "Hustle". Though it was a bit overrated but worth watching overall.
---
Who is Right?
---
Monday night, Pittsburgh at Washington is hardly a marquee matchup. At 1:30 ET, 60 percent of the bets placed were on the Nationals, with 90% of the cash on the same team.
Yet, when looking at the betting odds at various sportsbooks, they have barely budged from the Nationals at -140. Looks like one-sided public money that is not impressing the oddsmakers.
Let's get some winners and see you back here Wednesday.