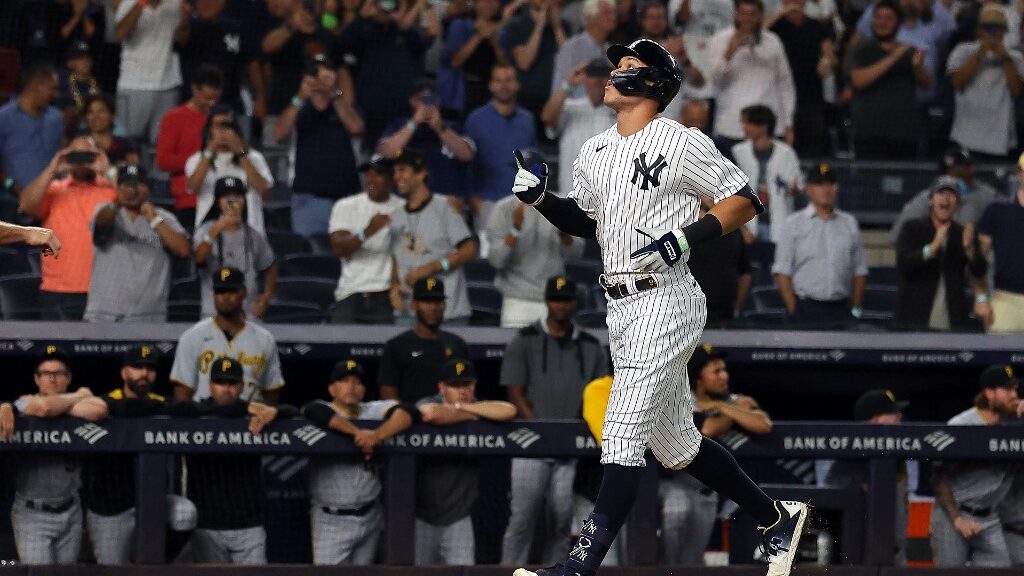 The football weekend is approaching, and that means it is time to start looking at line moves and putting together your picks in college football and the NFL and we are here to help.
Plus, we have some of the hottest trends to contemplate. The baseball pennant races are churning and we dive into various aspects and trends to ponder. All this and free picks along with other news of note.
---
About Last Night…
---
MLB
Aaron Judge went yard for the 60th time last night and Giancarlo Stanton hit a walk-off grand slam as the Pinstripes overcame an 8-4 deficit in the 9th inning to somehow win over Pittsburgh as -305 favorites.
Toronto's wild 18-11 win over Philadelphia strengthened their Wild Card lead in the American League, while the Phillies were fortunate Milwaukee lost to maintain their three-game lead for the last playoff position in the NL. But wait, there was more…
NFL
Tampa Bay's Mike Evans' appeal of his one-game suspension for his bad behavior against New Orleans has been denied and he will miss Sundays – Battle of the Bays – against Aaron Rodgers and the Packers.
When it was announced Evans was initially suspended, the Bucs dropped from -3 to -2 and now sit at -1.5.
---
Trendy Talk
---
MLB
Texas is 16-4 after two straight games where they stranded five or less runners on base.
L.A. Dodgers are 18-2 at home vs. Arizona.
Atlanta is 14-3 under at home vs. NL teams allowing 4.5 or more runs a game on the season.
Seattle is 20-5 over in road games after batting .200 or worse over a five-game span.
Kevin Gausman of the Blue Jays is 14-1 in road games vs. teams whose hitters strike out seven or more times a game in the second half of the season since 2021. (Team's record)
NFL
Cleveland is 26-8 under in home games off a home loss. (Thursday)
NY Jets are 1-11 ATS after two straight games with 40 or more pass attempts.
Carolina is 1-9 ATS at home playing their last game on the road.
Arizona is 4-13 ATS in home games the last three seasons.
L.A. Chargers are 32-7 ATS against AFC South division opponents.
NCAAF
Virginia Tech is 7-0 under the first month of the season. (Thursday)
Coastal Carolina is 8-1 ATS in road games vs. teams allowing 31 or more points a game. (Thursday)
Syracuse is 2-13 ATS after two consecutive games where they committed no turnovers. (Friday)
Air Force is 4-20 ATS at home after scoring three points or less in the first half of the last game. (Friday)
Tulsa is 8-0 ATS as an underdog the last three seasons.
Northwestern is 0-8 ATS off one or more unders.
---
BMR's Betting Pulse
---
NFL
We hit Week 3 starting with Thursday's AFC North clash between the Steelers and Browns.
We also have our early value picks and key matchups in each conference, along with best bets and thoughts on Sunday and Monday night football.
NCAAF
Thursday college football is back and that is part of three consecutive days of betting opportunities for Week 4 on the gridiron.
We have all the top tilts covered including Texas A&M vs. Arkansas and Wisconsin at Ohio State.
MLB
Just two weeks left in the regular season and we have top picks for moneyline, run line, and totals for Wednesday and Thursday.
Note: Review all our popular prop plays in all the sports.
---
The Buzz
---
NFL – Betting News
For Week 3, there are nine home underdogs, the most in this exact week in 19 years. Who are they?
Patriots +3 vs BAL
Dolphins +5.5 vs BUF
Jets +4.5 vs CIN
Panthers +3 vs NO
Colts +7 vs KC
Titans +2.5 vs LV
Commanders +6.5 vs PHI
Cardinals +3.5 vs Rams
Broncos +1.5 vs SF
(Info courtesy of Data Analyst John Ewing)
This could matter since home teams catching points are 9-5-1 ATS to start the season.
This week the Raiders will visit the Titans and one club will have an 0-3 start. Tennessee is a two-point underdog and when winless teams collide, the underdog is 66-37-4 ATS.
Fun Stuff – Eli Manning Had a 'Tryout' with Penn State
Golf – LIV Golf Demands They Belong
LIV Golf this week said their tournaments should count towards OWGR rankings. Without boring you with the details, the OWGR has six specific points about qualification and LIV Golf meets none of them.
Whatever your opinion of this new tour, keep in mind the PGA Tour has been around since 1929 and OWGR since 1986. LIV Golf is five tournaments old. Just because you want a seat at the table doesn't mean you get one.
Think back to the AFL and ABA. They formed rebel leagues and proved they had a good product and the NFL and NBA brought them in completely or partially.
If LIV Golf proves itself over time, likely the same thing will occur. Demanding to be at the same level is a poor way to go about things.
---
Football Focus
---
One aspect to note. In the past few years, sportsbooks have released betting odds before the next week's are played and so line movement is not the same as it was five or more years ago and should be understood that way.
More serious bettors review the college football odds on Sunday and the NFL odds on Sunday night.
NCAAF Biggest Line Moves
Minnesota +2 to -2 over Michigan State
Liberty -26.5 to -29.7 over Akron
Cincinnati -16 to -19.5 over Indiana
Duke +10 to +7 vs. Kansas
LSU -28 to -31.5 over New Mexico
Nevada/Air Force Total – 49 to 45 (Friday)
Notre Dame/North Carolina Total – 60 to 56
Ball State/Geor. Southern Total – 60 to 67
Oregon/Wash. State Total – 53 to 57
NFL Biggest Line Moves
Lions +8 to +6 vs. Vikings
Chiefs -3 to -6.5 over Colts
Raiders -Pick to -2.5 over Titans
Eagles -3 to -6.5 over Commanders
49ers +3 to -2 over Broncos
Steelers/Browns Total – 40.5 to 38 – Money and bets are still trending over.
Eagles/Commanders Total – 50 to 47
Packers/Buccaneers – 47.5 to 41.5
Jaguars/Chargers Total – 50.5 to 47
---
Out The Door
---
MLB – Baseball Races
If you are a baseball fan, this Mets and Braves race is awesome and is worth looking at each day to see who will crack or make a move. Largely the same is true of the Wild Card chase.
However, the MLB odds on money lines are almost impossible to wager on, unless you can find an underdog or are skilled enough to play run lines.
NCAAF – At Least Check These Out
We know everyone loves the NFL and they dominate Thursday viewing. Just don't forget ESPN started the Thursday night football with college games and they used to draw strong ratings with marquee matchups.
While these are not must-see, West Virginia (-1.5) at Virginia Tech and Coastal Carolina (-2) at Georgia State are two solid contests Thursday evening.
---
Who is Right?
---
We realize this could change come Thursday, but at this time Cleveland has climbed from -3 to -4.5 over Pittsburgh for Thursday night football.
The interesting aspect of this is presently 70% of the bets placed and better than 75% of the cash is on the Steelers.
What are you thinking about this matchup?
Let's get some winners! See you back here Friday.