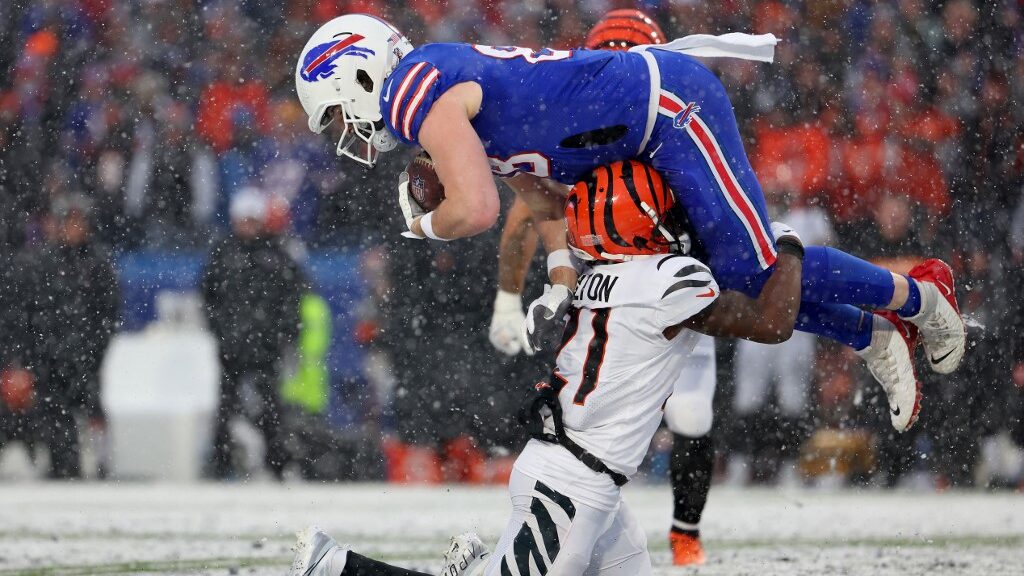 Though the action was not always compelling in the NFL Playoffs this past weekend, the storylines were and we look back at what we saw. College basketball's top two teams, Houston and Kansas, both lost at home and we explain how rare that is. The Lakers did what would seem impossible last night and PGA Pro Jon Rahm might be hotter than any NFL playoff team, read what we mean.
---
About Last Weekend…
---
NFL Playoffs
Almost every year there is one upset in the Division Round and this year it was Buffalo. The Bills' defense was baffled by Cincinnati's game plan and coach Zac Taylor put together such a great game plan that Joe Burrow and company completely believed in it, that the Bills' No. 6 defense in yards allowed was sliced and diced for 412 yards.
Josh Allen is no longer among the Top 2 quarterbacks in the AFC, Joe Burrow has replaced him. No question that Buffalo's defense suffered many defensive injuries, nonetheless, they still allowed 23 or more points in four of their past five games.
The woes of Dak Prescott continued, throwing interceptions and the first thing you wonder is if he is color blind (kidding, sort of), not seeing the other team's jerseys. In truth, he's not processing the plays fast enough when pressured and is making late throws.
It was a great defensive battle between the Cowboys and 49ers, and Brock Purdy did not make mistakes and Prescott did.
Saturday, Philadelphia destroyed the New York Giants in a game that was a complete mismatch despite heavy Giants backing at all sportsbooks. Though sharp bettors are not always correct, in spite of all the New York money, the Eagles went from -7.5 to -8 Saturday.
The way Kansas City started, it looked like they would rout Jacksonville. Then Patrick Mahomes got hurt and looked mortal and the Jaguars got the cover.
NBA
With all the Sunday football talk, this was lost Sunday night. The Lakers were outscored 45-13 in the second quarter at Portland and trailed by 25 at halftime. The Blazers went into hiding in the 3rd quarter and the Lakers outscored them 40-20 and L.A. didn't let up. Following that up with a 35-21 final period to win 121-112 as six-point underdogs.
Los Angeles is the first team to win a game in which it lost a quarter by 30+ points since the Celtics on Oct. 20, 1972, against the Buffalo Braves.
NCAAB
On Saturday, No. 2 Kansas, coming off a loss at Kansas State, was a 7-point home favorite against TCU. The Horned Frogs jumped on the Jayhawks and pummeled them 83-60, which tied for the largest home defeat by a No. 2 team.
Then on Sunday, No. 1, Houston fell to Temple 56-55, who was a 19-point road underdog. That made this moment possible.
---
Trendy Talk
---
NBA
Atlanta is 5-17 ATS after playing a home game.
Portland is 4-16 ATS off an upset loss as a favorite.
Charlotte is 3-13 ATS versus teams making 36% or more of their three-point attempts.
Boston is 19-6 Under after a division game.
NCAAB
Detroit is 7-0 ATS in home games playing against a team with a losing record.
Virginia Tech is 1-7 SU and ATS in ACC play this season and faces Duke tonight.
Kansas is 10-1 ATS after a blowout loss by 20 points or more.
Nevada is 10-2 ATS as a favorite this season.
NHL
N.Y. Islanders are 2-11 after scoring two goals or less in three straight games.
Florida is 2-9 off a home win this season.
Dallas is 16-5 at home against Buffalo.
Boston is 18-3 off a home win this season. (Tuesday)
NFL Playoffs
San Francisco is 11-2 ATS playing against a team with a winning record in the second half of the season since last year.
Philadelphia is 6-0 ATS vs. teams who give up 17 or less points a game since 2020.
---
BMR Betting Pulse
---
NBA
We will start the week by covering several games that include Celtics vs. Magic, Hawks vs. Bulls, and the Grizzlies vs. Kings, the last two on NBA TV. The next day it is the Celtics vs. Heat and Clippers vs. Lakers both on TNT among other free picks.
NCAAB
It is the first official Big Monday, with Duke vs. Virginia Tech followed by Kansas vs. Baylor on ESPN. On Super Tuesday on ESPN that action starts with Ohio State vs. Illinois and two hours later on ESPN we have North Carolina vs. Syracuse among several game write-ups we have.
NHL
We kick off Monday with the Islanders vs. Maple Leafs and Panthers vs. Rangers. Return Tuesday for our top Parlay pick for free!
Tennis
The Australian Open continues with quarterfinal plays and we deliver our daily tennis best bets.
NFL
The Conference Finals are set and we begin the week with thoughts on where the early value plays are. On Tuesday we completely breakdown both anticipated battles.
Note: Review all our popular prop plays in all the sports.
---
The Buzz
---
NFL Playoffs – Dallas as Underdogs Is Postseason Gold
The Cowboys have now lost eight straight playoff games as an underdog. Their last victory in that role was in 1992, which was the year when Sir Mix-a-Lot released – Baby Got Back.
This was also the year Motorola introduced mobile phones.
Soccer – The Arsenal Is Streaking
With Sunday's 3-2 win over Manchester United, Arsenal has gone 13 games without a loss (11-0-2), its best streak in the Premier League since 2018.
---
Top Betting System
---
NBA – Atlanta (+1) Over Chicago
Play On on underdogs like Atlanta allowing 114+ points a game on the season, after three straight games where who they played and themselves both scored 115 points or more. Teams like the Hawks in this spot are 34-9 ATS, winning by 5.8 PPG.
---
Out the Door
---
NFL Playoffs – "Let's Get Physical"
Among the things that stood out was how physical Cincinnati was in the trenches at Buffalo. Down three offensive linemen, they lined up against Buffalo and ran the ball down their throats. And on defense, they held Buffalo to 63 yards on 19 carries. This group looks like they are on a mission.
NFL Playoffs – Give Credit Where Deserved
While Kyle Shanahan deserves a lot of credit for how Brock Purdy has performed for the 49ers, we'll say his quarterback coach Brian Griese should get half the credit. He's working with Purdy every day in terms of preparation to get him mentally and physically ready.
Greise, you might remember did college and NFL analysts work on ESPN for years and saw the handwriting on the wall when ESPN was changing the Monday night both again. The former NFL QB took the job thinking he'd be working with Trey Lance, but two injuries later he's helping Purdy daily.
Golf
Jon Rahm won his second straight PGA Tour event in Palm Springs. That has been done before by many golfers but this has not.
---
Who Is Right?
---
Tonight, the Charlotte Hornets are visiting Utah, looking to make it three straight wins and covers after losing eight of nine. Charlotte today was bumped up from +7.5 to +8 despite having 70% of the money backing them. The Jazz is 4-2 SU and ATS in their last half-dozen starts and 62% of the bets are placed on them. Your thoughts as to what side is correct?
Let's get some winners! See you back here Wednesday!