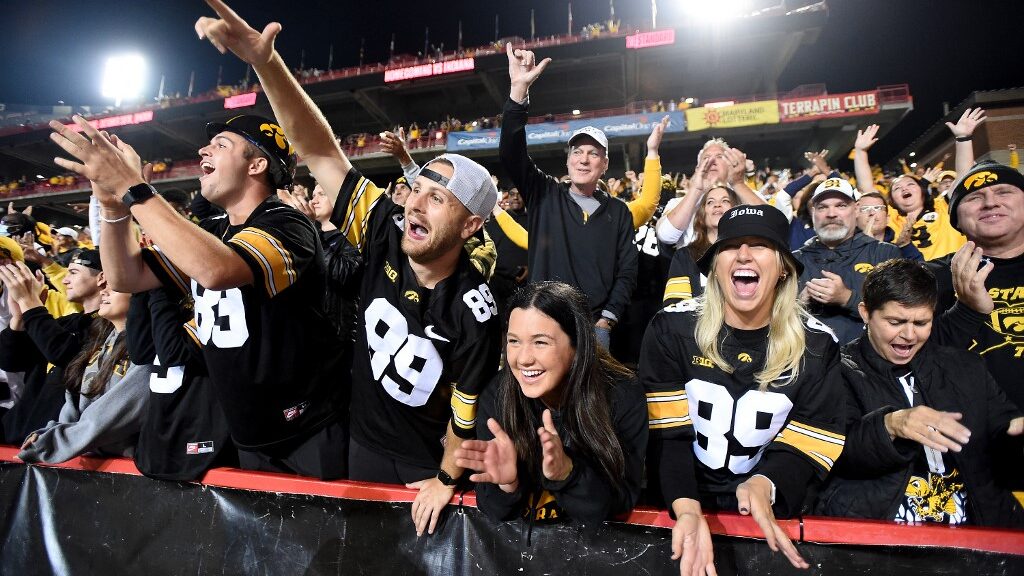 The seasonal summer sports betting slowdown is officially in the books. With the calendar turning to September came an inevitable spike in overall betting activity for the entirety of the US market. Oregon and Iowa are the first states on the board with their September handles and they have given optimism that all participating states will see some substantial month-to-month increases for their respective betting scenes.
We can credit the presence of football for the wagering activity uptick. Just the anticipation of football increased sports betting handles across the country in August. The start of regular NFL and college football season action in September brought double-digit spikes to Oregon and Iowa with Iowa setting a new benchmark in terms of wagering activity for their state.
Oregon
Oregon was the first state to report their overall September sports betting activity. While not the biggest market, their sports betting scene often sets the stage for what we can expect across the county. In September, Oregon saw an enormous month-to-month percentage spike for their sportsbooks.
Oregon books took in a total of $25.1 million in sports bets in September, which represents an impressive 41.8% increase from $17.7 million in August. While eye-opening, year-over-year numbers were still 4.2% less than the $26.2 million Oregon's sports betting scene reported in September 2020.
Revenues for Oregon sportsbooks also saw a double-digit increase from August to September. Sportsbooks reported $1.3 million in profits in September, an 18.5% increase from the $1.1 million in August. Year-over-year, sportsbook profits were down 17.5% however, from September 2020's $1.5 million.
As for the biggest contributor to the Oregon scene, it was football, unsurprisingly. Pigskin contributed $9.7 million over the overall $25.1 million with baseball next at $6.8 million, soccer $3.3 million, tennis $1.5 million and basketball $1.2 million.
Iowa
The Iowa legal sports betting scene was able to set an all-time record in September thanks to the return of football. September bested the $161.4 million set during college basketball's March Madness. "This is a new benchmark, a new level that has been met, so we'll see where it goes from here," Wes Ehrecke, president and CEO of the Iowa Gaming Association said.
According to figures from the Iowa Racing and Gaming Commission, their sportsbooks took in $210.1 million, up an almost unfathomable 94.1% from the $108.4 million in August. September 2021's numbers were also a 190.7% year-over-year spike from September 2020's $72.4 million.
Somehow, the huge handle spike didn't lead to higher revenues for Iowa sportsbooks. Just $5.7 million in profits was reported from the Iowa legal sports betting scene, 13.5% less than the $6.6 million in August. Year-over-year, profits for Iowa's sportsbooks climbed 10.6% from August 2020's $5.2 million.
Tax contributions for the state's sportsbooks came in at $512,951 in September, up 5.4% from August's $486,608. Those numbers were up 47% year-over-year from September 2020's $348,828.
Records certain to fall?
While Oregon and Iowa differ in the way they carry out their legal sports betting platforms, they are similar in that this football season is expected to take their markets to new heights. Oregon will do so with virtually no competition in the market and Iowa will do so with a flood of competition including Fubo Sportsbook, Betway Sportsbook and Circa Sports, who have joined the Iowa scene most recently.
"Iowa will almost certainly triple the wagering compared with 2020 and could go even higher if a few things fall into place," predicted Eric Ramsey, an analyst for the PlayUSA.com Network, which includes PlayIA.com. "That is dramatic growth by any measure."
More legal sports betting record are certain to fall in Oregon and Iowa before the end of 2021 as the world slowly creeps from its COVID slumber and football action continues to pick up steam. Iowa set their new high-water mark in September and is expected to keep rolling. Oregon's time is coming.