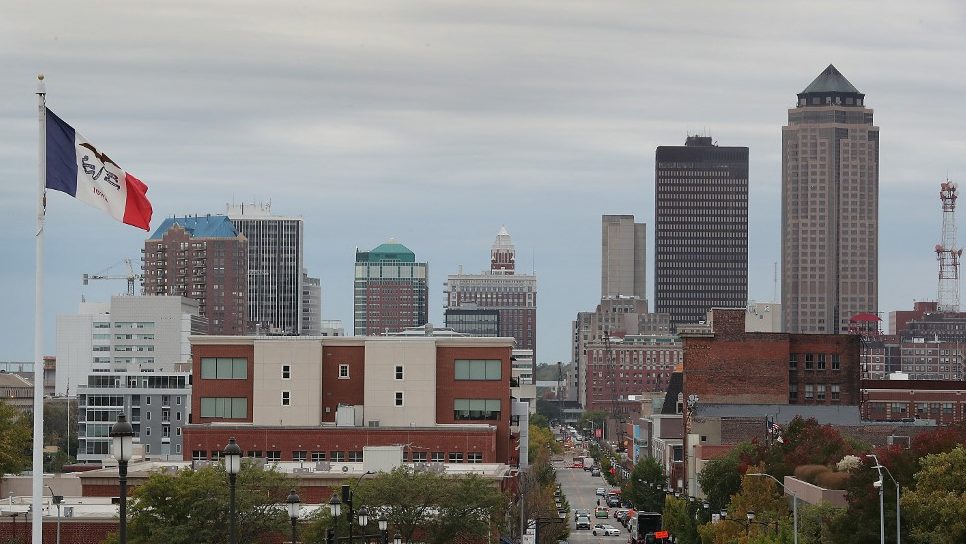 The state of Iowa is the first to report its July legal sports betting numbers and if they are a sign of things to come, we are in for a rash of disappointing figures from participating US states. Summer is always a down-time for the industry overall, but the later-than-usual end of the NBA season, the Olympics and Euro 2020 provided a little hope that a seasonal slide would at least be somewhat mitigated.
A Look at Iowa Shows That Those Hopes May Have All Been for Not
"The Olympics and the later-than-usual NBA Finals gave bettors more opportunities to place a bet than what would be a typical July, but neither were able to move the needle much," said Jessica Welman, analyst for the PlayUSA.com Network, which includes PlayIA.com.
"Bettors simply check out in July, when summer vacations and other pursuits take precedence," Welman followed. "But a surge in betting will certainly come with the beginning of the football season."
Breaking Down the Numbers
The Iowa Gaming and Racing Commission is reporting July being the fourth straight month of handle declines for the state's legal sports betting scene and the lowest wagering total since November.
Friday's report by the Commission identified an $88.9 million sports betting handle for the state for July – the first time since November that total has come in under the $100 million mark. $88.9 million is a sharp 20% drop-off from the $111.1 million sportsbooks took in during June. The state's record handle, for comparison's sake, came in March when $161.44 was taken in.
Mobile Take and Revenues
$77.9 million of Iowa's July's $88.9 million total handle came from the state's mobile betting apps. That's down 18.1% from June's online handle of $95.1 million. It means that just $11 million came from the state's retail sports betting sector, which is a month-to-month drop of 31.4% from June.
According to the Iowa Racing and Gaming Commission, Iowa's sportsbook revenues came in at $7.1 million, a 15% slide from the $8.4 million reported in June. Taxes paid out by the state's sportsbooks were $479,479 in July, which is down 15% from the $568,502 reported in June.
The July hold rate for Iowa sportsbooks was 7.9%.
Olympics May Not Be the Savior
There was hope among US sportsbooks that the Olympics would provide a boost the US industry. Iowa's legal sports betting figures suggest otherwise.
"We expected to see a decline this month in numbers; however, we were unsure how much," said Brian Ohorilko, commission administrator. "I have heard from a few operators in our state and have read in a few national industry publications that wagering is less than expected on the Olympics. Some speculation is because of the time difference between the U.S. and Japan. This is anecdotal, however, as
most states do not have a base to compare to since last year was disrupted with COVID and the last Olympics was some time ago."
The Iowa Scene
Iowa, despite being a small state in terms of population has been a consistent performer for the broader US legal sports betting scene. Since launch of their legal sports betting industry, two years ago as of next week, the state's sportsbooks have taken in a total of $1.7 billion and have generated $122.8 million in revenues and $8.3 million in contributions for state and local coffers.
2021 has been remarkable for the state. "Iowa has experienced so many twists and turns over the last two years, but the state's sportsbooks find themselves in a good place," Jessica Welman said. "Sportsbooks will hit more than $1 billion in wagering by September at the latest, nearly doubling the handle for all of 2020 before football kicks off. That is staggering growth."
Looking at September
With July's numbers in the books for the Iowa legal sports betting industry, it is likely the state will have to endure one more disappointing month before fall brings with it NFL and college football action.
According to Wes Ehrecke of the Iowa Gaming Association, the "lull will be changing significantly by September, and it will be exciting to see what the numbers will be this fall with more mobile sports wagering choices."
America's 33rd highest population with just over 3 million residents has provided the US scene a reliable, steady legal sports betting jurisdiction with an almost guaranteed $100 Million in sports wagers per month. Look for the state to approach, and even eclipse their record $161 million as early as September but definitely before the end of 2021.