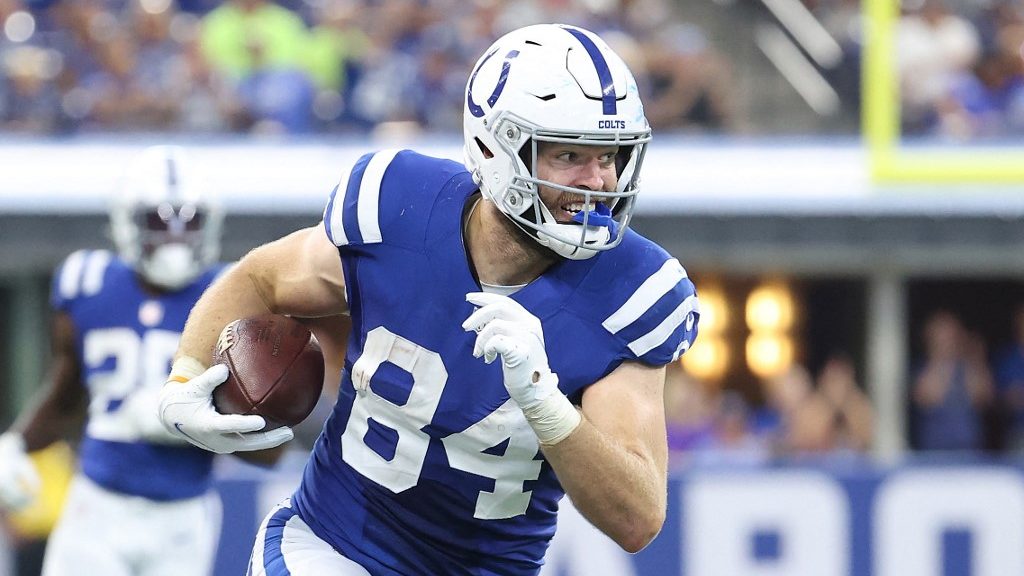 Nobody will accuse the Indianapolis Colts of not acting quickly on opportunities to jump on sports betting partnership deals. Late last week, it was announced that Indiana's premier pro sporting franchise had inked two separate deals with elite sports betting providers to become their official sports betting partners.
On Thursday, the NFL club announced that it was bringing on Caesars Entertainment as casino partner, and on Friday WynnBET was officially welcomed to the Colts family. While the deals are not the same in nature, the two sportsbooks forge a relationship with a franchise boasting a fanatical fanbase in one of the most impressive legal sports betting markets in the country.
The Caesars Deal
On Thursday, Caesars became the Indianapolis Colts' one and only "official casino partner," thanks to the multi-year deal that ties in two of Caesars' Indiana properties – Harrah's Hoosier Park Racing & Casino and Indiana Grand Racing & Casino.
Caesars will also gain naming rights to one of the throngs of entry gates at Lucas Oil Stadium as well as the ability to expand the sportsbooks' marketing in and around the Colts' home field.
Also included in the deal is sponsorship of a new Caesars Sportsbook Lounge, formerly known as the Blue Room at Lucas Oil Stadium. Caesars will create and launch a free-to-play "Pick 6" predictor contest on the team's mobile app which will award weekly prizes and give entrants a chance for trips to Caesars flagship property in Las Vegas.
"Expanding our sponsorship with the Colts to serve as their premier sports betting partner and only casino partner is an exciting step in our longstanding relationship," said Chris Holdren, Co-President of Caesars Digital. "Indiana has been a special place for our company, and we know how passionate these great sports fans are for their home team. Caesars will continue to push for innovation to bring the best in sports experiences, both in-person and on mobile, to the Hoosier State through Caesars Sportsbook and our partnership with the NFL."
The WynnBET Deal
WynnBET signed a multi-year deal with the Indianapolis Colts on Friday. The emerging sportsbook provider has become the official sportsbook partner of the NFL team. Team legend and former Colts defensive end Robert Mathis was named new WynnBET brand ambassador on the same day.
WynnBET gets immediate sponsorship rights to what was previously known as Lucas Oil Stadium's West Club, a sports bar in the upstairs club level at the Colts' home stadium. WynnBET will also become the host of a lounge located in the team's pre-game tailgate area, Touchdown Town, where games and prizes, food, drink, and even appearances by Colts' legends will be included.
There will be a heavy media presence for WynnBET as an extra perk of the deal. Immediately, the sportsbook provider will become the prime sponsor of the Official Colts Podcast and the team's Mobile App. The WynnBET brand will be included in all Colts' media outlets going forward including on radio's Countdown to Kickoff pregame show, in-game broadcast, and The Fifth Quarter Huddle postgame show.
Of course, WynnBET signage will be visible in key locations throughout Lucas Oil Stadium.
"This partnership with WynnBET will help the Colts expand offerings, activities, and events for our fans and customers and provide multiple new options for them to engage with the team," said Colts chief sales & marketing officer Roger VanDerSnick. "We also look forward to WynnBET's presence in our television shows, podcasts, and other digital and social platforms, which will allow us to touch even more fans, on gameday or otherwise."
Win-Win
Everybody wins in the latest sportsbook/pro sports team partnerships. For Caesars and WynnBET, they gain valuable exposure in the impressive Indiana market and the Colts get new ways to engage existing and new fans of their team.
Caesars and WynnBET have some work to do in order to gain a reasonable market share in Indiana where BetMGM and the two DFS giants own an estimated 72% market share. Aligning with the Indianapolis Colts will certainly help with that.